When He Couldn't Find a Job, Michael Chou Did The Unthinkable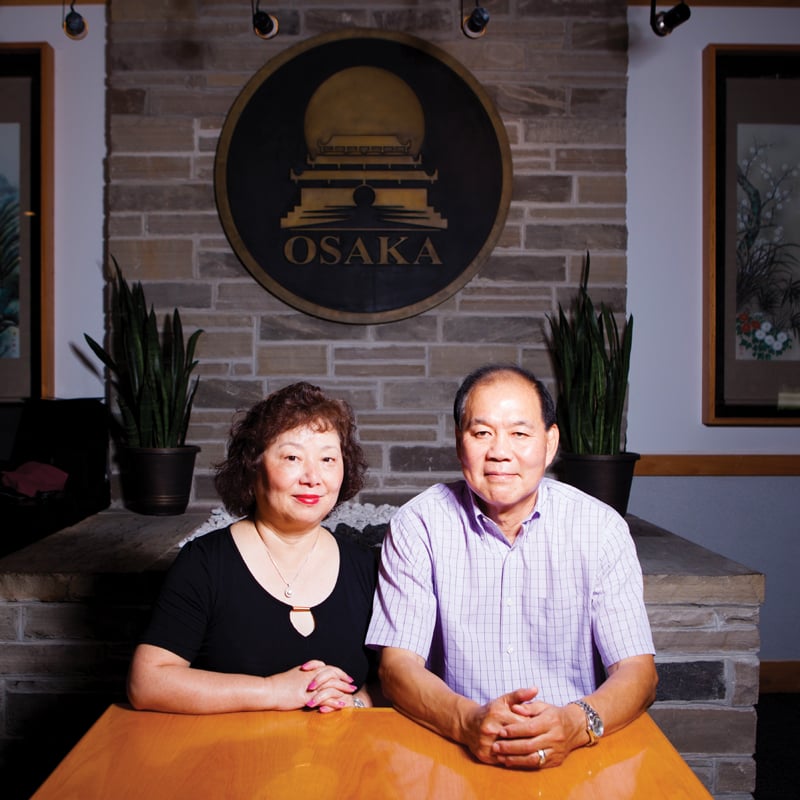 Tallahassee and Destin diners know Osaka Japanese Steakhouse for its fresh sushi and tasty hibachi, but there is more to this restaurant than meets the eye. Owner Michael Chou has been bringing his high standards to Asian cuisine in Northwest Florida for more than two decades.
Though happy with the success of his restaurants, Chou had never thought he would work in food service for very long. He emigrated from Taiwan in order to get a university education in the U.S. — and that is when his career began … by chance.
"In San Francisco, I worked part-time at a restaurant. Then when I graduated and couldn't find a good job, I decided to go into the restaurant business," Chou said.
With a large Chinese population, San Francisco has a famous collection of Chinese restaurants that represent every region in China. Chou was working for talented chefs, making lifelong friends and learning the tricks of the trade. Before long, he was looking for a place to build his own restaurant.
"One of my friends told me that there were Chinese restaurants in Tallahassee, but no one was cooking Szechuan style," Chou explained.
So he decided to bring variety to Florida, buying property in Northeast Tallahassee and opening Chou's Dynasty in 1990. But while the restaurant was a success, after a few years he felt the need to change. The problem? Chou looked around and realized that all he saw were Chinese buffets.
After evaluating other businesses in Tallahassee, he decided to try something new — a Japanese steakhouse he thought "would be better for the market." Thus was Osaka born and still sits near the intersection of Capital Circle NE and Interstate 10.
Turning to Japanese-inspired cuisine wasn't a stretch for Chou, who grew up in Taiwan where his father landed after following a junket ship from China. Indeed, Taiwan's unique history allowed him to dabble in both Chinese and Japanese cuisine.
"Japan occupied Taiwan for 50 years," he explained. "Most of the older generation all speak Japanese, and there are many Japanese restaurants in Taiwan. That is why I am able to say this is good or this is not good."
Over the years, Chou built Osaka into more than just a restaurant; he believes the name is a brand that represents fresh ingredients and quality service. His Japanese restaurant became so popular that soon he was ready to expand again — to the Emerald Coast.
"When I was in Tallahassee, I liked to go to Destin and to the seaside. I like the area and all of the restaurants," Chou said. On one visit, he noticed something. "I looked around, and there were no Asian restaurants."
As an astute businessman, he immediately recognized the vacation mecca of Destin as the perfect location for his second steakhouse.
"Destin does good business," Chou said, adding, "In the summer, there are a lot of tourists."
In 2003, Osaka Destin opened its doors and has since seen success similar to that of its sister sushi spot in Tallahassee.
Chou firmly believes his three principles of business have propelled his ventures to financial success.
First, keep it clean. "That means inside and outside," he said.
Next comes "actual service," which requires a dedicated staff.
"I look for loyalty and hard work in employees," Chou said. "The goal is to ensure the best experience for customers."
Lastly, consistently deliver quality food. He has worked with all his chefs for a long time, bringing some from Tallahassee to the Destin Osaka.
"When Osaka opened in 1998 it was very successful. But the market has changed," Chou said. "Everyone is looking for the bargain, for the prices. I'm stubborn. Our food quality has never dropped. We serve fresh sushi, never frozen, so we can't do Buy One Get One."
There is another aspect that makes Osaka unique. The Tallahassee restaurant is managed by Chou's son, Gregory, which makes fine dining a family affair.
"We're a team, a unit," said Gregory Chou. "When you care about your boss, basically everything you do goes back to the house. He's very well organized, and people respect him for that. He cares about every aspect of the restaurant."
Gregory Chou, who has been working at Osaka since its opening day, describes his father as very demanding and strict. Michael Chou agrees.
"People like him. He's nicer than me," Michael Chou said with a laugh. "I'm very straight and tight. He's more relaxed." Still he credits his son with helping the business evolve. "He said to me, 'Dad, times change. The younger generation will take over. We do business in a different style.' "
Michael Chou has moved to Destin with his wife to manage the restaurant there. Still, every week, he makes the journey from Destin to Tallahassee's Osaka to make sure the restaurant is keeping to his high standards.
"Osaka has our style, no matter what," Michael Chou said. "Not only for profit, not only for sales. This is for our reputation."
Plans are in the works for a new Osaka in Panama City. No doubt, the blend of diligence and family love will yield the same success as his other ventures.