What Is the 'New Normal' for the Hospitality Industry after COVID-19?
National Hospitality Experts and Local Chef Jim Shirley Weigh In Saying 'We have to reinvent and retool going forward' … 'we will need to adapt'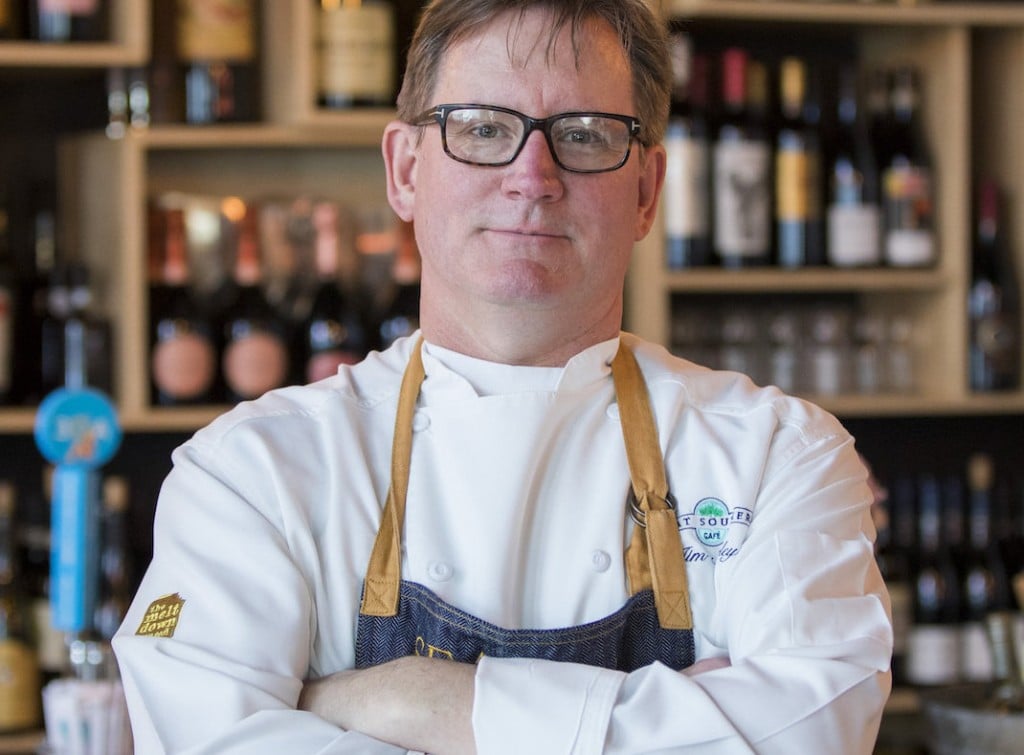 Six seasoned members of the American hospitality industry gathered on April 16 for a town hall-style webinar to discuss one fundamental question:
How do we position ourselves for success in the future?
The State of the Hospitality Industry panel included:
Jim Hughes, vice president of human resources, Red Lobster
Chantelle Corobo, beverage director and partner at RBC Hospitality Group
Kevin Curley, CEO at Pandera
Kris Boros, co-founder at SipScience
Ayan Roy, co-founder at SipScience
Dr. Karen Bartuch, chief customer officer at SipScience, a data analytics hospitality company, facilitated the conversation.
Emerald Coast Magazine sat in on the webinar, which was free and open to the public. We later asked one of our community's hospitality leaders to weigh in with his response to some of the key takeaways.
But first, here's a rundown on the panel.
Chantelle Corobo, beverage director with Holmdel, New Jersey-based RBC ("Run by Chefs") Hospitality Group, saw the company go from serving 2,000 lunches per day to 600. They shifted gears and converted the business into a COVID-19 relief kitchen serving medical workers and first responders.
"It kept us busy, focused and reduced our stress," Corobo said.
Jim Hughes, vice president of human resources for Red Lobster said the coronavirus outbreak is the "biggest challenge our brand has ever faced." Though the company generates $2.5 billion per year out of its 708 locations, it was "not immune" to COVID-19.
The company closed 300 locations across 44 states and furloughed 40,000 employees. Dine-in service shifted to delivery and to-go options.
Kevin Curley, CEO of Pandera, a data-driven technology service and support company, is using this time of disruption to give back. It is raising awareness for GoFundMe programs, like the U.S. Bartender Guild Fund, and offering clients free training sessions to "help enhance their skillsets and reduce costs of critical support."
Kris Boros, co-founder of SipScience, a data analytics company specializing in the hospitality industry said this national health crisis is a "big opportunity." In his expert opinion, companies who leverage data and technology together, will be best positioned to have a "major opportunity of rebirth" once COVID-19 wanes.
Ayan Roy, also with SipScience, agreed saying now is the time for the hospitality industry to shake off its "old school" ways. In his experience, data is either largely ignored or not leveraged in the hospitality space.
"There is a 'if it ain't broke, why fix it' mentality," he said. "Restaurants and technology have been dating for years, now is the time to get married."
Curley agreed saying the pandemic is "moving the hospitality and leisure industry into the modern data age." He cited capturing a "360-degree view" of customer preferences, targeted digital messaging, integrating CRM (customer relationship management) systems and delivering the "right message, right time with the right medium" as examples.
The entire panel agreed that this disaster is signaling a 'new day' for the hospitality industry.
"I think the world's changed," Hughes said. "People will have a new baseline, especially for their personal safety." He said restaurant patrons will wonder: When the table was last cleaned? Was the menu wiped down? Are the kitchen crewmembers wearing gloves and masks?
Curley says the hospitality industry has a clear timeline.
"It will take 12 to 24 months to develop a vaccine; between now and then, hospitality businesses will have to consider how it will address two things: trust and safety," he said. "Those who are furthest in understanding customers and communicating a message of 'safety first,' are going to win."
Though this pandemic has crushed an $845 billion industry, there are some "silver linings."
Hughes said putting the industry on pause gives all businesses "liberty to try things." He says Red Lobster has long wanted to take time to rethink and reduce its menu and, with plenty of time, it is now taking a "leap of faith."
Corobo, whose company has 25 employees, is optimistic about the industry's ability to embrace change. "We have to reinvent and retool going forward … we are resilient and hardworking. The ingenuity and innovation that comes will be like our art form."
Chef Jim Shirley Says, 'We Need to Adapt'
Jim Shirley is one of the most iconic chefs, restaurateurs and cookbook authors on the Emerald Coast. He owns several local restaurants including Great Southern Café, Ji Shi Kitchen and Wine Bar, and Meltdown on 30A in Seaside, as well as The Bay Restaurant, North Beach Tortilla Company and Farm & Fire Southern Pizzeria in South Walton.
A respected industry leader, he has served in several local and state-wide leadership roles with Florida Restaurant & Lodging Association (FRLA), the South Walton Tourist Development Council, the Children's Home Society and the Seaside Neighborhood Schools.
We spoke with Shirley at his home via telephone last week.
Before the statewide shut down, he tried to operate his airstream "food truck" in Seaside within the federal and state guidelines, but there was no appetite for it.
"I taped off marks on the ground six feet apart, but it was counter to what the experience was. The Melt Down is all about the social line — talking, hanging out while you wait your turn. Guests were not following rules of social distancing so better to stop," he said.
Currently, all Shirley's dine-in restaurant operations are closed. However, Farm & Fire Southern Pizzeria, which reopened this week, was redesigned into as "grab and go" market with curbside pickup or delivery.
"We were already talking about doing this before COVID, but it motivated us to get it and running," he said.
He also is looking at bringing delivery in-house.
"We do not want to turn over our product to a third party who is not vetted. We will need some kind of safety seal so people know the food is coming directly from our kitchen," he said.
Shirley agrees with the panelists — post-COVID-19 safety will be top of mind with diners.
"A lot we had already adopted before COVID, such as sanitizing menus, but things have evolved and we will need to adapt. When we are back, I predict guests will expect more of this type of thing," he said.
Shirley rattles off what may likely be on the menu of guest expectations.
"Throw away menus, everything on the table needs another look — we may not leave creamers and sugars on the table, silverware baskets on the table are not going to work anymore," he said. "People will want to know what has been touched."
According to Shirley, COVID-19 is bringing the industry back to the basics. "The idea a restaurant is a safe, clean place — people will want to know that," he said.
Shirley said restaurant workers knew better than to show to work sick before the outbreak. Before the shutdown, temperatures were taken at the door; perhaps that precaution will continue after reopening.
"In this industry, you must have an ongoing conversation with your staff about unsafe behavior outside of work," he said.
But now, communicating those measures may be paramount.
"As a guest, you will want to know that the place where you are eating has that in place," he says.
As for his marketing strategy, Shirley says he's good there.
"In this area, social media and word-of-mouth drives the boat in South Walton. We have strong contact and loyalty lists and our 'we miss you' messages sent by ZenReach has highest openings of emails we send out," he says.
Not knowing when COVID-19 will abate, Shirley is hesitant to launch any more new ideas. "Sure, there are some things we'd like to do, but with the uncertainty, we would not want to miss the season."
One thing he will continue to leverage: authentic destination marketing.
"People are looking for actual humans who they can connect and identify with. People have been coming to Seaside for 20 years. They are people you know. And now their kids show up. It's like keeping track of your family," he said.
As for reopening, Shirley says soon, but maybe not today.
In the meantime …
"I would like to see a lot of testing and preparation for that. The idea of opening things up in Walton County, we're not quite equipped."
Until he can get back in the kitchen, Shirley will continue to hunker down … "today, I have my son's 8th birthday to celebrate," he said.
The entire industry is envisioning the future, how it can be even better, but until the "coast is clear," why not make the most of the moment.