Walton County's Tourism Industry Continues to Grow
A Healthy New Normal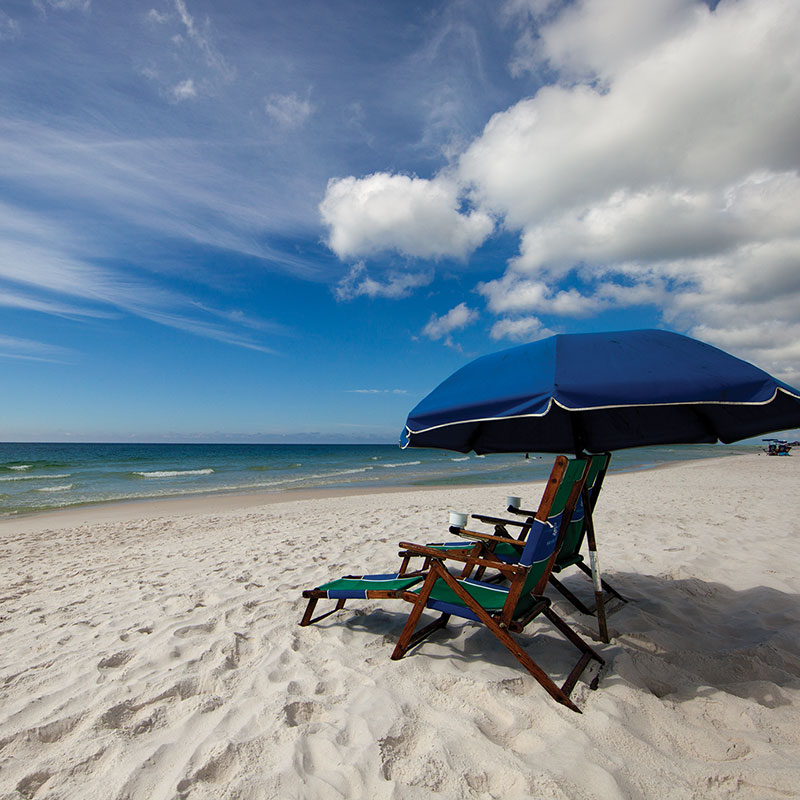 Tourism and hospitality are the driving forces in Walton County's economy, providing 19,500 jobs for area residents and having a $2.8 billion direct economic impact.
And they keep getting stronger every year.
"Since Oct. 1, in the first six months of our fiscal year, we were up 14 percent in short term accommodation rentals over the prior year. That's pretty considerable since we already had been doing very, very well," says Jon Ervin, director of Marketing and Communications for the Walton Council Tourist Development Council. "And our numbers for March were up 18.92 percent in spending on those rentals."
Between October 2014 and October 2015, the county welcomed more than 3.2 million visitors. They spent $495 million on accommodations — $202 million of that in June and July alone.
Walton County tourism has grown by double digits for each of the past five years, making it the "new norm," Ervin says. "South Walton is particularly fortunate. We have a product that people value greatly. Once folks come here, they enjoy it and want to return. The loyalty is there and the repeat is there."
Indeed, 96 percent of the visiting tourists indicate their intent to return and surveys show that about 80 percent actually do come back.
South Walton lays claim to 26 miles of the sugar sand beaches of the Gulf of Mexico, and 16 distinct neighborhoods are located along that beachfront. There are only approximately 1,000 traditional hotel rooms, representing about 10 percent of the 11,000-plus accommodations. The remaining 10,000 are considered non-traditional, such as condo and private home rentals.
Close to one-in-four working residents of the county, or 23.4 percent of the workforce, are employed by the tourism and hospitality industry. But beside the 19,500 jobs directly related to tourism — three of the county's top employers are resorts (Sandestin Golf and Beach Resort, Hilton Sandestin Golf Resort and Spa, and ResortQuest) — close to another 7,000 "indirect" jobs, such as landscaping, are tied to the industry. And the busy time is no longer just the summer. Now the spring and shoulder seasons are growing in popularity, in part because of the string of annual festivals that include the arts, food and wine. As an example, the South Walton Wine and Food Festival in May brought in more than 4,000 people — a record crowd.
"If you go back 10 or 15 years, you could be a little lonely in South Walton after Labor Day," Ervin adds. "But that's not the case any more. Now it's strong into October and November. Luckily we've become known for more that just our sugar-sand beach."
Walton County's growth in the number of visitors that come each year has not grown dramatically — a 1.5 percent increase from 2014 to 2015. But the amount of money visitors spend has gone up by nearly 12 percent.
"It isn't about head count," Ervin said. "It's really about spending."
To achieve that higher level of spending, the county has very targeted marketing aimed at households with incomes of $175,000 or higher. They also seek out "look alike" customers — individuals and families that mirror known visitors who are loyal to the region.
---
Here are some of the more recent honors earned by Walton County:
South Walton, 2015 "Hassle Free Beach" — USA Today
Alys Beach, Perfect Beach Town — Southern Living
Hilton Sandestin Beach Golf Resort and Spa, Top 100 most popular meeting resorts (2015) — Cvent
The Pearl, Top 20 Hotels in Florida, Readers Choice Award (2015) — Conde Naste
Seaside, Best Family Beach 2015 — Travel Channel
Seaside, Best Beach on Earth — Travel+Leisure
Rosemary Beach, 2015 Best Places to Travel — Money.com