VP guides athletics program to reflect FSU's big picture
Stan Wilcox, Tallahassee, Vice President/Director of Intercollegiate Athletics, Florida State University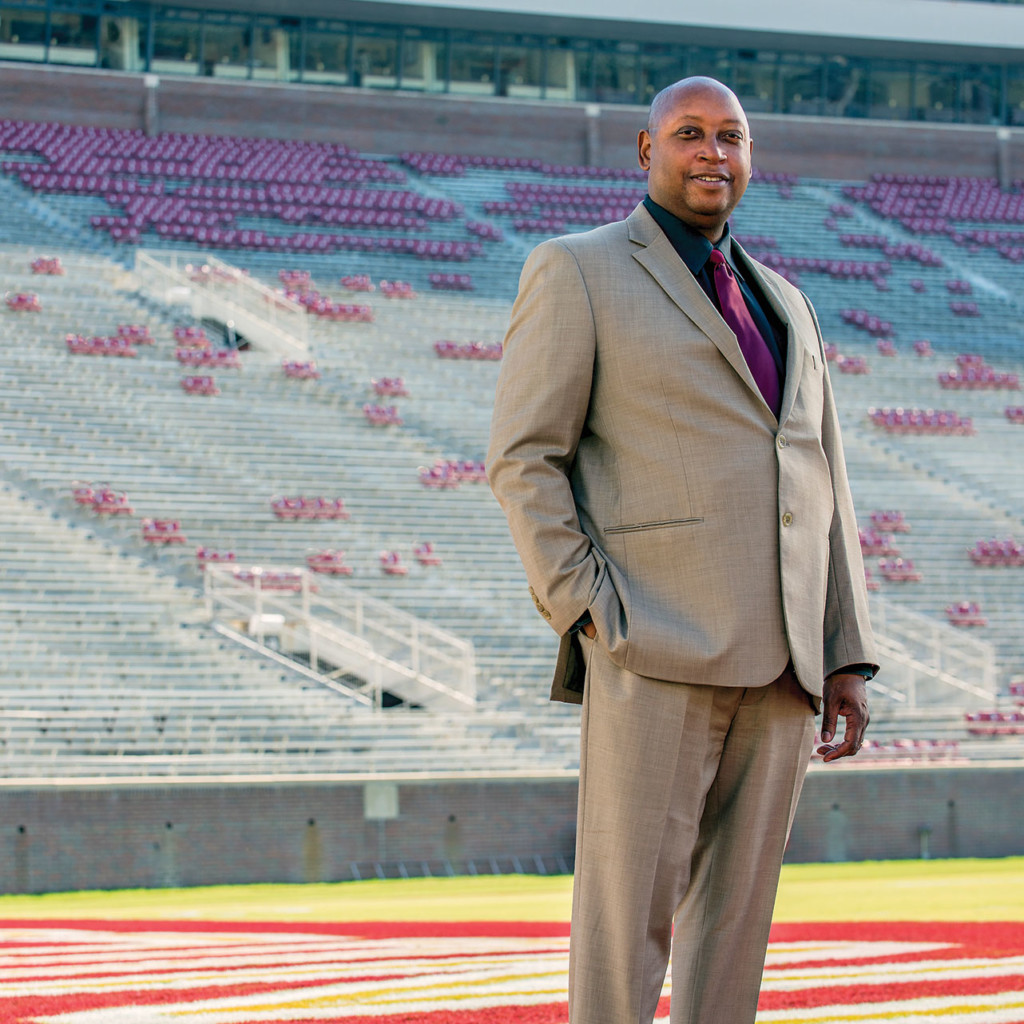 To Stan Wilcox, Florida State University's vice president/director of Intercollegiate Athletics, the athletic program is more than a business, more than an education-based nonprofit. It is the front porch of the university.
"When (most people) think about FSU, the first thing they usually identify with is the athletics programs — how well the football team has done, the national championships won, etc. It's the thing that invites people in to see the rest of the university," Wilcox says.
"With athletics being that front porch, we have to be very vigilant in making sure that our front porch is reflective of all the great things that the university is all about."
To accomplish this, Wilcox balances good business acumen with the knowledge that he's not turning out a product, per se, but helping prepare student-athletes for a successful life after college and sports.
Wilcox became FSU's director of athletics in August 2013 and vice president in July 2016. His time at the helm has been historic for Seminole sports, with the school earning its third football national championship, the university's first-ever soccer national championship and numerous Atlantic Coast Conference Coach of the Year honors and titles. Additionally, there have been over a dozen ACC Player of the Year honors, more than 150 All-America honors, nearly 20 College Sports Information Directors of America Academic All-American honors and a Heisman Trophy awarded to FSU student-athletes.
A former student-athlete himself, Wilcox holds an economics degree from Notre Dame and a juris doctorate from Brooklyn Law School. He is a former senior court analyst for the Kings County Supreme Court in Brooklyn, New York.
Wilcox was a National Collegiate Athletic Association legislative assistant, Notre Dame's deputy director of athletics, associate commissioner of the Big East Conference and the senior deputy director of athletics at Duke University. — Karen Murphy
Q&A with Stan Wilcox
Compare the FSU athletic program to a business.
We're overseeing, between us and the boosters, $140 million on an annual basis, and that continues to grow based on additional revenues generated. Like any other business, we're looking to grow that business. We're always looking to provide the best student-athlete experience we possibly can, keeping up with increasing expenses in scholarship and facility costs. We're trying to make sure we are being a good steward of our money, are balancing our budget on an annual basis and we are generating a profit at the end of the day that can then be invested back into the collegiate enterprise. We are providing the best facilities to practice in, the best education, the best medical treatment, nutrition, equipment and travel, and are allowing student-athletes to participate on the highest level so they can compete on an annual basis for ACC and national NCAA championships.
How is it different?
It's technically not a business. It's an institution of higher learning. The purpose of the university is to provide the best education to its students and help them go on to their professional careers. Our mission is the same because the majority of our student-athletes are going on to professions in areas other than the sport in which they are participating.
The FSU athletic program is one of only about 26 that are considered self-sufficient. How does FSU manage that?
The majority (of the self-sufficient programs) are in what we call the Power 5 conferences. They all have successful football programs, their football ticket sales are constant and the conferences they are a part of help to provide additional revenue for those schools through robust TV packages, like deals with ESPN and other networks. Both FSU's men's basketball and football programs are self-sufficient. Sometimes baseball is close. If you factor in money received from the NCAA and our conference TV deals, it is fair to say men's basketball and football generally drive the dollars that support all the other FSU sports. If we have success in those two areas, we, more than likely, will continue to be self-sufficient as a department and provide money back to the university (over $2.5 million annually) that can be used for additional scholarships.
What's your biggest challenge?
That can be a moving target on a year-to-year basis, but I will say, there are really three.
Student-athlete balance: Making sure they are balancing the time demands of their athletic pursuits with their academic pursuits. You don't want those to be competing demands.
Compliance: We are required as members of the NCAA to follow its rules and regulations, which are kind of like a phone book. Everybody who touches college athletics must follow those rules. That is a HUGE challenge.
Economics: Always trying to stay in front of the curve in providing the best training and competing facilities.
Should college athletes be paid?
The short answer is "no," but when you look at all we provide that goes into the student-athlete's scholarship — equipment, meals, travel and facilities — technically, they are being paid. If you break out the cost factor per student-athlete, it's somewhere above $100,000 for someone on full scholarship. I say they shouldn't be paid because the educational piece is the most important. If they get their education and degree, they can go into a career that can pay them for a lifetime, whereas they can only participate in athletics as long as their body is allowing them to and then they have to be able to do something else. I'm more concerned about their long-term careers, which are educationally based.
What about your job makes you pull out your hair?
It's just like having your own children. You know they are going to make mistakes, and you have to discipline them. You feel bad about it, just like when you have to discipline your own child. Knowing you have close to 500 different children you are helping to raise, it can become very overwhelming sometimes. You never know what the next day may bring.