Veteran Entrepreneurs Victorious in Florida
Veterans Florida helps vets transfer military skills to civilian businesses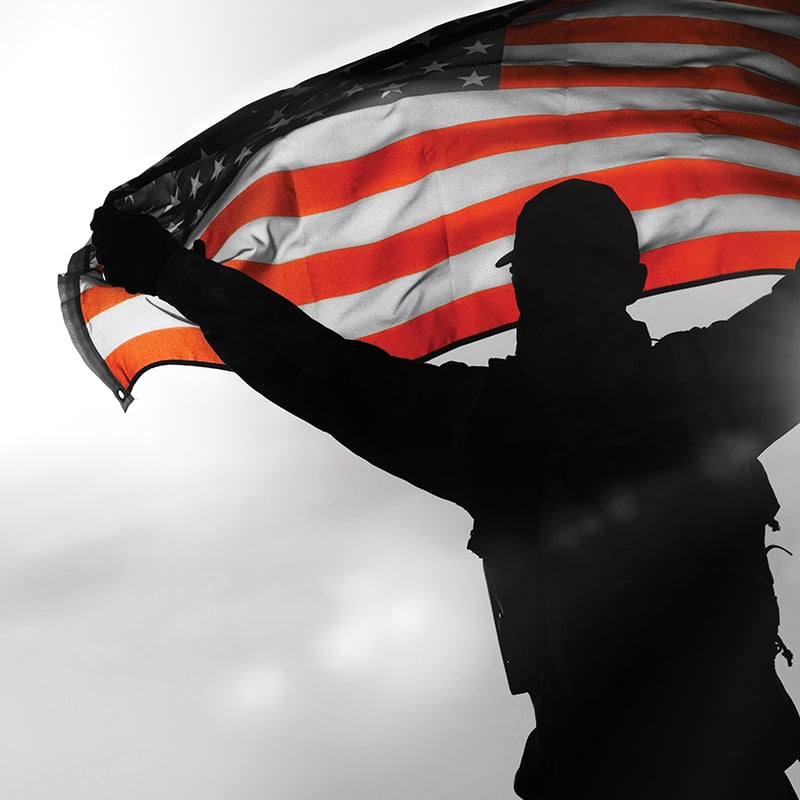 Retired Marine Lt. Col. David Glassman says he was a kid who hadn't grown up. He spent 22 years going to work in what he calls pajamas but what others would call a flight suit. He strapped himself into a gigantic 100-foot, heavy-lift helicopter and flew into dangerous places like the Kosovo area of operations to carry out combat support and training missions.
Erick Moody played football at Wakulla High School before enlisting in the military. He wanted to see the world, and he says he was fortunate to travel to many beautiful foreign countries while deployed as an Army Private to Baumholder, Germany.
Retired Navy Commander Christine Yerkes put in 14 years active duty and nine in the Naval reserves. As a civil engineer, she built bridges for use in Somalia, rebuilt after destructive hurricanes, and "hardened" military bases after the 9/11 terrorist attacks.
Even with their vast military experience, all three agree that starting their own businesses as civilians was one of their toughest challenges. All three credit Veterans Florida with providing valuable assistance in getting their businesses off the ground.
Veterans Florida is a non-profit corporation created by the state of Florida to help veterans fully transition into civilian life in the Sunshine State. It connects veterans to employers, grants funds to employers to hire and train veterans, and educates veterans on how to open their own businesses.
Basic Training All Over Again
Moody says the Veterans Florida Entrepreneurship Program was "intense" and was like being in basic training all over again.
"But I loved that," he says. "That's how you know it will hold water."
The Veterans Florida Entrepreneurship Program offers tuition-free online and on-campus instruction in the nationally recognized Lean Startup method to any Florida resident who is an honorably discharged veteran, is of active-duty status with one year left before discharge or is a current or former member of the National Guard or Reserves. The program networks with seven partner campuses across Florida with established small business programs and expert instructors. In the Panhandle, the partner campuses are the University of West Florida in Pensacola and Florida A&M University in Tallahassee. The program also provides access to local resources such as business leaders, mentors and much more.
"Entrepreneurship is a great employment option for veterans," says Bobby Carbonell, the executive director of Veterans Florida. "Their military service makes them uniquely suited to owning and running their own business. Military service requires you to complete a mission with limited information, and that's pretty much the gist of entrepreneurship, too. The Veterans Florida Entrepreneurship Program teaches veterans the important aspects of business and helps them get started the right way."
Moody is very thankful for that help. A certified chef, Moody started Mae's Southern Delights, a catering business in Crawfordville, in November 2016. He calls the business an homage to his mother, and, as such, serves Latin food with a Southern twist. He wanted to expand with a food truck business: Mae's Mobile Kitchen.
"I wrote a five-page business plan," he remembers with a little chuckle. "Once I was in the Entrepreneurship Program (Class of 2016–17), that plan was expanded to 50 pages, complete with financial assumptions and detailed market research."
He says he met with his class every two weeks and went home with homework. He had to research his business and his specific markets in Tallahassee and Crawfordville.
"I learned very fast that 'everybody' is not your market," he says. "This program really helped me and my wife grow as business people."
Much like boot camp, the entrepreneurship program taught Moody to stand on his own, set goals, push past obstacles and keep going. "It was a very, very, big deal for me," he says.
He hopes that as his business grows, he will be able to pull other veterans and the homeless "up by their bootstraps" by creating jobs for them.
"The more success I have, the more I can help others. It will be very awesome to be a veteran-owned business creating jobs for other veterans," he says.
Yerkes also went through the Veterans Florida Entrepreneurship Program. She wishes she had found it earlier.
Yerkes is the CEO of Yerkes South Inc., a very successful Pensacola-based contracting company, specializing in federal, military and state government construction.
In the military, she gained decades of experience managing multimillion-dollar construction projects. After retiring, she worked for URS Corporation, one of the country's largest architect and engineering firms. She was confident in her qualifications and experience, but striking off on her own and building her own business still presented a minefield of overwhelming challenges.
Transitioning Skills
"When I started, I got led off in so many different directions, I almost gave up," she confesses. "When I got to the Small Business Development Center and Veterans Florida at UWF, I was able to focus on what was going to make a difference rather than on who was going to try to take advantage of me and my business. Veterans Florida helped me stay away from the shysters. If veterans follow this program, they're not going to have trouble with being scammed or going off in the wrong direction or wasting a lot of time. Mentors tailor the program specifically to what you are doing. It kept me out of trouble. It kept me focused and heading in the right direction.
"I wish I had found Veterans Florida earlier," she continues. "I already had a business plan and was already working a little. The basic stuff was a nice confirmation that I had done things right. Overall, it was the connections I made with the professors, other teachers and other students that were so valuable."
She said there were a lot of people still on active duty in the program, and in her opinion, that's the best time to start.
"I wish I had found it before I had decided to leave my job, while I was still developing my business ideas and structure and looking for vendors and legally recording the company," she says. But even starting late, she found the program was invaluable in helping to set up the structure for her business.
Glassman says lack of structure in a new business is one of the biggest differences between military life and entrepreneurship. He describes the Marine Corp as very structured, with a lot of discipline.
"There's a high expectation for the level of performance, and there's a lot of infrastructure support," he says. "Starting a new business, there is no infrastructure. It doesn't exist. There are no policies, no standard operating procedures."
Once the structure was in place, though, Glassman found that running his business, DigiPro Media LLC, a Pensacola-based technology company, was not that different from being in the Marines.
"Aside from strapping into a gigantic helicopter, with 14,000 horse power, flying at night into scary places, yeah, I don't get to do that anymore, but pretty much everything else is very similar," he says. "In terms of team building, in terms of a squadron versus a business, the people in the unit versus people in the company, yeah, it's similar and vastly different at the same time. But back in the day, I'd put my flight suit on one leg at a time and go to work and do the best I could. It's the same thing here. I'm the CRO (Chief Relations Officer) and partner/owner; it's all about people, and I don't think that has ever really changed."
DigiPro Media specializes in multiple forms of digital media, including proprietary software development, web design, IT support, eCommerce, processing, target marketing and fundraising.
To many, his journey from the Marine Corps to running this high-tech business might seem like flying in the dark, but to him, when looking back, it all seems fairly logical.
Glassman admits he had a tough transition to civilian life. "I struggled with the interview process. I did a little bit of interviewing, but I had a bad experience and never went back. I took full advantage of the military retirement and just kind of went into patience mode."
He said he stumbled upon some really talented musicians, which led him to become involved in live production management and bookings activities along the Gulf Coast. He started a musician-artist development and music-management company that handled, at one point, about 47 bands and 180 musicians.
Glassman was one of the two first managers for the Revivalists, a popular alternative rock band based out of New Orleans.
"It wasn't very lucrative, but it certainly was engaging, and I had a great time doing it," Glassman says.
In the process, he met his current partner, Steve Barshov, at Hangout Festival 2012. Glassman says Barshov showed him a phone app he had built for the Revivalists that took all the content from the band's website and put it into one app container.
"I could manage the band, all of its events, all of its social media and calendar stuff all in a single app," Glassman says. "I could do it for 14 bands. Then it grew to 47 bands being managed on a single phone app."
He became enamored with the technology, and with the time he had on his hands — thanks to the app — he hung out with Barshov for the next nine months, learning the technology and then selling the app to others on Barshov's behalf.
The Gulf Coast Entertainment app grew to 400 clients over the next year. In 2013, Barshov and Glassman separated from the technology company and created their own, web-based business.
Today, DigiPro Media has more than 1,000 clients, most of them businesses in the tourism industry — restaurants, bars, etc. DigiPro also works with Pensacola International Airport and other airports.
In two years, DigiPro Media went from a company of six employees to a company of 65 employees, many of them very high-end, senior developer types. Hiring these individuals was an investment.
"Keep in mind that we're not just building websites," Glassman said. "We're developing our own proprietary platforms, like WordPress or GoDaddy. We have the same thing, just easier and more powerful. So, bringing these folks on, we were paying them immediately, but they weren't productive for a good long time. The on-the-job-training (OJT) aspect of their training was incredibly critical."
Fortunately, OJT fell within the parameters of the Veterans Florida Business Training Grant. This grant program is designed to increase the competitiveness of Florida businesses by providing a trained, skilled workforce drawing on Florida's military veteran population.
The state-funded program provides businesses in Florida's targeted high-growth and high-wage industries with grant monies for customized, skills-based curriculum development. Qualifying businesses can then train their new, full-time veteran employees.
"We were the first or second company in Florida to get the grant," says Glassman.
DigiPro Media hired five to seven new employees and was compensated through the grant at 50 percent, which capped out at $8,000 per employee.
"That was a big help. It basically offset the costs of the manpower for one to three months. It helped us monetarily in a very big way," Glassman says.
Carbonell says that helping veterans is the essential goal of Veterans Florida. "Veterans have all the character traits to succeed in business: initiative, attention to detail, tenacity."
Whether it's providing training for veterans or helping them launch a business, he says, Veterans Florida brings veterans together with the resources and skills they need to live successful, highly productive lives in Florida.
Businesses and veterans can learn more about Veterans Florida at veteransflorida.org. Its next entrepreneurship program begins in January 2018.
School-Based Resources
In addition to the seven state-funded Veterans Florida Entrepreneurship programs, many colleges and universities across the state offer Veteran Resource Centers, including these in Northwest Florida:
Chipola College, Marianna
Florida A&M University, Tallahassee
Florida State University, Tallahassee
Gulf Coast State College, Panama City
Northwest Florida State College, Niceville
Pensacola State College, Pensacola
Tallahassee Community College, Tallahassee