Urban Park Helps Bring New Economic Opportunity to South Monroe
The KCCI #iHeartTally Community Catalyst team's newest project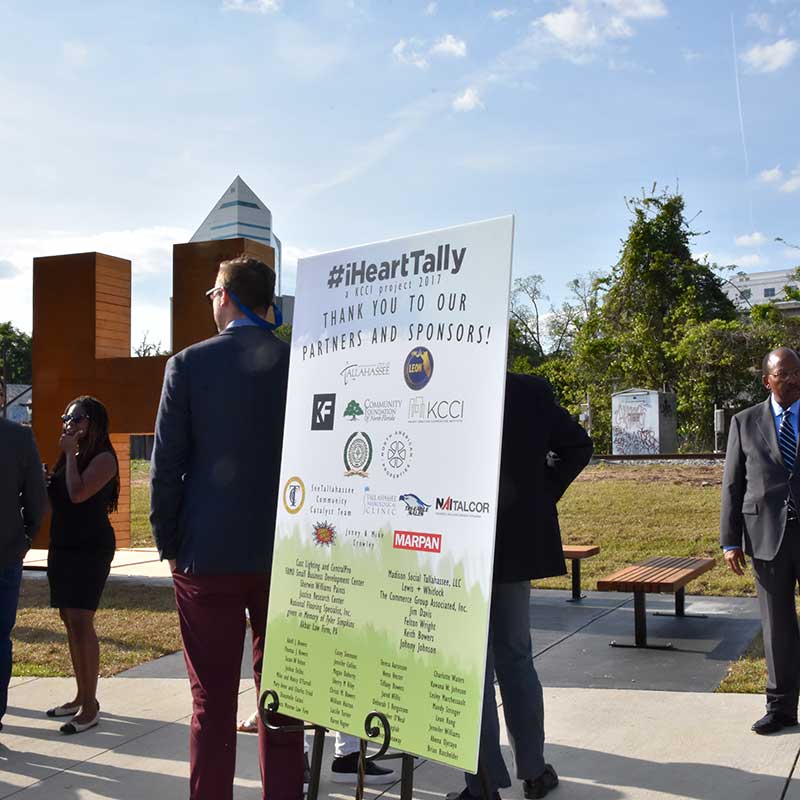 Cascades Park is not the only attraction drawing locals to the south side of town. The growing business district of South Monroe/South Adams and the continued revitalization along FAMU Way has added a new feature — an artistic structure and renovated urban park that now acts as a gateway between Adams Street, FAMU Way and Monroe Street.
On April 12, the TLH urban park off Adams opened as a large crowd gathered to see the KCCI #iHeartTally Community Catalyst team's newest project. The project is a public art installation that engages the community and encourages tourists and residents to share photos on social media via the hashtag #iHeartTally.
KCCI was created in 2007 and has been annually selecting Tallahassee residents and training them on the concepts of peacemaking, the importance of the creative class and how this helps a community's economic vitality and development.
"It has been an incredible experience to work alongside such passionate members in the community," said Charlotte Waters, KCCI 2017 Community Catalyst member. "To watch our group design, create, fundraise and add a permanent artistic element to the Tallahassee landscape makes it all the easier to call Tallahassee home."
These KCCI Community Catalysts volunteer their time to learn the concepts and implement a project that enhances Tallahassee's sense of community, helping shape it into a place that can attract and retain the creative class, young professionals and college graduates. Past projects include Get Gaines Going, Cultivate Cascades Park, The Frenchtown Farmer's Market, The Midtown District, See Tallahassee and more.
"This project embodies the KCCI spirit of volunteerism and placemaking," said Betsy Couch, executive director for KCCI. "We are excited to have such strong partnerships with Visit Tallahassee, Leon County, the City of Tallahassee and Knight Foundation, along with the wonderful private partners who continue to believe in this new park and the mission of KCCI."
Learn more about KCCI and the #iHeartTally project on their website: kccitallahassee.com.