Tourism in Tallahassee
Why Florida's capital city is more than just the sum of its givens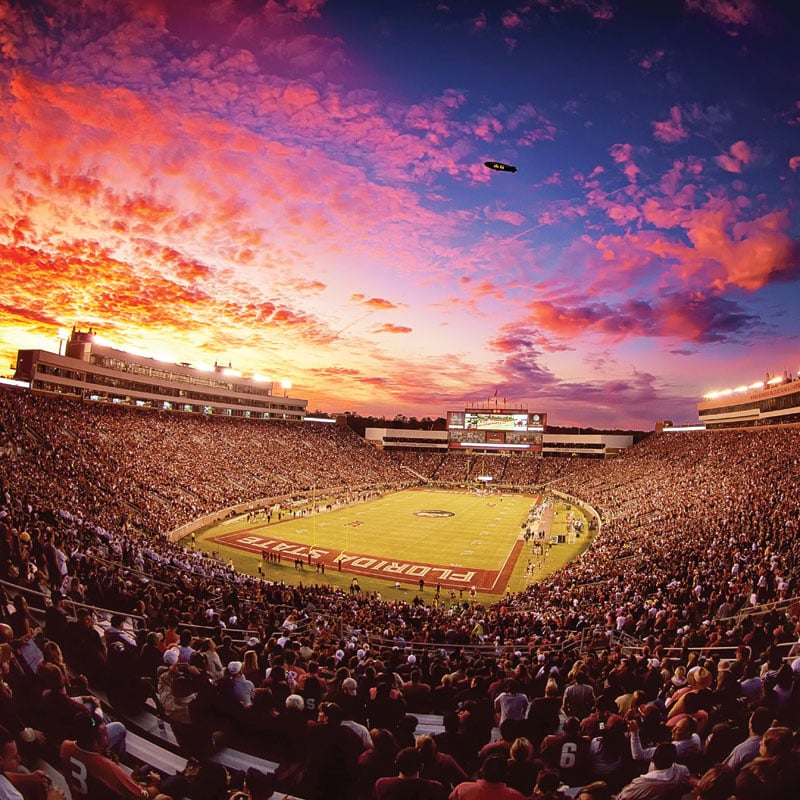 Tallahassee has a unique advantage when it comes to attracting visitors. It's a little thing people in the tourism industry refer to as "the givens."
Givens, or the factors in an equation or situation that are well established, vary from destination to destination. For Tallahassee, the givens consist of two major universities, Florida State and Florida A&M, both of which have extensive athletic departments, as well as a lively state government.
For Lee Daniel, executive director of the Leon County Division of Tourism Development, Tallahassee's givens are a very good thing.
"We're very fortunate," beamed Daniel. "The universities bring an amazing amount of people to the community, not just for football but for meetings and other related activities. The universities [help increase tourism] through graduations, move-in weeks and previews and those kinds of things. The Legislature is also a terrific asset to have for a couple months out of the year."
The city's hallmark activities make for a great foundation in a fickle industry. So great, that it would be effortless for Tallahassee to rest on its laurels, to give in to the hype of being a "college town" and strive for little else.
But the reality is with approximately 52 weekends to fill every year, only 12, or just over 23 percent, are characterized by the excitement of the city's higher education facilities. Likewise, the majority of tourism generated by legislative activity at the Capitol is mid-week and does little to increase revenues in hospitality-oriented businesses.
For Daniel and his colleagues at the county level, highlighting Tallahassee's other assets is crucial to maintaining a well-balanced, sustainable tourism industry.
"I think we're really blessed to be able to complement [our core attractions] with just an amazing array of nature-based activities, history and heritage, which a lot of people travel for, and visual and performing arts," Daniel said.
Beyond the Givens
Alfred B. Maclay Gardens State Park, located off of Thomasville Road just a half mile north of I-10, is exactly that kind of blessing.
A lush and fragrant property, the grounds of Maclay were shaped by the historic gardens methodically developed by Alfred Barmore Maclay in the 1920s, '30s and '40s. Deemed a "masterpiece of floral architecture" by the state, it is one of Tallahassee's most beloved locales. Since the property was signed over to the state in 1954, it has been the backdrop for countless marriage ceremonies, family picnics and romantic strolls.
"This was the winter home for the Maclay family," explained Beth Weidner, park manager, on Maclay Gardens' rich history. "The gardens were designed to bloom when they were here in the winter and early spring. January through April is the peak blooming season, and a special fee is charged for garden entry during that time."
Woven between the park's hundreds of camellias and azaleas is over five miles of rustic roads perfectly suited for the avid walker and three miles of trails created by the Tallahassee Mountain Bike Association. Trailahassee.com, one of Leon County's newest initiatives geared at promoting the area's trail systems, featured Maclay as an ideal outdoor experience for any novice hiker, runner or bicyclist.
With opportunities to canoe, fish, swim and horseback ride, the gardens this year attracted 172,360 visitors, a slightly higher number than their usual annual average of 160,000.
The diverse topography of Northwest Florida gives way to a variety of outdoor activities. At the Tallahassee Museum, located on the banks of Lake Bradford on the southwest side of town, natural and historical elements of the region have been combined into one compact experience.
The museum boasts an 1880s farm and schoolhouse, an extensive three-course zip line known as Tallahassee Tree to Tree Adventures and an abundance of native wildlife, including the Florida panther and black bear.
"It really gives the visiting tourist a good sense of what the 850 region is all about," said Russell Daws, executive director and CEO of the Tallahassee Museum. "At least from the 1800s to the current times, our natural history and our culture are so closely interrelated."
According to Daws, the Tallahassee Museum hosts between 30,000 and 40,000 visitors each year. Generally, the park recommends carving out a two-hour time slot to fully experience all of the exhibits, but the outing can also be made into a daylong event.
"There's a lot of interesting components our region has to offer, from Indian mounds to historical civil rights movements," continued Daws. "Because we're a living museum and have a 52-acre campus, we can impact visitors of all ages from preschoolers to senior citizens, and we do it in some very meaningful ways."
History aficionados will also appreciate Mission San Luis, another one of Tallahassee's major attraction and a nationally recognized living museum.
The Mission's history is wide-ranging, dating back to the mid 1500s. Scholars believe Mission San Luis was the location of North America's first Christmas — a humble mass held in 1539 that was followed by a feast of seafood and fruit. Both the Apalachee Indians and Spaniards inhabited the museum's current location from 1656 to 1704. At its peak, the mission was home to more than 1,400 residents and was the primary religious and military center for both ethnic groups.
Today, the 60-acre living museum hosts a variety of educational and community events. Visitors are invited to explore the facility's rich past or simply take in its beauty with a relaxing picnic.
Karin Stanford, program supervisor at Mission San Luis, said not only is this museum historically significant, it also represents a timeless message of cooperation.
"It's an absolutely lovely site with an incredible history," said Stanford. "It's a place where the Spanish people who came over … lived together with the Apalachee Indians. They became a village and lived here for three generations. I think people relate to [Mission San Luis] as far as living together and making two cultures come together."
Leon County tourism increased by 14.6% during the last six months of 2013.
Those traveling on business or to conventions 7,440 room nights and brought more than $3 million in direct spending.
The 11,973 visitors coming to Tallahassee for leisure in 2013 booked 9,049 room nights — an estimated $3.8 million in direct spending.
Sports, or Tallahassee's primary "given," led to more than 40,000 visitors booking 19,064 rooms nights and putting $13.7 million in direct spending into the local economy.
Hotel revenue increased by 11% between January and August 2013.
The county's tourism website, visittallahassee.com, had 417,473 total website visits — a 9%
increase over 2012.