Throwing the Long Ball
Leon County's administrator loves where he lives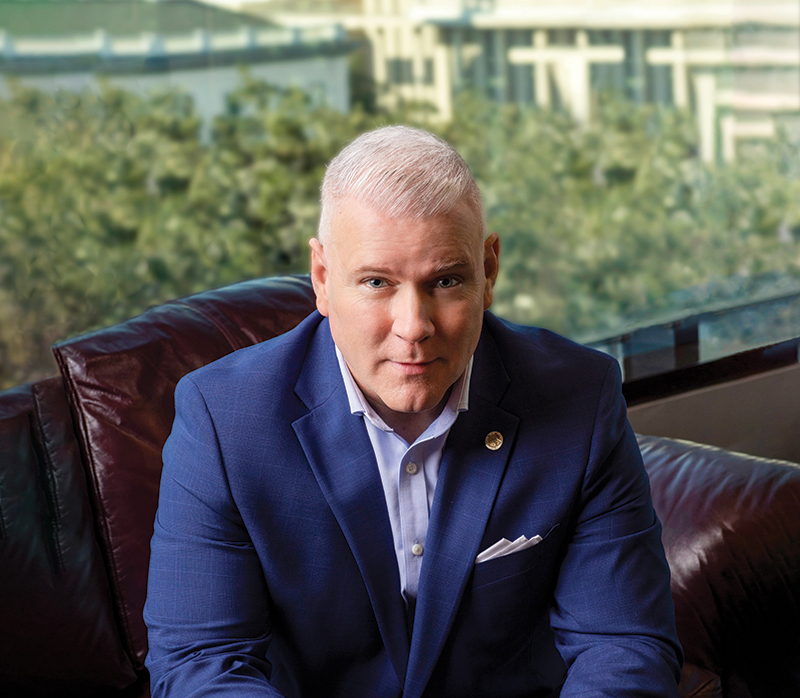 As a county administrator, Vince Long spends a lot of time thinking about what strengthens connections between people and a place.
He has witnessed, he says, more growth and redevelopment in Tallahassee/Leon County in the last 10 years than had occurred in the previous four decades, and he is pleased that the expansion had proceeded "responsibly."
"I see a continuing growth opportunity for us," Long said. "More than ever before, people are going to decide first where they want to live and then decide where they want to work."
And Long is here to tell you that Leon County is in a good position to attract people who are free to choose where to make their home.
"If I'm in an airport and somebody asks me where I'm from and I say, 'I'm from Tallahassee,' they say, 'I love Tallahassee,'" Long said. "They may speak more positively about our community than they do about their own mother. We're not perfect, but we try to be really thoughtful about building places for people."
On a shelf in Long's fifth-floor corner office in the Leon County Courthouse, a space adorned with framed newspaper articles, FSU sports memorabilia and a bounty of plaques, is a book, Love Where You Live: Creating Emotionally Engaging Places, by the urbanist Peter Kageyama. Long proudly notes that the author devoted several pages to Leon County.
Kageyama writes more generally, "If I were the mayor or manager of my city, one of the first things I would do is convene a meeting of my community's co-creators. You know who these folks are — they are the easily identifiable community activists, social entrepreneurs and connectors who function as the big fish in the social pond of your place."
Bringing about such meetings is the kind of thing Long likes to do. In the midst of the Great Recession, at a point where no one knew how long it would last or how bad it would get, he and the deputy county administrator met with the heads of some three dozen large Leon County employers. For those leaders, Long had but a single question, "What can the county do that would enable you to add a full-time employee or avoid eliminating an FTE?"
The county, at the time, was working to put together stimulus plans pursuant to the American Recovery Act. And it had begun to discuss the possible development of an amphitheater as part of Cascades Park.
Long remembers in particular a meeting with Mark O'Bryant, the CEO/president at Tallahassee Memorial HealthCare.
"Mark didn't propose a tax break," Long recalled. "He said, 'I'm trying to attract doctors. Build the amphitheater.' That conversation was instrumental in pushing that project forward. It speaks to the issue of building a place that is not Anywhere, USA."
Precisely which factors will lead individuals or a business to choose one city over another may be hard to predict, but inclusivity almost certainly helps.
In 2012, Arnold & Porter Kaye Scholer, a Manhattan law firm, was shopping for a community in which to locate its 100-employee back-office operation. When Tallahassee/Leon County emerged as a finalist, Long asked a managing partner with the firm why.
"He was every bit as shrewd and as cutthroat as you would think," Long said. "And he told me, 'You have a domestic partner registry. Our employees came to us and told us that was important to them.'"
Said Long, "I didn't see that one coming."
The Long View
Long went to work for Leon County in 1995 after earning a master's degree in public administration (MPA) from the Askew School of Public Administration and Policy at Florida State University.
He was appointed county administrator in 2011.
"I had the benefit of having been with the organization, but that also comes with the burden of knowing what your strengths and weaknesses are and where you need to go as an organization," Long said.
"The one factor that all CEOs have in common is that they've got to get the culture right. For me, that was a major emphasis in my early years. It's not like we had a bad culture in Leon County government, but because of all the things we do — airports to zoos, animal control to zoning — we had 47 different cultures that said very different things to the people we were serving. We needed to aggregate all of that into one culture and, with the same voice, really convey who we are and why we are here."
County government, said Long, who is given to football metaphors, is engaged in "blocking and tackling," that is, supplying infrastructure and services, and occasionally "throwing deep" — making a considerable public investment trusting that it will result in significant private-sector activity.
"We work on generational projects in addition to all of the day-to-day things that we do," Long said. "I have benefitted from longevity and the opportunity to see big projects through to completion and to put together a team of tenured people."
And, he has been lucky, too.
"I was fortunate as a working-class kid to end up at the Askew School at FSU and to have had the mentors I had," he said. "I was lucky that my first job out of graduate school was in Leon County with all that it has to offer as the state capital and a university town. We had very little staff, and we were experiencing robust growth and were wrestling with the complex policy issues that growth presents."
Still, Long said, he started work for the county at the optimal time where his own professional growth was concerned. Established large cities are big ships to try to turn.
"You benefit when you get to do things for the first time such as developing a comprehensive plan," Long said. "I was in the right place at the right time. It was analogous in the business world to working on a startup during its highest growth phase."
International Recognition
In July, the International City/County Management Association (ICMA) recognized Long with what amounts to a lifetime achievement honor. Its Mark E. Keane Career Excellence Award is reserved for one local government CEO in the world each year.
Asked about the selection process and criteria for the award, Long joked, "Not many people know this, but they told me that it is based solely on looks."
But seriously, according to a news release issued by his office, Long was selected "due to his role in leading Leon County government through unprecedented challenges like the Great Recession, Hurricane Michael and the COVID-19 pandemic, all while launching significant programs, completing game-changing projects and strengthening Leon County's reputation as a great place to work, live and play."
"The ICMA had noticed some good things coming out of Leon County, and we received an invitation to apply," Long said. "I was honored especially because the people making the selection were peers. They really understand what you do and its complexity. It's not just an individual honor. It is one that reflects well on my team and on the Board of County Commissioners. The board, since I came on in 2011, has done nothing but provide a lot of support."
"Based on my 27 years as a county commissioner, I feel like it would be a hard task to find someone who has demonstrated such a level of continuous excellence over their career as Vince," Leon County Commission chairman Bill Proctor said when he learned that Long had been honored by the ICMA. "I say it all the time to Vince — the only problem he creates for himself and his team is the expectations. With him as our county administrator, I feel like there is nothing we cannot do in Leon County."
The Keane Award carries with it a $5,000 cash award. Long planned to give the money to the Askew School.
"That was a no-brainer," said Long, who taught a graduate-level course at the Askew School for more than 12 years prior to being appointed county administrator.
"I told my students for years that working as a CEO in the private sector or the public sector requires the same acumen," Long said. "But in government, you are doing what you do in a very public realm. We take on projects and activities that are either not profitable and thus not appropriate to private business or too difficult for the private sector to handle. Government tends to lead in certain areas, and then at some point, an activity becomes doable at scale or it becomes profitable, and the private sector takes it over. In local government, we were doing things 30 years ago that the private sector now does."
With seniority comes confidence, Long said.
"After a while, the game slows down for you, and you can see it very clearly," he explained. "You've been through the emergencies, the disasters, natural and manmade, and you've executed the difficult projects. You've been through financial ups and downs, and you have led your team to the other side of it, and you know you can do that, and your team knows you can do that. Not only am I a really technical person, but I'm also tactical. And I am tough enough to hang in there and see things through."
Landing Amazon
When DeVoe Moore entered into discussions with the logistics giant Amazon regarding the sale of his property near the intersection of Mahan Road and Interstate 10 for a state-of-the-art fulfillment center, he reached out to Long.
"I may have been DeVoe's first phone call," Long said. "He didn't call me because he knew the county had an incentive package. He didn't want an incentive package. He didn't call to ask me if I could get the local chamber and the Florida Chamber to the table. He was adamant that he didn't want them involved — you know DeVoe."
Rather, Moore knew that Long could address Amazon's concerns about how long it would take to get its project permitted.
"Their most fundamental concern and objective was speed to market," Long said. "I was able to turn to Amazon and say, 'If you do these things, here's when you can be permitted. If you agree to these things, then we can be ready to go.'"
Amazon had no problem with satisfying requirements for stormwater attenuation, tree replanting or construction of a public connecting road through their facility as long as they would be allowed to build 2 million square feet and be able to get the center up and running in time for the 2022 holiday shopping season.
"They were looking at other parcels," Long said, "some of them less expensive, and I assigned a team to them right off the bat. I joke with some of our local developers about giving me a hard time about having to build a road. I mean, Amazon said, 'No problem.' "
Throwing Deep
Leon County, Long believes, is in an excellent position to diversify and strengthen its economy given the assets it possesses — the capacity to grow talent, a strategic location, transportation arteries and a regional health care hub.
"We have really benefitted from being a state government and university town," Long said. "I am first to agree with anyone who says that if you are not growing, you're dying. And, if you are going to start with a base, I'll take state government and higher education every day of the week. That gives you stability when you are going through various economic cycles."
Long views infrastructure as an economic development tool.
"We know that if we do that well, it can literally pave opportunities for the private sector," he said. "There is no better example of that than what we did on Gaines Street. We came in and did the unsexy work, the unprofitable work. We made a $35 million investment thinking not just about the infrastructure, but thinking, too, about the private sector infrastructure that it could stimulate. Today, we are about to hit $600 million in private investment that it has attracted. At Cascades Park, we invested $30 million in infrastructure, and it has already leveraged $160 million in private investment."
The county's efforts leading to the creation of the Domi Station business incubator, Long said, were an example of its preparedness to throw deep. For years, tech transfer and commercialization and business incubation had been listed as priorities at county government retreats.
"These are not things that cities and counties traditionally do," Long said. "So, we reached out to business associations and schools and universities and said if we had an incubator, we could really set the table for commercialization. It wasn't that they didn't get it, they just weren't ready to do anything with it. Finally, I had a warehouse become available on Gaines Street in the middle of all the Gaines Street work we were doing. It was an immediate ah-ha moment, and we said, 'That's it. That's our incubator.'"
With a team of policy analysts and economic developers, Long toured every urban incubator in Florida, learning that 90% of incubated businesses stay where they are born.
"Ultimately, through those visits, we got connected with the people who ended up running Domi, a venture capital firm out of Boston and Atlanta," Long said. "They wanted to work with FSU and FAMU anyway and were in the community kicking the tires and exploring the possibility of doing an incubator. We told them we would build out the warehouse for them if they would take on X number of companies and do community programming and events to promote business expansion and tech transfer and commercialization.
"The county's total investment was $200,000, and now we've had Domi Station for a good few years, and they're doing great work."
Consolidation?
Coinciding with Long's tenure as county administrator, Leon County has gone 11 years without a millage rate increase.
"It's a question of what you take pride in doing," Long said. "Anyone can manage when you have all the money in the world. We take particular pride in not only being a national model, but versus comparable counties in Florida, we have the fewest number of employees per capita, and we have the lowest tax burden. We don't have impact fees here, and that's something people don't often think about. We try to stretch our dollars as far as we can for as long as we can."
Even so, might additional efficiencies and savings be possible if Leon County and the City of Tallahassee merged into a single unit of local government?
"The short answer is yes, they could," Long said. "For years at FSU, I taught a section on consolidation. Speaking to a class of 45-50 graduate students about something that has been a topic of conversation in our community for decades, I said that, in three hours, we could write a consolidation charter that would realize tremendous efficiencies and provide for a more responsive government, but it would likely fail dramatically at the ballot box."
Academically and technically speaking, Long said, "We can create a consolidated government that would bring about new efficiencies. But you have to go into that process knowing that you are not going to need a county administrator and a city manager, you're not going to need seven county commissioners, five city commissioners and five constitutional officers and, you know what, unions, we're probably not going to need all of the employees we have today."
Some cities, Long said, get to the point where they want one person — a strong mayor who is directly accountable to the people — in charge.
"You have to look at whether you are doing duplicative things," he said. "In our community, the answer is no. We have engaged in lots of functional consolidation. You may not find another community that has a joint planning department, for example. We are functionally consolidated in the areas of fire and EMS. The county provides EMS; the city provides fire protection. We provide the libraries, and they run a major utility.
"Consolidation? If you are going to make an omelet, you are going to have to crack some eggs. Is it doable? Yes. Is it always better? No, it's not."
---
On Long's Watch
Vince Long's application for consideration as an ICMA Award for Career Excellence recipient listed milestones and achievements that he has helped bring about as Leon County administrator.
Comprehensive organizational transformation and culture shift in county government.
Leon County recognized nationally as a model for efficiency, innovation and citizen engagement.
Leon CARES program recognized as national model for the distribution of aid to people hit hard by the COVID-19 pandemic.

County recognized by U.S. Treasury Department as a leading distributor of Emergency Rental Assistance funds.

Amazon commits to development of fulfillment center, expected to employ more than 1,000 people.
Successful passage and implementation of intergovernmental Blueprint sales tax program.
Development of Apalachee Regional Park cross country course.
Federal Emergency Management Agency designates Leon County a #HurricaneStrong community, the first in the nation.
Investment of $60 million to protect freshwater springs.
Consolidation of 9-1-1 dispatch functions.
Implementation of sustainability plan projected to reduce the county's greenhouse gas emissions by 30% by 2030.
Designation of Tallahassee/Leon County as one of the South's "Best Cities" by Southern Living magazine.
Creation of Leon County's Created Equal event, which focuses on issues related to race and racial inequality.
National Association of Counties presents 95 awards to Leon County for best practices and achievement in county programs and practices.
No change in ad valorem millage rate for 11 years.
AA+ bond rating from Fitch Ratings.
---