Behind the Scenes
Unsung and unseen staffers enable 'stars' to shine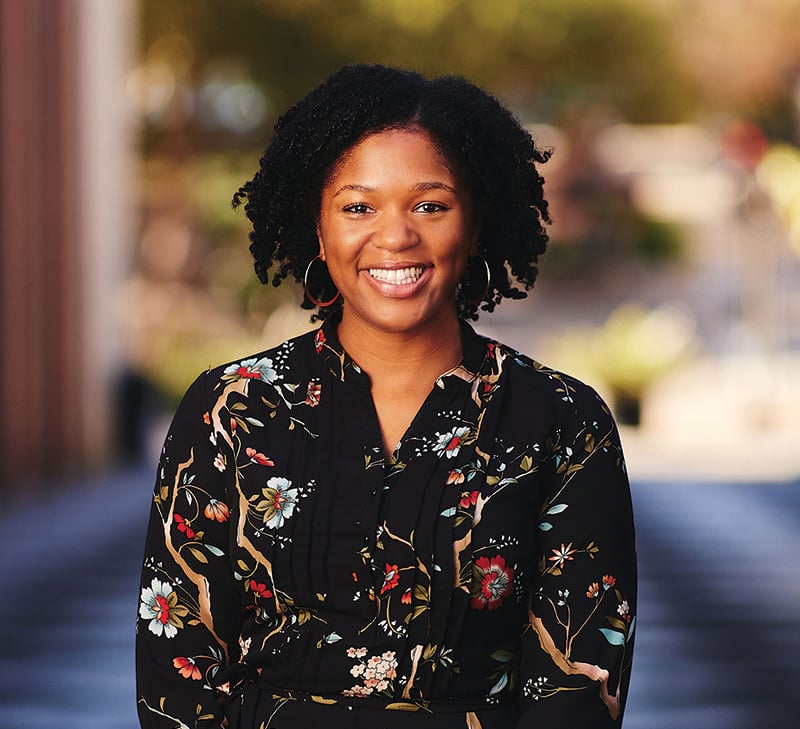 We all know the smiling faces, the recognizable "stars" in everything from theater to politics. We admire these super achievers, charismatic leaders and time managers par excellence.
But in truth, they're more like us than we think. They all need help behind the scenes supplied by a cadre of assistants and organizers who clear the brush and prepare the way. Whether that means that scheduled meetings run on time, votes are all nicely lined up or that with just the right music, auditorium seats will be filled, the powerful people in the background make it happen as much as the people out front.
Here are four such essential employees.
---
Courtney Thomas
Chief of Staff for Mayor John Dailey
Though only 32 years old, Thomas seems to have already spent a lifetime in political circles.
"Growing up in Tallahassee where my father was involved with government, going to the Governor's mansion was not really a big deal," she said. "Our family was friends with Bob Graham and Alcee Hastings, and from the very beginning I knew I wanted to be involved in politics, too."
While still at FSU, Thomas became an unpaid intern for then-County Commissioner John Dailey, learning to network and develop working relationships. She began by participating in Gwen Graham's congressional campaign, helping with Al Lawson's election to Congress and working in Washington with U.S. Rep. Frederica Wilson. Then she got homesick.
With her experience and Tallahassee contacts, it wasn't long before she was recruited into Dailey's orbit as director of external affairs before becoming his chief of staff.
"Much of my role involves outward-facing communication," she said. "Meetings, social media."
Though she avoids the word gatekeeper, Thomas does admit that she helps "curate" meetings, or takes them herself.
"I often hear things first and ask him (the mayor) if he wants to hear them, too," she said. "I know many people and have the contacts, so I can help things actually get done. What I also bring is a millennial Black woman's point of view. I share my learned, lived experience with the mayor, and I believe it is valued."
Given her love of politics and public service, would Thomas herself ever run for office?
"The year 2020 was an eye-opening time for me with all that vitriol and anger," she said. "It turned me off of ever running or being out front."
Thomas, however, still loves public service and her contact with the people
of Tallahassee.
"I will never need a title to make a difference," she said.
---
Jon Ausman
Retired Campaign Director (among many other things)
Though retired, John Ausman is the longest-serving member of the Democratic National Committee in Florida's history and the longest-serving chairman of the Leon County Democratic Party in county history.
He also has run dozens of candidates' campaigns for state and local offices. Ausman is clear-eyed about the relationship between candidates and running a campaign. The campaign manager runs the campaign while making the candidate think that he is running it.
"Many campaign managers, including myself, may begin to despise the candidate and wish that Election Day were already here," Ausman said. "Both the candidate and the campaign manager get edgy because they know there is a specific deadline on which they will be graded by the voters."
The scope of the manager's work is exhaustive — and exhausting.
"First, you must marshal five critical resources: money, a good candidate, technology, a message and organization of people," Ausman said. "Second, determine how many votes are necessary to win. Third, examine where those votes can be obtained. Fourth, contact likely voters four to six times with an effective message. And, last, keep the candidate focused on the campaign while providing him rest and recreation when needed."
Ausman says that after reminding the candidate that well-meaning friends don't always have good ideas — and becoming satisfied that in the end, he will be paid — there's nothing like the gratification of a win.
---
Darrick McGhee
Private Lobbyist
Darrick McGhee became immersed in politics early but has always worked behind the scenes rather than in an elected office. In fact, McGhee has served as chief of staff or director at one Florida agency after another. He took on leadership roles in the administrations of governors Rick Scott, Charlie Crist and Jeb Bush. Today, he is a leading lobbyist and COO at Johnson & Blanton LLC. His only upfront role is that of pastor of the Bible Based Church in Tallahassee, which he helped found.
"I earned a degree from FAMU in political science with an eye to becoming a lawyer," he said, but the ministry also called. McGhee became ordained while still in college. Over the next two decades, he was director of legislative affairs for the governor. He held posts as executive director, chief of staff, and director of legislative and cabinet affairs in three state departments, often at the same time.
McGhee said that when he assesses possible lobbying jobs for a private client, money as a consideration is way down the list of concerns.
"Lobbying for the private sector is different from legislative lobbying," he said. "You can't sell what you don't buy. I do my research. I never take what a client says at face value."
Legislative lobbying is different.
"For instance," he said, "with Rick Scott, my role was to advance, educate, and keep front and center the priorities of the governor. Though I wouldn't assert my opinion particularly, I would debate team strategies. But in government, if you want to keep your job, as they say, 'Get on board, or get run over.' "
---
Mandy Stringer
Chief Executive Officer of Tallahassee Symphony
She manages a symphony budget that 12 years ago was $460,000, and today is $1.3 million, writes grants, hires artists and collaborates with the maestro, musicians, patrons, sponsors and grantors to the orchestra. Stringer loves every aspect of her job to which she devotes 60 hours a week while rarely taking a vacation.
She holds a doctorate in piano performance, but stage fright kept her from pursuing piano as a profession. For her, the job of symphony CEO and the challenge of finding common ground among the symphony's stakeholders — and money with which to pursue those goals — is "completely fulfilling." The hiring of guest artists, marketing costs, numbers of rehearsals and helping to decide which music to play are all part of the nuanced decisions Stringer has on her plate.
"Working with the artistic head of the symphony, Darko Butorac, is a true partnership," Stringer said. "While the conductor has the final say in programs, he is always open to my suggestions. The Seven Last Words of the Unarmed, for instance, was my idea. We share a level of trust in what will sell and what the musicians and conductor want to play. But of course, it often comes down to money. Mahler costs more than Mozart!"
Though some of these behind-the-scenes operators have at one time or another been out front and in the spotlight, today each one of them lauds the benefits of a little less glare.
Stringer says she "feels like a kid in a candy shop," knowing she's making a positive difference in the world with music. McGhee treasures the additional time he has to be with family now that he is working in the private domain. From behind the scenes, Ausman reminds a candidate to, "Always do what you think is right; winning or staying in office is not worth your integrity, honor or serenity." And Thomas says that she values her own self-care and mental health enough to steer clear of running for office.
And we're glad they feel this way. After all, we need them where they are, helping to run the show.
---