Keeping on Keeps Feeling Right
For decades, Eugene Franklin has served communities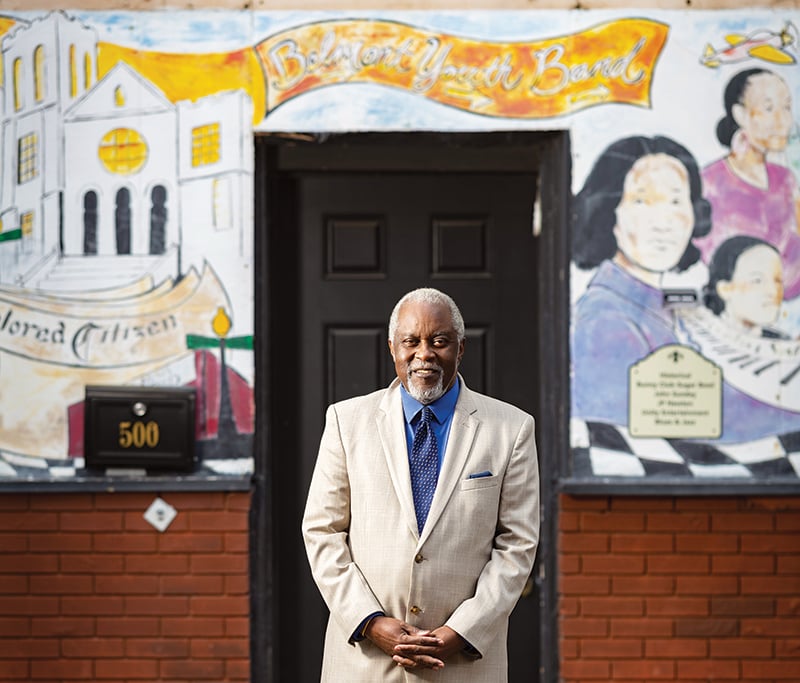 With 13 grandchildren and 12 great-grandchildren vying for his attention, Eugene Franklin would seem to be covered up. Nonetheless, he is resolved to continue serving as an evangelist, educator, activist and community leader.
"I do all these things because it just feels right," he said.
Growing up poor in New Orleans, Franklin, of Pensacola, has spent a lifetime achieving the American Dream, and along the way, working to make that dream possible for others.
"I want everybody to have a piece of America," he said. "My goal has been bringing it to the table. I love this state, I love Pensacola and I want to give people an opportunity to develop and become the best they can be."
Franklin, now in his 70s, spent 27 years in the United States Navy, both as an enlisted man and an officer. While traveling the world, he developed an appreciation for people and how they interacted in different cultural settings. Those experiences, combined with his religious faith, led him to a civilian life based on service to others.
One of his earliest ventures was helping Black residents in Pensacola buy their own homes.
"When I got out of the military and started working in the church, I heard about people with 18% interest rates on their mortgages," he recalled. "So I formed Franklin Mortgage and Investment Co. with the goal of helping people keep their homes and get out of high-rate mortgages. It really was more of a ministry where we talked them through the process and then asked them to teach others."
As time went on, in addition to his ministerial work as an associate pastor at First Baptist Church of Warrington in Pensacola, a 2,200-member congregation, Franklin began serving on many community and nonprofit boards of directors. While on the board of the Pensacola Chamber of Commerce, he helped found the Gulf Coast African American Chamber.
That organization was instrumental in revitalizing the historic Belmont DeVillers neighborhood. "I helped them from about 1997 through about 2004," Franklin said.
In 1999, Franklin joined the board of the National Black Chamber of Commerce in Washington, D.C.
"They asked me to help organize and support chambers across the state, and out of that grew the Florida Black Chamber of Commerce, which I helped found," Franklin said. "The work is about legislation, about issues and sharing knowledge to help communities redevelop their business structure. We practice what is called cultural economics. We help businesses understand their history and then support local communities."
Franklin also helped establish the National Cultural Heritage Initiative, which spurred the development of a tourism market that serves international travelers and Americans of African descent, and the Pan African Cultural Heritage Initiative. The latter organization, Franklin said, believes that "if you look at people, not by race, but by their culture, and you appreciate within their sphere of influence how they interact with each other and develop, you can get a better understanding of how to rebuild communities."
Subsequently, Franklin got involved in bringing about the Pan African Heritage Cultural Institute, "where we try hard to teach people how to rebuild their own communities by allowing them to develop them in the way that they feel comfortable. Whatever their needs are, what they want for their community, we try to facilitate to support their culture and their history."
The National Cultural Heritage Tourism Center, yet another entity that Franklin helped foster, was instrumental in the redevelopment of Belmont DeVillers.
"We partnered with the Pensacola Chamber, provided them with historical information, and organized and promoted people who were working in the community in their cultural environment," Franklin said. "It allowed people to come here and experience the culture — taste the food, hear the music. It's a simple process, but it allows for the development of communities, and it has been a boon for Pensacola and the redevelopment of our downtown. It brings back properties that have been written off as of no use. When people come back and build these clusters, people come in, redevelop the community and preserve its history, which is the most important part of cultural economics."
Today, Franklin continues serving on boards and working to support neighborhoods in Pensacola and beyond.
"I've probably served on every major board in Pensacola," he said. "Currently, I'm the chair of Pensacola Habitat for Humanity, which connects to my work in community development and also my ministry. I'm also a longtime and founding member of the Institute for Human & Machine Cognition."
IHMC conducts research as part of the State University System of Florida and has locations in Pensacola and Ocala. It is focused on developing science and technology aimed at leveraging and extending human cognition, perception, locomotion, performance and resilience.