These Gates Open Doors for Everyone
Investing for The Greater Good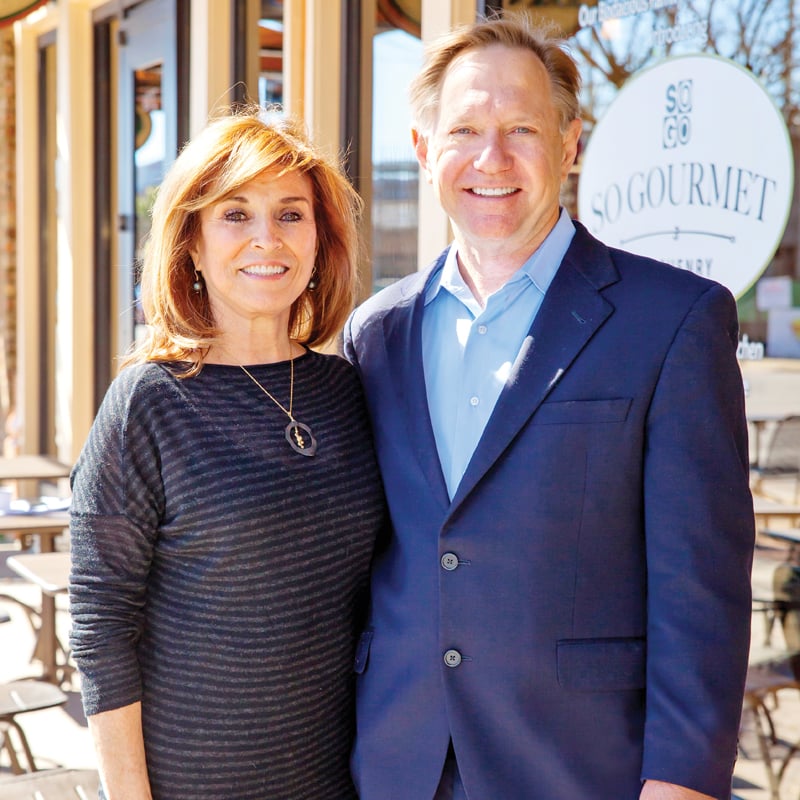 The Gates Foundation is to Africa what The Studer Institute is to Pensacola. In terms of investing for the greater good, no better comparison can be made.
Hamilton Images
Quint (right) and Rishy Studer
Quint and Rishy Studer, the philanthropists behind the Studer Institute, believe that keeping resources at home — to improve quality of life in their own backyard — is the highest level of stewardship.
They created the Studer Institute as a way to do just that. The think tank is a team of around 20 professionals at the top of their field who share one common trait: a passion for the place they call home.
Founder and principal investor Quint Studer made his name and fortune in the health care industry, where he now serves as a consultant and best-selling author. Clearly, though, his main goal is to give back to the community that cradled him.
"In looking at more national think tanks, such as the Brookings Institute or the Hoover Institute, I've always felt that it was important for people to have good research, good data and then good information about what the data is showing," Studer explains. "I think if we don't measure it, then we don't improve it."
So, with the Studer Institute, what he sought was really to create what people normally do nationally with institutes and think tanks, but to do it on a local level. The impetus was to improve the quality of life for the Pensacola metro area.
"Most cities are already so developed that they don't have the amount of empty land that allows for good urban planning to use that land wisely," Studer observes. "And the most valuable opportunity we have is Pensacola State College and the University of West Florida. Gallop data shows there's an advantage to communities that have universities in their area because of the tremendous talent. One of the reasons that Studer Group could grow the way it has is because we had talent locally."
The point isn't really that Studer believes Pensacola is so different from its sister cities such as Panama City, Destin and Mobile, Alabama. The difference is in his approach to giving back.
"I don't think Pensacola is different than those other places," Studer says. "What makes me passionate about this city is that I live here. Rishy and I think everyone has a human responsibility to make their area the best it can possibly be."
And so the Studer mantra goes: By working together, we can impact things locally.
The main goals for the Studer Institute team are to shed light on socio-economic facts about the greater Pensacola area and to begin brainstorming ways to turn challenges into success stories.
For instance, the Institute's Pensacola Metro Report 2014 is the current edition of an annual report on economic and human factors that affect business development in the area. For 2014, the report uncovered several key measures that show the good — and the bad — story on the area's readiness for true economic development.
The report looks at long-term data trends from 1970 through 2013. The publication examines four main indicators of a community's well-being: economic, public health, demographic and educational sectors. Harnessing the synergy of these four indicators and telling a much broader (and complex) story of the community allows the Institute's academics to dig much deeper into the issues and discuss possible modes of change.
The Good and the Bad
Since 2000, the greater Pensacola area has made huge strides in its rebranding and economic development initiatives. Specific success points indicate a rebound that is still growing in downtown and beyond:
Palafox Street/Downtown renaissance with growth in new and expanding business

A booming financial services sector, led by a $250 million investment by Navy Federal Credit Union

Beach and aviation tourism growth since the 2010 BP oil spill

Growth in technology and knowledge-based businesses, especially in Gulf Breeze

Potential growth in niche markets associated with IT and aerospace

Mixed-use retail/commercial buildings on tap for the downtown landscape
In terms of challenges, Pensacola has its share — but not without the determination to change. The bottom line for Studer is that Pensacola has a stagnant population.
"If you're going to bring jobs and dollars into your community, you have to attract people," he maintains.
The Metro Report reveals several key factors that are holding the area back from its full potential, and these are really no different from anywhere in the United States or, in particular, the South. According to the Studer Institute, the main top-line challenges are poverty, poor health outcomes and low educational achievements overall.
Low graduation rates affect the community as a whole, not just individual lives and families.
Poor lifestyle choices contribute to rising rates of behavior-based chronic diseases such as heart disease, diabetes and obesity.
The gap between the average Escambia County salary and the state — and U.S. — averages is widening.
Studer believes the wage index and education are the critical problems for his beloved city.
"Our (wage index) used to be above the Florida average, and now it is behind," he laments. "That wage index is earning power. It might feel good for some employers to pay a little bit less so they can make a little more profit, but in the long run that's detrimental to the community because you're taking dollars out of the system. So I think our wage index is something that we need to address. We need to take that leap of faith and realize that when you pay your employees more, you improve productivity, improve service and it improves the bottom line — it doesn't hurt it."
For Studer, the No. 1 component for success is also the one that's going to take the longest to impact: education. Graduation rates are too low in Escambia County, particularly with the minority population.
"We have wonderful school board personnel, but just looking at the data we've seen key measurements stay flat over the last 13-14 years, despite hard work," he explains. "So I don't think it's a matter of talent or expertise. It's important to focus on the bright spots — areas where teachers and administrators are showing it can be done — and scaling those throughout the rest of the system. It's also looking at Santa Rosa County, which seems to be performing better in education, and looking for answers outside our metro area. The long-term solution is improving educational performance and graduation rates in a collaborative way."
Studer believes the educational challenge ties in with another factor — single parent households in the area.
"We can't impact whether people get married or stay together, but we can certainly improve services for those people such as after school programs, early education and so on," he says.
Coming to the Table
The Metro Report is national-level research that is targeted at the local community — and not many communities have access to that. The true purpose of the Metro Report, though, is to entice community leaders to talk about ways to turn the negatives into positives.
"We're interested in creating conversation in the change," Studer says. "That sometimes means leading the dialogue also. We've noticed there is tremendous demand for leadership development. So the Studer Institute plans on being a front runner, providing education and training on how to create great work places. If we do that, we'll grow this community."
To that end, the Studer Institute is planning critical business education such as non-profit board development and small business training.
Right now, The Studer Institute is funded completely by philanthropy. In the future, the hope is that other companies and individuals will see the value and help with funding.
"This isn't anything new," he says. "As I traveled the country over the last 15 years, you see how … think tanks can look objectively at what works best and how to scale it across the country because they're not being paid by a certain vendor to show a certain outcome. The unique thing is doing this at the local level. It's unique but fun to focus completely on a local environment."
In the Pensacola metro area, the Studer Institute thinks that by taking something that has positive aspects nationally (think tank approach) and using it locally, they can not only come up with the measurement but also help create the conversation to improve the quality of life for area residents.