There's No Such Thing as Happiness Made-to-Order
A titan of American industry spills the beans on the recipe for success — but not for his famous chili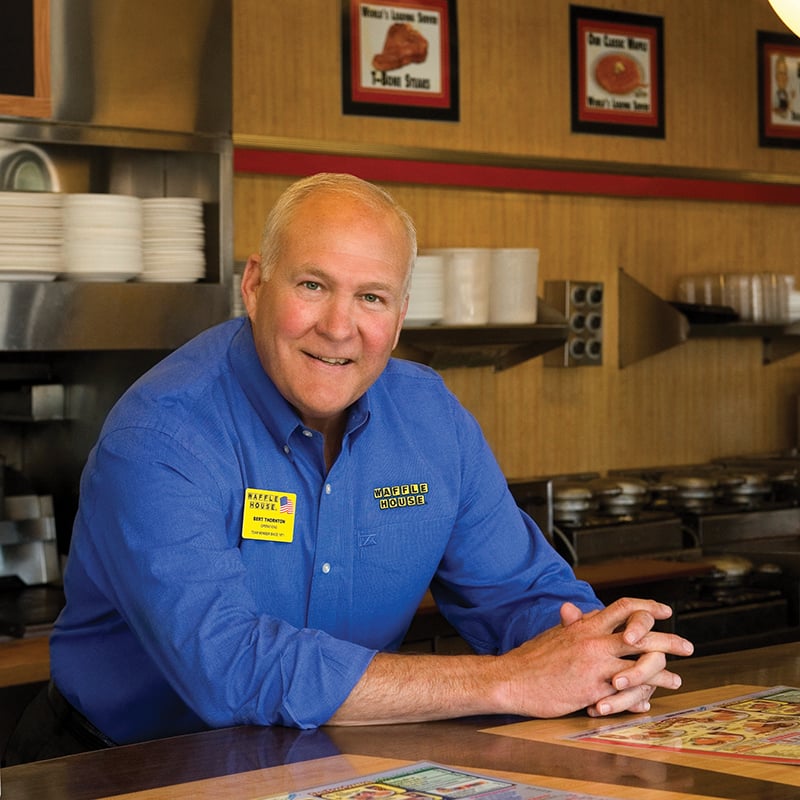 Scattered, smothered and peppered. That's how Bert Thornton orders his hash browns these days. The 71-year-old Escambia County resident and former chief operating officer of Waffle House skips the chili, a surprise considering he invented the stuff.
"My wife loves it," Thornton said in July, while eating his Texas Cheesesteak Sandwich. "She puts it on her salad. I like it, but when I was working I tasted it everywhere I went."
Thornton had good reason to be vigilant: After all, his name was on the stuff, and — as he put it — "There are a lot of ways to screw that chili up."
Thornton retired from Waffle House as president and COO in 2011, after 40 years on the job. During that time, he helped grow the breakfast chain from humble beginnings into a financial and cultural powerhouse.
Today, the chain boasts more than 2,000 locations and sells more than 11 million servings of Bert's Chili each year. Thornton's smiling face, holding a steaming bowl of his namesake concoction, adorns the diners' walls from coast to coast. There's even a song named after him. (Google it.)
At the height of his career, Thornton was responsible for this whole empire — from griddle to gleaming griddle. These days, though, he spends less time taste-testing chili and more time dishing out advice to would-be business executives.
Thornton retired to Perdido Key, a laid-back island community a half-hour west of Pensacola. There, he recently self-published a book titled "Find an Old Gorilla: Pathways Through the Jungle of Business and Life."
A slim 60 pages, it is classic business philosophy, packed full of sage advice distilled from decades on the front lines of American industry. Thornton pours his wisdom out generously, like a waitress with a full pot of coffee.
Anyone who's ever met a Waffle House waitress will tell you, though: At some point, the folksy charm gives way to stern insistence, and you've got to stop drinking the coffee and start paying the rent. That is to say, success never comes made to order.
'Flipping Eggs and Turning Burgers'
Thornton began his career at Waffle House in 1971. He had graduated from Georgia Tech three years earlier, served a brief stint in Vietnam and then worked as a computer salesman for NCR, an early competitor to IBM.
"All my life, I'd been told I was going to make a great salesman," Thornton said. "But I found out I just didn't like it."
As fate would have it, an old fraternity brother of Thornton's was facing a similar predicament. His name was Joe Rogers Jr., and his father had started Waffle House in the 1950s.
Joe Rogers Sr. never imagined his little breakfast chain becoming what it is today, and his son never imagined himself running the family business. He had joined the Air National Guard after graduating from Georgia Tech and then went to Harvard to study finance, with the goal of becoming an investment banker.
"He came back, took a look at the Waffle House model, and said, 'I can do better with this model than I can as a banker,'" Thornton remembered. "That, of course, has been very prophetic."
Rogers asked Thornton to join him.
"Next thing I knew, I was flipping eggs and turning hamburgers," he said.
Thornton joined the company as a manager trainee. Within four years, he had become a vice president. In the 1980s, while he was working for the company in Texas, Thornton was tasked with developing a new recipe for Waffle House's chili. The rest, as they say, is history.
'A Lot of Waffle House Napkins'
Throughout his career, Thornton was a careful student of those around him and had many mentors. He credits Rogers with being among his best.
Through the years, he kept two folders, one for bits of wisdom he found in books or magazine articles and one for notes he would jot down during conversation with Rogers or others — little bits of insight he wanted to hold onto for later.
"A lot of Waffle House napkins," he said.
As he grew older and more successful, others began to come to Thornton for advice, and he found himself referring constantly to his files. Eventually, he internalized them.
"One day, I looked up and realized I was never going to be able to sit down across the table from everyone who had questions I could answer," he said. "So that's when I wrote the book."
Work Hard and Persevere
The premise of the book — as reflected in the title — is simple. "Navigating the jungles of business and life is tricky business," Thornton writes. "But there are old gorillas out there who can help. They are the ones who know where all the pathways are — as well as the quicksand."
The book offers advice on how to find the right "old gorilla" and maintain a productive mentoring relationship. Thornton also lays out some basic laws of success gleaned from his own experience in business and life. At the heart of it all are two admonitions: Work hard and persevere.
"You have to create value before you can expect a reward," Thornton said, mopping the last drops of Thousand Island dressing from his plate. "We live in a society today in which many people think the world owes them a living.
"I used to tell my guys a story about a fellow who sat in front of an empty fireplace in the dead of winter. He said, 'Show me some heat, and I'll go get you some wood.' Of course, it doesn't work that way. You have to chop the wood and start the fire before you get the heat. Reward follows performance. It never precedes it."
Thornton acknowledged that the reward wasn't always immediate but insisted that, in the end, people get what they deserve.
"In the big leagues," he said, "we look at trends. You've got to step back from the last time you got screwed in a deal or the last time you were so happy you could hardly stand it. You've got to ask, 'Overall, is my life trending in a good direction?'"
Thornton paraphrased the famous business writer Jim Rone, a personal favorite, saying, "I think it's very important for people to work half a day. You can either work the first 12 hours or the last 12."
He laughed and ate the last bit of his sandwich.
"At the end of the day, if you're not working as hard as the people around you, they will pass you by. If you're not learning as fast as the people around you, they will pass you by. There is absolutely nothing in the world that takes the place of hard work and perseverance."