There's No Place Like Home
Ben Pingree's goal is to make Tallahassee-Leon County thrive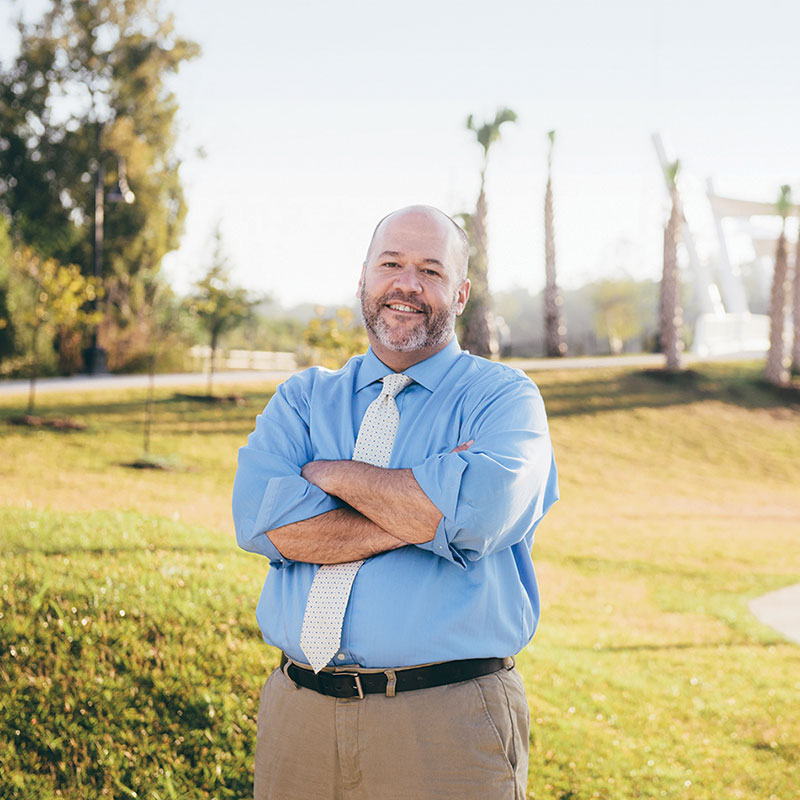 Ben Pingree is bullish on Tallahassee.
As the new Director of PLACE — an acronym for Tallahassee-Leon County's department of Planning, Land Management and Community Enhancement — it's kind of his job to envision a rosy future.
But when the affable 41-year-old speaks, he exudes good vibrations. Tallahassee, he declared, has come a long way, and is about to come into its own as a nationally recognized center for culture and commerce.
"This is a community that has gone far and wide to find out who we want to be," Pingree said. "We went to Madison, Chattanooga, Raleigh, Austin and last year we went to Boulder. They were great trips and we learned different things, but I think finally Tallahassee is realizing that the secret sauce to our success is that we're going to be ourselves. We're going to utilize … our greatest assets and attributes and resources and craft a tomorrow that other communities will travel to come and visit when they want to have a glimpse of who they want to be.
"All of the key ingredients that we need have been here. But they have never been so well aligned as I see them right now," he continues, "Yeah, I'm excited about it … you betcha."
In his new position at PLACE, which began Feb. 1, Pingree initially was in charge of the city/county planning department and the Blueprint intergovernmental agency. Less than a month later, the newly created Office of Economic Vitality also came under his purview. The latter group is in charge of encouraging economic development throughout the county and, starting in 2020, will administer an estimated $94 million to support those efforts, paid for with a portion of an extra penny in sales tax.
Pingree was born in Tallahassee, his parents both steeped in state government. His father was twice secretary of the Department of Health and Rehabilitative Services under Gov. Bob Graham, while his mother was a senior official with Secretary of State and Florida Cabinet member George Firestone.
His parents divorced and he moved with his mother to Miami, where he would attend middle and high school. After that, he went to Boston University, parlaying his baseball talents into a year in Australia starting a team at the University of Queensland. He would also spend a semester in Spain training with the Spanish Olympic baseball team. Before graduating BU in 1996, he landed a "dream job" in the front office of the Philadelphia Phillies.
But life got in the way. He turned down the position to move back to Miami to help his mother, who was undergoing cancer treatment. Pingree would spend a year as a social worker there. "I loved the work, I loved caring for my mom but I knew that I needed to get back to graduate school," he recalls. He returned to Tallahassee and Florida State University to pursue a master's in public administration.
His plan was to go into the family business — state government — but "a chord was struck" when he took an elective class in local government, taught by his one of his now bosses, County Administrator Vince Long (his other boss is City Manager Rick Fernandez). Within months after graduation, Pingree was working for the county, first in the budget office, and then in a variety of other positions throughout the early 2000s.
"I was, to use the baseball term, a utility player," he said. "I was doing things like helping create the EMS system, helping create an uninsured health care program, a lot of program development, program creation, budget management. Periodically I would be called on to run different departments. … I loved every minute of it."
Long sings Pingree's praises.
"Over the years, I have worked with Ben on complex, important and high profile policy, program and management issues that face our community," he said. "Ben is a team player, a problem solver and a proven rare talent with a distinct understanding of the unique environment of local government and an ability to consistently achieve results for the community."
In 2006, Pingree left the county to serve as Wakulla County administrator. Thirty-two years old at the time, he was the youngest city or county manager in Florida. His ambitious plan to build a team and pass a county charter were realized within two years. But by year three, as an "outsider," he realized his time in the rural community was up.
He moved to Miami to serve as the president and CEO of the Zoological Society of Florida (now known as Zoo Miami). His duties included meeting with members of 20th Century Fox to encourage a billion-dollar theme park to be called Miami Wilds.
But three years later, in 2013, "I realized that as much as I enjoyed it, I wanted to come back to my hometown," he said. And he wanted to bring to Tallahassee his family including his wife, Alexandra, an IT consultant who works as a contractor for the state Department of Agriculture; daughter Elle, 21, now a student at the University of Florida; and sons Philip, 16, a rising senior at Maclay; and Harrison, 10, who attends Riversink Elementary.
Pingree led the area's Economic Development Council at the Greater Tallahassee Chamber of Commerce until leaving there for his current position.
Since his return, Pingree said he has seen the "hundreds of hours of meetings and planning and charettes" that he attended at the turn of the century produce results in the form of the Gaines Street revitalization, Franklin Boulevard and Cascades Park, and the creation of local Community Redevelopment Agencies.
"In just the last 2½ years, the progress has been force multiplied yet again," he said. "We have never seen in this community the playing field so ready for significant private-sector economic investment and vitality."
But Pingree's praise veers back to the personal when talking about his own reasons for coming home again: "Tallahassee has an amazing draw. I've left it, and I've come back twice. And I've always been sad to go and happy to come.
"It's always been home."