The St. Joe Company Fearlessly Lays Out 50-year Plan
St. Joe sets sights on retirees for long-term expansion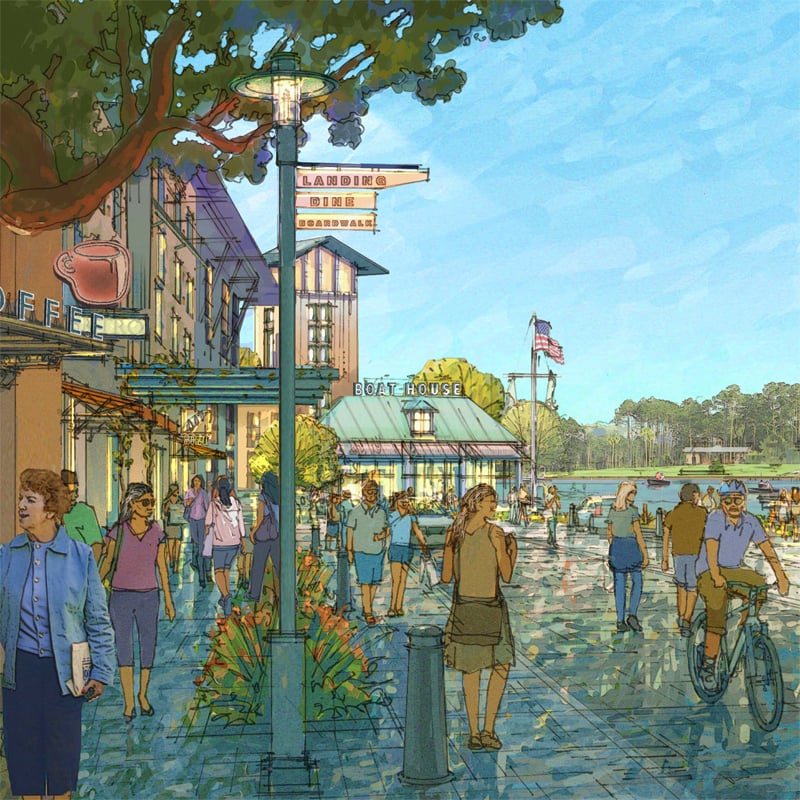 Laying out a 50-year plan may seem impossibly ambitious for most companies operating in today's economic realities. But for a company that has nearly 80 years of history and success in Florida, it's just another day at the office. The latest endeavor for The St. Joe Company, the historic timber and paper company turned developer and manager, is an expanded West Bay Sector Plan which, upon approval, will include residential communities for active retirees.
St. Joe plans to expand the original decade-old West Bay Sector Plan to hit a market they view as a perfect fit for the Northwest Florida beach area. Similar to The Villages, the hugely successful retirement community in Central Florida, the revised West Bay plan will include a number of retirement communities. The development will be called Watersound (not to be confused with St. Joe's WaterSound Beach developments) and will cater to retirees with easy access by foot, bike or golf cart to restaurants, shops and convenience stores. St. Joe also plans to incorporate more than 100 miles of trails with a complete trail network linked with existing trail systems. Residents will have access to beachfront clubs and be able to access the Gulf of Mexico by boat through intracoastal waterways.
The original West Bay Sector Plan was approved by the Bay County Board of County Commissioners in 2002. The revised plan will expand the western boundary into Walton County and add an additional 53,000 acres to the original 75,000-acre land use project. All the property is contiguous to West Bay and will be one unified project.
"If you look at the original West Bay Sector Plan, it was done pre-financial crisis of 2008," said Park Brady, chief executive officer of The St. Joe Company. "That crisis really affected the economic growth from an industrial factor and is still affecting us today. We sat and looked at the large retirement communities. They have been the least affected by economic downturns, and the numbers are very large. We also did a lot of studies looking at the retirement demographics, and we know over 15 million people will retire in the next 15 years and a lot of them want to come to Florida. We thought, 'We have a piece of land that really fits well in a plan to make that happen.' It made a lot more sense for us to focus on this market."
Two primary financial drivers in the Northwest Florida area are military and tourism. The military sector looks pretty stable, but there is never a 100 percent guarantee it will stay that way, Brady explained. And tourism is seasonal, so it can be difficult to operate, he added.
"This would provide a third strong economic leg for the stool. These people don't put big demands on the communities' infrastructure," Brady said. "At The Villages, people say they 'stay on campus.' We felt this was a great fit. This is a 50-year plan, and very few communities can offer the continuity of one owner."
The original plan, which included the creation of the Northwest Florida Beaches International airport, focused on developing business diversity around the airport. St. Joe wanted to generate economic activity through commercial and industrial business sectors.
"The original idea was to use the land around the airport for economic development, and we are still doing that," said Jorge Gonzalez, senior vice president of development. "We have a commerce park with infrastructure in place to accommodate business. We have one tenant who has been there a couple of years. We have pad-ready sites. We are not changing any of that."
COURTESY ST. JOE/HART HOWERTON PARTNERS, LTD
St. Joe's development plans provide lots of green space and homes with easy access to shopping and restaurants.
What has changed is the acreage that will be used for development from 75,000 acres to 128,000 acres within one unified project. The West Bay Preservation Area aspect of the plan was designed to protect 33 miles of undeveloped shoreline and 44 miles of creeks and tributaries. Under the new plan, the amount of land set aside for protection will also increase, from about 40,000 acres to 53,000 acres for conservation.
"We spent two-and-a-half years and millions of dollars planning this project — a process that included a very detailed inventory of all of our land from an environmental input," Brady added. "It is very important for us to know every square foot of our property."
As far as the comparison to The Villages goes, Brady notes that development's success.
"We admired The Villages for what they have done on 25,000 acres. We think we can provide a better venue," he said. "Almost 50 percent of our acreage won't be developed. We will offer access to the Gulf of Mexico, lakes, the bay and 15 miles of intracoastal waterways as well as preservation land. Retirees want a healthy lifestyle as well as an environmentally conscious lifestyle. We want the residents to take ownership in the well-being of the land."
Added Gonzalez, "The Villages started their development in the 1960s. They have their time and place, and we have our time and place. The land here is quite different. We are taking a different approach."
How Sweet It Is
By Linda Kleindienst
SweetWater to provide homes, businesses and green space at old airport site
---
Bay County's abandoned airport is being transformed into the largest master planned development in the history of Panama City.
The airport authority sold the 700-acre site to Leucadia National Corporation in February of 2011 for $51.4 million. This spring, the developer broke ground, predicting a 10–20 year build out that will provide homes for more than 3,000 residents and 700,000 square feet of commercial space.
Leucadia, represented locally by the St. Andrew Bay Land Company, developed Rosemary Beach in nearby Walton County, and is expected to incorporate some of the same features, including open green space and parks for community use. Homes will be built for permanent residents, not for vacationers. The project also includes an elementary charter school run by Florida State University.
Watersound Origins will be the first development offered within Watersound. As St. Joe brings other communities on board over time, they will have other names besides Origins, but the common thread will be Watersound.
The company anticipates the majority of the Watersound project will be age restricted and the rest age targeted. The expectation is that some buyers will use their homes as second homes for vacations until they actually retire. However, they also expect to have a lot of traditional residential for support that will not be age restricted or targeted.
Prior to submitting any formal application to the state, St. Joe held numerous public forums to explain the project and receive input from the community. St. Joe also hired planners to overlay plans that would have minimal impact on the land and met zoning and regulatory requirements. Now, the formal application has been submitted to the state. St. Joe will work with Bay and Walton counties as well as the state to move the planning process forward. The goal is to gain approval on the master plan from all parties sometime in mid to late 2015.
Once the long-term master plan is approved St. Joe will incrementally do Detailed Specific Area Plans (DSAPs). These very specific plans deal with smaller geographic areas, and the counties get to review them.
"It is a 50-year plan. That is very ambitious. It is important to remember that the build-out will be a very gradual implementation based on how the public responds," Gonzalez said.
Founded in 1936 as The St. Joe Paper Company, JOE, as the now public company is listed on the New York Stock Exchange, has certainly morphed along the way. Remnants of its roots as the single largest landowner in Florida still remain although they are waning. Earlier this year, the company sold 380,000 acres of timberland and rural land in Northwest Florida to subsidiaries of Utah-based AgReserves Inc. for $562 million. AgReserves, an affiliate of the Mormon Church, reportedly intends to continue agriculture and timber uses of the land.
The sale included the majority of St. Joe's timberlands in Bay, Calhoun, Franklin, Gadsden, Gulf, Jefferson, Leon, Liberty and Wakulla counties. With this sale, St. Joe's land ownership was reduced to 185,000 acres. The company will continue its forestry operations but on a limited basis. St. Joe does, however, still have rural land and forestry programs in place with sustainable forest management, timber management, land management and conservation programs in place.
---
For more information, visit bay-waltonsectorplan.com.