The Power of Peers
CEO support groups are helping business leaders make the right decisions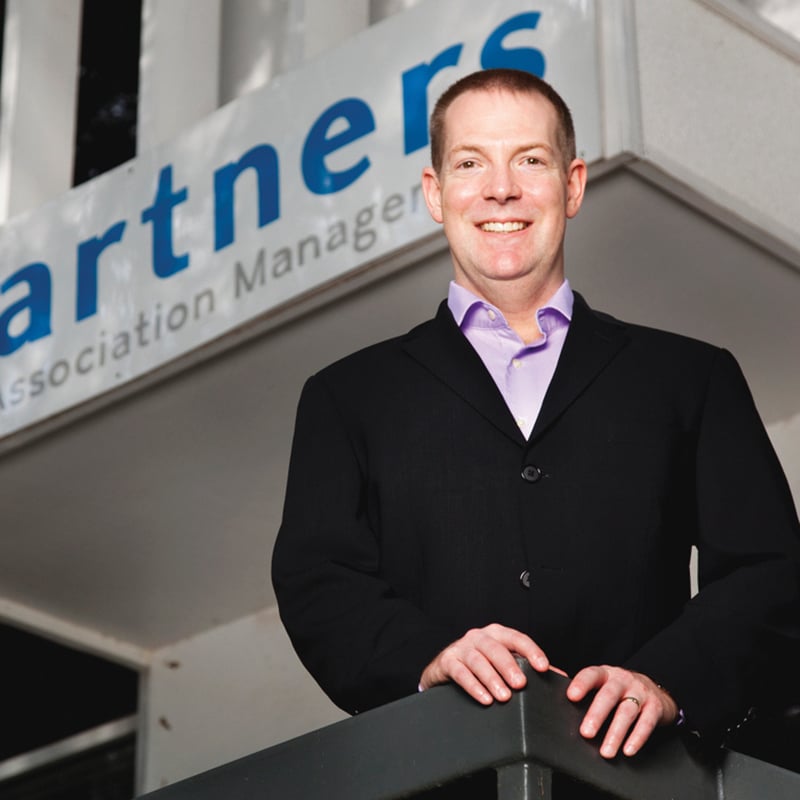 When Bennett Napier had to decide whether to expand his office or move to a bigger building, he sought the advice of nine CEOs of other companies. They listened to his choices and shared their experiences and knowledge. In the end, Napier felt ready to make an educated choice.
"We stayed where we were and expanded," said Napier, president and CEO of Tallahassee-based Partners in Association Management. "It was a savings of $40,000 to $50,000."
Napier still meets with those nine business leaders once a month for a "very open and candid conversation." They're all members of a CEO Peer2Peer Group run by The Jim Moran Institute for Global Entrepreneurship within Florida State University's College of Business.
CEO peer groups are gaining momentum nationwide. They're not meant for generating sales, soliciting clients or seeking quick in-the-weeds advice. They typically have an experienced facilitator, and they aim to increase their members' effectiveness as leaders and help them see the big picture.
"They say it's lonely at the top, and it's true," said Tracey Cohen, president of Target Print & Mail in Tallahassee. "There are not a whole lot of people you can talk to about the things that keep you up at night."
Cohen is able to talk to the other members of her CEO Peer2Peer Group even though they are not in her field — in fact, that's the idea. Her fellow CEOs include a builder, a real estate broker, an accountant and a tree service provider who share brain power to tackle a long list of issues that include managing growth, technology, finding and retaining talent, health care costs and developing retirement plans.
"We share the same fears and anxieties and challenges," Cohen said. "The same scary stuff, the same successes. It's amazing how frank we are with each other."
The Jim Moran Institute for Global Entrepreneurship offers three groups in Tallahassee (with waiting lists) and is establishing groups in Jacksonville by 2017. Each group includes eight to 12 CEOs who are presidents or owners of companies that employ three to 99 employees in non-competing industries. The institute runs a small-business executive program for CEOs and executives as well.
The 3-year-old program "is a win-win situation," said Mike Campbell, director of North Florida outreach for The Jim Moran Institute.
"The assumption is that CEOs know everything, but they are learning every day," said Campbell, who pointed to changes in the market, in the economy, in technology and other areas that challenge these leaders. "CEOs are human, and they need support as much as everyone else.
"We help businesses work on their business, not in their business," he said. "We look at high-level strategic issues, like 'Where do you want to be in three years?' "
There is no charge to belong to the CEO Peer2Peer Group, but it does require a commitment to attend the monthly meetings and sign a confidentiality agreement. Peer groups run by private companies may charge $12,000 or more per year for more in-depth support programs.
CEOs pay $1,185 per month to join Vistage, an executive coaching organization that provides a confidential forum for business leaders to solve problems, evaluate opportunities and delve into a variety of strategic and operational issues.
"It's not cheap but in the long run, it's a bargain," said Steve Smith, a Vistage member and CEO/owner of five Krispy Kreme franchises — two in Tallahassee, one in Panama City, one in Dothan, Alabama, and another in Tuscaloosa. "When you're a CEO, who are you going to talk to? There's a huge value in meeting with 10 smart people who understand the principles of good business."
In May, Smith was among 25 Vistage members and potential members at the DoubleTree By Hilton hotel in downtown Tallahassee, attending one of the group's annual summits, which offer breakfast, talks by members and, on this occasion, guest speaker Paul J. Voss, president of the consulting group Ethikos and an associate professor at Georgia State University. Voss talked about the culture in a business and its effect on strategy.
"If you really want to put discipline around yourself and your organization, Vistage is about investing in excellence," said Art Kimbrough, of Marianna, who is both a member of the Tallahassee Vistage CEO group and chair of the group that covers Panama City and the central Panhandle.
For entrepreneurs who haven't had access to the type of executive training offered in big corporations, groups such as Vistage offer expertise, experience and support, he said.
Vistage works with more than 20,000 CEOs and senior executives in 15 countries. Statewide, there are more than 800 members. In Northwest Florida, there are two groups in Tallahassee, two in the Pensacola/Destin area and one in Panama City/central Panhandle, with a total of about 45 members. Membership is by invitation and interview.
Vistage membership includes 11 full-day meetings per year with other CEOs and a leader. Meetings run from 8 a.m. to 4:30 p.m. with breakfast and lunch, offering professional speakers at six of those monthly events. There is also the annual summit. And members have a one-to-one, two-hour meeting each month with the area chair.
At private, monthly meetings, "conversations can morph into personal discussions," said David Loveless, chair of the Tallahassee groups. "I wouldn't try to be a counselor, but I can listen and ask questions till I'm blue in the face."
Business leaders in Vistage may run a company with revenues of $2 million to $5 million on the low end to more than $100 million, but they share common concerns.
"It's a real chance to focus on the bigger issues and get input from some of the area's smartest business brains," said Loveless, an experienced CEO at three companies, including Boston Whaler and a joint venture in Shanghai. "More than anyone else, a CEO needs a peer group."
Group members "are not board members, your banker, your lawyer or your employee," he said. "They're people who are purely interested in your agenda. Vistage takes you up 35,000 feet once a month to look at your business as a big picture. It's hard to focus on strategic issues when you're putting fires out each day."
Laura Johnson, founding artist and CEO of Coton Colors, said the group has helped her better organize her growing businesses, which include stores in Tallahassee and Tampa, an online business and her pottery, dinnerware, ornament and gifts, which Coton Colors markets nationwide and internationally.
"CEOs tend to work in their own silos," said Johnson, who has been a member of Vistage for four years. "A peer group is a safe environment to get some great perspectives on your business. Then it's up to you as the CEO to make the decisions."
Her group members include an engineer, a residential elevator manufacturer and a restaurant franchise owner, but "it's fascinating how we're interrelated," Johnson said. "A CEO who thinks they have all the answers is not a very good CEO."
Members have to be willing "to lay their cards on the table, warts and all," and be ready to share their knowledge with others, Kimbrough said.
"We also need to take personal responsibility for our own development, which is where peer groups come in," said Kathy Anthony, chair of the Pensacola/Destin Vistage groups, which have 23 members. "Instead of traveling to a conference where you hear content for one or two days, you can have an ongoing relationship with successful business owners with whom you can learn and exchange ideas" as well as outside speakers.
"Rarely do we hear someone say, 'I don't have anything for you,' " said Chris Schulte, president and CEO of Everwell Specialty Pharmacy in Pensacola.
Vistage "is like a board of directors for your company," Schulte said. "There's a level of accountability. The group will follow up with you and our chair, Kathy (Anthony), will want to know what action we took.
"If I didn't get anything out of it, I wouldn't be in it anymore," said Schulte, who has been with Vistage for four years. "I'm a big believer in coaching. Michael Jordan may be the best player who ever lived, but I think he would tell you he benefited from coaching."
Kimbrough said group coaching helped him. He got involved with Vistage when he was faced with a business dilemma. He was an investor in a funeral home company, and when one of the main partners died, Kimbrough didn't know whether to liquidate or buy the company.
The CEOs in the Vistage group told him, "You need to buy it out right now." It took Kimbrough a year and a half to buy the company, which involved securing almost $5 million in financing, but the group helped him on his journey.
"On my 65th birthday and my retirement (from his job as president and CEO of the Jackson County Chamber of Commerce), I became the owner of a multi-state, multi-location funeral company," now named Overstreet Funeral Group, he said.
"The group gave me the courage to take the leap," Kimbrough said.
Campbell, of The Jim Moran Institute for Global Entrepreneurship, said it helps CEOs to hear how others handled a similar challenge. At CEO Peer2Peer groups, when a member brings up an issue, "other CEOs can only speak to it if they've lived it," he said. "Anyone can give advice, but how many chances do you have to hear how other CEOs handled similar situations?"
Campbell will occasionally meet with the CEOs one-on-one, but "that's not our primary mission," he said.
The institute is under the FSU College of Business and will move to a stand-alone building in 2017 as part of a $100 million gift from Jan Moran and The Jim Moran Foundation, along with expansion of the institute's programs statewide. The gift will also enable FSU to create what will be the nation's largest interdisciplinary, degree-granting school of entrepreneurship.
Whether the head of a small or big company, members said peer groups help them look at a work-life balance.
"You don't want to work your butt off and be miserable at home," Schulte said. "You don't want to sacrifice one for the other."
Being a woman CEO can have its own special issues, said Cohen of Target Print & Mail in Tallahassee. While there are four female CEOs in her Peer2Peer group, she also belongs to Women's Roundtable, an informal group that addresses personal and professional issues.
"I consider these women my friends first and part of a peer group second," Cohen said. "Despite our greater efforts to make our husbands involved, we are still moms, and that does not change. It presents some unique issues as leaders."
She sees her peer groups as "very important" to her company and to her personally. "It's pretty powerful."