The Pinnacle Awards Recognizes the Hard Work of These 10 Empowering Women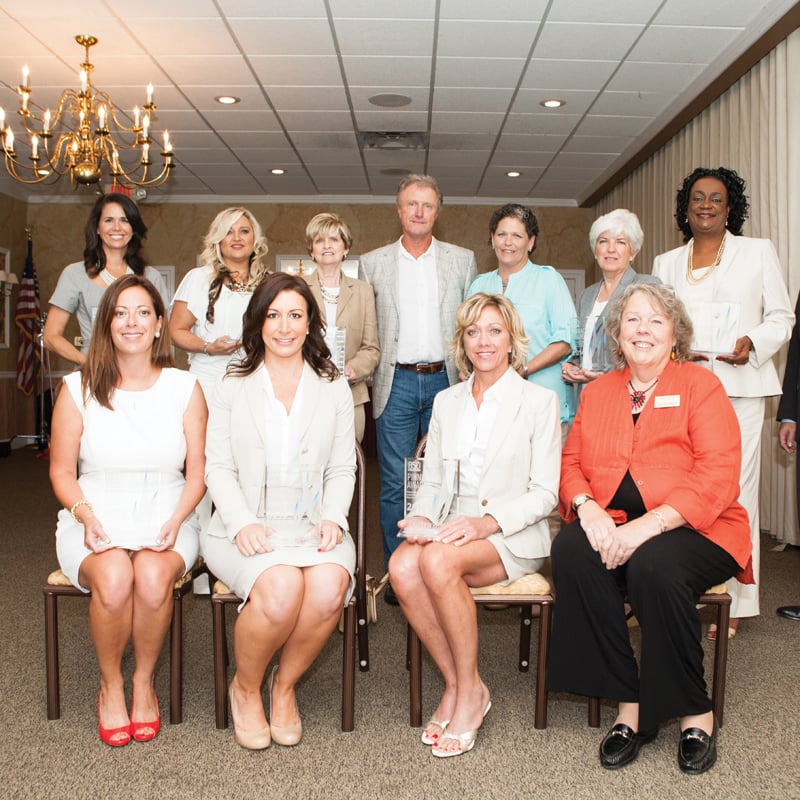 Story By Linda Kleindienst
Photography by Dave Barfield
They're moving forces in business and community, A-listers with A-plus personalities who face challenges head-on and are determined to make their world a better place.
850 Business Magazine is proud to present the 2014 winners of the Pinnacle Award, an honor designed to shine the spotlight on women in our region who have set high standards for themselves and exceeded them, who are a moving force in private business and non-profit organizations that help the needy in our society or promote community interests.
Our honorees cover a wide range of professions, from a vice president of Gulf Power Company to a farmer to an HIV/AIDS advocate. They are strewn across the 18 counties of the 850, representing urban, suburban and rural areas. Yet when asked to describe themselves in one word, nearly every one said she was either "determined" or "dedicated."
We asked our readers to nominate women they felt deserved the honor. From the names submitted, please meet the winners we selected for 2014.
Click the arrows at the upper right or the thumbnails below to view each recipient.
Pinnacle Award Recap
The inaugural Pinnacle Awards luncheon was held at Tallahassee's Capital City Country Club on Tuesday, Aug. 19. The event honored 10 dynamic women from across Northwest Florida, each of whom has excelled in her chosen area of business. Also attending were representatives from the event sponsors: Hancock Bank, BMW and Daniel Uhlfelder, P.A. Sherrie Clark and her team from Fuel A Salon & Store were on hand to style each of the ladies.
Linda Kleindienst, editor of 850 — The Business Magazine of Northwest Florida, and Publisher Brian Rowland were on hand to present the custom awards to the recipients. Each of the glass awards was handcrafted by artists at Florida State University's Master Craftsman Studio.
This year's honorees included women from a wide array of professional fields — from a vice president of Gulf Power in Pensacola to a well-known beachfront real estate expert to the owner and operator of a large farm in rural Marianna. The diversity of backgrounds, professional experience and personality types of the award winners cemented the importance of such an event in recognizing the contributions of women to the business arena in Northwest Florida.
After turning around the Walton Area Chamber of Commerce, Whitney was courted to become the executive director of Sandestin Real Estate, the exclusive brokerage for the world-renowned Sandestin Golf and Beach Resort and a market-leading real estate company.
---
"I just don't stop until it's done."
Whitney, who turns 50 in November, started her working life as an intensive care unit nurse, a stint that helped plant the seed for a business venture she later started with her husband, Todd. Having seen patients sent home only to become homebound and tied to an intravenous tube for medication or nutrition, they invented the idea of an ambulatory infusion that lets the patient administer his or her own doses while being active. "It changed the face of medicine," she says. "From that moment on, we knew anything was possible." Within three years they sold the company to a larger medical firm. To bypass Louisiana's state income tax, the couple moved to Florida and loved it. While pregnant with her son Max, now 10 years old, she got bored and decided to take a real estate class, thinking it would be helpful to have a license. As Whitney works with her sales team at Sandestin, her husband operates two new businesses — Blast Arcade and MooLaLa Ice Cream and Desserts — where she helps after hours and on weekends.
As Gulf Power's vice president of customer service and sales, Bentina Terry is responsible for bringing in new customers, promoting regional economic development and marketing the utility. She's worked for the company seven years.
---
"Don't let fear be what keeps you from doing things."
While electric utilities are still a male-dominated industry, Bentina Terry long ago learned to be herself and "just work through it." She started out wanting to be a high school English teacher, but after a stint of student teaching she realized it wasn't what she wanted to do for the rest of her life. So she headed off to law school and later practiced for an Atlanta firm whose biggest clients were Georgia Power and Southern Company, the parent company of Georgia Power and Gulf Power. Part of her job now is to help bring in new customers. "Gulf Power has been here for 88 years, and our success is tied to the success of our communities," she says. "We need to create the climate that allows us to be successful together." Terry, 44, admitted she was terrified when she went to law school in Michigan because she knew only two people there. "But I said I was going to do it — and it taught me I could conquer any fear."
The special projects manager at Eastern Shipbuilding in Panama City, Lisa Barnes admits a shipyard is an unusual place for a woman. But most of her job involves working with elected officials on the company's behalf and organizing events.
---
"I'm good on details. When I talk to other people I pay attention to what they are saying to me."
A native of bay county, Lisa Barnes was working as a paralegal in Colorado when she decided to come home eight years ago to help her aging parents. She says it's ironic that she now works at a shipyard, because during World War II her mother worked in a shipyard for the Maritime Administration. When she first started at Eastern, Barnes was in charge of the program that brought in Guatemalan workers to help build the ships. She wanted to learn more about what the workers did, so she signed up for welding classes to understand the job. "The instructor had been a welding teacher forever, and I was the only woman there," she remembers. "He said, 'I can teach anybody to weld.' He will never say that again. But he did give it his best shot." Barnes, 55, believes that it is especially important for women to collaborate and cooperate. But the best advice she ever got was, "You can't change anyone's behavior but your own."
President and CEO of BASIC NWFL Inc. in her hometown of Panama City, the 55-year-old Mincey has found her life's passion in helping HIV/AIDS victims in a six-county area of Northwest Florida.
---
"I had to think outside the box."
Following a stint with the U.S. Post Office up North, Mincey moved back home in 1996 and became an outreach advocate for BASIC, which had just won a grant to serve Bay County's African-American community. "I didn't know a lot about HIV/AIDS, but I did know my community," she says. Because of the stigma of the disease, it was hard to make those first inroads, and money was tight. But under her leadership new and diverse funding sources were found, and today BASIC serves six counties — Bay, Calhoun, Gulf, Holmes, Jackson and Washington — and about 300 patients who need help for a variety of needs, from getting medication to finding housing. The agency runs education programs and does testing for the disease.
"As I moved up in the administration, I questioned if I was qualified. A friend told me that God would put no more on me than I could bear."
Originally from Boston, Jennifer Jenkins' job these days is to market Gulf County to tourists through her job as executive director of the Gulf Coast Tourism Development Council, where she is in her third season. She's worked on tourism accounts for 25 years.
---
"I don't believe in marketing something if I haven't done it. The first time I went fishing was a year ago."
Jennifer Jenkins first got into the tourism business when her ex-husband was in the military and they lived in Walton County. She worked at Seaside and was there when Hollywood arrived to scout for The Truman Show in 1996. The plan was to use one of the houses at Seaside as the Truman house and then build the rest of the sets in California. "I said, 'Why not build the sets here?' And they did," Jenkins says. "Don't ever be afraid to ask the question." Since she arrived at the TDC, the 47-year-old Jenkins has built a structure that she feels provides a good system of accountability for how bed tax dollars are being spent to promote the county. She's gone from two employees to five full-time and seven seasonal workers. Every day, whether it's cold, rainy or sunny, the staff has a debriefing on the back deck that overlooks the Gulf, a view she considers one of the best benefits of her job.
She started out her career in banking, but Alice Collins shifted to real estate after she got married in 1960. Today she is president of Collins Realty and president of Collins Vacation Rentals on St. George Island.
---
"You need to think about what you are passionate about, what you really like and learn everything you
can about that field."
Born and raised in Pelham, Georgia, Alice Collins and her husband bought a lot on St. George Island when the only way to get there was by ferry. Their lot cost $500 — beachfront was $2,500. "The ferry ran every day during the summer," remembers Collins, 74. "You could get nine vehicles on it if one was a Volkswagen." The first year she started selling real estate on
St. George was in 1973. Her office opened on July 1 and closed after Labor Day. She had five rentals that first year. "It was very difficult for a woman in the commercial field (of real estate)," she says now. "But I can stand my own with the best of them." In 1986, her office was totally destroyed by fire in 45 minutes, but she was up and operating the next day with desks, phones and typewriters given to her by locals. Her office building was rebuilt and operating only 90 days later "because of the good people in this area."
When Betsy Couch was offered the job as executive director of the KCCI Institute, she said it was the job she had been waiting for. Now she gets to work on projects that are designed to improve Tallahassee, her hometown.
---
"When I get behind something, I jump in at 200 percent. I give it everything I can give it."
The premise of the Knight Creative Communities Institute is to bring community volunteers together to work on projects to improve where they live. Couch, 36, was one of those volunteers in Leadership Tallahassee when her team got behind a project to cultivate Cascades Park. They advocated enhancement of the planned amphitheater and helped develop an area specifically for children's activities. Not long after the project was completed, KCCI approached her to become director. She works there part time and gets to spend part of her week with her children, "providing that perfect work/life balance," she says. Before landing at KCCI, Couch worked for Moore Communications, Visit Florida and the Florida Chamber Foundation and taught at Florida State University. She even did a stint writing speeches for the governor's office. But her heart is in the world of non-profits. "I grew up volunteering and love our community."
Today, Melanie Lee is vice president and general manager of KIA Autosport in Tallahassee, but her first job there was at the age of 12, cutting grass and washing cars. Her dad, she says, "raised us to work for everything."
---
"The path through life to success is not easy. It takes a lot of work to get where you want to go."
Every Tuesday, Melanie Lee is delivering hot meals to her elderly clients in the Meals On Wheels program. It's a great experience, she says, but it's also a way of paying back the help others once gave her family. "My family went through some hard times, but my dad experienced a lot of success," she says. "I always remember my parents saying we should help others because others helped us once." Lee, 33, says her family got the KIA dealership when she was 16 years old. She worked her way up in the business, including time in the repair shop and selling cars. She went to dealership school and at the age of 22 came back to run the business. "I've been doing this my whole life," she says. "The people I was washing cars for, I became their boss. But respect is what you earn. I used to come to work every day in a suit, because I just wanted to give that appearance of confidence." After 12 years, she doesn't wear that suit every day any more.
Leaving the big city behind, Angie Hill returned home to Blountstown to fuel her entrepreneurial spirit. Although trained as a nurse, she's become a serial entrepreneur and runs several businesses, mostly because it was something she just wanted to do.
---
"I always believed in being on the cutting edge, thinking outside the box."
After graduating from nursing school in 1992, Angie Hill worked at Calhoun-Liberty Hospital where she met her husband. The two ended up moving to Atlanta for a change of pace, but it wasn't too long before friends told her of an ad in the paper that said Merle Norman, a beauty supply store in Blountstown, was for sale. She'd always loved makeup and wanted to own one, so the Hills bought it. Pretty soon Hill had her Merle Norman franchise, a boutique, a party planning service, a beauty salon and a movie rental store running out of a 4,100-square-foot storefront. But those businesses were sold so she could buy the Tavern on the Hill. "It's something I always wanted to do," she says of the restaurant, adding that she got the bug several years ago when she went to London to see the royal wedding. "I was in all these cute little pubs and brought back all this décor … ." As for her penchant for starting new businesses, Hill says she is always coming up with new ideas, "and if I don't do them, someone else will."
There are 350 milking cows that depend on Cindy Eade and her husband, who have operated Cindale Farms in Marianna since 1994. The biggest hurdle, she says, was just starting the business.
---
"There are going to be roadblocks in life. You've got to figure out how to go over or around them, because that's part of life."
Cindy Eade grew up a city girl in Pensacola and didn't even see her first cow until she was 19 years old. But she always wanted animals, so she had an immediate bond with her husband, Dale, who earned a degree in dairy science from the University of Florida. The couple worked for 15 years at Bassett Dairy in Monticello, where Dale was production manager. She was even elected to the Jefferson County school board. But when Bassett Dairy closed down, they took out a loan and decided to strike out on their own. They settled on a herd of 350, as opposed to Bassett's 2,000 cows, "so if anyone walked off the job we could still operate," says Cindy, who just turned 58. When their family was young, the couple milked the cows at noon and midnight, to ensure they would have a normal dinner and bedtime ritual for the children. Today, besides running the dairy, she's also running her daughter's ice cream business and serving as president of the Jackson County Chamber of Commerce and vice chair of the Farm Credit of Northwest Florida board of directors.