The Gospel Truth from a Social Media Evangelist
Julio Fernandez: The Gospel Truth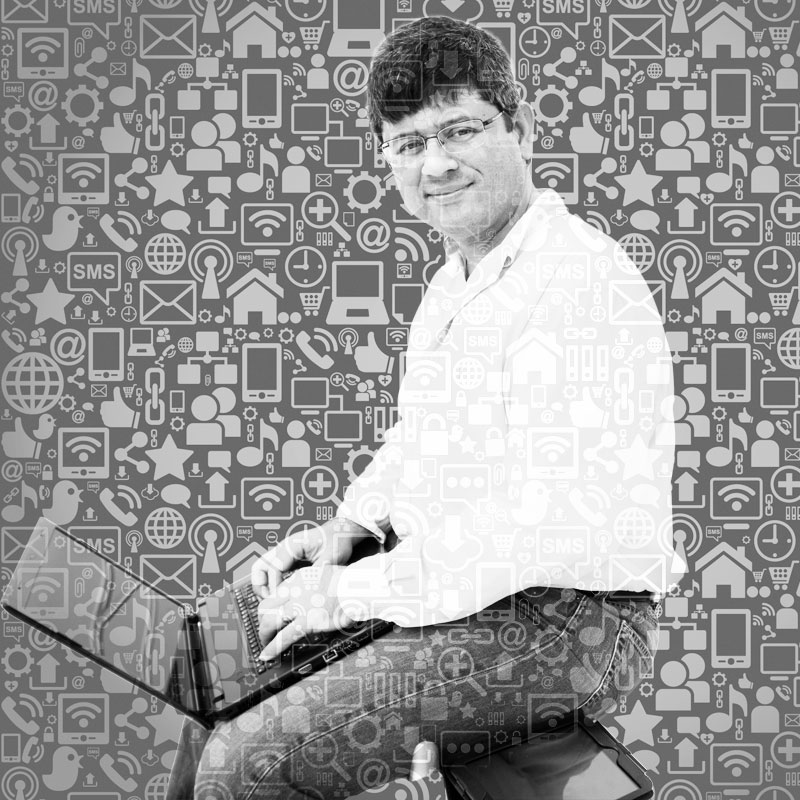 The Emerald Coast tops all kinds of lists and polls with the most elite of international travel magazines, but according to social media expert Julio Fernandez this stretch of beach would be much cooler if there were more geeks here.
Born and raised in Colombia, Fernandez moved to the United States in the 1980s and later graduated from the University of Miami, where he was "the guy who ran the computer lab." He became an official citizen in 1993 and just a year later started his first successful "dot com" company.
Fernandez was business manager of his college paper, which parlayed well into a news editor and senior web producer positions for several online publications with Miami Herald Publishing. His industry connections deepened, landing him on Google's B2B (Business to Business) Technology Council as an "evangelist" who gives candid feedback to Google on its latest products and services. As his online experience grew so did his big time corporate roles, including global responsibilities at national companies such as Oracle and Ogilvy, where he was hired on the spot to grow its social media program.
His wife, Sherry, is a local who went to Niceville High School. When her father died three years ago, the couple settled in Bluewater Bay in Niceville to be closer to Sherry's mother.
With few fellow geeks around to connect with, Fernandez did the only thing a fearless socially deprived social media nerd could … he created a platform to meet them. Now, free social media workshops are hosted by the Destin Chamber every month. But Fernandez didn't stop there. He formed Destinwebpages.com as a community service to help businesses promote themselves online and Dest.in, a mobile guide for Emerald Coast businesses to get on the radar of the social media mother ship — Google. But it's Social Shelf Space, a consulting firm, which Fernandez founded in 2012 that "pays the bills."
Though many locals consider him the "go to" social media guru, warm and friendly with a quick smile, Fernandez prefers to be called a search marketing analyst saying, "As soon as someone tells me they are a guru or a ninja, I don't want to call them back. Nobody knows everything they need to know."
But Fernandez does know a lot about how to navigate and leverage Social Media channels. We checked in with him at Panera Bread in Destin Commons, where we found he was already "checked in" on Four Square, a geographic-based app, on not one, but three devices: a Samsung S3 (he got for serving as a global blogger at the London 2012 Summer Olympics), iPhone5 and a brand new 17" Lenovo laptop, thanks to someone with sticky fingers at the 2013 South by Southwest (SXSW) Conference.
850: Your entire world is connected to your computer. Did it come to an end as you know it when your laptop was stolen? I had it only for two weeks. But, no it's OK, because I back up everything on the Cloud.
850: What is your opinion of the Google Cloud? Everything is going to the Cloud and big data. One of my biggest clients is Adobe. You used to buy a floppy disk, then you could buy a couple CDs then one DVD and now you can buy the entire family on a series of DVDs. But as of last year Adobe is making a transformation where you can subscribe to the service and pay a monthly membership. It's so clever … when you subscribe to tools, the second the feature is updated, you log in and you have that feature on your computer, because it's on the Cloud.
850: What do you think about Cloud-based computers and technology? I like it. My mom is a good example. She is 60-something and uses the Google Chrome Book, and it is set to automatically open on her Facebook homepage, which is set in Spanish. She doesn't have to do anything else. Why buy an $800 computer when you can get a Chrome book for $250 and use the Google Cloud, which has Gmail, spreadsheets, calendars and Word documents? It's great for small businesses, too.
850: You have an iPhone and a Samsung, do you prefer one over the other? I tell my friends to consider both, because even though the iPhone 5 is larger than iPhone 4, the S3 is even larger. I can carry an extra battery, add extra memory and technology-wise this one has NFC, which iPhones don't have.
850: What is NFC? Near Field Communication allows you to share information. For example, if I take a menu with me that has an NFC sticker I can take away information, perhaps see a video, see the restaurant's page. It's like a QR code but more powerful. In Japan you tap a place to buy a pass and you purchase admission to a train. You can put it on a shirt and tap it and buy it. For DVDs, you can tap it and get a two-minute preview. It's really up to us to decide what we do with it. For realtors it would be great. You could get a 360-degree tour of a house. We'll get there …
850: What is hot on the social media scene? Anything that takes advantage of my location. Location-based services like NFC. We're at Panera Bread now. If I open Four Square, it should show me what's around me when I check in and offer me relevant specials.
850: What about cyber warfare and privacy issues? Do you have concerns that it's hard to roll it back once you put something out there? There are challenges and issues with location and personal privacy. If I can learn that someone goes to a gym every night at a certain time that could be a problem. But don't feel that if you don't check in people can't still find you. They could track you 20 years ago. Now, if I am at home and I check in to Four Square the Google map only shows a general area instead of a dot on a house. But if you buy a house I could go to public records and find out where your house is and how much you paid for it.
850: Give us some Social Media 101. The first thing I recommend to my clients is what I call an account audit. You need to understand what accounts you control and what your competitors have. I did this for Adobe. Four years ago they didn't have accounts for their trademarks. I set up 26 for them. Not only look at your company name and trademark, but domains, Twitter, YouTube, Instagram, Facebook and so on.
Then I would suggest keyword research to understand how your customers and prospects are searching for you, which may or may not be what your company is called or known for.
And when you are ready to engage in social media, you need to consider the best content for each channel. For example, You Tube is a great place for "how to" videos. At the same time, it's important to understand that tools are not the solution to marketing. It drives me crazy when people say, "We need a Pinterest strategy." It's just a tool. If people don't know your brand, engaging on Pinterest isn't going to help.
850: You say Twitter is old. Is it still viable? If you use Twitter be aware of optimization. If you send a message include a link that you can track. If there is a "call to action" in all of your social media you can see what channel is working best for you.
850: What's the biggest social media misnomer? People thinking they have privacy. The info is out there already. You need to know what you can control. For example, using Facebook settings to manage your page … keep in mind, anything you can "Like" is a way for Facebook to find you.
850: What is your social media pet peeve? When you want to call me, I don't give you a photo of a phone. I give you a number. Stop putting icons out there if you don't know how to use them.
850: Is it hard for you to connect with people who are not on social media? I do have some old friends who do not use Facebook and some who don't have email. I like to stay in touch with family and put out videos of my nieces doing sports on Twitter or post on Facebook. I always find a way to get online. It's so frustrating, because I want to share.