The Flavor of Perseverance
Klassic Katering owner Karen Chapman embraces the good, the bad and the delicious for more than 17 years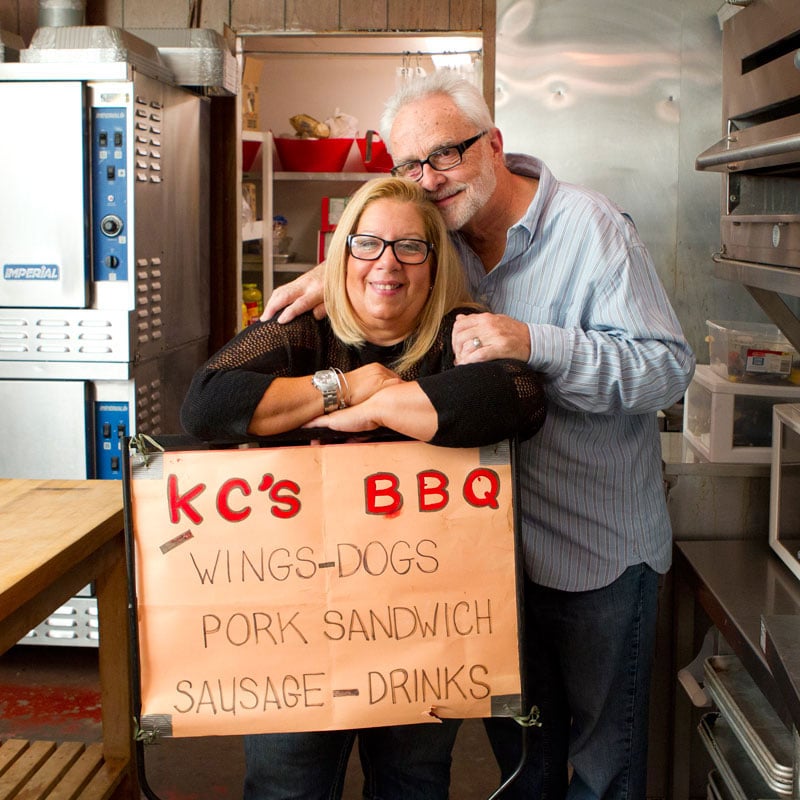 In the spring of 1997, Karen Chapman's husband of 19 years, Don, was diagnosed with a rare form of highly aggressive bone cancer.
Life had handed her the sourest of lemons.
After a good cry, she took a breath. Then, Chapman proceeded to make lemonade, lemon squares and the most delectable lemon meringue pie you've ever tasted. What else could she do? Don's prognosis was poor, and the couple's teenage daughter, Samantha, was utterly devastated.
"We never knew what every day was going to bring," said Chapman of those dark times. "It was always something new."
One thing was blatantly clear, though — Chapman's every waking moment needed to revolve around keeping her family unit intact. A career change was in order for this highly educated former schoolteacher and principal, but in what direction? With their finances tied up by the construction of a new home, her decision weighed heavily.
A Brooklyn transplant, she had spent the previous 16 years getting adjusted to life in sunny Fort Myers. Now, in her time of need, those two familiar places were worlds away.
"I was just a Yankee from the big city who lived in Fort Myers for some time," joked Chapman on her mindset after moving to Tallahassee in 1991. "But Fort Myers and Tallahassee are two completely different things."
For better or worse, fate had brought her to Florida's capital city. And when in Rome, it's best to do — or at least barbecue — as the Romans do. That was the philosophy Chapman embraced when she decided to set up shop for KC's BBQ.
About a year after Don was diagnosed, Karen quit her day job and started serving up savory pork sandwiches full time.
The learning curve was a major culture shock.
"First of all, what did I know about smoking barbecue? You should have seen me. I was outside, in my driveway, the flames were coming up," laughed Chapman as she animated the memorable scene.
"I learnt what Southern mentality was all about," she said in a moment of poetic conversation. "I learnt what Southern hospitality was all about."
Admittedly, Chapman's first culinary endeavor in Tallahassee was one of pure necessity, but it gave the Chapman family — as well as local residents — a taste of things to come.
"It was me, in a dump truck, with a $100 charcoal grill," shared the vivaciously determined caregiver and entrepreneur about the early days, when her builder would lend her his work truck so she could get from point A to B — maybe earning ten bucks along the way.
At the same time that Chapman's life had been turned upside down, the couple's daughter Samantha — now a successful television producer in New York City — was pursuing her education and, with it, her dreams.
"I think there have been times she's often wondered if I was proud of her," admitted Samantha, 33, during an emotional and raw interview about her and her mother's relationship. "I'm not going to lie, when you're 18 years old and a senior in high school, and your parents are selling sandwiches at a football game … everyone loved the food, but because I'm private, there was always the feeling of 'Oh, I don't want anyone to know we're selling sandwiches.'
Courtesy Don Chapman
Barbecue was Karen Chapman's first foray into food service.
"At the end of the day, she afforded me the ability to graduate college early and go to New York. She afforded me the ability to never want for anything, but also never take anything for granted," shared Samantha, choking back tears.
For Don, who was forced to resign from his job due to health complications, those days consisted of sitting by his wife's side, taking his aching body and folding chair wherever barbecuing led them. Weeks turned into months. Surgeries came, along with hospital bills. They made the rounds of Tallahassee Memorial, Shands, Moffitt and Sloan-Kettering seeking care for Don's cancer. And, despite the odds, things started to look up. He was getting better.
After gaining recognition within the community, Chapman sat her smoker aside for something more akin to her own style. A change of pace, and taste, was once again in order. Klassic Katering was born in early 1999.
"I knew I wanted it to be different, so I called it Klassic Katering," said Chapman on how her current business venture came to be, playing off her first name's initial. "One thing led to another, and here I sit." She's not sympathetic to people who have a "can't do" attitude: "When people tell me that they can't do something here in Tallahassee or when people tell me that they can't provide for themselves … . We had nothing. Nothing."
For years, the new, struggling business took any and every catering opportunity that came their way. Weddings, corporate soirees, political gatherings and family get-togethers — Chapman handled them all. Nothing was too miniscule or grand.
"It was a matter of self survival," she said of those early days. "It was a matter of wanting to do the best that you can do not only for your family, but also for your own business."
Word of her delicious concoctions spread, and Klassic Katering's client list began to multiply.
"She's wonderful," said repeat Klassic client Ysonde Jensen, Development & Communications Associate at Tallahassee Community College. "A consummate professional. She delivers an outstanding product."
While born of necessity, opening up a catering company was a logical step in the evolution of Chapman's career. Coming from a long line of entertainers, she was blessed with a knack for cooking in quantity as well as with the "fabulous" recipes from her father's personal archives.
When it came to catering, delicious, decorative and unique were her specialties from the very beginning. And, to this day, no one pulls them off quite like she does.
"I didn't only do the food, the bride became my bride," beamed Chapman. "She became important to me."
That combination of heart and creative flair has made Klassic Katering a favorite for Tallahassee's brides, partygoers and party throwers. Part of the allure is also Chapman herself. "I always say everyone wants a little piece of Karen," laughed Chapman.
"I love things that are beautiful," she enthused. "I love things that are not typical. (I) always do something that's a little edgy, a little different. I just decided that since that's what I like to do, that's what I was going to do to make a living."
Since that fateful decision, a lot has changed for Tallahassee and the Chapmans as well. After a period of remission, Don's cancer recurred. And once again, he won. At that time, the couple owned a small café known as the Fickle Pickle which, due to the health limitations of both Don and Karen, was forced to close prematurely.
"The one thing that has stayed the same I think is the generosity of a lot of people," said Chapman of Tallahassee — then and now. "I think that even though it has grown, the same people who built my house — the same plumbers, the same air-conditioning people — they've grown up with me."
And as for Don?
"Now he's retired, and I have a company that's crazy," laughed Chapman of their hectic life together.