The Dixie Theatre Is Alive with Arts and Culture
Restoring a Local Landmark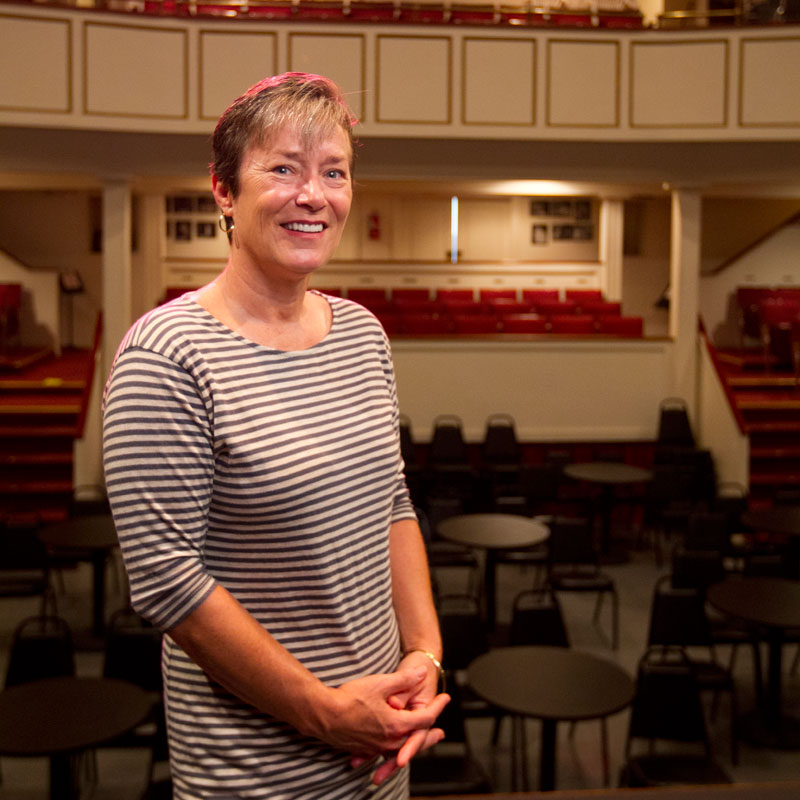 Opened in 1913 by ex-sponge diver Alex Fortuna, the Dixie Theatre celebrates its 100-year anniversary this year. In the old days, the theater was a vaudeville house and a roadhouse, with local attractions and talent. After closing in 1967 this local historic landmark stood vacant for about 25 years until Rex and Cleo Partington bought it in 1994.
The Partingtons had been in theater all their lives. Rex was the producing artistic director of the Barter Theatre in Virginia, and Cleo was (and still is) an actress. In 1982, they came to St. George Island on vacation and saw the theater for the first time. Their hope was to reopen the Dixie to bring arts and culture to an underserved community.
Their daughter and the current owner, Dixie Partington, recalled that her father took the theater's name as a sign.
"They wandered into town to have dinner at the grill, and he saw this building … and he saw the sign in the building next door. Upstairs there was a window that said 'Dixie Theatre Offices,' and he thought that was an omen." But they would not buy the theater until years later, after Rex had retired and daughter Dixie could come to Apalachicola to help.
When she first came to see the theater in March of 1993, Dixie Partington, then 33 years old, was admittedly not impressed.
"There were a lot of things boarded up, and I said, 'This looks like where you come to die,' " she recalled.
But on her second trip to Apalachicola (after her parents begged her to think the project over one more time), Partington saw the town in a new light. She had been planning to move back north but realized that a small town was just the change of pace she needed; she didn't actually want the traffic and claustrophobia of bigger cities.
In January of 1994 the Partingtons bought the Dixie Theatre for $36,000, securing a revolving loan from the city and a loan from the Gulf State Community Bank for over half a million dollars to complete the construction and renovation. Construction began in 1997, and the theater opened the following summer.
"We bought what was left of the theater and the property from the city of Apalachicola and proceeded to do the renovation, which took about five years, before we opened in 1998. Unfortunately, what we didn't know … was that we could have gotten some help and funding from Historic Preservation, but you have to keep the front facade."
Cliff Butler, the former president of Gulf State Community Bank, was the banker who handled the loan. He believed the project would be beneficial to the community, due to the highly visible downtown location.
"As a community bank … we viewed it as a way of serving the community, so we didn't have any reservations," he said. But he doesn't think the Partingtons anticipated the project being as expensive as it turned out "Due to several delays they ran into, and changes in the economy, several grants were not available that had been when they started," he recalled.
The original structure had been far from sound. While it was restored to look as close as possible to the original, the only remaining parts of the old theater are its back and side walls.
At first, the theater ran summer seasons. But Partington realized most people prefer to fish or do outdoor activities during a summer visit to Apalachicola. It took some experimenting, but eventually she discovered the theater's audience niche.
"This is a town of 2,300 people, and they're not our audience. After 10 years I realized that the snowbirds are our audience. They love it," she said, adding that many also come from Tallahassee and Port St. Joe. The theater's first winter season ran 2004–2005 — the year her father officially transferred the theater to her.
Interestingly, the economic downturn did not have a significant impact on business.
"People who enjoy live theater and live music and productions, they're going to find a way," Partington said. "We did well this past season."
Anita Grove, executive director of the Apalachicola Bay Chamber of Commerce, said the theater has also helped nearby businesses — particularly restaurants — by attracting customers.
"It does attract people here," said Grove, who has known and worked with Dixie Partington for about 17 years. "Several restaurants that have been next door do benefit by it."
She explained that the theater draws crowds that often encourage nearby eateries to stay open later, catering to theatergoers during intermission and after the performances.
In selecting shows, Partington is a fan of minimalist theater, which uses fewer props and sets and focuses more on the actors themselves. She likes "to do things that are thought provoking. I don't want to just do fluff."
The Dixie Theatre has done an array of theatrical productions, including musicals and comedies. Actors come from a variety of places; some are local but most are national acts from places like New York, California and Ohio. (Her mother Cleo, now in her eighties, still acts in many of the productions.)
The Dixie, with its near perfect acoustics, also hosts a lot of musical performances. One longtime act is acclaimed ragtime musician and concert pianist Bob Milne.
"Bob was general admission in the beginning, and his tickets were $7. Eventually we became reserved seats for him, and then the ticket prices went up. Now folks are paying $25 for reserved seats for this man," Partington said.
In addition to Milne, the Dixie Theatre also hosts various tribute artists of such icons as Elvis Presley and Patsy Kline, as well as other miscellaneous genres like folk and Latin music.
In 1915, as movies gained in popularity, the theater became a cinema and remained that way until it was shuttered in 1967.
In 2004, the Partingtons began showing movies at the Dixie again, largely with a focus on family-oriented movies. The movies were not as lucrative as hoped, as people continued to make trips to Panama City, and movie studios take a good chunk of ticket profits. But Partington remembers seeing the real reward on children's faces, as some had seen a movie in a theater for the first time at the Dixie.
"We'll probably try to show films again at some point," she said after some thought. But this time they would be older movies that have stood the test of time, in keeping with the theater's classic atmosphere.
The Dixie Theatre is also host to many local community events, including dog shows, local children's dance productions, performances by the Panhandle Players and the Florida Humanities Council. And some couples have even chosen the local landmark as their wedding venue, saying their vows center-stage in their very own wedding production.
Running the theater can be overwhelming, Partington confessed, especially as grants and funding for nonprofits can be difficult to come by. But there are some helpful funding sources, including the local tourist development council and Visit Florida.
At the end of the day, however, money is tight. "It's a not-for-profit. It's a labor of love," Partington explained, adding with a laugh that she will be about 83 when the theater's loans are paid in full. Her father had been paying on the interest for years, and some time after he passed the theater to his daughter, the bank allowed her to begin paying on the principal.
Today Butler still considers the project a valuable one.
"I think they've done a wonderful job of serving the community over the years," he said. The theater has served as an introduction to performing arts for local youth — an introduction that can later shape the direction they take in their careers. One former student usher, he recalled, now works in video production — a career Butler believes was inspired (at least in part) by his introduction to performing arts through the theater.
Grove sees the theater as one of a few local treasures that is moving Apalachicola forward on its own unique path of growth — preserving the past while still looking toward the future. "It took a dreamer like Rex Partington to make it happen," she said. "He felt like this community was worth investing a lot of money in … he certainly saw the potential of this area early on."