The Business of Arts Resounding Impact on The Emerald Coast
The growing pains of Northwest Florida's art scene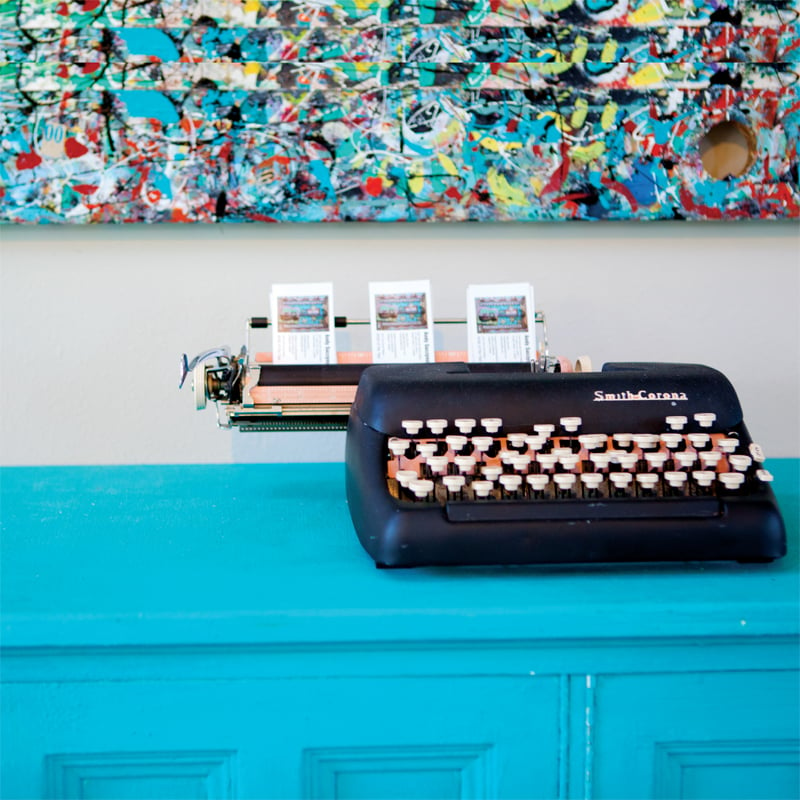 Perhaps this opportunity tastes even sweeter because Saczynski didn't even realize his panther and butterfly paintings were purchased by marketing executives at the 2013 Slotkin Folk Festival in Atlanta. He just knew they loved his art and didn't haggle over the asking price. Fast forward just nine months, and the Niceville native is a household name. Well, at least in household cupboards.
Saczynski, 37, is new to merchandising his art and has only been a professional artist full time since March 2013. But like his vivid, dimensional artwork, he quickly turned heads by being Voted Best Artist on the Emerald Coast (2012 and 2013) and named Best Artist of the Year (2013) by the South Walton Tourist Development Council.
Chris Nolan, a painter from Havana, Florida — located 14 miles north of Tallahassee in Gadsden County — brushed a series of her paintings with a little entrepreneurial spirit when she launched a campaign on Kickstarter.com, a portal to solicit public funding for new ideas. To help offset framing expenses, she created and posted a video of her project called Outside the Box seeking $1,500 to frame her abstract paintings for a show at the Gadsden Art Center last spring.
With a less than rosy economy, Nolan turned to this unconventional funding source to put her budget in the pink after a friend gave her an article about it. "I figured it couldn't hurt. It is very difficult to sell art right now. The average person may have money in their pocket, but they still have that financial memory, so they are holding on to it," she says.
But Kickstarter isn't the only avenue for this resourceful 60-year-old artist-turned-teacher-turned-artist again. Nolan discovered she can post up to 25 paintings free on a co-op website called artistsites.org. Still, while cyberspace is a cost-effective tool for sales and marketing it does have drawbacks. "The Internet is almost a full-time job in itself, and it's pretty saturated," she says. "You can't just put up a website and not have a blog to promote it these days."
Claiming she's too old to "traipse to art festivals," Nolan is keen on cooperative online resources such as artspan.com. It costs $12–$18 a month to join, but artists can gain visibility and sell their work — something Nolan hopes to do when she has the time and inclination. Until then she researches the art scene wherever she goes. A recent trip to Sarasota was not encouraging. She met a gallery owner who told her that just five years ago, his art gallery was one of 15 and now there are just five.
Finding the Resources
Art for art's sake is nourishing for the spirit, but … one look at Panama City artist Paul Brent's vast merchandise collections empire and you quickly surmise that art is also nourishing some bottom lines … by the billions, no less.
So why aren't art organizations' bankrolls as flush as those of established artist entrepreneurs like Brent? If art organizations generate $8 for every dollar that local, state and federal governments invest in them, why do so many seem to still be flailing? And if they have such great right-brained board members, why are they in constant fundraising mode?
Well, as most things in any business, it comes down to resources — financial and human. And simply put, most art organizations don't have enough of either. It didn't help that in 2013–14 Florida experienced a 73 percent reduction for its matching arts and cultural grants program administered by the Florida Department of State's Division of Cultural Affairs.
There is funding, but many local artists and art organizations do not seem to be aware of where or how to access it. Lori Saczynski, who is married to Andy and handles the business side of Andy Saczynski Gallery, said despite being "tech savvy" and online quite often, she is not aware of any agencies or funding sources. "We wouldn't know where to begin to find them," she says.
This is surely frustrating for journalist Brenda Shoffner, a longtime arts advocate and features editor for the Northwest Florida Daily News, who has a unique perspective from her perch as an appointed member of the Florida Council on the Arts, a seat she's held for nearly two years.
Despite penning numerous columns about state-level resources over the years, the low participation level from the Northwest Florida area remains a disappointment to her because she knows how vibrant the art scene is. "I never cease to be amazed at the talent here in fine and performing and visual arts," she says.
After 20 years of covering the arts scene, Shoffner also knows that local artists are not "singing for their supper." In fact they are buying groceries and more. "Artists are making their home here, they are setting up businesses and raising families here," she says. (And all across the country, too, to the tune of a $135.2 billion industry.)
But the arts were not always alive and thriving in the region. Shoffner grew up in the area in the 1970s, and she remembers having to drive to Pensacola or Panama City to see a Broadway tour production. Today, being tasked with publishing the Showcase calendar each Thursday, she is keenly aware of just how many art events take place year-round.
"It's always astonishing to me when people complain about the arts in our area," she says. If anything the vast growth has led to a glut of art events from time to time, leaving Shoffner wishing there was more cooperation among art organizations to better organize and schedule all the offerings.
Still, despite some losses (the Emerald Coast Concert Association shut its doors after 53 years, and local visual artist Don Sawyer is closing his Destin studio gallery and moving out of state), Shoffner remains optimistic about the future and points to new organizations popping up. "The performing arts in particular are just blossoming," she says.
Nathanael Fisher is one. He and his wife, Anna, founded Emerald Coast Theatre Company in 2012. Being new to the business end of the arts, Fisher has been proactive in seeking information. In June his application was selected along with just 23 others by the Florida Division of Cultural Affairs to participate in a hands-on workshop presented by the leaders of the Creative Capital Foundation. Fisher said his goal was to "absorb valuable skills and training" in order to develop his "artistry as a theater director and playwright."
The 43-year-old also reached out to senior art organization leaders for guidance. Mattie Kelly Arts Foundation (MKAF) CEO Marcia Hull answered the call.
MKAF is nearing its 20th anniversary, and after serving as CEO for 15 of those years Hull, 60, is a savvy executive and considered a sage in art industry circles. After numerous trips to the state capital to defend grants, lobby political leaders and glad-hand any and all potential donors — including Mike Huckabee at a Rotary breakfast — Hull has become a passionate "voice" for the local arts community to anyone willing to listen.
"It's the industry I represent. I want to be an advocate and champion for the Emerald Coast," she says. "And, who knows, maybe even on a state level one day."
Hull's modus operandi is leading by example. And hers is one to follow. MKAF has more than 300 members, a diverse board full of engaged professionals and solid financials. Still, with just a two-person staff Hull works tirelessly to continually solicit funds, recruit board members and, if necessary, "clean the restrooms."
Kansas Pitts
For nearly 20 summers, the Mattie Kelly Arts Foundation has staged an outdoor summer concert series in Destin.
What is Hull's secret to success? Strategic planning. "We have an annual planning meeting, and out of that is a document that is essentially our business plan," she says. "It's our bible."
The "bible" leads Hull and her board for the year. MKAF produces two signature events — the Concerts in the Village in the summer and the Festival of the Arts in the fall. They also supplement art education in the schools with year-round outreach through the All Kinds of Art program.
"We measure results of everything we do and look at the ROI. We monitor every event financially. In fact, I probably spend more time on the numbers than anything else," she says. "I have to. As a CEO, I am a fundraiser. We run our non-profit as a business. It may not make a profit, but it is a business."
And when operated successfully, the arts translate into a desirable place to live and work. And that lures even more businesses. So much so that in January 2009, the Florida Chamber of Commerce identified quality of life as a key component to Florida's economic recovery. The Chamber specifically cited arts and culture as a way to attract business and improve quality of life for Floridians.
Hull recalls the arts push a few years ago. Perhaps the focus at the state level is what motivated local participation in a five-city tour of the Florida League of Cities called "Culture Builds Florida Communities" that included a stop in Fort Walton Beach for a session held at the Northwest Florida Ballet in March 2011. Just six months later, in September, the Okaloosa Economic Development Council was inspired to put the arts on the agenda for a high profile roundtable symposium called a "Salute to Arts & Tourism" for the first time; Hull was seated on the panel.
But those high profile events are not the first time leaders convened to discuss the arts. Shoffner recalls a daylong symposium on the arts held in Navarre in 1996. But, little came of that either.
Over the past 15 years, despite her efforts to attend workshops, forums and panels in order to speak up and out about the arts, little has resulted from it. "Nothing happens," she says. "It would be great if we could work better together."
For this arts advocate the stakes for the arts couldn't be higher. "Quality of life is a strategy. It's not a luxury," Hull says emphatically.
But no matter what the political climate, or how many grants she's denied, Hull's personal mission remains clear. "We just have to promote the arts. It's our responsibility to our community to give it a sense of place. I just can't imagine living anywhere without arts and culture. And who would want to?"
And then there are the future generations of artists to consider. Jason Hedden, 37, an associate professor of theater at Gulf Coast State College in Panama City, bases much of the advice he gives his students in the classroom on his real-life experience as an actor and director. While in graduate school at The Ohio State University, he researched, authored and performed in a new play. What started as a 10-minute assignment became a one-man passion project play called "Resurrecting Van Gogh" that he continues to develop today.
The story is based on the life, work and writings of Andy Martin, a medical student and oncology patient at Tulane University, who conducted groundbreaking research on sinonasal undifferentiated carcinoma (SNUC), an extremely rare form of cancer that eventually took his life in 2004. Hedden has found keen interest and support for his new work within the niche industry of health care; the play has been staged in concert with art therapy programs in Ohio, New York, California and Florida.
"This particular project has had more doors open than anything I've ever worked on, and I think it's because I'm not knocking on the same doors as everyone else … I went in the back door. I was knocking on the door of Art Therapy for Cancer Patients. I've learned to consider non-traditional avenues, and now I've started to do that for other projects," says Hedden.
And those "paths not taken" apply also to fields of study within the arts. Opportunities abound beyond traditional majors. At GCCC, for example, you can study applied theater, which Hedden describes as "basically every type of theater except the most common." This degree may place an actor on the path of theater for social change and link to social work. Hedden points to online programs that offer a Masters of Art degree in health care and focus on things like art therapy.
Hedden recently was hired to use his acting chops in a role-play workshop attended by real estate sales professionals looking to sharpen their communication skills with clients. He is providing private consultation for a Panama City woman eager to be more confident in her job by overcoming her acute fear of public speaking.
There's an old adage that says the "squeaky wheel gets the grease." Nearly 75 percent of all visitors to Florida attend some kind of cultural art event across the state each year. And when they visit, cultural-minded tourists spend more money than non-cultural visitors and twice as much as local attendees.
Pensacola does not need to be convinced of the marketing might of the arts. They are "packaging" all of the arts and culture offerings in the area during a two-week time period in November to drive up off-season visitation.
"To me this should be one of our greatest message points. I don't think it's been done in the past, yet it could really drive our business," says Visit Pensacola President Steve Hayes.
And the South Walton Tourist Development Council sees the opportunity, too. In an online community survey of about 1,200 people, 52.8 percent said they'd like to see a multi-purpose cultural facility, which landed it No. 8 on a 12-point list of possible capital improvements. Lower on the list, at No. 11, is an art and history museum, favored by nearly 30 percent of those polled.
Beyond tourism, which certainly is big business for a destination like Florida, there is also the industry itself to consider. It is not the largest employer, but according to the Florida Office of Cultural Affairs there are nearly 65,000 arts-related businesses that employ more than 217,406 people across the state. That's pretty squeaky.
Throughout 2014, the Florida Division of Cultural Affairs is undertaking an initiative to develop a new strategic plan. The current plan is called Culture Builds Florida's Future and is viewable here. But they are soliciting input for a new plan that will guide the Division through 2020. One of the ways they are collecting feedback is through "listening sessions." For more information on how to participate in one, or host one, contact Gaylen Phillips at gaylen.phillips@dos.myflorida.com.
Several support art organizations dot Northwest Florida (Cultural Arts Alliance, MKAF, Okaloosa Arts Alliance and the Northwest Florida Arts Council, for example), and while they all claim missions that support the arts, no one organization appears to represent the entire region. Perhaps artists along the Emerald Coast would ultimately be best served if the string of art organizations found a way to band together to create a collective "voice" which together may be stronger, louder.
Until then, art entrepreneurs like Andy Saczynski will likely keep cooking up eye-catching entrepreneurial business ideas. And maybe they will whet the appetites of "fat" funders hungry for tasty, new ideas.