The 7 Secrets to Great Customer Service
Area experts pass on their advice to keep everyone happy 24/7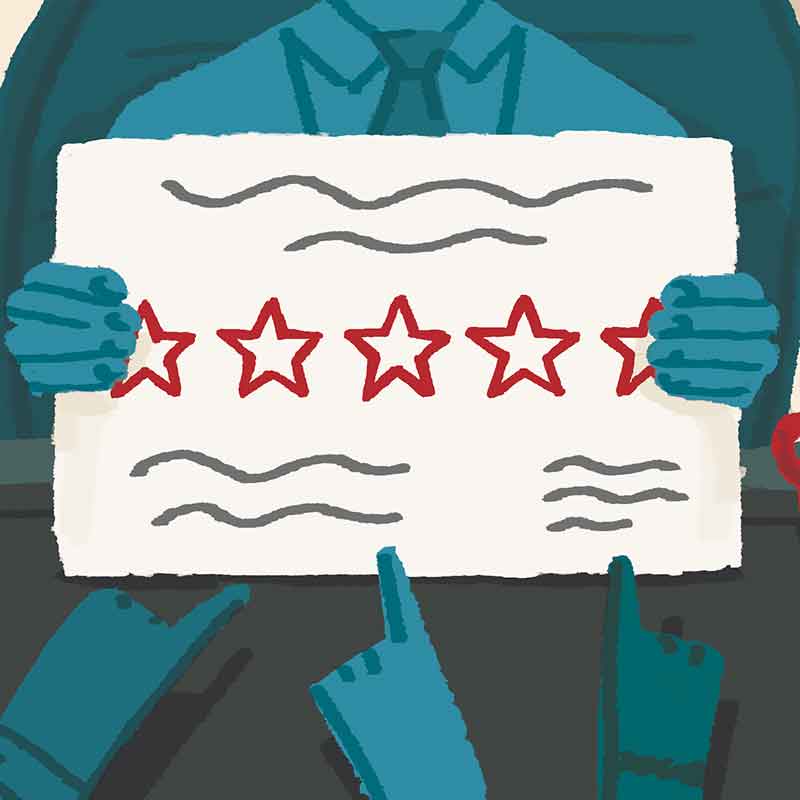 As fast as a text message, customer service is changing. Gone are the days when a great product at a fair price was enough to please. In fact, customer service in 2015 is more of a 24/7 undertaking than ever before.
The advent of social media and business reputation sites such as TripAdvisor changed the world of business irrevocably but maybe nowhere as much as customer service.
These days, customers demand products and services tailored to their individual needs and tastes — and they want these to be immediately available as soon as they arrive. Businesses that invest in research, trend-watching, social/online presence and customer service management are the ones poised to do the best in this environment.
Melissa Biggs, owner of Southern Sisters Boutique and Salon in Pensacola, explains.
"With increased competition from other brick and mortar stores … as well as from the Internet, we have to bring our A-game every day," she says. "You can't expect to be a successful retailer and have average service."
The truth is, if you aren't actively mapping customer interactions with your company — and empowering your employees to create the best experience possible — then you are actively falling behind your competition.
Martin Owen is someone who really understands these changes. A 45-year veteran of the travel industry, he is the regional marketing director for ResortQuest by Wyndham Vacation Rentals in Fort Walton Beach.
"Nice isn't good enough anymore," Owen says. "To win at customer service, you have to empathize with your customers and anticipate their needs. Even 10 years ago, people would put up with standard or mediocre service — but not today."
Owen uses generational differences to his advantage in the vacation rental industry.
He explains that millennials, for instance, demand that businesses think of their every need. Raised in the Internet age, these 20-somethings are accustomed to a world that is small enough to cater to their every taste — at the touch of a button.
In a similar (yet counterintuitive) fashion, baby boomers have very high expectations because they have earned what they feel is the right to expect service industries to anticipate all their needs, and especially to surprise them with things that they haven't even considered.
The generation in between, Gen X, has families, and they want people to make that easier for them. Solving problems for these parents is key to winning their loyalty.
A key to great customer service in today's world, Owen finds, is understanding that the essential process for choosing and purchasing is startlingly different today than it used to be. People don't plan trips two years out anymore. Consumers use real-time planning as if there is no time or distance to overcome. When they arrive at a vacation, for example, they expect the beach chair and the glass of wine to be waiting for them automatically.
The same is true for the retail industry, as Dana McBride of Pensacola's Toad Hall Antiques & Gifts understands. Her service goal is to never take customers for granted — because nowadays there are too many other options for shopping. Her goal is to make customers feel appreciated and welcomed when they choose to shop at her store. McBride runs her store with the old mantra, "Sales may go up and down, but service never should."
How does a business successfully "learn" new customer service skills in this avant garde world? Here are some tips from those winning at the concept.
Redefine Job Expectations //
Most in business today will tell you that making customers happy is the No. 1 expectation on either side of the dollar bill.
Tania Koehler, general manager of the Courtyard Grand Boulevard and Residence Inn at Sandestin, incorporates this on a very basic level.
No matter the job title, "The job isn't the task," she explains. "The job is to make our guests happy."
Key to accomplishing this goal is empowering employees to do whatever it takes to satisfy the customer. Whether it's branching out of a specific role — a housekeeper offering a free breakfast, for instance — Koehler enables her employees to do what they can as soon as possible to fix a situation.
Great Service Starts With Great People //
Hiring talent versus hiring hands is a key philosophical difference in the service-centered approach to hired help.
Marc Bauer, who with wife Pamela owns the consulting firm Halcyon Hospitality, has a longstanding reputation for transforming businesses into customer service powerhouses. Together, they worked on several projects including Hotel Duval in Tallahassee, where Marc was general manager, and the Tallahassee Memorial Emergency Center – Northeast.
"I don't necessarily go with someone for their experience," Bauer says. "I am looking for a real spirit to serve and a hospitality heart." He believes that a solid work ethic and engaging personality is key for any business, not just restaurants or hotels.
It's the same for Richard Ross, the vice president of sales and marketing for Hilton Sandestin Beach.
"Team members can be taught skills," Ross believes. "But personalities and attitudes are unique to each individual and difficult to instill in someone if that drive to serve is not already there."
Koehler agrees. She considers the employment screening process to be key in finding great people. At her Howard Group properties they implement a multi-level application screening and interview process for all employees. She watches for cues such as smiling, sociable personality and team-oriented drive in every interview.
Focus on The Team at All Times //
A common denominator for superstar customer-service companies is a focus on the employees as a team or family concept.
Managers in any situation must be, first of all, great leaders. To Ross, that means "walking the talk" and exhibiting the very behaviors that he wants employees to emulate.
"Culture is key to keeping the team spirit," Owen agrees. "Our staff are treated as part of a family."
Like any family, Owen understands that what "parents" show, everyone follows. If management is passionate about giving customers an incredible experience, then it's that much easier to get employees to follow suit.
Some businesses, such as Howard Group, enrich supervisors and employees by asking them to read management books. Koehler augments this with regular (and frequent) team meetings that focus on customer feedback.
"The hardest part of customer service is probably maintaining team spirit," concedes Halcyon Hospitality's Bauer.
He says that people have their own notions of what their job responsibility should look like, so you have to build and mold your talent to grow into your expectations. Involving staff in decisions helps make them stakeholders and not just employees. Welcoming different ideas and cultural expectations from staff experience is also a very valuable tool, Bauer points out.
Feed Your Employees //
A good diet of reward, motivation and encouragement is essential to building great customer service.
"Our employees are our best resource," Koehler says. "And they must be treated well."
She gives back to her employees by listening to what they need and giving it to them. Through her regular meetings and annual employee survey, she stays tuned in to what her team needs and wants to continue building the service ever better.
When businesses don't cue into these essential needs, customer service is often the first place the threadbareness shows.
"There are many pitfalls in executing good customer service," observes Ross, of Hilton Sandestin Beach. "Training, empowerment, proper resources, morale, communication … all these factors can compromise the delivery of great service." All of these things deal directly with employees and how they feel about their job. Ross believes that all of these factors are vital to keeping an organization energized and eager to go the extra mile.
Know What to Say //
Scripting great customer service lines is standard for many top-level service-oriented organizations.
Take care to appreciate the difference between knowing what to say and knowing what to mean, Bauer warns. He considers authentic, genuine customer interaction over scripting, because employees must be able to feel natural during customer encounters.
Making sure employees know the spirit and intention behind each interaction is key. Welcoming guests, responding to conflict, offering substitutions, and saying "no" need to be part of how you train your employees to talk to customers.
"Customers want to know you understand and care," says Kitty Whitney, executive director and broker at SRE realty company in Sandestin. To that end, she tries to define the end goal of each client interaction and follows up to make sure needs are met. For Whitney, it's about communication from beginning to end.
Defy Distractions //
Especially in the retail environment, when you are always present with your customer, making sure they feel important is key.
"When you are waiting on a customer, nothing else matters," Biggs maintains. "Don't let your mind drift to what else you need to do … you have to block all of that out and make that person feel like the most important person in the world."
There are plenty of distractions to steal your focus from great customer service, but don't give in. As Biggs points out, all the advertising in the world won't trump the word-of-mouth "branding" that comes from treating customers less than great in the store. Slighted customers won't be back, and they will tell everyone they know using lightning-fast social media and texting.
Thank you, thank you, thank you //
It should go without saying that thanking your customers is rule No. 1.
It's hard to be too enthusiastic when thanking customers. Consider special sale days for loyal patrons, exclusive preview days, free giveaways and more as ways to let your customers know they matter.
The handwritten note, though, never goes out of style. Bauer even included the personal note when he designed customer interactions for a Tallahassee emergency care center. Imagine the impact of getting a note penned by medical staff after your emergency room visit!
The best follow-up and thank you depends on the situation at hand, Whitney points out. If a customer is satisfied or far away, a phone call will do fine. If you aren't highly engaged in the selling of your product (think dress versus beach house), then a note might well suffice. But if you made a big sale or served a very important client, Whitney suggests stopping by in person.
Consistency in customer service may be one of the biggest challenges to success, Ross observes. Given that every business experiences turnover and changes, any organization needs to approach customer service as a dynamic that is always evolving, always getting better, he suggests.
Bauer and the other experts say that customer feedback is at an all-time high in terms of availability and access. Sites such as Angie's List, TripAdvisor, Yelp! and others mean businesses have no excuse for ignoring their customer service trends.
At the end of the day, customers want to know their business matters to you. Experts agree that a customer service "win" involves creativity, feedback, consistency and a positive attitude.
"We must remain nimble, proactive and flexible to the needs of each guest (and customer) if we are to be successful," Ross says.