Technology Advances Patient Care at Tallahassee's Hospitals
Expansion in locations and patient offerings are on the horizon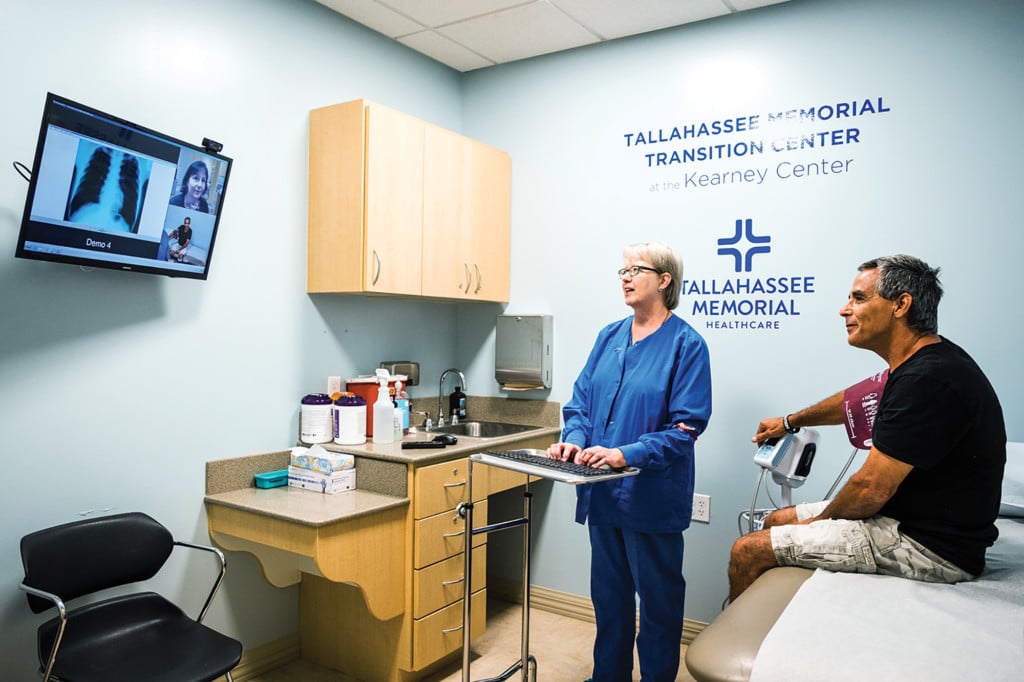 Around the world, technology is changing how health care is delivered. In Tallahassee, Capital Regional Medical Center and Tallahassee Memorial HealthCare are using cutting-edge techniques to improve patient care in a variety of ways.
One of the biggest changes is heightened convenience, with more options for patients to receive care without having to travel to the hospital.
Satellite medical facilities have been game-changers for both patients and health care providers, and telemedicine, while not appropriate in every instance, can help health care providers expand geographical reach to treat many illnesses and injuries.
What follows is an overview of what each of Tallahassee's hospitals is doing to take advantage of technological advances to improve patient care and outcomes.
Capital Regional Medical Center expanding its footprint
Capital Regional Medical Center is opening two new freestanding emergency rooms in late 2019 and in 2020.
The SouthWood ER, at the intersection of Capital Circle SE and Orange Avenue, will offer emergency medical care 24 hours a day, 365 days a year, and will be staffed with board-certified emergency physicians and emergency nurses, CEO Alan Keesee said.
Early next year, the Lake Jackson ER will open on North Monroe Street.
"Northwest Tallahassee is growing quickly," he said. "We are bringing resources and access to quality medical services to support this growth."
Together, the two new ERs represent a $30 million investment and 62 new full-time jobs, including nine emergency physicians being recruited to Tallahassee. This is in addition to the freestanding emergency room it has operated in Gadsden County for the past 10 years.
Capital Regional also offers primary care and specialty services in Crawfordville and Quincy. Primary care services are available in Chattahoochee. Earlier this year, CRMC opened a clinic in Thomasville, Georgia.
There, cardiology services are available one day a week; additional specialties were due to be added by the end of 2019.
Other new ventures opening in 2019 include an outpatient burn center, which Keesee said will give Florida Panhandle residents within the Big Bend access to burn care, and a behavioral health clinic near Florida State University, open to all university students in Tallahassee.
All of these services include exciting technological advances in conjunction with telemedicine and telestroke services.
Telestroke services are measured by "Door to Needle" time, that is, the time that elapses from when the patient enters the ER to when health care providers are able to administer clot-busting medication.
Keesee said CRMC is well below the 60-minute standard, which has allowed it to meet this "golden threshold" for patient survival and recovery from a severe stroke.
Robotics are also an exciting development in health care. Keesee said Capital Regional offers robotic-assisted knee replacement and spinal surgeries, which allows for more precise alignment, resulting in less pain and faster recovery for patients.
Tallahassee Community Hospital opened in 1979, and in 2003 was replaced by the larger Capital Regional Medical Center.
As leadership celebrates CRMC's 40-year anniversary, the focus now turns to anticipating the area's medical needs for the next 20 or 30 years.
Keesee summed it up nicely: "CRMC is committed to growing alongside the health care industry in Tallahassee."
TMH expanding its reach via telemedicine
Tallahassee Memorial HealthCare serves a 17-county region in North Florida and South Georgia, and through its network of outpatient specialty practices, primary care physicians and small hospitals in rural areas, it is bringing big-city health care to small communities.
"It's much like Facetiming or Skyping with family and friends, but doctor and patient are together in a virtual room via computer," said Lauren Faison-Clark, administrator over Regional Development, Population Health and Telemedicine.
The instruments are mind-blowing. Bluetooth stethoscopes allow a doctor who is miles away to hear the heartbeat of a patient, as though they were in the same room.
Digital cameras allow doctors to see into the ears and down the throats of patients from great distances.
There are plenty of advantages to having a doctor diagnose through telemedicine, particularly for patients in rural areas. So many times, Faison-Clark said, rural hospitals need to send a patient to Tallahassee by ambulance to see a cardiologist or other specialist, when the expense of the ambulance ride sometimes can be avoided using telemedicine.
TMH's freestanding emergency room, near I-10 and Thomasville Road, is affiliated with Wolfson Children's Hospital in Jacksonville.
"Our board-certified ER docs can log into the computer and get an immediate consultation with a double board-certified physician at Wolfson," she said, meaning a doctor board-certified in both emergency medicine and pediatrics.
TMH's hybrid clinic at The Kearney Center, Tallahassee's homeless shelter and the hub for services for the homeless and those on the verge of homelessness in the eight-county Big Bend region, is an example of various sectors of the community working together to solve a societal problem.
Clients who don't feel well or are experiencing a health crisis can visit the clinic, and the nurse or medical assistant will ring up a doctor.
Most times, the client can be diagnosed and treated without a trip across town to a hospital. But perhaps more importantly, people who have been without adequate health care for a long time get an opportunity to regain good health.
Bobbie Carrin is so grateful for the care she has received that she agreed to tell her story in a promotional video.
A thyroid cancer survivor who also has a heart condition, Carrin lost access to her medications for three years.
Depression followed, and she retreated further into herself. TMH and The Kearney Center got her back on her medication. "I'm just feeling so much better," she said. "I have energy. And I have hope again."