Tallahassee's Cissy Proctor Looks After State's Economic Welfare
Proctor excels in the executive director role for the Florida Department of Economic Opportunity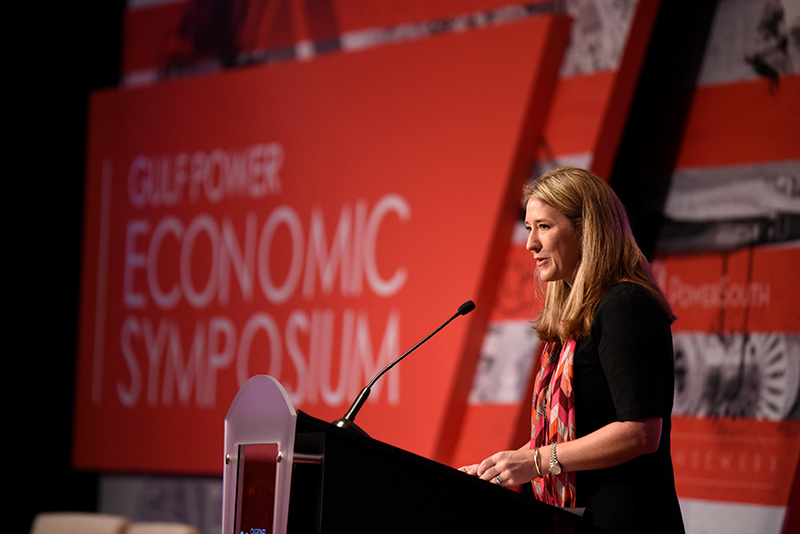 What are the hottest jobs in Florida?
Is your firm looking for skilled employees?
Does your community need better infrastructure?
How do you protect your business in a disaster?
What do you do if you're laid off?
These are just some of the disparate issues, and there are a bunch of others, that come under the purview of the Florida Department of Economic Opportunity in Tallahassee.
"When I came into this office, I realized there were still a lot of people who didn't know what we did as an agency," said Cissy Proctor, who was appointed by Gov. Rick Scott as DEO's executive director in 2016.
"I spent a lot of time over the last two-and-a-half years making sure that I'm present in the communities, making sure they understand what we do and then making connections."
That's why, on any given week, you might find Proctor meeting with community representatives, business owners and educators anywhere from Tallahassee to the Keys.
"We're taking the state to them," said Proctor, who grew up in Tallahassee and is a graduate of Florida State University's College of Law. "We're listening to what their needs are, understanding the characteristics of those communities.
"How do they want to grow, what do they want their economic development to look like in five years, 10 years and is there any part that we can play in that?"
Proctor started playing a part in DEO in 2013 as the deputy director of legislative affairs. She moved up quickly.
After six months, she became director of strategic business development, and in January 2015, she was named chief of staff. A year later, she was running the department.
Proctor sees her role as a "spokesperson" who also seeks information and shares opportunities.
It's a tall order in a state of more than 20 million people. About 800 people move to Florida each day, she said.
The DEO was created as a new state agency in 2011 "as one of the initiatives to make sure we rebuilt after the recession," she said.
The department was also an effort to streamline services, merging three former agencies: the former Division of Community Affairs, the Agency for Workforce Innovation and the Office of Tourism, Trade and Economic Development, Proctor said, while still "strengthening ties between economic, community and workforce programs."
The DEO promotes public-private networks and partners with agencies such as Visit Florida, Enterprise Florida, CareerSource Florida, the Florida Ports Council and Space Florida.
While it's not all about "jobs, jobs, jobs," that's certainly a key component in DEO's role.
According to figures released by the department in August, Florida's unemployment rate was 3.7 percent, unchanged from the July 2018 rate, and down three-tenths of a percentage point from a year ago. The rate was just below the national figure of 3.9 percent.
Florida ranked third among states during the past year in overall job creation, trailing only Texas and California.
Some other highlights of the DEO's August report:375,000 Floridians were considered out of work from a workforce of $10.2 million.
The state gained 220,200 jobs over the year, an increase of 2.6 percent.
Leisure and hospitality was the industry gaining the most jobs: an additional 54,600 or 4.5 percent.
Other industries gaining jobs over the year: construction (up 7.7 percent); education and health services (up 2.3 percent); professional and business services (up 2.1 percent); trade, transportation, and utilities (up 1.3 percent); financial activities (up 3.5 percent); manufacturing (up 4.0 percent) and government (up 0.2 percent)
The one field losing jobs was information (down 0.3 percent), which includes jobs in telecommunications, publishing industries "except the internet," data processing and broadcasting.
"The creation of more than 1.6 million new private-sector jobs is not an accident," Proctor said when announcing the report's results. "Florida businesses are confident in our business-friendly environment and talented workforce."
The figures help educators and students look at where the jobs are. Other data looks at workforce needs for the future.
Enterprise Florida compiles reports on what industries the state wants to attract or expand. The list is updated every three years, with the next report to be released in 2020.
The current list of top targeted industries includes:
More corporate headquarters
Manufacturing, including aircraft and energy equipment manufacturing
Research and Development
Global logistics
There's a reason why bringing corporate headquarters is so vital to the state, Proctor said.
"There's a multiplier effect. If you bring a headquarters, folks that move here or are hired are going to go to the Publix down the street, go to the dry cleaner, send the kids to school, get their tires rotated. These are the impacts that really mushroom out from a company's location."
Also touted on the list are the fields of pharmaceuticals, homeland security and defense, aerospace, diagnostic testing and financial services. Among emerging technologies:
Cloud IT
Marine Sciences
Materials Science
Nanotechnology
The DEO aims to "help businesses that want to grow in the state, and how they do that," said Proctor.
To help spur job growth, the DEO is working on collaborative efforts with local communities, often involving infrastructure needs.
"Across the state we're seeing cities and counties come together to look at economic development and growth with a regional approach," she said.
"Think about the I-10 corridor and the recognition that there is so much potential for growth there. But if a company isn't looking at that potential growth at all, or not looking at the I-10 corridor at all, they're never going to think about just Tallahassee or just Gadsden County, so there's a lot of focus there."
One recent boost for communities is the fairly new Florida Job Growth Grant Fund.
In its first year, launched in 2017, the program received $85 million to cover needs like public infrastructure — roadway, sewer and water improvements, said Proctor.
The grant also provides money for workforce training. Pensacola College, for one, received $1.9 million for programs to enhance skills that are in demand, including advanced manufacturing, aviation maintenance, welding, cybersecurity/information technology, nursing, transportation and construction trades.
Another $85 million has been allocated for 2018-2019.
Disaster preparation and recovery is another role for DEO, and it's among the most challenging, said Proctor. "We have a big role before the storm hits, while it's hitting and after it's over."
Since Hurricane Michael, Proctor and other DEO representatives have traveled to impacted areas to survey damage and connect residents and business owners with assistance they need to rebuild their lives.
Within a week of landfall, the agency worked with the Florida SBDC to provide the first Small Business Emergency Bridge Loan.
The program provides short-term, interest-free loans to affected businesses.
Eligibility changes to the program now allow for small business owners with fewer than two employees located in any of Florida's 35 counties impacted by Hurricane Michael to qualify.
As of Nov. 1, more than 60 businesses had been approved for more than $1.8 million in loans.
The agency is also administering the Disaster Unemployment Assistance program for Florida businesses and residents whose employment or self-employment was lost or interrupted as a result of Hurricane Michael.
There were 11 Business Recovery Centers open throughout the impacted areas as of early November.
Locations can be found at FloridaDisaster.biz or FloridaSBDC.org.
The agency has multiple programs to help Florida businesses and residents recover after a storm.
They may visit FloridaJobs.org for more information about disaster recovery efforts as a result of Hurricane Michael.
Even before the devastating storm, one long-term challenge has been trying to help communities that have yet to emerge from economic hardships since the recession.
Florida has identified a dozen counties hard-hit by a wide range of problems: Calhoun, Gadsden, Taylor, Citrus, Hernando, Marion, Putnam, Sumter, Glades, Hendry, Highlands and Indian River counties.
Applications are being accepted for DEO's Rebuild Florida program, launched in late September, to rehabilitate or replace single family and rental housing for low- and moderate-income families impacted by Hurricane Irma as part of a $616 million block grant from the U.S. Department of Housing and Urban Development.
"We know that many families across the state are still struggling, even one year after Hurricane Irma," said Proctor.
"This is money that comes in at least a year after a storm or disaster to help folks who continue to have unmet needs," she said.
"Maybe insurance didn't fix your house fully or you got government assistance but it didn't make you whole. We're starting with homes in the hardest-hit communities, like the Keys."
To find out more about Rebuild Florida, go online to RebuildFlorida.gov or FloridaJobs.org.
It's the kind of challenge that keeps Proctor on the road.
"One way for me to understand, and for the agency to understand, and to help them as much as we can," she said, "is to be there and be present."