Tallahassee Welcomes a New Craft Distillery
Craft Distilleries and Their Products Are Growing in Popularity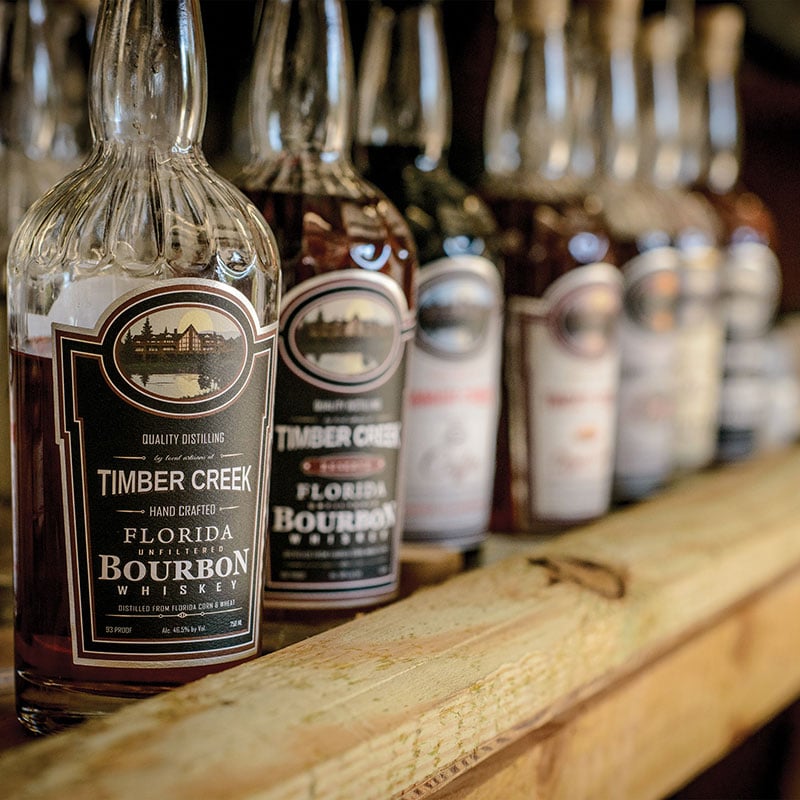 A former Navy pilot and chemist, Paul Rollins was looking for something interesting to do when he retired in Gulf Breeze.
Aaron Barnes and Camden Ford wanted to form a business, hatching their plan over meetings in a Destin backyard.
Dean Minardi had an idea to convert the old Coca-Cola bottling plant near downtown Tallahassee into a business.
On the surface, there doesn't appear to be a connection among these four. But along with a growing number of individuals across the region, state and nation, they have developed a similar passion for a rapidly expanding industry — craft distilling.
The business of booze, more specifically craft spirits, is growing by double digits. The number of small production facilities in the United States has more than tripled since 2007, with the total number of craft distilleries now hitting the highest numbers since Prohibition.
According to data from a recent study conducted by the American Craft Spirits Association, IWSR and Park Street, there were at least 1,280 active craft spirit producers in the nation in 2015. Between 2007 and 2015, the annual growth rate for permits was 16 percent.
In Florida, records from the state Department of Business and Professional Regulation show that as of Aug. 17, 2016, there were 37 licensed distilleries in the state, stretching from Okaloosa County in Northwest Florida to Miami. Along the Panhandle, there are currently four licensed distilleries — Rollins Distillery in Gulf Breeze, Blackwater Spirits Inc. in Milton, Peaden Brothers Distillery in Crestview and Timber Creek Distillery in Crestview.
During an eight-year period that began in 2004, a total of 12 distillery applications were filed with the department. Between 2012 and 2015, there were 32 applications filed. As of mid-August, four more applications were filed.
Craft spirits are the products created and bottled on-site by an independently owned distillery with maximum annual sales of 52,000 cases. To be considered a craft distillery, one must be involved in all aspects of the distillation process, from ingredient selection to bottling and labeling. They are regulated much like any other business and must adhere to all local and state regulations. One more caveat: They can open only in "wet counties."
Rollins Distillery
The father and son team of Paul and Patrick Rollins leased their current property — located at 5680 Gulf Breeze Parkway, D-10 — in 2012, although the company itself was born the year prior.
"The first year was spent planning out our operations," Paul Rollins explained. "We really wanted to start out as a pilot plant and take the time to get good products developed."
Rollins Distillery, which is filled to the brim with large containers holding molasses, a variety of stills, coiled copper pipes, a fermenting room and a packaging/bottling area, produces three products (all molasses-based) out of its warehouse setting: Esprit de Krewe Vodka, Esprit de Krewe Crystal Rum and Esprit de Krewe Spiced Rum.
In fact, the Esprit de Krewe Vodka and Rum were awarded silver and bronze medals, respectively, in the grain-to-glass sugar vodka and un-aged rum molasses categories during the 2016 American Distilling Institute Sprits competition.
That's quite the honor for the Rollins team, which also includes Paul's wife and Patrick's mother, Lamia.
"We're first-generation distillers, so we are learning it all on our own," Patrick Rollins said. "It's really a constant lesson."
Paul Rollins is a retired Navy pilot and chemist, while Patrick Rollins, who originally planned to be an architect, holds a degree in marketing and sales management with a certificate in supply chain logistics from the University of West Florida. After retirement, Paul was looking for a new adventure and drew inspiration from fond memories of Scotland, where he spent time in a distillery while working on his MBA through Auburn University. For his part, Patrick has a longstanding love of beer and dabbled in home brewing while attending college in Gainesville.
The Rollinses wanted to start a business they not only enjoyed but that would allow them to give back to the community and utilize local resources from various farms in the area.
"What we wanted to do is have top-shelf spirits that the area would be proud of," Paul Rollins said. "But we also want to work with local growers, such as apple growers, to produce new products."
Rollins Distillery is completely funded out of the family's pocketbook.
"There've been a lot of tradeoffs in terms of what we really want to do and what we can actually afford to do," Paul Rollins said. "That's why we are starting out at the scale of a pilot plant. It's smaller, and the equipment is more affordable."
While it's hard to create the quantities they would like, the smaller scale allows them to have greater control over their products.
"If we were going full scale at our production level now, we could get a barrel of usable spirits/vodka a month, which is about 250 bottles," Patrick Rollins said.
Added Paul Rollins, "We are not trying to rush products out the door; we are trying to create quality products that people can enjoy."
The Rollins products can be found locally at World of Beer in Pensacola and elsewhere along the Emerald Coast at Fish House, the Bridge Bar, Aloha, Red Fish Blue Fish and Peg Leg Pete's, just to name a few.
"We're really excited because we are getting the foundation spirits right," Paul Rollins said.
As much fun as they are having at the distillery, the Rollinses are particularly enjoying spending time together as father and son.
"It's really hard when you work for yourself. You have to find that drive, but thankfully Dad has that and he keeps us motivated," Patrick Rollins said. "This truly is a family business."
Timber Creek Distillery
About 70 miles northeast of the Rollins Distillery, Aaron Barnes and his business partner, Camden Ford, make their own craft spirits at Timber Creek Distillery in Crestview.
Situated on a large family farm, the approach to the distillery off of Poverty Creek Road is dramatic and secluded. The red clay road is lined with tall pines, private driveways and abandoned homes with plenty of stories to tell. It's a setting straight out of a Hollywood movie.
But the idea behind Timber Creek began in Destin, where Barnes, who serves as the master distiller, lives full time.
"My neighbor and I came up with the idea in my backyard," he recalled. "He was the one who started out making everything, and I would just give him ideas and taste-test things."
Added Barnes, "It was literally two neighbors sitting on the back porch drinking booze."
The name Timber Creek comes from the man who built the house Barnes' parents bought years ago. The fireplace in the living room has the name Timber Creek etched into it.
The property itself is roughly 2 square miles in size, abuts Juniper Creek and is home to a variety of fruit trees and a couple of pigs.
Corn, wheat, barley and rye fill silos next to the distillery. At Timber Creek, Barnes uses a process called batch distillation to create his spirits.
"For whiskey, I'll run it through twice, and for rums I'll run it four times," he said. Walking through the distillery, there are massive stills, pots and heavy equipment churning and humming with activity. Barnes said his stills were custom-made in China.
Timber Creek currently has eight products on the market — vodka, clear rum, dark rum, coffee rum, apple pie rum, bourbon, a four-grain reserve bourbon and a black rye whiskey.
"The apple pie rum is very popular," Barnes said. "What I like to do with this is mix it with unsweet tea or drizzle a little bit of it over vanilla ice cream."
For the coffee lover, Barnes said the coffee rum is made from a dark roasted Brazilian coffee and then blended with rum. It's ideal for a cold coffee.
As for their vodka, Barnes said initially Timber Creek hadn't planned to make any, as there are a thousand vodkas on the shelf at every liquor store.
"I ended up making a bunch of wheat whiskey and then just ran it through the still two more times to get it back up to 95 percent," he said. "Then we did the charcoal filtering, which is required by Florida law, and we ended up with the vodka. I wasn't really a vodka drinker, but I love it. It actually has flavor."
Timber Creek ages everything in special barrels, Barnes said, so they can get the flavors they want and have more control over the products. From start to finish, it will take about nine months to make a bourbon. Timber Creek uses wood from the Ozarks in Missouri for its barrels.
"It really ages better," Barnes said.
Given the size of the distillery, Barnes can produce about 1,000 cases a month, but he'd ideally like to expand his facility so he can produce 6,000 cases a month.
Up to this point, Barnes said all of Timber Creek's products have been well received on the streets and at the events they attend.
"I've had people almost stalk me over the coffee rum," he said. "People just love it. That really says a lot when people will drive all the way from Pensacola to get this."
Timber Creek's spirits can be found in Walmart, Sam's Club and Publix locally.
"Since we are local and small-scale compared to the big guys, it can be difficult to get into some stores," Barnes said. "You really have to get out there and sell yourself and the product you are creating."
This fall, Timber Creek will release a "blend your own bourbon kit." Barnes said this product would come with four bottles of flavorings, which include wheat, barley and corn, for the bourbon lover to play with and create his or her own blend.
So is Barnes proud of what he produces day in and day out?
"Of course, I make booze," he quickly said. "How can life get much better?"
But there is still room to improve and room to grow, both at Timber Creek and as craft distillers in general.
"We'll always be tweaking things, but to this point, it's mostly for efficiency," Barnes said.
For the most part, the distillery is fully automated. In fact, Barnes, who is a real estate broker by trade, has built a vast majority of the electrical equipment used in the distillery. He downplays the work, saying, "It's just a simple switch" or "Anybody can do this."
"At the end of the day, there's a lot of satisfaction in being able to reach out and touch what you make," Barnes added. "I think we are 10 years behind the craft beer movement, but we are definitely seeing a wave."
All Saints Distillery
Tallahassee businessman Dean Minardi can easily look past the graffiti on the walls and the current state of disrepair at the future site of his new project, All Saints Distilling Company. Located in the southeast quadrant of Tallahassee in the former Coca-Cola bottling plant at the intersection of St. Michaels and All Saints streets, Minardi plans to run a three-still system where his master distiller, who will be found through a nationwide search, will craft vodka, gin and rhum agricole (a style of rum made from cane juice).
"We'll grow into aged whiskey as well," said Minardi, who also owns Garages on Gaines, a local hangout. "So instead of bottling Coca-Cola, we'll be bottling spirits."
Minardi said his plan is to work with the local growers at Orchard Pond Organics to source grains, corn and sugarcane, keeping things as local as possible.
"We really want to go from farm to flask," he said.
Minardi's plan is to be the brains behind the business end of the distillery, while hiring the smartest, most ambitious people he can find to create the spirits and run the day-to-day operations. Ideally, Minardi said he would like to have the first bottling at All Saints take place in the next 18 to 24 months. Part of the wait is the stills, which Minardi says can take a year to be manufactured after they are designed. The building itself is also going through renovations, which should be wrapped up in less than a year.
All Saints Distilling Company will feature a rooftop business, which is not related to the distillery, boasting a cold bar and vodka lounge.
"Tallahassee really needs a high-end raw bar, considering we are almost a coastal city," Minardi said.
Seeing the growth of craft distilleries around the state, Minardi said the time is right for Tallahassee to have a distillery to call its own.
"We really think this is going to be quite successful, as we have a lot of people come to Tallahassee from other parts of the country," he said. "People come here from Miami, where there are craft distilleries, and ask us where ours are. Now we are going to have one."
Minardi and his team are currently working their way through the regulatory and permitting process.
A Bright Future
As distilleries become more common in Northwest Florida and throughout the state, consumers can expect to see a wide array of product offerings, from traditional vodka and rums to spirits infused with locally sourced fruits, vegetables and spices. The flavors and combinations are only limited by the creativity of their distillers.
"It's really incredible to be able to change the perception of what spirits can be and what they are," Patrick Rollins said.