Tallahassee Office 'Stands Up' For Health
Take a Stand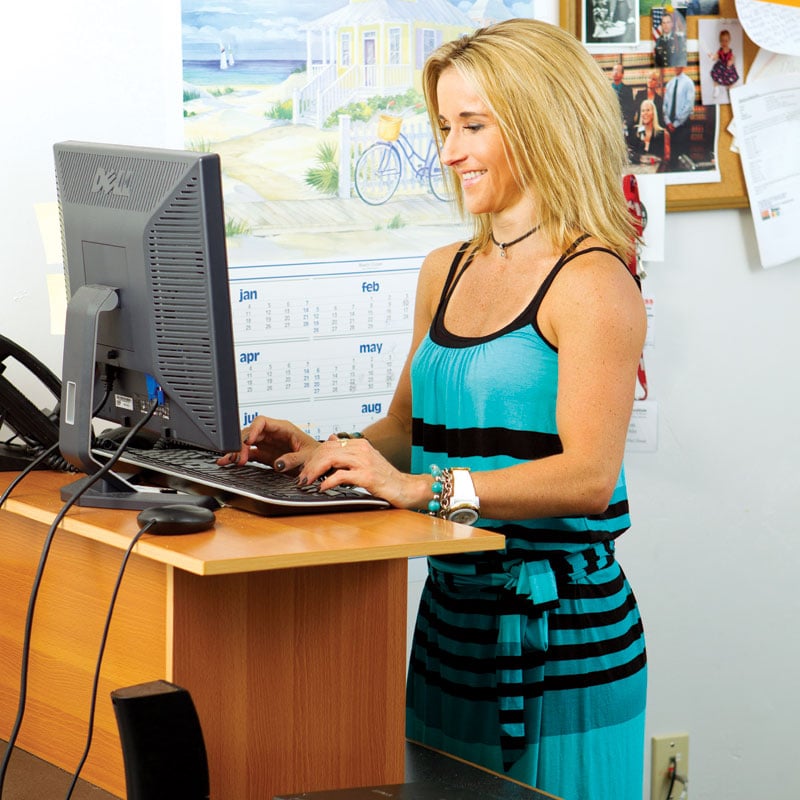 Clients and colleagues who pass Shannon Colavecchio's office door are sometimes surprised at what they see — she's standing up for most of the day, eye-level with her computer screen at an elevated desk.
Colavecchio, a director of Moore Consulting Group as well as an avid fitness instructor and blogger, didn't just misplace her chair. As part of the office's in-house Wellness Program, she opted for a healthier lifestyle by switching to a stand-up desk.
A new phenomenon in the workplace, the stand-up desk is an easy-to-assemble attachment that sits on top of the normal desk surface, making sitting a bad habit of the past.
"If you think about it, we sit everywhere all the time," Colavecchio said. "We never walk anywhere, we drive. Compared to 50 or even 20 years ago, we are just not moving enough."
In fact, sitting could be killing you. According to an eye-opening infographic from Medical Billing and Coding, people with sitting jobs have twice the rate of cardiovascular disease as people with standing jobs.
Though most Americans continue to sit on average 9.3 hours daily both at home and in the office, research has shown there are severe health consequences to lounging for too long. As soon as you sit down, electrical activity in your leg muscles shuts off, calorie burning drops to one per minute and enzymes that help break down fat drop by 90 percent.
Just by standing during office hours, workers who use the stand-up desk see improved circulation and core strengthening, increased energy, productivity and brainpower and less back pain.
"It actually started to help in terms of taking pressure off of my back, and I had more energy," Colavecchio said. "You also burn more calories when you stand than if you sit. It's minimal, but if you do it for eight hours a day, it adds up."
So far, the stand-up desk is catching on. Another colleague, Jaime Fortune, started doing her own research on the benefits of standing. When she came across "Drop Dead Healthy," a book detailing author A.J. Jacobs's quest for a healthy lifestyle, Fortune was convinced.
"What really got to me is even if you work out consistently, you don't reap any benefits of exercising if you sit for eight hours," she said.
To test out the benefits, Fortune fashioned a makeshift stand-up desk out of copy paper boxes, and after just a couple of days, she was hooked. Now she always keeps a pair of comfy shoes under her stand-up desk.
"It's funny because I don't get tired of standing for long periods, but now when I sit for more than 30 minutes I do get lethargic," Fortune said.
Not long after, Jim Hunt, vice president of Moore Consulting, also ordered a stand-up desk to help with tense shoulders and uncomfortable muscles that resulted from sitting.
"Before, I swapped chairs and did everything I could to get comfortable, but standing makes the difference," Hunt said. "I leave here with more energy at the end of the day."
With two other employees in the process of ordering their desks, Colavecchio is glad that the company's Wellness Program is paving the way for a healthy office lifestyle with stand-up desks.
"I'm excited that we're doing it, and if we can be an example to other people in the office or to people in Tallahassee, I think it's great."