Talking 'Bout My Generation
Young business leaders find their voice in Wakulla County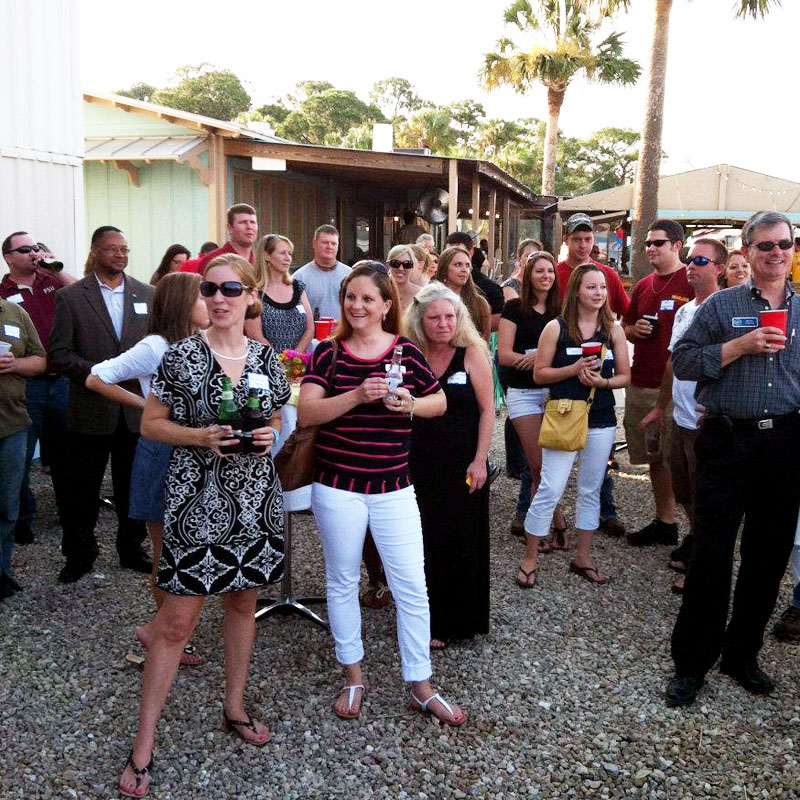 It's common for young professionals to have the desire to be involved in the community and network with other professionals, but the hardest part is figuring out where to begin and what organization to join. Two years ago, the Wakulla County Chamber of Commerce decided it was time to help the area's business leaders of tomorrow begin growing their own network. And so was born Focus Wakulla.
The idea began with Amy Geiger, a past president of the Wakulla Chamber, who saw a need to bridge the generation gap between the county's older, more established business leaders and a growing number of young professionals who call Wakulla home. "Courtney Armitage and I were brainstorming prior to my tenure as Chamber president, and we knew we needed to start a movement to attract those young professionals that felt they did not have a voice in the business community," she said.
Geiger had been involved with the Chamber for six years, but was still one of its younger members. And there were a limited number of seats on the Chamber board that could be offered to the younger set. But Armitage had been involved with Access Tallahassee, the young professional program in Leon County, so the two joined with Tara Kieser, the Chamber's membership chair, to set the wheels in motion for a similar Wakulla program.
Kieser, Armitage and Jessica Revell met with a small group of Chamber members in April 2012 and settled on some specific initiatives they felt the young professionals would benefit from, such as networking events. They also developed a mission statement: Foster and support economic development; Optimize networking opportunities; Create and cultivate future leaders; Understanding and awareness of government processes; Strengthen and enrich our community.
"The initial intent was to boost membership and educate the next generation on the benefits of being a Chamber member," Geiger explained. "We have many small businesses that are being passed down from generation to generation and wanted to be able to reach those (individuals who) are taking over from their parents."
Added Revell: "We want to continue to diversify the Chamber; we were having too many members in the older age group." It would be better for the community, the group reasoned, to get input from a wide range of age groups when making local decisions.
The age range for Focus Wakulla is 18–45, and members even include Tallahassee residents who live, work or play in Wakulla. The group gathers for networking three to four times a year, using social media and personal visits to local businesses to spread the word about upcoming events. Adds Kieser, "Our goal was to attract the next generation of leaders, which seems to be working. Our attendees have been the local younger business owners and young professional employees of Chamber members."
The first event was in the summer of 2012, a meet and greet at Posey's Dockside Café, where about 100 young professionals gathered to enjoy a live band. Other gatherings have been focused around speed networking and political forums.
"At each event, we try to accomplish one of our goals, such as economic development. Lately, we have been working on lots of networking, trying to help the young professionals get out more. It's hard to get the younger members of the community out; it's intimidating for them to go to an event full of 50-, 60-, and 70-year-olds and pick someone to go talk to," Revell explained.
But Focus Wakulla is getting support from the older generation, which wants to encourage the involvement of young professionals in the community.
"It is a great venue for young professionals to get to know each other and become accustomed to networking, while still getting the benefits of [Chamber of Commerce] membership. The Chamber also greatly benefits from the influx of new young members," said former President John Shuff. "Focus Wakulla members also have activities and functions planned outside the regular meetings. The events are an excellent venue … to get to know younger business people that may have an interest and the time to further serve their community as a member of the board of directors."
In fact, all three of the initial "ring leaders" of Focus Wakulla are now Chamber board members. Armitage serves on the executive board as treasurer.
"All business owners are challenged with juggling their time, especially the younger set as they raise their children," Shuff said. "Our older members have obviously had to deal with these issues and serve as examples of 'where there is a will there is a way' and that the benefits outweigh the challenges."