Success Ddvice: Pursue Opportunities, Be Tolerant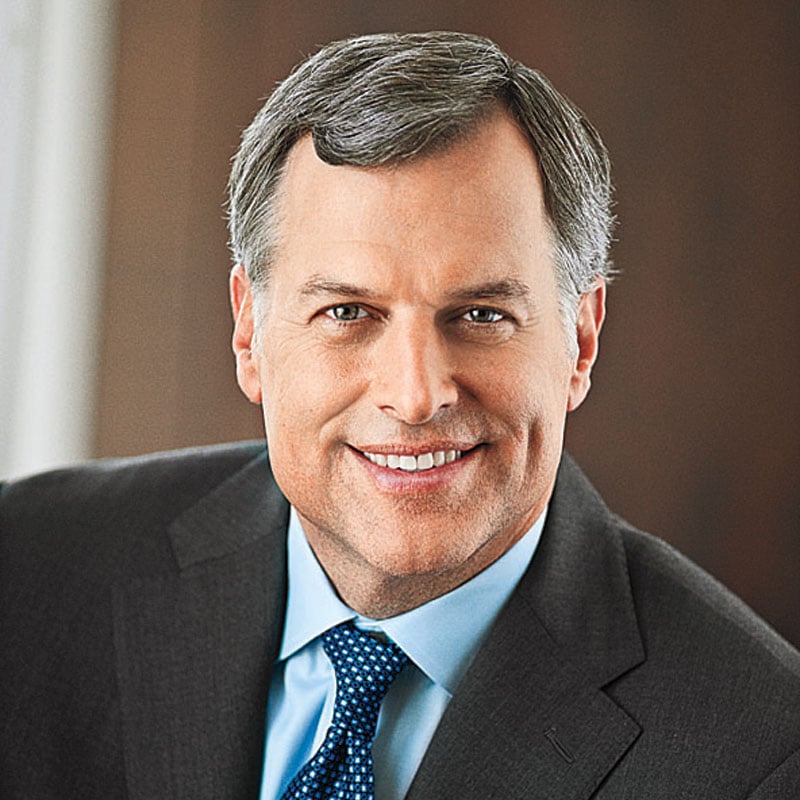 A Spring Break in Daytona Beach and a late winter snowstorm in Michigan brought John Thiel to Florida State University in 1980. It was a move that would set the direction for his life, teaching him it's okay to take a chance and eventually leading him to the prominent position he now holds in the financial world as head of Merrill Lynch U.S. Wealth Management and the Private Banking and Investment Group.
During a fall visit to his alma mater, which included a motivational talk with more than 120 College of Business students, the 52-year-old Thiel, who graduated with an accounting degree, sat down with 850 and WFSU to talk about his career, today's world of finance and how he decided on FSU.
850: What brought you to Florida?
JT: I went with a longtime friend to Spring Break in Daytona Beach, spent 10 days down there and had a great time. The day we got back (to Michigan), we're walking across campus, it's 8 degrees, 20 mile an hour winds, snow is blowing sideways. This poor girl slipped and fell on the ice and her papers went flying. So we just looked at each other and said, "What are we doing here? We can be broke anywhere. Let's be broke and warm."
We went to the library and looked on the microfiche … at three schools. Miami looked really cool, but it was too expensive. Florida was nowhere near the water … and then there was Florida State. We could afford it, even out of state. We applied, sight unseen. I give us credit for courage.
850: From that background, what positioned your evolution to where you are today?
JT: Throughout my career, I had the courage to pursue other opportunities because I had so much success coming (to FSU). It was a scary transition (but) it gave me confidence that I could do it again. So, when I left public accounting and went into the insurance business, and the same thing when I joined Merrill Lynch (as a financial advisor in 1989), you start all over again. I tend to get bored after I master something, so I want to go on.
850: Are there enough people in the business world willing to take chances to improve themselves and learn new things?
JT: Taking chances is probably a very personal decision, but investing in themselves, I think, is very important. And I don't think enough people invest in themselves. I don't think they seek development to the extent they could. And that's not just business development, that's interest in life. I'm by nature very intellectually curious.
When I hear about something I don't know anything about, I try to engage and understand it more. I think that's missing from a lot of people in business. They don't pursue that curiosity as much as they could. It rounds you out as a person and makes you more valuable to whatever organization you are part of.
850: You appear to be a disciple for Dale Carnegie. How important has that been to you?
JT: It was huge. Dale Carnegie took the Golden Rule and he developed 30 human relations principles, which are just manifestations of the Golden Rule put in practical, applicable situations. (One of them is to) try honestly to see things from the other person's point of view.
Who do people want to talk about? Themselves. That's human nature. But if they just reversed that a little bit … they become more tolerant. If people apply that in life or business, that would go a long way to helping us be a better society.
850: Is the abrogation of those principles in some way connected to what happened with the financial market meltdown?
JT: You can look at pretty much any crisis over history, and it was human beings behaving badly. It was just another example of excess.
850: Where are we now?
JT: We're healing. Corporate America is in very good shape. The balance sheets are pristine. The financial system is healing. Ben Bernanke is doing a great job of helping us do that. The housing market is beginning to show signs of recovery, and that's really what it's going to take to get us back on a path of growth.
Meanwhile, we can always use more clarity from Washington. A lot of what financial markets struggle with is uncertainty. If you're running a small business and you don't know what the rules are, it's hard to invest, it's hard to hire because you don't know the implications.
850: What's your advice to small business owners?
JT: Work hard. Do the right thing every day. Invest in yourself and your own development.
850: Where do you get your investment advice?
JT: My advisor (in Tampa) is very good at the things I don't like to do, which is managing money. I like to manage relationships. I let him manage the money.