Steve Evans: The Mentor
Steve Evans' ethical and business advice will leave a lasting legacy in Tallahassee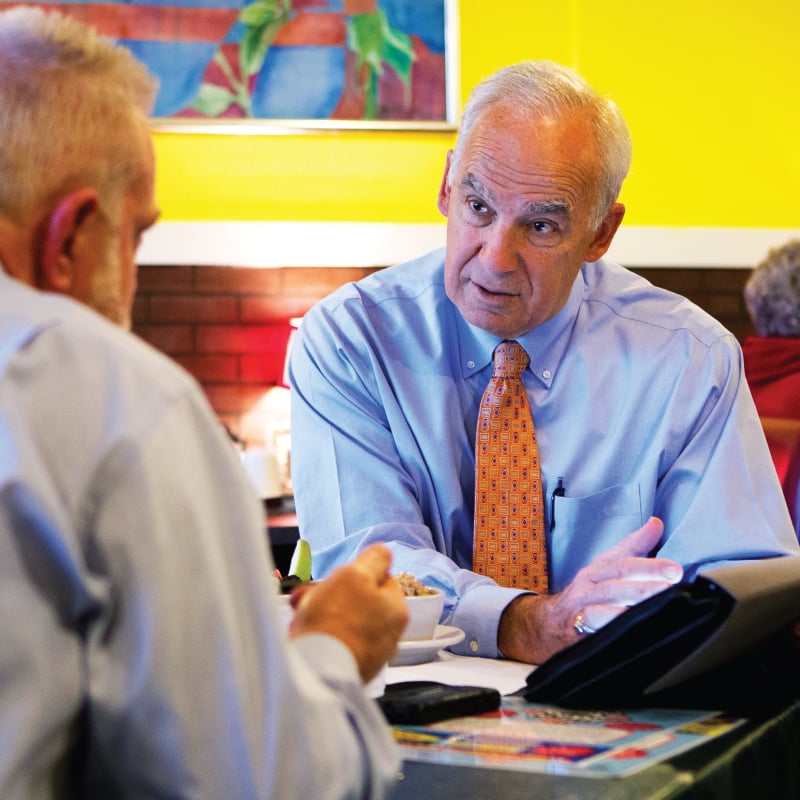 When asked why he does what he does, Steve Evans harkens back to a night in the early 2000s, when he boarded a red eye in San Francisco on one of the 300 or so days a year he traveled as an IBM executive.
Another manager from the global technology behemoth's planning department was on the same flight, so they sat together and began to talk shop. Evans, then 55 years old, recalls asking about the future of IBM's pension plan, because many of his coworkers were nearing retirement age. The manager, Evans said, told him based on the demographics of IBM's worker population, the average person who works long enough will only collect a pension for five years before dying.
Throughout the flight to New York his thoughts were "like an old 1920s movie reel in reverse." Congratulating friends who were retiring, ready to attack their bucket lists, only to hear that a few months or years later this one had developed cancer, or that one died of a heart attack or someone's wife was killed in a car accident.
"That was a revelation for me. That long flight back," he said. "So when the time came for me that I could retire, I made a decision that I wanted to. I knew that I'm not the kind of person going out and playing golf every day, or fishing. I'm not a stay-at-home, watch-TV kind of guy but there's that peace of mind that knew not to worry about it."
He retired in 2003 at age 57. And Tallahassee has never been the same.
Now, most mornings you'll find Evans ensconced in the middle of Tally's Grill, dressed in business casual; the No. 12 breakfast (oatmeal, egg whites, bacon, fruit and coffee) placed in front of him by a server who knows his regular order by heart.
Across from him will be a business owner, nonprofit leader, local politician, up-and-comer, job seeker or a kid with a newly minted college degree listening to the words of what one member of his fan club calls "the wise man on the mountain."
For a decade now, Evans has shared his wisdom with legions of Tallahasseans, sometimes as a paid consultant, but much more often for nothing other than his personal satisfaction. An aficionado of the "dashboard" — his term for the place where goals are visible and people are held accountable for reaching them — at the end of every year, Evans adds up the number of people he's mentored. Last year the annual total was about 100 people from ages 18 to 80.
Evans' career with IBM began serendipitously in 1973. He was a pitcher working his way around the St. Louis Cardinals' farm teams when a manager asked for a volunteer to speak at a local Exchange Club. Evans volunteered, mostly for the free lunch, and was approached by a person who asked if he might consider a post-baseball career at IBM.
(An aside: This illustrates some of Evans' most oft-repeated advice: Network. "It's all about connection I tell people … it's all about networking," he said. "You're not going to make this next step by sitting at home and looking at the Internet. The only way you're going to get engaged and sharpen up your resume is to start networking. The worst thing you can do is sit at home in front of that computer. You'll never find anything. People find careers, they find changes in jobs, they find opportunities by knowing people, by sitting down and having lunch with people.")
Evans began in sales at IBM during the off season. When his next season's contract arrived and he had to decide between baseball and his new company, "it was really no decision at all because I absolutely loved (IBM)," he said. "I found that the teamwork, the camaraderie, the competitive spirit was identical to … what you had in athletics." He would work in sales for the next six years, move into marketing management and then hopscotch around the U.S. while moving up to the inner circles of the highest levels of management of IBM.
He was onboard during IBM's greatest times of challenge and change in the early '90s, when the stock nosedived and the word "dinosaur" was often used to describe the technology company. "During that period of time we made a dramatic shift from a company that sold boxes and technology solutions to a company that really focused on services," he said. "We went basically from a very small services company that wasn't even in the Top 10 to No. 1 in the world over the course of the next 10 years."
Through that painful "reengineering" process, Evans said he learned a lesson that still resonates today for businesses and individuals: "Change or die. As I look back on it we were probably at the front end of a lot of changes that had to go on," he said. "The greatest lesson I learned out of all this was the need to consistently reengineer yourself to stay competitive — the need to have skills that can take you into the future, not just satisfy the needs of today."
Evans came to Tallahassee from Atlanta in 1986, with just a few hours notice to head up IBM's state government operations in Florida. He was underwhelmed by the city's airport, at the time a cement block building with two gates and no jetways. "I've done a lot of flying but I had never in my life walked down to the tarmac," he said. "I remember thinking, this is the capital of the state of Florida?"
Despite that inauspicious beginning, Evans and his family came to enjoy living here, enough so that when it was time to move back to one of IBM's headquarters for his next promotion, he opted to stay in Tallahassee and "commute" — hence the 300 travel days per year. His family includes his wife, Linda, their Navy SEAL son Chip and daughter Stephanie, who is now moving back to Tallahassee with her husband.
Evans sat on the boards of several businesses and nonprofits during his working years, including Florida TaxWatch, where he has served for the better part of two decades. In the process, he became a mentor and friend to President and CEO Dominic Calabro, who unabashedly sings Evans' praises.
"Because of his extraordinary training, I call him the $6 million-dollar man," Calabro said. "He's helped me become a better president."
Evans has served on the Greater Tallahassee Chamber of Commerce's executive committee for several years and was honored with their Servant Leadership award in 2005. Chamber President and CEO Sue Dick explained the unique and practical talents he has offered over the years: "With his corporate background he provides an excellent perspective not just from a vision/strategy (perspective)," she said. "He offers specific tactics to obtaining your goals. He also brings with him knowledge from the market. He brings his corporate experience along with the strategic thought process of how to move forward."
But Evans' greatest gifts transcend his business acumen, according to Calabro.
"His understanding of human nature is second to none," Calabro said. "He's not out to sell you his services, he's out there to do the best for you and the community. Almost always you cannot help but take his advice. He has right and proper intentions (and his suggestions are) always well thought out. His reach is much farther than Tallahassee. He's also pretty endearing … a very, very gracious soul."
Lee Hinkle was able to convince Evans to set aside his retirement and serve as interim director of The Florida State University Foundation for a critical year of transition in 2009. "He is smart, he is ethical, he's just got almost an intuitive judgment about people," she said. "He is able to read people really quickly and really accurately. He is very good at getting people to do things that they're good at. He's a very creative and motivating individual."
Community leader Marjorie Turnbull mentions the literal takeaways she gets from meetings with Evans. "We'll start talking about something and he'll take the placemat or a napkin and begin writing and drawing, outlining approaches and jotting down questions to be asked," she said. "I'll just take it home."
While he's LinkedIn to every mover and shaker in the area, Evans is not particularly high profile in the broader community. And that's no accident. Almost to a person, one of the appellations most often applied to him is "humble."
"He's not out there for the glory; he wants to help people, he really wants to," said Randy Nicklaus, chief executive officer for the nonprofit 211 Big Bend.
When Rick Kearney, CEO of Mainline Information Systems, was honored as a business leader by the Tallahassee Chamber, one of the people he thanked by name was Evans.
"I relied on him quite a bit for advice and counsel," said Kearney, who had worked for IBM himself for five years in the early '80s and started Mainline in 1988 when he was in his late 20s. "He was really a business mentor to me during the early years of our business. When you're young in age and business experience, you don't always know the right choices. He was always right on the money as far as what to do."
While he was still working for IBM, Evans invited Kearney to invest "in a big way" as an IBM business partner, and it has paid off with a company now one of IBM's top partners in the world.
"Steve not only provided me good business advice, but he provided good ethical advice," said Kearney. "When you're young and growing a company … you see your competitors doing things that (make) you wonder, 'Well, should I do that?' "
As an example, Kearney talked about price wars in Mainline's early days, when companies would "swoop in at the last minute" and make lowball bids "to make the competitor look bad" and seal a deal.
"Steve said 'Look, first of all you wouldn't want to do something that you wouldn't want somebody to do to you and, secondly, that's no way to start a customer relationship. Spend your time focusing on doing the right thing in the right way, and you'll reap long-term dividends both to your employees and your customers.'"
Evans' effect on the region is large and lasting, his proponents say.
"When you look at communities and you try and match where their success or … the turning point or where some real opportunities were had, oftentimes it points to a specific event or a specific leader," said Chamber exec Dick. "In this case, we're going to … realize a lot of opportunities moved forward because of Steve's willingness to get involved and really give of his time — for nothing more than to advance the overall community."
Sage Advice: "It's not about numbers, it's about people," Steve Evans counsels business leaders. Photo by Scott Holstein
Evans' advice:
On older workers:
More and more, companies are looking for the older worker because they bring something they are not finding in the younger worker — work ethic — and they are great team players.
On younger workers:
I have a tremendous amount of faith and hope for this generation, I really do. This generation is coming out with more skills and more knowledge than any generation we've ever had. I'm talking about technical skills, critical thinking skills, but they're coming out with something we've not had in several generations and it's a commitment for some type of social change. These kids … all want to make a difference, some kind of societal difference. They're not so much committed to companies as much as they are in using their skills to make a change.
On life balance:
I ask people: "How many funerals have you been to? How many times have you heard somebody get up and talk about how much money they had?" Zero. If anything, what you enjoy and appreciate hearing is the difference that person made in their life. That you remember.
On being a good manager:
It's not about numbers, it's about people. I don't care how complex the industry is, how tough the political climate is, when it's all said and done, it's all about people. If they don't sense you can do miraculous things, if they think it's all about numbers (and) what you've done for me today, then all your gains are short term.
On technology:
Technology is having an impact on every aspect of life. It's no longer what state you live in or what country; you're competing with people all over the world every day.
On counseling people who have
lost a job:
Sometimes they just need an arm around the shoulder, other times they need a kick in the rear. But every time you do it you do it with a lot of respect.
On creating business plans:
What I've often found is that you can over study something. Nine times out of 10, if you get the right people and you really get down to a point of honesty and integrity, your gut instinct really tells you what the right thing is to do. Especially if your focus is really clear, it's not that tough to do.
On who he invited to create a new plan for a division of IBM:
Crusty people I knew did not want to change. Those are the people you want to have (not just those who agree with you). If you're really going to transform something, you have to see who gets it and who doesn't and eventually deal with it.
On being practical:
People come to me with inventions and say, "Steve, if IBM will just invest a million dollars you guys will control the middle … market." I learned to ask one question: "Did you ever sell one?"
On life:
(Retirees) work through the bucket list in about three months. They've bought the boat, they've done the fishing, they've played all the golf they can play. They've taken the trips and all of a sudden they wake up one day and … there's an old Peggy Lee song — "Is that all there is?" I use that so many times when I mentor people. One day everybody wakes up and they think, "Is this all there is to life? There's got to be something more."
On things you're not good at:
I hated to speak in front of people. You force yourself to work through your weaknesses. Over the years I had to work on it. Still do.
On work skills:
Do you have the right skills to take it to the next level? Can we reengineer those skills; or do we need to basically go back to the well and acquire those skills?
Steve Evans' Ongoing Community Involvement in Tallahassee:
Tallahassee Memorial HealthCare Foundation, Board of Directors
— 9 months
Leon County Sales Tax Committee, Chairman
Community Foundation of North Florida, Board of Directors and Executive Committee
— 7 years (termed out in 2012)
Prime Meridian Bank, Board of Directors
— 5 years, 6 months
Municipal Code Corporation, Board
of Directors
— 3 years, 10 months
MGT of America,
Board member
— 6 years
Greater Tallahassee Chamber of Commerce, Board of Directors and Executive Committee
— 7 years, 10 months
Florida State University's Jim Moran Institute of Global Entrepreneurship, Board of Directors
— 8 years
Applied Fiber Holdings, Board of Directors
— 9 years
Florida TaxWatch Research Institute, Senior Advisor, Former chairman, Board Member
— 18 years
Florida State University Foundation, Interim President (2009–2010)