Stepping Outside The Box to Help Build Office Morale
Challenging the crew at FSU's updated high-ropes course boosts office morale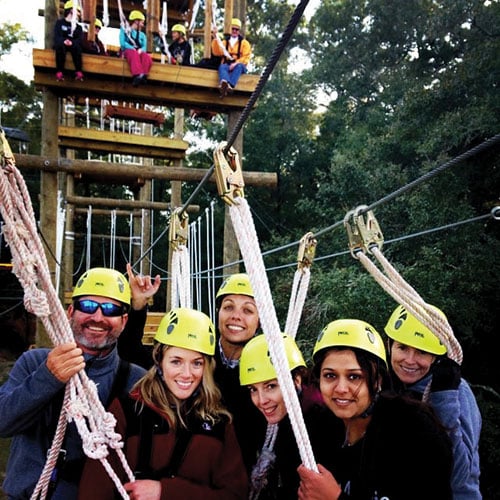 Maintaining a productive and positive atmosphere in the workplace can be a challenge for even the most progressive of employers. Sometimes, the occasional office luncheon just isn't enough to ensure that the team is staying in unison.
Looking to boost office morale? Experts agree that nothing screams "team building" quite like dangling 40 feet in the air with one's fellow staffers. Luckily for Northwest Florida business owners, a new, cutting-edge facility can make this far-flung dream a reality — and it's right in our own backyard.
After climbing the cargo net entry point, teams encounter obstacles like Fear the Spear, the Wallenda, Ships Crossing and Bait-and-Switch.
FSU Campus REcreation/Kellie Gerbers and Bill Lax
The high-challenge course is a new fixture at the Florida State University Reservation, located on the shore of Lake Bradford, just outside the city limits of Tallahassee. The "Rez," as it's affectionately known, debuted the new-and-improved course in the fall of 2013. With two levels of obstacles at heights of 20 and 40 feet, plus a ground-level course, this group outing is destined to be a game-changer.
According to Jordan Merrick, director of the FSU Challenge, catering to clients' goals for self-improvement is the Rez's No. 1 mission.
"We hope that whatever goals they have for the program is what we meet," Merrick said. "I spent several years with people requesting challenge courses. Generally, people ask for the same types of things: 'We want to work on our leadership,' 'We want to work on our communications' or 'We want to work on our teamwork.' I heard so many buzzwords over the years that we went ahead and just kind of labeled what we're calling themes for people."
Patrons can select from a slew of challenge styles with catchy names like "Transform Your Tribe" or "One Team, One Dream" — all designed with a unique purpose in mind. For example, if a company wanted to encourage leadership within its ranks, it might consider the "Everyone Can Lead" course. As a facilitator, it's one of Merrick's personal favorites.
"That program helps us show that every individual within an organization has the capability to be a leader," Merrick shared. "It's just making a decision to act. It's a process, not a position."
Professional consultants love the conversations that arise while their clients are among the treetops. Problem-solving and logistics are a given, but a certain level of compassion and understanding also tend to make an appearance on the ropes.
Joan Helms, an industrial psychologist and owner of the management and consulting firm JAH & Associates, has been taking clients to the Rez for more than a decade. According to her, the new challenge course is the best addition yet.
"The behaviors, the activities, the attitude that people have at their work setting show up on the challenge courses," Helms said. "The things we do out there help us in terms of how we approach problems and people in the office. (Those topics) show up in the same activities that are done at the Reservation on the challenge course."
Chuck Simpson, Chay D. Baxley, Caryn Nelson, Saige Roberts, Shruti Shah and Tracy Mulligan from Rowland Publishing after completing the high course.
Improving communication is paramount to successfully completing each activity — but overcoming the physical fear is another major factor. While your brain is certain you've been securely fastened to the structure, your shaking knees might be a little less confident.
It's the team's job to help conquer those misgivings — to form a real connection.
"What I tell them is to take a deep breath," said Helms, "not to think about it as much, to trust the equipment and know that fear is temporary. The feeling that they'll have on the other side of it far outweighs the fear and trepidation that they experience before they do it. You get such a high, such a feeling of 'Oh my gosh, I can do anything.' "
Though each challenge course takes only about two hours to complete, the 73-acre facility has plenty going on to turn this outing into a daylong excursion. Lakefront access, outdoor pavilions and indoor amenities help to keep the day fun and focused while ensuring that all degrees of physical fitness are made comfortable.