Stemming an Outgoing Talent Tide
Paul Hsu is working to groom and retain talent in Northwest Florida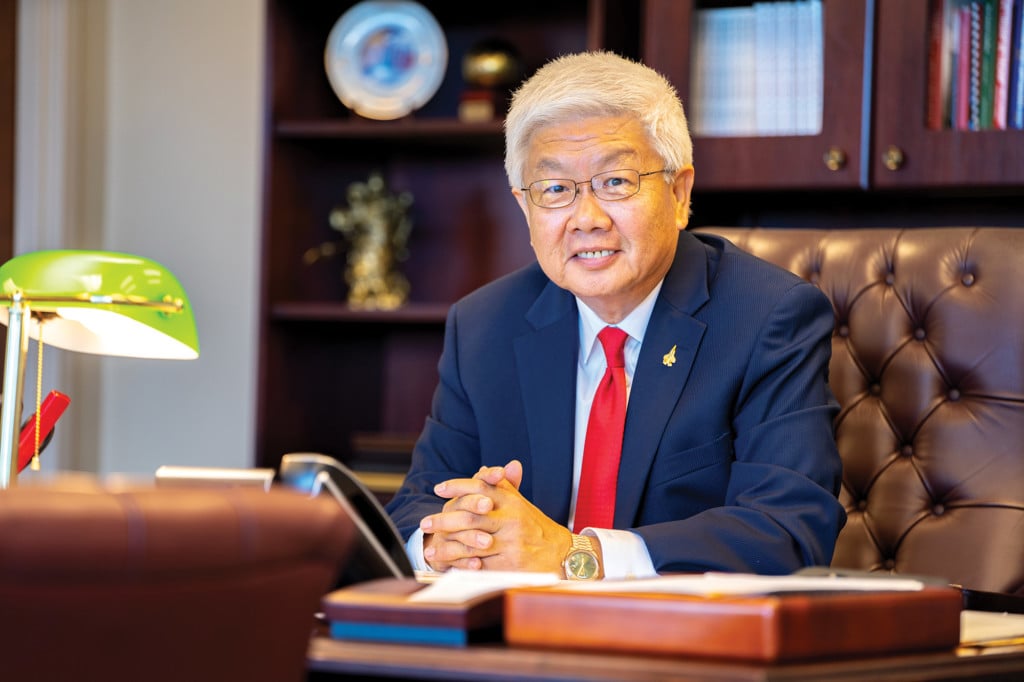 Thirty-eight years after arriving in the United States from Taiwan, the invariably entrepreneurial Paul Hsu launched the Hsu Education Foundation in 2014, an organization devoted to promoting excellence in education and classroom innovation.
For Hsu of Fort Walton Beach, the motivation for the foundation was supplied by his three children, all of whom started their careers in technical fields far from Okaloosa County after graduating from Ivy League schools.
Via his foundation, Hsu hopes to help create opportunities for young people to discover rewarding science, technology, engineering and math (STEM) employment in Northwest Florida.
The availability of talent is pivotal to economic development efforts and, by stimulating interest in STEM among students, Hsu believes he can make Okaloosa and nearby counties increasingly attractive to high-tech employers and the aerospace industry, in particular.
"Less than 20 percent of students born in the U.S. express an interest in STEM," Hsu pointed out. "After middle school, interest drops off like an autumn leaf and, for girls, it's even worse."
At its outset, the foundation established TEAMS (Teaching Excellence Awards in Math and Science) as a way to reward teachers who model the kind of educational approaches that Hsu wants to encourage. In its first five years, the foundation has awarded more than $100,000 in cash directly to teachers.
"I thought if we help the teachers, we reach the students," Hsu said. "We are uniquely qualified to link schools and industry. I can let schools know what industry is looking for in the next five to 15 years."
Today, the foundation hosts year-round STEM programs and outreach initiatives for students in grades K-12. It has attracted businesses, including Boeing, Mag Aerospace, Beast Code and the Air Force Research Laboratory (AFRL) as sponsors, and calls upon subject-matter experts that Hsu has come to know in his own four-decade professional career.
Game Changers Squad is a monthly series of business-to-student STEM-themed events that bring families together around interactive educational experiences.
The Air Force Association Cyber Patriot is a weeklong camp centered on cybersecurity. The Drone Team Challenge is an Olympics-style unmanned aerial vehicle competition. These and other hands-on programs are provided at no cost to students.
In addition to making large endowments to Northwest Florida State College and the University of West Florida, Hsu has established a $5,000 annual scholarship in his wife's honor and another $5,000 scholarship in the name of Gen. Bill Kirk, a good friend.
Executive director Amanda Negron estimates the foundation has had an impact on thousands of youths pursuing interests in STEM.
"To me, technical training gives you the advantage and skills required to be able to spot the clues to come up with a solution," Hsu said. "STEM is so important. All we have to do is allow young people to learn while having fun."
Hsu said knowledge leads to confidence and applying what you learn results in a sense of accomplishment.
Hsu's accomplishments have been many.
In 1976, Hsu, then 26, came to America as an industrial management and systems engineering student at the University of Central Missouri in Warrensburg. He had 500 bucks in his pocket.
After earning a master's degree, Hsu worked as an industrial engineer for Chesebrough-Ponds, then joined defense contractor Harris Corporation in Fort Walton Beach as a production engineer.
Confronted with relocation to New York, he remained on the Emerald Coast and, after consulting for a while, started his own company, Manufacturing Technology Incorporated (MTI), in 1984.
As chairman and chief executive, Hsu grew MTI into a 450-employee military electronics company with annual revenues of $60 million.
In addition, he founded Total Parts Plus, an internet-based data content provider; ActiGraph, a medical device manufacturer; and Crestview Technology Air Park, which provides infrastructure for aerospace and technology-driven solutions in Northwest Florida.
"I really enjoy spotting opportunities and creating businesses. If I were 40, I'd probably start another one," Hsu said.
In 1992, Hsu received his doctorate in engineering management from LaSalle University and, in 1995, he completed a three-year executive educational program at Harvard Business School.
Since 2014, Hsu has held a senior fellow position at the Harvard University Asia Center. President George W. Bush appointed him to the President's Export Council (PEC).
He served on the Small Business Association's (SBA) National Advisory Board and the SBA's Regulatory Enforcement Fairness Board. Recently, President Donald Trump made him chairman of the White House Initiative on Asian Americans and Pacific Islanders.
Locally, he has dedicated himself to community building by serving in leadership roles with Sustainable Emerald Coast, Enterprise Florida, the Okaloosa County Military Affairs Committee, the Economic Development Council of Okaloosa County, the Emerald Coast Science Center and the Eglin Chapter of the Air Force Association Education Foundation.
In February 2006, Hsu was selected by Gen. T. Michael Moseley to join the U.S. Air Force Chief of Staff Civic Leaders Advisory Group to help forge and strengthen the bonds between the Air Force and the communities it serves.
What does the future hold?
"Aerospace is the future of this area," Hsu said. "We have the facilities and the abilities to play a key role."
Hsu believes that the Hsu Innovation Institute, located in Fort Walton Beach's industrial park, the Bob Sikes Airport private-public partnership and the 400-acre Hsu STEM range, can combine to provide a "blank page" for tomorrow's technical dreamers.
To those who share his vision, he says, "Don't stand on the sidelines and watch me. Jump in, and you'll benefit, too."
Through the foundation's programs and partnerships, Hsu hopes to provide the motivating spark for young imaginations to fly.
"We just want to lead them to the water and build the pipeline for K through 12, because education is the transformational solution for them."