Sports and Nature Boost Tallahassee to a Banner Year For Tourism
Breaking Records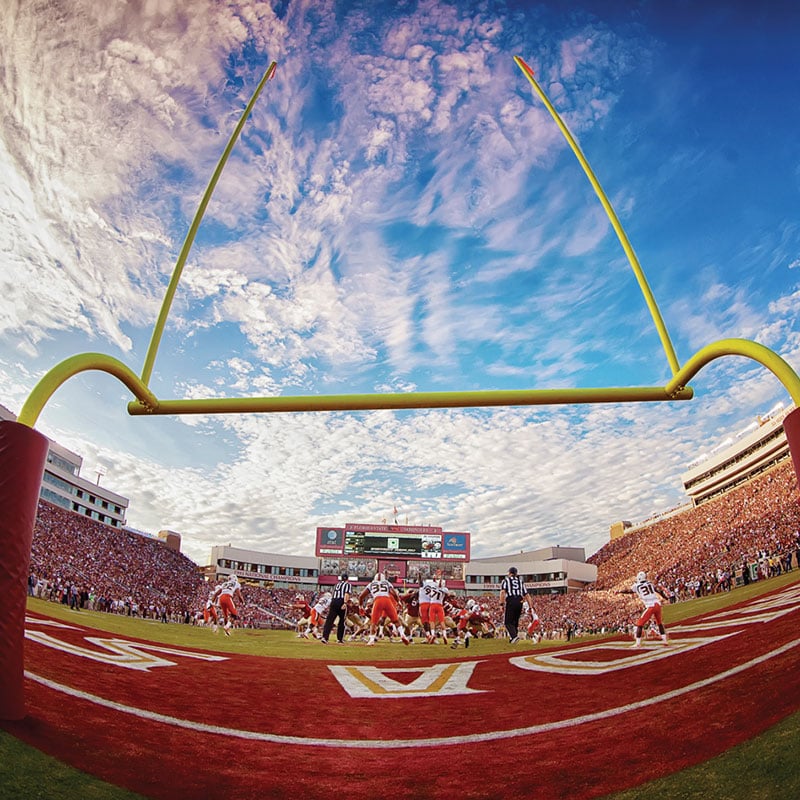 When Tallahassee takes a swing at attracting tourism to the state capital, the stats start out looking pretty dismal.
Strike One: Florida has nearly 2,000 miles of coastline, but nary an inch of it can be found in landlocked Tallahassee or Leon County.
Strike Two: It takes four hours to get to the nearest theme park. Ditto for major urban areas. And mountains? Fuggedaboutit.
"We don't have a beach, we don't have a theme park … we face these challenges every day, and also the perception that we're not a destination unless you're here for the Legislature or football," said Lee Daniel, director of the Leon County Division of Tourism Development, more commonly known as Visit Tallahassee.
Daunting limitations, when one considers Florida's more typical charms, but there's no striking out for the capital city. In fact, local tourism officials have taken advantage of Tallahassee's sweet spot and hit a home run, announcing six consecutive years of tourism growth — including a third consecutive record year in 2014 — and an annual economic impact that's closing in on a billion-dollar industry.
"No place else in Florida looks like we do," Daniel continued. "We've got world-class nature-based opportunities, we have terrific history and heritage, we've got visual and performing arts, our culinary scene is improving, we've got shopping. We've got lots of things people are looking for in a destination — we've just got to make them aware that we have it. We have a lot going for us. Our challenge is to continue to build awareness for Tallahassee being considered as a true leisure destination."
On Oct. 1, Visit Florida officials announced impressive numbers during a marketing event that looked back on its accomplishments for the 2014-15 fiscal year and rolled out promotional plans for 2015-16.
Tallahassee and Leon County boasted more than 2.4 million visitors from 47 states and 36 countries, generating an economic impact of $963 million. Tourism accounts for 11,140 local jobs.
Tourism promotion is fully funded by a 5 percent bed tax on hotels, motels and other short-term lodging facilities. During the past year, collections topped $5 million for the first time ever. Hotel occupancy was up by 2.6 percent and included a record month in March, when occupancy was 73 percent (the year-round average is 65 percent).
Even though hotel room nights are how the county's tourism department pays for itself, "heads in beds" isn't their only concern.
"We know if there are so many heads in beds we know there are so many butts in restaurant seats, we know there are so many people shopping in stores, we know there are so many people buying gas and everything else that goes with it," said Brian Hickey, Visit Tallahassee's director of sports. "That moniker is just a measurement for us, it's not the only thing we are looking at."
Plans to maximize expenditures during a visitor's stay include a new, location-based marketing technology. When guests arrive at hotels and attractions, banner ads will appear on their smart phones and other electronic devices, offering suggestions for nearby dining entertainment and attractions. They'll also be given a business-sized card suggesting a visit to the visittallahassee.com website.
"A lot of people who come here, especially for business, don't appreciate what we offer as a destination," said Daniel. "We hope when they come back they'll stay an extra day or maybe bring their families."
While one cannot dismiss the economic impact of visitors who come for FSU football games ($48 million) and state government (​$123 million), one burgeoning tourism development initiative has brought thousands of visitors and millions of dollars to Leon County — sports tourism.
"We're very excited about our efforts," said Leon County Administrator Vince Long. "We think we have just scratched the surface in terms of the potential that exists in the area of sports tourism. It is one of the fastest growing industries in the Southeast, primarily because of the weather and the conditions and how many weeks a year you can do it."
Because it is home to Florida State University, Florida A&M University, Tallahassee Community College, as well as local schools and parks, Leon County is also blessed with an abundance and variety of facilities to offer up for tournaments and team trainings.
Last year, Visit Tallahassee's sports division supported 97 sporting events representing about 30 different sports. Those events generated 38,000 room nights, 71,000 visitors and an economic impact of more than $30 million, said Hickey. Many of those events were supported by 75 grants, ranging from $250 to $9,000, that totaled $115,000.
"The return on investment is incredible," he said. "The economic benefit that these visitors bring to our community is astronomical."
Hickey said one of the reasons these sports tourism events work is because of cooperation between Visit Tallahassee, other county departments and community partners such as the universities, the local school system and local sports clubs.
And nowhere is that synergy more visible than with the Apalachee Regional Park Cross Country Course.
Florida State University had been hosting cross country events around the community at golf courses and local greenways, but as the program gathered momentum, a need was expressed for a dedicated cross country course. Serendipitously, Leon County was repurposing a closed landfill into a county park, and the cross country course seemed like a good fit. With input from FSU and the local Gulf Winds Track Club, the course was designed and built, hosting its first race in 2009.
"One of the things that's really great about that project (is), generally speaking, it was pretty organic," said county administrator Long. "It didn't require a consultant, it didn't have a 36-point plan and it didn't take years to happen."
The course very quickly became popular with the running community, and Hickey and his team went to work filling up the calendar with race events — everything from local 5K fundraisers to state and regional cross country competitions.
"It's a beautiful design; it took advantage of what was there. The undulation, the hills … there's different terrain, there's shade, there's sun," said Hickey. "A lot of things athletes don't get (in other venues) they do get here. There are a lot of different aspects they enjoy."
One of the premier gets was a three-year contract to host the Florida State High School Athletic Association's state cross country championships through 2014. When it was put out for bid again, the FSHAA returned it to Leon County. "Just last year, the state championship, the pre-state meet and also a regional (resulted in) $3.7 million new dollars, about 9,500 visitors to the community and almost 5,000 room nights," said Hickey. "Next year, hopefully, we're going to be doubling those numbers."