Sound Bytes Winter 2022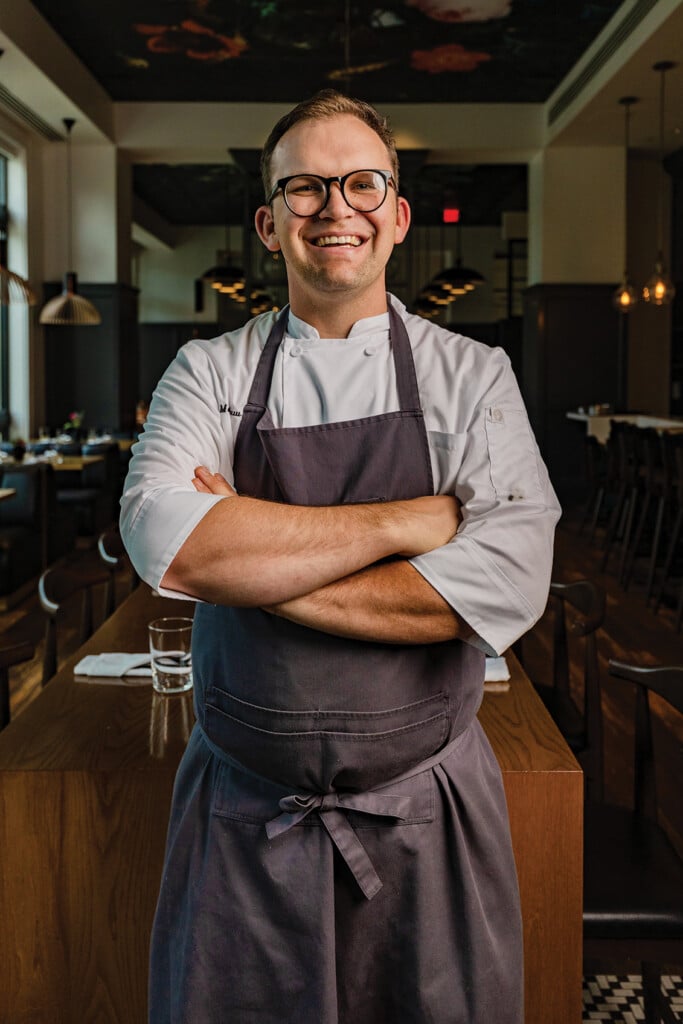 Emerald Coast // Local Honors
HOTEL EFFIE NAMES EXECUTIVE CHEF FOR ITS SIGNATURE RESTAURANT
Sandestin Golf and Beach Resort announced the appointment of Matthew Krueger to executive chef of Hotel Effie. Krueger will helm the kitchen at the hotel's signature restaurant, Ovide, the only restaurant in Florida created by James Beard Award-winning chef Hugh Acheson. As executive chef, Krueger will collaborate with Acheson to oversee all aspects of food and beverage operations across the hotel's four restaurant outlets and in-room dining. In his new role, he'll supervise the culinary team, manage budgets and maintain the overall guest experience. Krueger will work closely with Steven Grubbs, the hotel's sommelier and wine director, to create pairings for Ovide's menu and Kellie Thorn, the hotel's lead mixologist.
CAPITAL
Local Happenings
» Tallahassee Community College has announced the naming of three new associate deans.
Ross Brooks is the new associate dean of science and mathematics. Brooks has been a full-time faculty member at TCC for 11 years, serving as the Mathematics Department's lead faculty and program chair for four years. He has worked on projects that include developing new math courses, leading a group to narrow the equity gap in math course success rates and working on an instructor guide for Florida's new B.E.S.T. Standards for Mathematics.
Ken Tellis has been named associate dean of student success in health care professions. He will focus on student enrollment, the development of programming and assessment tools related to student success and increasing the visibility of the TCC Healthcare Professions program in the community. Tellis was originally hired at TCC in 2004 as an adjunct instructor for College Success. He served as the assistant director of enrollment management at FAMU from 2008 to 2017, and director of academic services in the College of Education at FSU from 1998 to 2008 before joining TCC full time in 2017.
Marty Walker has been named associate dean of health care professions. Her passion for teaching led her to the Mercy Hospital School of Practical Nursing, as well as adjunct teaching jobs at Barry University and Florida International University. She spent 12 years at Northwest Florida State College, serving as a professor and director of nursing programs.
» Florida Blue is pleased to announce that Hong Potomski has been named senior director of regional business development for Northwest Florida. Potomski was instrumental in leading key initiatives in the organization in her prior role as senior director of commercial segment strategy and group go-to-market. In her new role, she will lead the development and execution of market strategies and plans; establish and nurture key community and business partnerships; identify and implement solutions to enhance market position; and drive results to improve the overall health and wellness of the communities Florida Blue serves. Before joining the company, Potomski served as the executive director for the Andrews Research & Education Foundation at the Andrews Institute.
Local Honors
» Tallahassee Memorial HealthCare (TMH) has again been recognized as a "Best Hospital" by U.S. News & World Report. Following a performance analysis using a variety of measures such as survival and complication rates, patient experience and level of nursing care, U.S. News ranked TMH as the 24th best hospital in Florida for 2022–2023. TMH is one of two facilities in the Panhandle to make the top 25, and the Big Bend region's only facility named a Best Hospital. Tallahassee Memorial also earned seven "high-performing" hospital ratings from U.S. News in several areas of care: chronic obstructive pulmonary disease (COPD), colon cancer surgery, diabetes, heart attack, heart failure, kidney failure and stroke.
» The National Association for Community College Entrepreneurship (NACCE), the nation's leading organization focused on promoting entrepreneurship through community colleges, has named Dr. Jim Murdaugh NACCE's 2022 "Entrepreneurial President of the Year." Murdaugh has served as Tallahassee Community College president since October 2010. The award was announced at NACCE's annual conference.
EMERALD
COAST
Local Happenings
» Shaun Foster has been named manager of the Progress Bank Santa Rosa Beach branch. With a 15-year history of banking in Okaloosa and Walton counties, he has extensive knowledge and experience in retail management, consumer loans, business products and mortgages. Foster is also involved with the local chambers of commerce.
» Christopher Bass has been named assistant branch manager of the Progress Bank Panama City branch. Bass' previous work experience includes several positions over his seven years in banking, including personal banker, teller, business advocate and branch operations manager.
» Santa Rosa Golf & Beach Club welcomed their new member relations coordinator, Tori Thompson. She will be managing the club's internal and external communications, planning member events to enhance the overall club experience and forming meaningful relationships with the club members. A recent graduate of Kennesaw State University, Thompson holds a bachelor's degree in political science. As legislative liaison for the Georgia secretary of state, she gained experience that included overseeing communication and member relations for the legislative affairs department, scheduling for the office administration and coordinating outreach events on behalf of
the agency.
» Gulf Winds Credit Union has announced the selection of Daniel Souers as its next president and chief executive officer. He succeeds Chris Rutledge, who retired after 20 years in the role. Most recently, Souers was the CEO at First Service Credit Union in Houston, Texas. He has proven expertise in executive leadership, financial management, marketing, member experience and product development, and approaches his work with an emphasis on growth and results. Souers began his career as a market research consultant and later managed marketing for one of the largest credit unions in Alabama.
» Hilton Sandestin Beach Golf Resort & Spa announced that Gary Brielmayer will retire from his position as general manager of the resort in February 2023. Brielmayer has been a part of the Hilton Sandestin Beach team for 25 years. Prior to taking on the role of general manager in 2010, he led the development of both culinary and guest relations across several of the resort's departments.
Local Honors
» SimpleHR, a Destin- based company, was recently named one of Florida's Best Companies To Work For. The annual list, featured in Florida Trend magazine, ranks 100 companies in small, medium and large employer categories. To participate, companies or government entities were required to have at least 15 workers in Florida and to be in operation for at least one year.
» Hotel Effie at the Sandestin Golf and Beach Resort has been listed as one of the top hotels in Florida by Condé Nast Traveler Readers' Choice Awards. The property was listed as No. 9.
New & Notable
» Children's Volunteer Health Network, an organization that provides free access to dental and mental health services to children in need in Northwest Florida, has announced the arrival of their second mobile dental clinic. The first bus, gifted to CVHN by the Dugas Family Foundation, is a clinic on wheels. The dental unit meets children where they are and provides preventative dental services on the bus, which is often parked outside of local schools. Now, another state-of-the-art bus is being introduced to the community, but unlike the original mobile dental clinic, the second bus will go beyond preventative care and provide restorative services, including urgent procedures.
Bay
New & Notable
» The beachfront Hyatt Place hotel is now open in Panama City Beach. The 11-story tower is developed and managed by OTO Development, part of The Johnson Group. Project partners include architect and design firm Bullock Tice Associates; interior designer P3 Design Collective; and general contractor Robins & Morton. The hotel has 224 guest rooms and suites, some with bunk beds to accommodate young families.
Emerald Coast // Local Honors
MUSIC CHAMPION
Young Concert Artists (YCA), a New York-based international advocacy organization to champion young classical musicians, has honored Sinfonia Gulf Coast music artistic director Demetrius Fuller with an appointment to its board of directors. Fuller founded Sinfonia Gulf Coast in 2005.
Capital // Local Honors
SOARING EAGLES
Tallahassee Community College has inducted six new members into its Alumni and Friends Hall of Fame. Class of 2022 Inductees are: Michael Campbell, Kimberly Kelling Engstrom, Randy Hanna, Alexander C. Jordan Sr., Irvine Leonard and Sally Search. Additionally, TCC presented two Soaring Eagle awards to Kyle Frost and Michael Williams. The Soaring Eagle award was created in 2021 to honor young professionals who have made significant achievements in their professional fields after graduating from TCC, exhibiting leadership and drive, contribute to their communities and show promise of continued success.