Sound Bytes October/November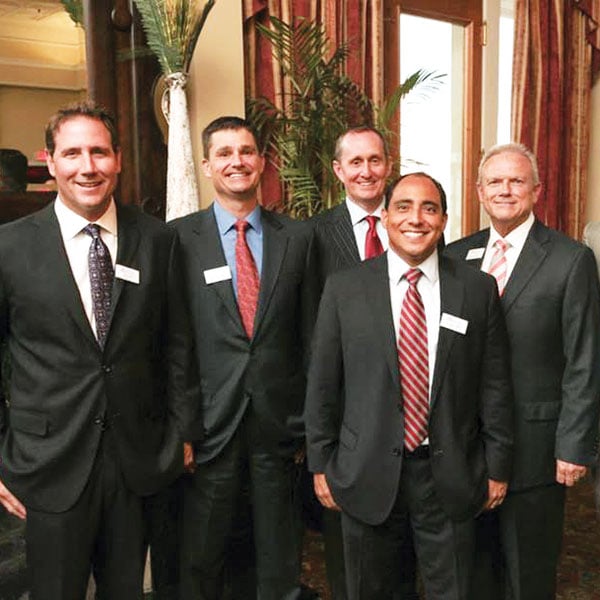 Capital
Moore-Davis
New Beginnings
Tallahassee Community College has hired two new vice presidents and a director. Barbara Wills, a former assistant superintendent of Leon County Schools, is now vice president of administrative services. Feleccia Moore-Davis accepted the position as the new provost. She was previously the vice president for instruction at Lone Star College-CyFair in Houston. Audrey Mathews, previously the employee relations manager at the Florida Department of Revenue's Office of Workforce Management, is the new director of human resources.
Brady J. Benford has joined Ballard Partners as a partner in the Tallahassee office. He has advocated before the legislative and executive branches on a variety of high-profile issues such as casino gaming, pari-mutuel wagering, tobacco, alcohol, retail convenience stores, telecommunications and health care.
Scott Shalley has taken over as executive director of the Florida Association of Counties. Prior to joining the association in 2012, he served as executive director of the Florida Architects Association for six years, leaving to join Figg Engineering Group as vice president/director of business management for seven years.
Ameris Bank recently named William "Bill" Watson, MBA, as vice president of Commercial and Industrial Banking for the Tallahassee market. In this role, he will work directly with business owners in the market to grow business deposits and loans, and further develop commercial relationships.

Five local leaders have been selected to join Ameris Bank's newly created Community Board of Directors. In addition to Tallahassee Market President Robert Vice and Regional President Eddie Creamer, the board will include Rep. Halsey Beshears, Rudy Rowe, Jeff Hartley, Brent Sparkman and Dr. Hector Mejia.
Torres-
Fillyaw
Wilson & Associates LLC, a Tallahassee-based lobbying and association management firm specializing in the fields of energy, construction, infrastructure and defense, has named Tami Torres-Fillyaw as vice president of Marketing and Communications. Fillyaw had previously worked as a consultant to the firm, assisting clients with marketing, message development, media relations, digital and social media, event planning and member recruitment.
Corizon Health, a national leader in correctional health care solutions, has named Martha Harbin as its director of External Affairs. Harbin joined Corizon Health in early 2014 as director of Business Development for the Southeast Region after handling Florida media relations for the company as an independent consultant for the previous 10 years.
Rick Feldman, CPA, has joined the Tallahassee office of James Moore, Certified Public Accountants and Consultants, where he is a senior consultant in the Accounting and Controllership Services department. Prior to joining the firm, Feldman served as an accounting services manager for the City of Tallahassee. Three other employees in the Tallahassee office have been promoted: Wayne Durrett and Angela Roberts to associate accountant; Beckey Skipper to senior administrative assistant.
Charlie Johnson has been promoted to senior project manager at Wood+Partners Inc., a landscape architecture and land-planning firm with offices in Tallahassee and Hilton Head Island, South Carolina. Johnson, who works in Tallahassee, provides landscape architecture and land planning services for parks and recreation, urban communities and mixed-use commercial projects. He is also actively involved with the Florida Main Streets Program.

Glassman

Howard Glassman has joined Gannett Fleming as director of planning services. Based in the Tallahassee office, he is responsible for expanding the firm's participation in short- and long-range transportation planning opportunities across Florida and around the nation.

Thomas Howell Ferguson P.A., a professional accounting, assurance and tax services firm headquartered in Tallahassee, has welcomed Gabe Crook to the Assurance Services Department.
Local Honors
Leon County Administrator Vincent S. Long was elected president of the Florida Association of County Managers

at the Florida Association of Counties annual conference. FACM was established in 2014 by county managers from throughout the state as a professional association to address common challenges and opportunities that impact county government in Florida.

At the same conference, Leon County Commissioner Bryan Desloge was honored with the Presidential Advocacy Award for his assistance to the association on public policy matters and protection of county revenues during the spring legislative session. In July, Desloge was elected vice president of the National Association of Counties.

Leon County Tax Collector Doris Maloy has been honored by the National Association of County Collectors, Treasurers and Finance Officers with the Victor E. Martinelli Outstanding Treasurer's Award in recognition of her leadership and professionalism in the operation of her office.
Cascades Park was selected as a recipient of the 2015 Engineering Excellence Grand Award from the Florida Institute of Consulting Engineers in the Water and Stormwater category. Genesis President Mark Llewellyn, P.E., accepted the award — the seventh the engineering firm has received for Cascades Park.
Two Tallahassee attorneys were honored at The Florida Bar's 65th annual convention. Clark Jennings received the Claude Pepper Outstanding Government Lawyer Award, which recognizes an "outstanding Florida lawyer who has made exemplary contributions" as a practicing government lawyer. An assistant attorney general in Florida's Department of Legal Affairs, Jennings has been a public servant for 30 years, also working for the Department of Insurance and the Department of Agriculture and Consumer Services, and serving as general counsel of the Department of Citrus.
Stephen William Metz received the G. Kirk Haas Humanitarian Award for meritorious service to the legal profession. Metz is a Guardian ad Litem volunteer advocate and also helps manage a mobile food-service kitchen for low-income families. In his honor, a scholarship will go to a second-year student at the Florida State University College of Law who demonstrates an exceptionally high degree of integrity, ethics, professionalism and a concern for others.

Greenberg

Richard A. Greenberg, a partner with Rumberger, Kirk & Caldwell, was sworn in as treasurer of the Florida Association of Criminal Defense Lawyers at the group's annual meeting. In addition to criminal defense, he represents clients in attorney discipline, bar admission and professional licensing matters.

The Florida Society of Association Executives has honored two Tallahassee leaders with prestigious awards: Executive of the Year — Paul D. Ledford CAE, DPL, president and CEO of the Florida Hospice and Palliative Care Association; and Executive Rising Star — Christy Gandy, director of Administration at the Florida Ports Council.

Askins

Jeffrey W. Askins, CFP®, an LPL Financial-affiliated advisor at Six Pillars Financial Advisors, has been recognized as a top financial advisor and named to LPL's Director's Club. This distinction is based on where the advisor's annual production ranks among LPL's approximately 14,000 registered nationwide advisors. Six Pillars is a wholly owned subsidiary of First Commerce Credit Union.

Alexis Phillips of Rogers, Gunter, Vaughn Insurance has accepted the position of board chair for the Young Philanthropist Council Board of the United Way, which also includes a seat on the United Way Board of Directors. And Christi Billington, commercial account manager at Rogers, Gunter, Vaughn, was recently named the 2015 Florida Outstanding CSR of the Year by the National Alliance for Insurance Education & Research.
The Florida Federation of Business and Professional Women has elected Christy Crump of Tallahassee, director of operations with the Florida Restaurant and Lodging Association's Regulatory Compliance Services, to serve her second term as president.
Local Mergers/Acquisitions
In June, Target Copy, the familiar copy shop on Tennessee Street, acquired and merged with Lithohaus Printers and Mailhaus to form Target Print & Mail. Target Copy was originally established by Mayda Williams in 1982. Her daughter, Tracey Cohen, bought the business in 2009.
Awards4U, a recognition company based in Tallahassee, recently acquired National Award Services to form National Awards4U — a new subsidiary of Awards4U specializing in supplying Rotary Club products nationwide. The acquisition makes National Awards4U the second-largest officially licensed vendor of Rotary merchandise in the world. A Rotarian since 1991, CEO Sam Varn has owned and operated Awards4U since 1987.
Appointed by Gov. Scott
Peter Butler, 51, of Tallahassee, director of the technology sector for National Strategies LLC, to the Technology Advisory Council.
Anthony Miller, 45, of Tallahassee, deputy general counsel of the Florida Department of Lottery, to the Florida State Retirement Commission.
Lynne Roberts, 53, of Tallahassee, a manager with Wolters Kluwer, to the Board of Athletic Training.
David Stewart, 56, of Tallahassee, as the chief medical examiner of District Two. (Reappointment)
Emerald Coast
New Beginnings
Cunningham

Fisher Brown Bottrell, one of the nation's largest comprehensive insurance agencies, has opened a new office in Grand Boulevard at Sandestin's Town Center. More than 20 employees work in the 5,000-square-foot office to provide a variety of risk management solutions including business insurance, personal insurance, employee benefits and bonding. The new office is located at 500 Grand Boulevard, Suite 220, above Mitchell's Fish Market.

The University of West Florida has named Steven Cunningham as vice president for administrative services and chief financial officer. He will also serve as chief executive officer of Business Enterprises Inc. Most recently Cunningham served as the vice president of administration at Northern Illinois University.

Slotter

Furniture South in Santa Rosa Beach has welcomed Lauren Callahan, a lifelong resident of the Emerald Coast, as director of sales. She will specialize in Emerald Coast homes and rental properties.

Real Estate Sales Agent Sherry Slotter has joined the rapidly growing team at the Newman-Dailey Resort Properties Real Estate Division in Miramar Beach. She is an accredited short sale and foreclosure specialist.
Dr. Steve Jordan, who for the past 24 years was the team physician for Florida State University's football and baseball teams and was a staff physician at the Tallahassee Orthopedic Clinic, has joined the Andrews Institute for Orthopaedics & Sports Medicine. Jordan is a fellowship-trained board-certified physician specializing in orthopaedic surgery and sports medicine, particularly in athletic injuries of the shoulder, elbow and knee.
White-Wilson of Fort Walton Beach has welcomed Dr. Frederick Weiss to its Pain Medicine Clinic. He holds doctorates in Pain Medicine and Physical Therapy.
First Florida Bank in Destin has named Jared O'Neal as the senior vice president of First Florida Wealth Group. He has held various roles with Raymond James in St. Petersburg since 2006.
Jennifer Mostert, CPA, has been promoted to manager in the Audit and Assurance department at Pensacola-based Saltmarsh, Cleaveland & Gund.

She received her bachelor's degree in accounting from the University of West Florida. Her primary areas of concentration include providing audit and related assurance services for a number of the firm's corporate, not-for-profit, government and hospitality industry clients.

Warren Averett, LLC, a national CPA and advisory firm, recently announced promotions for Stacy Asarisi, Joseph McNair, Tara Godbey and Kristen McAllister. Arisi, who has been with the firm for 10 years, serves as the manager of Administrative Services. McNair serves as a client consultant manager within Warren Averett Asset Management. Godbey is a manager and McAllister is a senior manager in the Audit Division.
First Partners Bank has opened a new Loan Production Office in Northwest Florida, the first Florida location for the Birmingham, Alabama, based bank. The new office will focus primarily on providing business lending and consumer mortgages for those in the 30A community.
Shannon Reeves has been named wedding coordinator for Great Southern Restaurants. She will be responsible for booking and directing weddings, catering and related events at the Fish House, Atlas Oyster House and Jackson's Steakhouse, as well as the company's 2,500-square-foot historical event venue, Palafox House, and Lee House, a boutique hotel and events space in historic downtown Pensacola.
The Nathan Abbott Team at ResortQuest Real Estate recently opened its new office at 9657 Highway 98 West in Miramar Beach.
Local Honors
Gail Morgan, the Okaloosa County Tourist Development Council's film commissioner, has been elected to Film Florida's 2015–2016 board of directors. She has led the Emerald Coast Film Commission for the past five years.

F

lorida's tourism marketing corporation, VISIT FLORIDA, has selected several Northwest Florida tourism officials to serve on its committees and leadership team.

From Escambia County:

Visit Pensacola President Steve Hayes will serve as chair of the Advertising and Internet Committee and will also serve on the Marketing Council Steering Committee.
Wendi Davis from the UWF Historic Trust will serve on the Cultural, Heritage, Rural and Nature Committee.
Jennifer Jackson from Margaritaville Beach Hotel will serve on the Meetings and Travel Trade Committee along with Kelly Eddins of the Hampton Inn on Pensacola Beach.
Jenifer Surface-Ivey from the Flora-Bama Lounge will serve on the Visitor Services Committee alongside Pensacola Beach Chamber of Commerce President and CEO Nicole Stacey.

From Fort Walton Beach:

Lino Maldonado, Martin Owen and Jennifer Frost from ResortQuest have also joined VISIT FLORIDA's 2015–2016 Tourism Industry Leadership team. Maldonado will serve as the secretary of the board of directors' executive committee, Owen will serve as a member of the International Committee and Frost will serve as a member of the Industry Relations Committee.
IMS ExpertServices of Pensacola has received Corporate America magazine's Legal Elite Award as 2015's Best Expert Witness Search Firm. Legal Elite awards recognize individuals and firms that use their skills and experience to help companies across the nation navigate the complex legal landscape.
Jonathan Tallman, financial advisor and CEO of The Tallman Group LLC of Niceville, was named Best Rising Star for the 2015 Industry Elite Awards by National Underwriter Life and Health Magazine. Tallman was featured on the front cover of the July issue of the publication.
USA TODAY has ranked Florida's Gulf Islands National Seashore as No. 2 in its "10 Best Naturally Preserved Shorelines" in the nation. The site praised the Seashore's barrier islands and undeveloped beaches, known for being among "the whitest and softest in the United States."
Visit South Walton has been awarded with the Destination Marketing Accreditation Program seal by Destination Marketing Association International, in recognition of its commitment to industry excellence and meeting the industry standard for performance and accountability of DMOs around the world.
The Better Business Bureau Foundation serving Northwest Florida recently awarded Newman-Dailey Resort Properties in Miramar Beach the prestigious "Torch Award for Marketplace Ethics" in the category for business with 50-plus employees in District II — Okaloosa and Walton counties. The ninth annual Torch Award program recognizes businesses and charities that insist on exceptionally high standards of behavior.
Twin Cities Hospital in Niceville received the Fit Friendly Workplace designation from the American Heart Association for the second consecutive year. The Fit-Friendly Companies Program is helping improve the health of Americans by focusing on activities that are convenient, easy and free.
Legal Services of North Florida Inc. Senior Attorney Leslie Powell was recognized for her leadership and community service to the Pensacola community with the Escambia-Santa Rosa Bar Association's 2015 Community Service Award. As co-chair of the Bar Association's Pro Bono Committee she coordinated disaster relief efforts in Pensacola and served as chairperson on the Statewide Disaster Umbrella Group. In September, Powell was slated to become Legal Services' deputy director, working in the Tallahassee office.
Local Happenings
The University of West Florida and Quint and Rishy Studer announced a partnership to develop the Center for Entrepreneurship at the University of West Florida College of Business. The Studers have committed $1 million to fund the center, which is dedicated to seeding economic growth.
Aviation giant Boeing has moved into 83,000 square feet that was formerly the Edwin Watts Golf facility in Fort Walton Beach. The space will be partly used for aircraft modernization and will contain labs and a repair center.
Hover Check Aerial Productions of Pensacola recently received a Federal Aviation Administration exemption to fly drones commercially and conduct aerial photography for real estate, land surveys, weddings, roofing inspections and other personal and commercial applications.
Fort Walton Machining is adding 30 new jobs with salaries averaging $41,000 or more and planning to purchase more than $1.5 million in new manufacturing equipment. It was the first company to apply for the City of Fort Walton Beach's Economic Development Ad Valorem Tax Exemption, an incentive for new and expanding businesses passed by the electorate of the City of Fort Walton Beach in August 2014.
Appointed by Gov. Scott
Peter Bos and James "Jim" Anders to the Northwest Florida Transportation Corridor Authority. Bos, 68, of Destin, is the chairman and chief executive officer of Legendary LLC. He currently serves on the Gulf Consortium. Anders, 64, of Seacrest, is the owner of Anders Real Estate and Timber Co Inc.
Kenneth Fountain, 46, of Pensacola, an attorney and senior partner of Fountain Schultz & Associates, to the Technology Advisory Council.
Andrea Minyard, 49, of Gulf Breeze, as chief medical examiner of District One. (Reappointment)
Bay
Local Honors
Nova Technologies of Panama City in June was recognized with the Governor's Business Ambassador Award in recognition of efforts to create jobs and opportunities for Florida families. Nova is a service-disabled, veteran-owned, small business that focuses on software and systems engineering as well as national security services. The company was founded in 1997 and is an industry leader in providing training for Army, Navy, Air Force and Marine Corps service members worldwide. It currently has 17 facilities throughout the United States and over 140 employees.
Parker McClellan, executive director of Northwest Florida Beaches International Airport, was appointed by the American Association of Airport Executives' board of directors to serve on the U.S. Contract Tower Association 2015–2016 Policy Board to provide oversight of USTCA.
New Beginnings
Hancock Bank has named Gina Mann as the new mortgage loan originator at the Edgewater branch. A lifelong resident of Bay County, she has more than 15 years experience in Panama City's financial industry.
Local Happenings
Florida Cancer Affiliates, a practice in The U.S. Oncology Network, has acquired a radiation oncology facility in Panama City that now allows the medical oncologists of FCA to offer a full range of medical and radiation oncology treatment to patients in North Florida.
Appointed by Gov. Scott
James "Carey" Scott, 56, of Panama City, a local restaurateur, to the Northwest Florida Transportation Corridor Authority
Forgotten Coast
New Beginnings
Mary Jim Montgomery is the new vice president of Patient Care Services at Sacred Heart Hospital on the Gulf in Port St. Joe. Among her previous jobs she was COO for Bay Medical Center in Panama City.
Prime Meridian Bank took the next step towards its expansion into Crawfordville with a ground breaking on the bank's Crawfordville Highway site. The building should be complete in the fall of 2016.
Local Honors
Sacred Heart Hospital on the Gulf in Port St. Joe has received an Overall Top Performer Award for its Emergency Department services from Professional Research Consultants Inc., an independent research-marketing firm. This award is given to health care facilities, providers, outpatient service lines and inpatient units that scored at the 100th percentile based on data collected from patients who rate the hospital as "excellent" when asked about the overall quality of care in the post-discharge patient satisfaction survey.
I-10
Local Honors
Allen Cherry, county coordinator for Madison County, has been honored with the Eunice Sullivan Economic Development Professional of the Year award, given annually by the Florida Economic Development Council in recognition of the achievements of an outstanding economic developer within the state of Florida. Cherry has been involved in economic development in varying capacities for the past 43 years. He has been county coordinator for the past nine years, is past chair of the North Florida Economic Development Partnership and has been executive director of the Madison County Development Council for eight years.
Local Happenings
Swedish-owned Green Circle BioEnergy has sold its Cottondale plant to the American-owned Enviva, one of the largest manufacturers of processed biomass fuel in the form of 100 percent wood pellets in the U.S. The plant has a production capacity of 650,000 metric tons per year and employs more than 100 people, including technicians, engineers and operators. Pellets produced at this facility are exported from Port Panama City for international customers.
Appointed by Gov. Scott
Ted Everett to the Northwest Florida Water Management District. Everett, 54, of Chipley, is executive director of the Washington County Chamber of Commerce and the owner and operator of Hard Labor Creek Hunting Plantation and Hard Labor Creek Off Road Park.
Tommie Hudson to the Holmes County Hospital Corporation. Hudson, 68, of Westville, is a retired school administrator.
Joseph Jernigan to the Early Learning Coalition of Northwest Florida. Jernigan, 75, of Graceville, is the owner of Jernigan Forest Products and Arnold Lumber Company.
---
Compiled by Linda Kleindienst