Sound Bytes February/March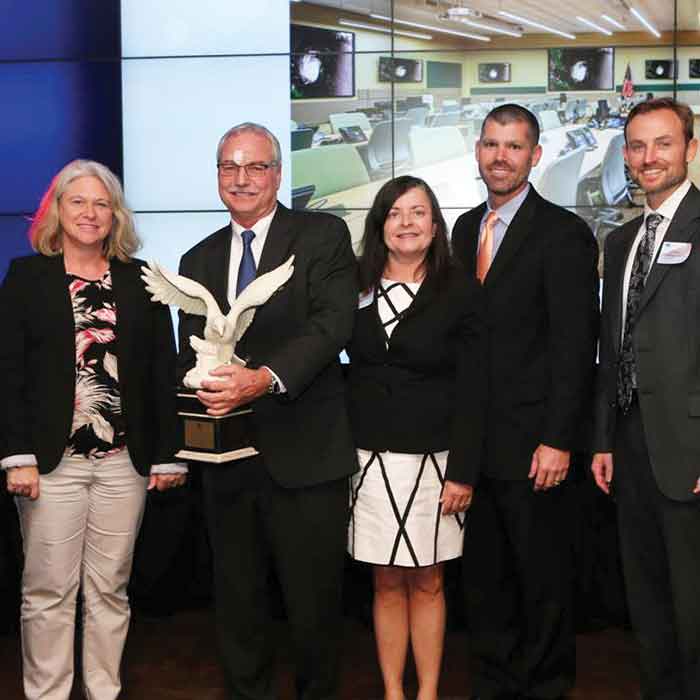 Capital
New Beginnings
Cissy Proctor has been named executive director of the Florida Department of Economic Opportunity, where she had served as chief of staff since January 2015. Before joining DEO in 2013, Proctor was an attorney at Bryant Miller Olive.
Noreen Fenner is the new owner and operator of PAC Financial Management, a full-service financial administration and reporting firm based in Tallahassee.
Robin Safley has joined the Florida Association of Food Banks as executive director. She previously served as director for the Division of Food, Nutrition and Wellness under Agriculture Commissioner Adam Putnam.
Kellie Ralston, a fifth generation Floridian and an expert in Florida's marine fisheries management, has joined the American Sportfishing Association staff in Tallahassee as Fishery policy director for the Keep Florida Fishing initiative.
Jeffrey A. Collier, the lead environmental attorney to the South Florida Water Management Districts, has joined Stearns Weaver Miller's Land Development, Zoning and Environmental group as a shareholder in the Tallahassee office.
Morgan L. McCord has joined the Florida Department of Economic Opportunity as the agency's press secretary. She previously served as director of Communications at Florida TaxWatch.
Michael Niles has joined the Tallahassee law offices of Broad and Cassel as an associate in the Real Estate Practice Group.
Sam McKay, a 21-year hospitality professional, has joined The Edison team as vice president of Operations.
Tamara Howard, Angela Taff and Caleb Thompson have joined the Tallahassee office of James Moore, Certified Public Accountants and Consultants.
Tallahassee-based Lanigan and Associates, a regional accounting, assurance, wealth management and tax services firm, recently announced the following promotions: Patrick Keith Eierhart, CPA, to Tax Manager II; Kevin Daniel Brinson, CPA, to Tax Senior I; and Meghan Gould Marchant, CPA, to Tax Staff III.
Lane Williams has been promoted to manager in the Assurance Services Department of Thomas Howell Ferguson, a professional accounting, assurance, and tax services firm headquartered in Tallahassee. Casey McLaughlin, Josh Hogan, Taylor Harmon and Christie Battles have been promoted to senior in the Assurance Services Department. Alyssa Roti and Paola Blackburn have been promoted to senior in the Tax Services Department. New team members include: Becky Roberts, CPA, as the new assurance services department manager; Chandler Russell as an assurance services staff member; Jacob Clawson in the Tax Services Department; Taylor Eiken and Jessica Gonzalez in the Assurance Services Department.
Local Happenings
Florida State University in December received the largest gift in its history — $100 million — from Jan Moran and The Jim Moran Foundation to honor the late Jim Moran and create what will be the nation's largest interdisciplinary, degree-granting school of entrepreneurship. The Jim Moran School of Entrepreneurship will stand alone, offering and greatly expanding the entrepreneurship courses currently taught in the College of Business and making them available to all FSU students.
Florida State University has been named one of the best values in the nation on the Kiplinger's Personal Finance "Best College Value" list for 2016. The ranking cites four-year schools that combine outstanding academics with affordable cost. Florida State was ranked the 16th best value among public colleges for in-state students and the 15th best value for out-of-state students. Last year, FSU was ranked the No. 22 best value among public colleges for in-state students and No. 19 for out-of-state students.
Danfoss, the pioneer of oil-free, magnetic bearing, variable speed centrifugal compressors for high-efficiency air-conditioning chillers, has made a $100,000 contribution to FSU's engineering research in aerodynamics and magnetic technology. The contribution comes from Danfoss Turbocor Compressors and The Mads Clausen Foundation, formed by the founder of Danfoss to provide financial support to universities and other institutes of higher education for research, development and teaching purposes.
Tallahassee International Airport will be hosting the 14th annual Sixel Airports Conference April 5–7. The conference is expected to attract aviation industry leaders and planners and result in a $90,000 economic impact to the city.
Berger Singerman, a Miami-based business law firm, marked its 30th anniversary by sharing $300,000 among 30 local charities where the firm has offices. A total of $38,674 went to Tallahassee charities, with the main charity the Tallahassee office selected, Children's Home Society, receiving more than $25,000.
M. Darrh Bryant, DMD, has joined the Tallahassee Board of Directors of Centennial Bank. Bryant, who serves as the Florida State University athletics department dentist and is the Leon District Schools resource dentist, established his dental practice in 2009.
Local Honors
Two Florida State University College of Business student business owners were honored with the Governor's Young Entrepreneurship Award. Entrepreneurship majors Jason McIntosh of Pompano Beach and Mitch Nelson of Tampa, both seniors, were recognized for their social entrepreneurship business, DivvyUp. Since the two created their company as a requirement of the college's Sophomore Experience program, they have given more than 3,500 pairs of socks to homeless shelters in Tallahassee, Fort Lauderdale and Tampa.
Kenny Small, owner of Tallahassee Welding and Machine Shop Inc., was recently honored with the Governor's Business Ambassador Award. Family owned and operated since 1942, the business's in-house services include welding, shearing, braking, punching, sand blasting, rolling, pipe and tube bending, as well as a full range of industrial machine operations. The firm currently has 20 employees.
Laura Osteen Ph.D., director of the Florida State University Center for Leadership and Social Change. was honored with the Woman in Higher Education Achievement Award from the National Panhellenic Conference, a premier advocacy organization for women and the sorority experience. This award recognizes an outstanding woman who is making a significant difference in higher education through leadership and positive support of the fraternity and sorority experience.
Tallahassee Community College received six Medallion Awards from the National Council for Marketing and Public Relations, taking home the gold in the Online Newsletter category for the faculty and staff newsletter, Around the Campus, and the Media Success Story category for the fundraising campaign to help TCC alum Bryan Wimberly and his service dog, Bella. TCC also won awards for the TCC2FSU microsite, the summer and fall registration social media campaign, The SKiNNY On the Job: Dental Hygiene video, and a READ poster featuring TCC President Jim Murdaugh.
NAI TALCOR in Tallahassee was honored with a Group Activity award by NAI Global, a global network of owner-operated commercial real estate brokerage firms, for its philanthropy and charitable support. The local firm is a longtime supporter of the Capital Area American Red Cross.
Tallahassee Checkers owner Russell Harms, who acquired and turned around four restaurants in Tallahassee in just three years, was awarded the 2015 Market Turnaround Award at the Checkers and Rally's national conference.
John Keillor, CPA and principal at Lanigan & Associates, P.C., a professional accounting, assurance, wealth management and tax services firm, was recently credentialed as a Certified Internal Auditor.
Appointed by Gov. Scott
Donald Weidner, 70, of Tallahassee, dean of the Florida State University College of Law, to the National Conference of Commissioners on Uniform State Laws.
Mark Fontaine, 65, of Tallahassee, executive director for the Florida Alcohol and Drug Abuse Association, to the Statewide Drug Policy Advisory Council.
James Upchurch, 67, of Tallahassee, former assistant secretary for institutions for the Florida Department of Corrections, to the Prison Rehabilitative Industries and Diversified Enterprises Inc. Board of Directors.
Brittany Birken, 40, of Tallahassee, chief executive officer of the Florida Children's Council, to the Board of Directors of CareerSource Florida.
Cynthia "Cindy" O'Connell and James Croteau to the Florida Commission on Community Service (Volunteer Florida). O'Connell, 58, of Tallahassee, is former secretary of the Florida Department of Lottery. Croteau, 69, of Tallahassee, is interim chief executive officer of American Second Harvest of the Big Bend.
David Wilkins, 55, of Tallahassee, founder of Life Connectors and the former secretary of the Florida Department of Children and Families, to the Board of Pilot Commissioners.
John Johnson, 46, of Quincy, director of the office emergency response for the Florida Department of Environmental Protection, to the State Emergency Response Commission.
James "Jim" Rasmussen, 64, of Tallahassee, who most recently served as the chairman, president and chief executive officer of SunTrust Bank of South Florida, to the Florida Prepaid College Board.
Matthew Carter, David Lawrence Jr. and Major General Gary McCoy (Ret.), to the Florida Agriculture and Mechanical University Board of Trustees. Carter 63, of Tallahassee, is an attorney and professional business consultant on energy, economic development and education with the Ramos and Sparks Group. Lawrence, 73, of Coral Gables, is chair of The Children's Movement of Florida and former publisher of The Miami Herald. McCoy, 64, of Destin, is the former commander of the Air Force Global Logistics Support Center at Scott Air Force Base.
James "Jim" Watson and Nicholas Pappas to the Board of Athletic Training. Watson, 58, of Tallahassee, is the director and coordinator for the Community Outreach Program at Tallahassee Orthopedic & Sports Physical Therapy. Pappas, 63, of Tallahassee, is an athletic trainer and the coordinator of insurance and risk management with Florida State University.
Darrell Phillips, 63, of Tallahassee, an architect, construction planner and design manager for the Florida Department of Education, to the Florida Building Commission.
Joseph Finnegan, 77, of Tallahassee, a retired manager with more than 42 years of experience in the private and public sectors working with General Electric, Aetna Life and Casualty, the Department of Financial Services, the Office of Insurance Regulation and the Department of State, to the Reemployment Assistance Appeals Commission.
Emerald Coast
New Beginnings
Jorge Gonzalez has taken the helm as president and CEO of The St. Joe Company following the retirement of interim CEO Jeffrey Keil. Gonzalez has been with the company for 13 years, most recently serving as senior vice president of development, where he supervised the long entitlement process for St. Joe's Bay-Walton Sector Plan. The company last summer received final approval from state and local agencies for the plan, a 50-year vision for 110,000 acres of land in western Bay and southeastern Walton counties. St. Joe intends to craft a large-scale "active adult" retirement community in the area, similar to The Villages in Central Florida.
Shareholder Lee Bell, CPA, has taken on a new role as president of Saltmarsh, Cleaveland & Gund. The Pensacola native has been with the firm since 2001, serving as a member of the executive committee, leading the firm's Tampa office and Business Advisory Group, and playing an integral role in the Financial Institution Advisory Group. Charles Gund Jr., CPA, will serve as shareholder in charge of the Pensacola office and Chief Operating Officer, a new position established to handle the business operations of the growing firm.
Angela Vaughn has joined Hilton Sandestin Beach Golf Resort & Spa as the resort's new director of marketing. In her role, Vaughn will help grow visibility through public relation efforts, strengthen brand standards and implement innovative marketing strategies for all brands under the Hilton Sandestin umbrella — including Seagars Prime Steaks and Seafood; Serenity by the sea Spa; Sandcastle's Restaurant and Lounge; Hadashi Sushi Bar; and Barefoot's Beachside Bar & Grill.
Carrie Ann Steichen, D.O. has been named a partner at Pensacola-based Pain Consultants of West Florida. Practicing medicine for nearly

11 years, Steichen is board certified in anesthesia and pain management by the National Board of Osteopathic Medical Examiners.

Grayton Seafood Co. has opened in in Uptown Grayton. Owner Kenny Griner, who opened the successful Chet's Seafood in Pace 25 years ago, will be serving only Gulf shrimp and locally sourced seafood.
Local Happenings
Gulf Power has joined with the U.S. Navy and Air Force to construct three large-scale solar energy farms across Northwest Florida. The solar farms will be constructed at Eglin Air Force Base in Fort Walton Beach (30 megawatts), Navy Outlying Landing Field Holley in Navarre (40 megawatts) and Navy Outlying Landing Field Saufley in Pensacola (50 megawatts). Once operational, the farms could produce enough energy to power approximately 18,000 homes for one year.
Berkshire Hathaway HomeServices, part of the HSF Affiliates LLC family of real estate brokerage franchise networks, recently announced that independent brokerage Beach Properties of Florida in Santa Rosa Beach has joined the network and will operate as Berkshire Hathaway HomeServices Beach Properties of Florida.
CBRE Group Inc., the world's largest commercial real estate services firm, has planted a flag in Northwest Florida. The company, which currently has six offices across the state, has hired Tom Watson, former CEO of JPB Commercial Real Estate Advisors, as vice president to build business in the Panhandle region, a roughly 200-mile area. Watson will be based in Miramar Beach.
30A TV has launched the first Spanish language program in Northwest Florida. Que hay en Florida is being transmitted on 30A TV, Channel 17 on Mediacom, Fairpoint Channel 8 and online at 30a.tv.
Local Honors
G.S. Gelato & Desserts, a Fort Walton Beach-based manufacturer of authentic Italian gelato and sorbet, received multiple awards in 2015 for food innovation, exponential company growth and excellence in female leadership. The company earned a spot on the Inc. 5000 Fastest Growing Private Companies list, ranking
No. 39 in manufacturing and
No. 2063 overall. The company was also presented a "Spirit of Innovation" Award by Prepared Foods Magazine for its Maple Bacon Gelato. Co-owner Simona Faroni earned numerous leadership awards, including the 850 Business Magazine Pinnacle Award for Outstanding Leadership, an honorable mention in the Enterprising Women of the Year Awards, and was inducted into Women of Influence in the Food Industry by The Griffin Report.
Gulf Power's Pensacola storm center, designed to withstand a Category 5 hurricane and winds up to 200 mph, has received one of the top awards for its design and durability. Referred to as "rugged, reliable, beautiful and sustainable" by Precast Concrete Institute, the utility's Douglas L. McCrary Storm & Training Center was awarded first place in the Category of Sustainable Design in the 2015 Design Awards. The Precast Concrete Institute is the technical organization for the pre-cast and pre-stressed concrete industry. The facility also received LEED Certification by the U.S. Green Building Council. LEED — Leadership in Energy and Environmental Design, is an internationally recognized green building certification system, which recognizes buildings designed and constructed in an environmentally sustainable manner, providing energy savings, water efficiency, CO2 emissions reduction, improved indoor environmental quality and stewardship of natural resources.
St. Joe Club & Resorts'SM Emerald Coast properties WaterColor® Inn & Resort and The Pearl Hotel in South Walton County earned top honors in Condé Nast Traveler's 28th annual Readers' Choice Awards. For the second consecutive year, WaterColor Inn & Resort was named the No. 1 Best Resort in Florida (Gulf and Central) and was ranked 87th in the Best Hotels & Resorts in the World. The Pearl Hotel was named the No. 3 Best Hotel in Florida. More than 128,000 Condé Nast Traveler readers voted, selecting from a pool of over 5,000 hotels around the world.
Fort Walton Machining of Fort Walton Beach was honored at the 12th Annual Manufacturers Summit and Marketplace as a winner of the 2015 Manufacturers and Distributors of the Year competition in the category of 101–250 employees. The company is a recognized leader in the manufacturing, finishing and assembly of custom designed, precision machined parts. In business since 1987, and growing from two workers to 198 employees, the company's market includes defense, aerospace, oil and gas, medical and high tech commercial.
IMS ExpertServices of Pensacola was named No. 1 in the Expert Witness Provider category by the 2015 Best of Legal Times Reader Ranking Survey. The survey is completed by the U.S. legal community to recognize those they consider to be the best in their market. The firm was also named one of Inc. magazine's 5000 fastest growing companies in America for the ninth straight year as well as given Corporate America magazine's Legal Elite Award for the Best Expert Witness Search Firm.
Destin took the No. 3 spot in travel website TripAdvisor's Top 10 list of "Destinations on the Rise in the U.S." The annual list ranks travel hot spots that received the greatest increase in positive traveler feedback and traveler interest in accommodations, restaurants and attractions across destinations worldwide.
Pensacola-based Gulf Winds Federal Credit Union has earned BauerFinancial's 5-Star Superior rating for strength and security for 86 consecutive quarters. Only 9 percent of the nation's credit unions have earned and maintained Bauer's top rating for so long and with such consistency.
Jimmy Fortune, director of Building Information Modeling (BIM) for Pensacola-based Bullock Tice Associates Architects, has been selected by The National Institute of Building Sciences to serve on its 11-member committee of experts to develop The National BIM Guideline for Owners. The guideline will provide building owners a systematic procedure for design teams to follow in creating BIM documents that can be used over the life of the facility in support of ongoing maintenance and operations in addition to fulfilling the traditional role of documents for design and construction.
Charleigh Kennedy, of Pensacola digital marketing and public relations firm Ideaworks, has passed her Google Adwords test. The certification, obtained through Google, demonstrates proficiency in online advertising concepts.
Appointed by Gov. Scott
Thomas V. Dannheisser and Darlene F. Dickey to the First Judicial Circuit Court. Dannheisser, 59, of Pensacola, has served as an Escambia County Court judge since 2010. He previously served as the Santa Rosa County Attorney from 1986-2010, and as an Assistant County Attorney at the Escambia County Attorney's Office from 1983-1986. Dickey, 45, of Molino, has served as an Escambia County Court judge since 2012. She previously served as the General Counsel of the Escambia County Sheriff's Office from 2006–2012. She also practiced with Bozemann, Jenkins & Mathews, P.A. from 2003–2005.
Ashton Hayward and Kerry Schultz to the Florida Commission on Community Service (Volunteer Florida). Hayward, 45, of Pensacola, is the mayor of Pensacola. Schultz, 40, of Gulf Breeze, is an attorney with Fountain, Schultz and Associates.
Richard Delp, 64, of Gulf Breeze, an environmental engineer and project manager with Baskerville Donovan Inc. and the chairman of the District One Local Emergency Planning Committee, to the State Emergency Response Commission.
Sherry A. White, 55, of Pensacola, chief executive officer and president of Capstone Adaptive Learning and Therapy Centers, to the Child Care Executive Partnership.
Dewey "Parker" Destin and Robert "Bobby" Griggs to the Mid-Bay Bridge Authority. Destin, 30, of Destin, is an attorney with Anchors Smith Grimsley. He currently serves as a member of the Emerald Coast Reef Association. Griggs, 31, of Fort Walton Beach, is self-employed in real estate and land development. He previously served as a member of the Fort Walton Beach City Council and the West Florida Regional Planning Council.
Bay
Local Happenings
Warren Averett, LLC, Certified Public Accountants and Advisors, has expanded its Southeast presence by merging with the Panama City-based firm of Jinks & Moody, PA, founded by partner Russell Jinks in 1996. This addition brings Warren Averett to more than 800 team members, serving clients through 14 offices across Alabama, Florida and Georgia.
New Beginnings
Florida Cancer Affiliates, a practice in The US Oncology Network, has added a new radiation oncologist. Kazumi Chino, M.D., joined the practice's North Florida division and is providing radiation oncology services in Panama City.
Janet Griffin, has joined the Business Innovation Center as the newest business consultant. Her responsibilities include business overview, counseling and advising startup businesses, and helping entrepreneurs grow and move into new markets.
Appointed by Gov. Scott
Jay Trumbull, of Panama City, owner and president of Trumbull Water Services of Northwest Florida and a member of the Panama City Housing Authority, to the Florida Transportation Commission. Trumbull is also a member of the Bay Medical Board Foundation and the Board of Directors for Trustmark Bank.
Thomas Lewis and James McKnight to the Gulf Coast State College District Board of Trustees. Lewis, 57, of Lynn Haven, is the owner of Tom Lewis Agency LLC. McKnight, 63, of Wewahitchka, is the assistant hospital administrator of Florida State Hospital.
Forgotten Coast
Local Honors
Florida TaxWatch

honored Apalachicola Bay Charter Schoo

l Principal Chimene Johnson as one of six recipients of the 2015 Florida TaxWatch Principal Leadership Awards. The third annual program honored the top principals in the state for their exceptional leadership skills, which resulted in outstanding learning gains for their students.
Appointed by Gov. Scott
Barry "Dale" Calhoun, 33, of Crawfordville, executive vice president of the Florida Propane Gas Association and executive director of the Florida Natural Gas Association, to the State Emergency Response Commission.
I-10
Appointed by Gov. Scott
To the North Florida Community College District Board of Trustees: Jon Coker, 50, of Perry, president of J Travis Coker Consulting Inc.; Alton Williams Jr., 72, of Live Oak, former sheriff of Suwannee County; Ann "Sharon" Benoit, 68, of Greenville, former international director for the Metro Orlando Economic Development Commission; and Lloyd "Gary" Wright, 74, of Monticello, former president and chief executive officer of Farmers and Merchants Bank.
To the Chipola College District Board of Trustees: Andrew Fleener, 45, of Chipley, owner of Fleener Cleaner Inc., who currently serves as a member of the Chipola College Foundation and the Washington County Chamber of Commerce Board of Directors; Joel Paul Jr., 58, of Holmes, executive director of Tri County Community Council Inc., who serves as a member of the Walton Academy Board of Trustees and CareerSource Chipola; Darrin Wall, 49, of Chipley, an office manager with Gulf Power Company who serves as a member of the Washington County Chamber of Commerce Board of Directors and CareerSource Chipola; Thomas "Tommy" Lassmann, 43, of Marianna, a commercial banker with PeoplesSouth Bank.
---
Compiled by Linda Kleindienst