Sound Bytes August/September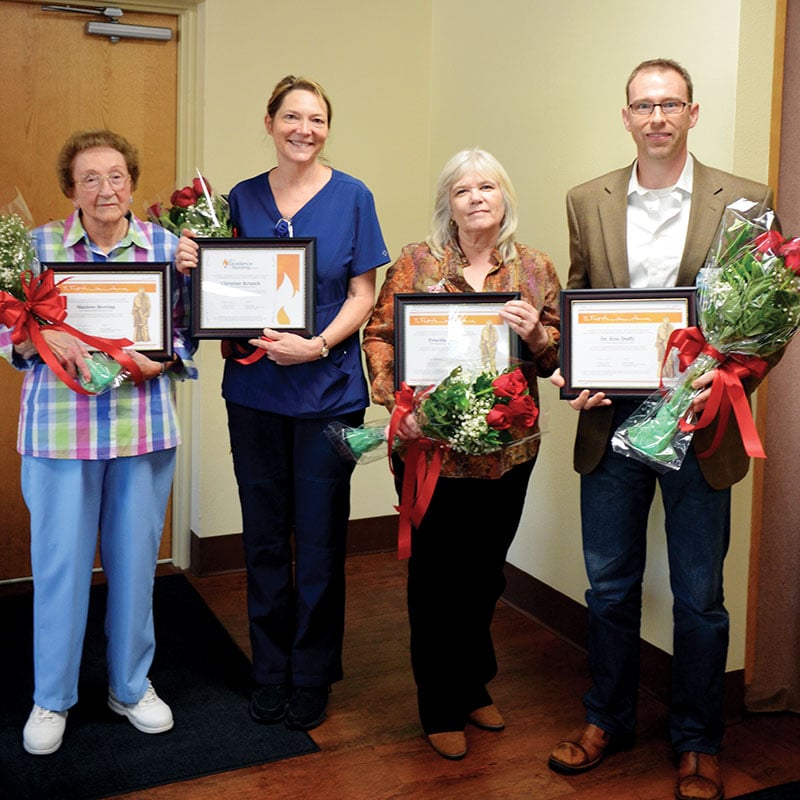 Capital
New Beginnings
Al Basford has been named vice president and commercial lender for Tallahassee State Bank, a division of Synovus Bank, and Patricia Griffin has been named branch manager of the Capital Circle branch.
Michael Hardine in July took over as interim dean of the Florida State University College of Business to replace the departing Caryn L. Beck-Dudley. Hardine, who joined FSU in 2001, had been associate dean for strategic initiatives.
Chris Cate is the new vice president of corporate communications for 180 Communications, a Tallahassee-based public relations firm.
Hoy + Stark Architects have chosen Erika Hagan as anadditional partner in the company. Hagan, also serving as vice president, became a registered architect in March 2014.
Fiore Communications, a full-service marketing firm based in Tallahassee, has hired Robby Cunningham, APR, as senior account manager to oversee major client activities and provide strategic content development. The company also opened its first satellite office in Duluth, Minnesota, which is being managed by digital marketing strategist Liz Kossakowski.
Wilson & Associates LLC, a Tallahassee-based lobbying and association management firm specializing in the fields of energy, infrastructure, construction and defense, has added Jennifer Hatfield as vice president of regulatory affairs.
Mindy Perkins has assumed the role of president of VR Systems, a leading elections management technology provider. Perkins, who has been with the company for 14 years, previously served as executive vice president.
Tallahassee Community College has selected Barbara Wills as the vice president of administrative services. She previously worked as an assistant superintendent with Leon County Schools.
Thomas Howell Ferguson P.A., a professional accounting,assurance and tax services firm headquartered in Tallahassee, has welcomed Leigh Jenkins, CPA, as the new Assurance Services Department manager. Melissa Myers and Allan Franklin III are also new additions to the department.
Greg Martin has joined the public sector practice of North Highland, a global management-consulting firm. He will be based in the Tallahassee office.
J. Cameron Yarbrough has joined the Gunster law firm as a government affairs consultant in the Tallahassee office.
Ameris Bank has named Vicky Shetty, CTP, as vice president and regional treasury solutions officer. She will work with business clients to provide customized treasury management solutions.
Courtney Schoen has been named coordinator of the City of Tallahassee's Think About Personal Pollution (TAPP) program.
Will Davis has been promoted to senior lender and vice president of Commercial Lending at Centennial Bank and will oversee the commercial lending team in the Tallahassee/Quincy market. Park Broome, formerly with First Commerce Credit Union, has joined the Centennial team as a vice president of Commercial Lending. Both will be working out of the Betton Branch.
Local Honors
The Datamaxx Group, led by CEO, President and Co-founder Kay Stephenson, was named one of Florida's 2015 Top Women-Led Businesses by The Commonwealth Institute, a distinction earned for nine consecutive years. The rankings are based on an annual survey distributed to roughly 5,000 businesses in Florida and analysis of survey responses by Kaufman Rossin, a South Florida accounting firm. Datamaxx ranked 27th and was the only Northwest Florida-based company included on the list.
City of Tallahassee Underground Utilities, with 376 employees and one of the largest departments in the capital city's government, has received the Governor's Sterling Award for 2015 for its leadership in efficiency. It is the first public utility in Florida to earn the honor.
Bevis Funeral Home was selected as the "Chamber Business of the Year" when The Greater Tallahassee Chamber of Commerce announced its winners of the 2015 Chamber Awards. Other winners: The Highland Gardener — Entrepreneurial Start Up of the Year; Southern Scholarship Foundation — NonProfit of the Year; Sweat Therapy Fitness — Locally Owned Business of the Year; Bevis Funeral Home — Service Business of the Year; Full Press Apparel — Manufacturer of the Year; United Solutions Company — Technology and Innovation.
Proper Channel Inc. and Stadium Runner, LLC, were selected as the 2015 recipients for the Elevator Pitch Night Technology Commercialization Grant program of the Leon County Research and Development Authority. Proper Channel, which took home first place and a $15,000 prize, is creating a tool that offers a visual front end for an environment's knowledge database. Stadium Runner, awarded a $10,000 second place prize, is creating a robust logistical delivery system for food service operators on college campuses.
John Medina, president, Investments and Insurance of First Commerce Credit Union, has been appointed to a one-year term as the Florida Chamber of Commerce's Tallahassee Regional Board Chair.
Jon Harris Maurer, 29, has joined Equality Florida as the youngest member of the board. Maurer is an attorney specializing in environmental, energy and regulatory law with the Tallahassee law firm of Hopping Greens & Sams.
Tallahassee Community College has been named one of the 2015 Promising Places to Work in Community Colleges by the National Institute for Staff and Organizational Development. This designation recognizes the college for its commitment to equality, diversity and inclusion. Only 16 colleges nationwide received this honor.
O'Dwyer's, the nation's leading PR industry news source, has identified Sachs Media Group as Florida's top-growing integrated marketing, public relations and public affairs firm. Sachs recorded a 20.8 percent growth last year and earned top rankings as the No. 1 firm in the southeastern United States for environmental and public affairs PR and for financial PR. The firm was also ranked No. 2 in Florida for health care PR.
Florida State University has been ranked the No. 8 online college in the United States in TheBestSchools.org's 50 Best Online Colleges for 2015–2016.
Peter Antonacci, former general counsel to Gov. Rick Scott and current shareholder in GrayRobinson's Tallahassee office, and Matthew Z. Leopold of the Carlton Fields Jorden Burt law firm, have been appointed to serve on the Federal Judicial Nominating Commission.
Summit Bank and Panhandle Educators Federal Credit Union are listed by DepositAccounts in the 2015 edition of its Top 200 Healthiest Banks/Credit Unions in America.
The Jim Moran Institute for Global Entrepreneurship in the Florida State University College of Business has appointed Allison Harrell, a shareholder with the Tallahassee accounting firm of Thomas Howell Ferguson P.A., to its North Florida Outreach Fellows Program.
The Florida Bar in June honored 196 attorneys for 50 years of dedication to the practice of law — including six from Tallahassee: Hon. Donald R. Alexander, John R. Beranek, Ralph C. Datillio, Robert R. Feagin III, William Guy McKenzie Jr. and John Shaffner Slye.
Local Happenings
Tallahassee Community College is offering an Associate in Science degree program in pharmacy management beginning this fall.
Home2 Suites by Hilton has officially broken ground at Magnolia Grove. Slated for completion this fall, it is located at the southwest corner of Magnolia Drive and Park Avenue East and will cater to business travelers and extended-stay guests. It is the company's first in Tallahassee.
Appointed by Gov. Scott
Stacy Gromatski and Michael Howard, both of Tallahassee, to the Juvenile Justice and Delinquency State Advisory Group. Gromatski, 52, is president and chief executive officer of the Florida Network of Youth and Family Services. Howard, 21, of Tallahassee, is a student at the Florida Agricultural and Mechanical University.
Dwayne Maddron, 54, of Tallahassee, a portfolio manager with Capital City Trust Company, as chair of the Juvenile Justice and Delinquency State Advisory Group.
The Rev. Marcus Smith, 33, of Gretna, deputy manager of the Office for Prevention and Victim Services for the Department of Juvenile Justice and the senior pastor and president of Beulah Hill Missionary Baptist Church, to the Florida Faith-Based and Community-Based Advisory Council.
Thomas D. "Bo" Winokur, 49, of Tallahassee, who has served as assistant general counsel for the Executive Office of the Governor since 2011, to the First District Court of Appeal.
Emerald Coast
New Beginnings
David M. Joyner, M.D., has been selected as senior vice president and executive director of the Andrews Institute for Orthopaedics & Sports Medicine. He is responsible for the day-to-day operation of the Andrews Institute, including physician alignment, strategic business partnerships and affiliations, branding and recruitment.
Brian Wood has assumed the role of gallery director for Justin Gaffrey, overseeing all operations in the Blue Mountain Beach gallery, supporting new brand initiatives and facilitating national and international sales.
Stan Connally, president and CEO of Gulf Power Company, has been appointed to a one-year term as the Florida Chamber of Commerce's Central Panhandle Regional Chair. He is one of 12 regional chairs who will work with local business leaders and state legislators to highlight business issues.
Javier Rosa, a more than 20-year veteran of the culinary industry, has been named the new executive chef at Sandestin Golf and Beach Resort.
The University of West Florida has established the Center for Research and Economic Opportunity by merging the Office of Research and Sponsored Programs and the Office of Economic Development and Engagement. The new center will be led by Rick Harper, the newly named associate vice president for research and economic opportunity.
Local Honors
The Florida Bar this summer honored 196 attorneys — including seven from the First Circuit — for 50 years of dedication to the practice of law. The local honorees were: C. Ledon Anchors Jr., Fort Walton Beach; Joe Ladon Dewrell, Shalimar; Anthony F. Mielczarski Jr., Henry Clay Mitchell Jr., H. Edward Moore Jr. and Robert Leslie Stone of Pensacola; and William Stephen Westermann, Destin.
The "Running Man" robot designed by a team from the Florida Institute for Human and Machine Cognition in Pensacola took second place in the June DARPA Robotics Challenge in California. IHMC, the top U.S. contender, took home a $1 million prize.
Ken Naylor has been named a senior vice president and commercial banker at Coastal Bank and Trust, a division of Synovus Bank, in Pensacola.
The Combined Rotary Clubs of Pensacola and the University of West Florida College of Business named Michael Murdoch, CEO of AppRiver, and Heidi Blair, director of USO Northwest Florida, as the 2015 recipients of the Annual Ethics in Business Award.
Ideaworks, a digital marketing and public relations firm based in Pensacola, has been recognized by Google as an AdWords partner agency. Three Ideaworks employees — Brittany Miller, Stephan Vance and Searcy Sledge — were also recognized as AdWords-certified professionals, meaning they have passed multiple exams assessing their expertise on Google's digital products.
Two Pensacola Beach hotels recently received Awards of Excellence from the world's largest travel site. Holiday Inn Express Pensacola Beach and Margaritaville Beach Hotel were inducted into the 2015 Hall of Fame by TripAdvisor in May.
Hilton Sandestin Beach Golf Resort & Spa and Seagar's Prime Steaks and Seafood — the longest-standing AAA Four-Diamond restaurant in Florida's Panhandle — have received the 2015 Certificate of Excellence from TripAdvisor. This is the fifth consecutive year Seagar's received the award, automatically placing it into the TripAdvisor 2015 Hall of Fame.
Destin's Beachside Inn, managed by Newman-Dailey Resort Properties, earned the TripAdvisor Award of Excellence for the third consecutive year with an average review ranking of 4.5 out of five stars by guests during the past year.
Pensacola Bayfront Stadium has been ranked among the Top 25 Best Ballparks in the Minors by Baseball America sports magazine and website.
Air Force Col. Christopher P. Azzano became commander of the 96th Test Wing at Eglin Air Force Base in June and was nominated for the rank of brigadier general.
Gulf Winds Federal Credit Union, Pensacola and Tallahassee, has earned a five-star rating from the nation's credit union rating firm, BAUERFINANCIAL INC. of Coral Gables, for 84 consecutive quarters.
Each year, Fort Walton Beach Medical Center honors a physician, employee and volunteer with its HCA Awards of Distinction. The 2015 winners of the Frist Humanitarian Awards are Dr. Eric Duffy, Priscilla Moore and Mariece Herring. The honoree of the Excellence in Nursing Award, celebrating the extraordinary clinical and compassionate care delivered by nurses every day, is Christine Ketnick.
TOPS'L Beach & Racquet Resort in Miramar Beach, a property managed by the ResortQuest brand of Wyndham Vacation Rentals, was recently named a Gold Medal Resort by Tennis Resorts Online.
Café Thirty-A in Santa Rosa Beach has been recognized as a TripAdvisor Certificate of Excellence Hall of Fame winner. The award celebrates excellence in hospitality.
Pensacola's Saenger Theatre has received a TripAdvisor Certificate of Excellence award.
Fort Walton Beach Medical Center and Twin Cities Hospital have been recognized for their dedication to patient safety by being awarded "A" grades in the Spring 2015 Hospital Safety Score, which rates how well hospitals protect patients from preventable medical errors, injuries and infections within the hospital.
Local Happenings
Which Wich and Smashburger are opening in the recently completed expansion area of Destin Commons, boosting to 16 the outdoor lifestyle center's dining options.
Appointed by Gov. Scott
Charles Clary, 64, of Destin, an architect with DAG Architects and a former Florida state senator, to the Board of Directors of Florida Health Choices Inc.
Coleman Lee Robinson, 44, of Pensacola, who has served as an assistant state attorney for the First Judicial Circuit since 1994, to the First Judicial Circuit Court.
Martha Tutchtone, 36, of Gulf Breeze, human resources director for Gulf Power Company, to the Early Learning Coalition of Escambia County.
Bay
Local Honors
DeTect Inc., a fully integrated radar company headquartered in Panama City, received the Inaugural Gulf Coast Trade Alliance Export Achievement Award for the State of Florida. Since its founding in 2003, DeTect has delivered over 260 of its radar systems worldwide with over 55 percent of its Florida and Colorado manufactured products being exported. The company is the world leader in advanced bird radar technologies for real-time aircraft-bird strike avoidance, wind energy bird and bat mortality risk mitigation, and industrial bird control. More than 140 of its MERLINTM bird radars operate in the U.S., Canada, Europe, Africa and Asia.
Local Happenings
Oceaneering International, as part of a consortium with GE Oil & Gas, has secured a contract that added over $100 million to its Subsea Products backlog. Plans are to manufacture the product at Port Panama City. A 10-year tenant of the port, the company currently employs more than 200 workers in Panama City and is a major contributor to the port's $1 billion annual economic impact.
The new Applied Welding Technologies Lab opened at Tom P. Haney Technical Center in May. The new lab features 8,000 square feet of combined hands-on instructional and classroom space. The program has 50 welding booths, a hydraulic metal brake, computer-controlled plasma system, two Vertex Weld Simulators, an Educational Robotic Welding Cell as well as the latest state-of-the-art ventilation system.
New Beginnings
Carol Edwards, an FSU alumna, has been chosen as the new dean of Florida State University Panama City. She came from Texas Tech University where she served as the dean of the College of Visual and Performing Arts. Edwards earned her doctorate in art education from FSU.
Panama City banker Greg Seymour is the new vice president of commercial lending for Hancock Bank in Bay County.
Catherine Collins has joined the The Resort Collection of Panama City Beach as marketing manager. She previously worked as the events director for the Panama City Beach Chamber of Commerce.
I-10
Local Happenings
Marianna-based Farm Credit of Northwest Florida is returning $2 million in profits to nearly 850 members who primarily live, operate or own farms in the rural communities of the region. The refund is the equivalent of approximately 15.6 percent of the interest earned on each member's loan during the last year and is paid entirely in cash.
Ameris Bancorp, the parent company of Ameris Bank, has acquired 18 Bank of America locations throughout southern Georgia and northern Florida. The new locations include banking centers in Blountstown and Defuniak Springs.
Appointed by Gov. Scott
Thomas Kinchen, 68, of Graceville, president of the Baptist College of Florida, to the Commission for Independent Education.
Compiled by Linda Kleindienst