Sound Bytes April/May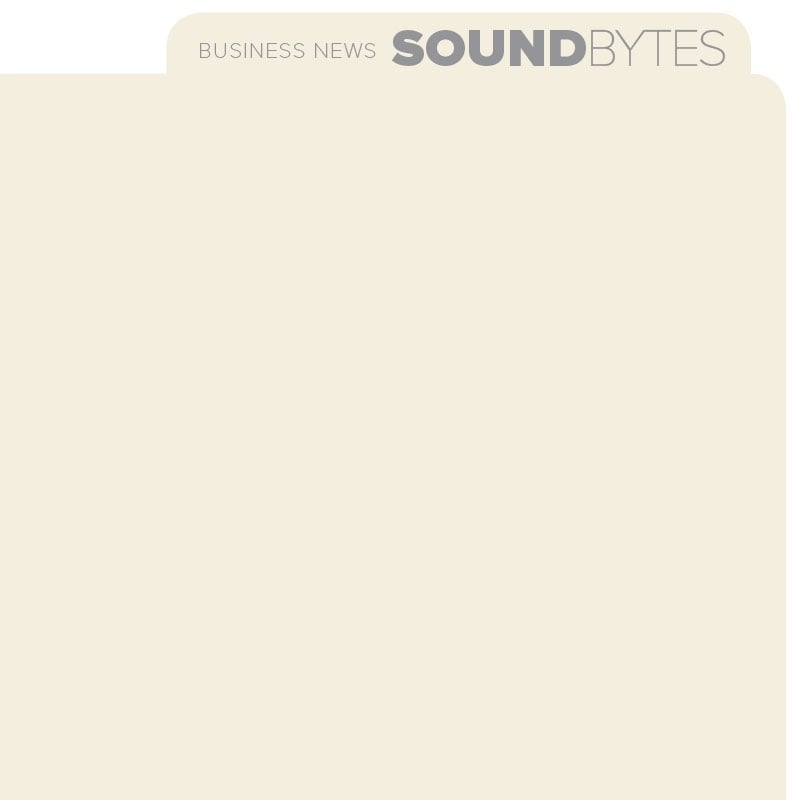 Capital
Local Happenings
> The Division of Workforce Development at Tallahassee Community College has received a Plus 50 Encore Completion Program grant from the American Association of Community Colleges. The goal of the Plus 50 project is to help more adults over age 50 successfully complete TCC workforce training certificates and not-for-credit credentials in high-demand career fields. The project will focus on training that leads to employer-recognized certificates in the fields of Medical Administrative Specialist and Health Information and Management.
> The Gadsden County Chamber of Commerce in Quincy has installed a fully integrated solar energy system in collaboration with Independent Green Technologies. Residents will be able to monitor and analyze the productivity of the solar array via a real time visitor video kiosk at the Chamber office.
> The Pennington P.A. law firm has elected its board of directors and officers for 2014: J. Breck Brannen, president and CEO; William H. "Billy" Hughes III, chief financial officer; Kory J. Ickler, secretary; Brandice D. "Brandi" Dickson, assistant CFO/CFO-elect; Barrie Buenaventura; John C. Pelham Jr.; R. Terry Rigsby; and Donald D. Conn. Pennington has also added two new shareholders, Adrienne C. Love, who is practicing Intellectual Property Law and Litigation, and William D. "Bill" Horgan, who is practicing Insurance Defense Litigation, Products Liability Litigation and Commercial Litigation.
> Four Points by Sheraton General Manager Bo Schmitz has been appointed to the Leon County Tourist Development Council. The hotel is also expanding its team by adding Cheryl Horne as senior sales manager, Laurin Fuller as sales manager and Maria Matilszki as catering manager. Kevin Keating, former Dean of Culinary Arts at Keiser University, is joining the team as the hotel's Executive Chef. Keating's hospitality industry career spans more than three decades.
New Beginnings
> Cambria Solutions Inc., a national information technology and management consulting firm, has opened a new office in Tallahassee. Health and human services industry veteran Suzanne Vitale will lead the Tallahassee office. Most recently, she served as deputy secretary for the Florida Department of Children and Families.
> Ken Armstrong has been named president and CEO of the Florida Trucking Association. He brings extensive nonprofit experience to the association, the chief advocate for the state's trucking industry, including over a decade at the United Way of the Big Bend.
> Greg Ungru has left the Florida Sports Foundation to join N.G. Strategies as director of Client Strategy in Tallahassee. NGS specializes in corporate political and opposition research.
> Cherry Communications has added Blaine Cherry to its management team. Cherry will serve as director of research for the Florida-based firm.
> Foyt Ralston has joined Bryant Miller Olive's Governmental Consulting Practice. Ralston has more than 20 years of experience in governmental affairs in the public and private sectors.
> Shaddrick A. Haston has been hired to take the helm of the Florida Assisted Living Association. He most recently worked as manager of the Agency for Health Care Administration's Assisted Living Unit.
> Jamie Mongiovi has left CoreMessage to become communications director for the Florida Office of Financial Regulation.
> The Florida Dental Association has hired Ashley Liveoak as a meeting assistant for the association's annual Florida National Dental Convention.
> Robert G. "Bob" Nave has joined the Florida TaxWatch Research Team as director of the TaxWatch Center for Educational Performance & Accountability. He will serve as a senior education policy analyst.
> Shawn C. Kalbli, MLA, ASLA, has been promoted to vice-president/director of the Tallahassee office of Wood+Partners Inc., a land planning and landscape architecture firm with offices in Hilton Head Island, S.C., and Tallahassee.
> Carr, Riggs & Ingram LLC, ranked as the 28th largest accounting firm nationally and third largest in the South, has added Timothy Palmer as the business development executive serving the Tallahassee area.
> Accounting and tax services firm Thomas Howell Ferguson PA, headquartered in Tallahassee, has promoted Kavisha McCranie to Senior, Tax Services Department, and Meagan Camp to Senior, Assurance Services Department. The firm has also added Elaine Sutter to its tax staff and Nick Whitaker as an assurance senior.
Local Honors
> Miller's Plumbing and Mechanical of Tallahassee received top honors — the National Excellence in Construction Eagle Award — during the 24th annual Excellence in Construction Awards celebration. The award is for the Capital Regional Medical Center expansion project.
> Jack Cory, founder of Public Affairs Consultants, received the Association Trends 2013 Leading Lobbyist Award for his work with the Florida Alliance of Boys & Girls Clubs over the past eight years. He is the only state lobbyist to receive the award in 2013.
> Taproot Creative, a Tallahassee-based integrated marketing and behavior change firm, won three Gold ADDY Awards and seven Silver ADDY Awards in the local 2014 American Advertising Awards. The firm also won the Best of Show for Web and for Print, highlighting its work for Lucy & Leo's Cupcakery and Rayonier, a publicly traded international company based in Jacksonville.
> Tallahassee Bar Association Young Lawyer Section President Andrew Manko was honored with the 2014 Thomas M. Ervin Jr. Distinguished Young Lawyer Award.
> The Young Lawyers Section of the Tallahassee Bar Association received the President's Choice Grant Award at The Florida Bar Young Lawyers Division Affiliate Outreach Conference for its "Thunderdome Tallahassee" grant proposal. The Legal Aid Foundation is spearheading the initiative in order to train and assist a select group of young attorneys in addressing the persistent backlog of family law and other pro bono cases in the area.
> Sachs Media Group has been named the top Environmental & Public Affairs public relations firm in Florida and 12th in the nation by O'Dwyer's, the national public relations industry journal. The firm is one of only two in Florida to earn a ranked spot on the list in the February 2014 "Environment" issue of O'Dwyer's magazine. The rankings are based on 2012 net fees.
> Centennial Bank has added Erin Ennis to its Northeast Florida Board of Directors. Ennis is vice president of finance and administration at Residential Elevators.
Appointed by Gov. Scott
> Vicki Lukis, 55, of Tallahassee, a partner of Sylvester Lukis & Associates LLC, to the Prison Rehabilitative Industries and Diversified Enterprises Inc. board of directors.
> John E. Fischer, 57, a hearing aid specialist and regional manager for Hearing Lab Technology, and Thomas M. Hollern, 72, a supervisor with the Leon County School Board, both from Tallahassee, to the Board of Hearing Aid Specialists.
> Christine "Chris" Smith, 61, of Lloyd, a teacher with Leon County Schools; Kristina Holman-Mohr, 64, of Havana, a business training consultant with Wells Fargo; and Vincent Giglio, 88, of Tallahassee, an advocate for persons with disabilities, to the Area Two Family Care Council.
> Bill Wertman, 55, of Tallahassee, CEO of the Alzheimer's Project Inc. and an adjunct professor at Florida State University, to the Alzheimer's Disease Advisory Committee.
---
Emerald Coast
Local Happenings
> Pensacola entrepreneurs Quint and Rishy Studer are funding a nonprofit institute to sponsor research into the development of strategies and tools to help cities evaluate and address the health of their economy, government and quality of life. The Studer Institute will be led by former Pensacola News Journal Executive Editor Randy Hammer, who will serve as CEO and president. Other staffers will include Mollye Barrows, Brian Hooper and Reggie Dogan.
> A new book, "Brands in Glass Houses: How to Embrace Transparency and Grow Your Business Through Content Marketing," has been written by Dechay Watts and Debbie Williams, co-founders of content marketing agency SPROUT Content, to showcase the trend of brands connecting with people by being transparent and giving away knowledge to build trust.
> The Greater Pensacola Chamber, the region's oldest and largest business association devoted to promoting and improving the Greater Pensacola Region through economic improvement, community involvement and workforce development, split with its tourism department, Visit Pensacola, in January.
> The Pensacola Bay Area Convention & Visitors Bureau, which was the Chamber's tourism arm for the past 25 years, kicked off 2014 as a standalone entity that will be directed by an 11-member board of local hospitality leaders and tourism professionals. Steve Hayes, who served as the Chamber's vice president of tourism and who was one of the leaders at its helm during the last few years of record-breaking tourism growth, will remain with Visit Pensacola as its president.
New Beginnings
> Gulf Winds Federal Credit Union in Pensacola has promoted Ashley Jansky to vice president of operations. Jansky has been with Gulf Winds for more than 11 years.
> The statewide law firm of Broad and Cassel has named Ginger Barry Boyd a partner in the firm's Destin office.
> Local financial advisor Dustin W. Terry has launched Clear Harbor Wealth Management, the Emerald Coast's newest independent wealth management firm.
> Carolina Aeronautical Airframe & Powerplant, based in Simpsonville, S.C., has opened a branch center in the Okaloosa Industrial Air Park in Crestview. The company specializes in the FAA Mechanic and Inspection Authorization Certification and offers other technical courses.
> The Florida Small Business Development Center at the University of West Florida has named Kelly Massey as its new director. In this position, Massey will oversee the operations of SBDC offices located in Pensacola and Fort Walton Beach.
> Beef Jerky Outlet in Destin has a new owner — Scharlean Cooper. The Destin store will be managed by Casey Lowery.
Local Honors
> The Pearl Hotel in Rosemary Beach has become a member of the Southern Living Hotel Collection, a small, curated group of independent, four-and five-star level hotels, resorts and inns that span 18 Southern states.
> Twin Cities Hospital Chief Nursing Officer Shaun Lampron, RN, BSN, was recently presented the Patriot Award by Employer Support of Guard and Reserve. Nominations come from military reservists who recognize employers that provide outstanding support of military duties.
> Sacred Heart Hospital on the Emerald Coast has been named one of the nation's 100 Top Hospitals® by Truven Health Analytics for the third year in a row and the fourth time since opening in 2003. Truven Health Analytics, formerly Thomson Reuters, is a leading provider of information and solutions to improve the cost and quality of health care.
> Harley-Davidson of Pensacola has been awarded the 2013 Gold: Bar & Shield Circle of Excellence award from Harley-Davidson Motor Company, one of only four out of 120 dealerships in the Southeast to be so honored. The prestigious award recognizes dealerships that have excelled in customer satisfaction and other measured operational practices.
> For the third year in a row, Gulf Coast Electric, a 34-year-old Destin electrical contracting firm, has earned the service industry's coveted Angie's List Super Service Award.
> SunQuest Cruises SOLARIS has been selected as a 2014 winner in the Knot Best of Weddings — the fifth consecutive year it has been honored. Winners represent the top 1 percent of reviews from recently married couples.
> Dr. Henry Hsiang has received a three-year appointment as Cancer Liaison Physician for The Cancer Care Center at Fort Walton Beach Medical Center, the area's only oncology program certified by the American College of Surgeons Commission on Cancer (CoC). Dr. Hsiang is among a national network of more than 1,500 volunteer physicians who are responsible for providing leadership and direction to establish, maintain and support their facilities' cancer programs.
> Destin was recently named a "Destination on the Rise" by TripAdvisor. It was ranked third among the top 10 destinations in the U.S.
> Legendary Marine, the top ranked boat dealer in North America for 2012 and 2013 and the Emerald Coast's largest boat dealership, was presented with the 2013 Neptune Award for Best Regional Marketing in North America during the Miami International Boat Show by the Marine Marketers of America.
> The 2014 officers of the Pensacola Chamber Foundation, the 501(c)(3) nonprofit arm of the Greater Pensacola Chamber, are: president, Jim Mathis, Coastal Bank and Trust; vice president, Susan Davis, Sacred Heart Health System; treasurer, Scott Barrow, Regions Bank; and secretary, Mark Faulkner, Baptist Health Care.
> Recently honored by the Foundation for their contributions to Pensacola's economic progress were: Jessica Lee, Kia AutoSport of Pensacola's vice president and general manager, Emerging Leader of the Year; Pensacola native and Fitness Onboard Founder/CEO Cindi Bonner, Professional Leader of the Year; Chairman of the Downtown Improvement Board John Peacock, Community Leader of the Year; and Gulf Power Company President and CEO Stan Connally, Business Leader of the Year.
> Charles Carlan was awarded the Spirit of Pensacola Award, and the late Dr. Reed Bell was posthumously honored with the prestigious Pioneer Award.
Appointed by Gov. Scott
> To the Fiesta of Five Flags Commission of Pensacola: Mary Hoxeng, 58, owner of ADX Communications; Thomas Owens, 50, market president of Branch Banking & Trust Co.; and Dr. Jimmy Jones, 82, a physician at Nemours Children's Clinic.
> To the Board of Massage Therapy: Robyn Dohn Havard, 33, of Gulf Breeze, an insurance agent with McMahon Hadder Insurance Inc., and Lydia Nixon, 32, of Pensacola, a licensed massage therapist and owner of Eimaj Spa Inc.
> To the Pensacola State College District Board of Trustees: Frank White, 35, of Pensacola, general counsel and a business analyst at Sandy Sansing Dealerships and co-founder of CollegeFrog; Stephania Wilson, 38, of Navarre, a financial advisor with Regions; Carol Carlan, 59, of Pensacola, president of the Sacred Heart Foundation; and Herbert Woll, 65, of Gulf Breeze, a systems manager at Quest Management/Pyramid.
---
Bay
Local Happenings
> The Business Innovation Center is partnering with The Jim Moran Institute for Global Entrepreneurship to bring the CEO Peer2Peer Group program to Panama City. The CEO Peer2Peer group provides a structured and confidential environment for executives to share their knowledge and experiences to help one another with business challenges. Participating executives will gain further insight to improve business decisions, communication skills and build long-term relationships while helping each other's businesses grow. For more information, visit jmi.fsu.edu/ceop2pbay.
> Eastern Shipbuilding Group has been named a finalist to vie for a $10.5 billion U.S. Coast Guard contract that could bring thousands of new jobs to Bay County. Three shipbuilding yards are competing for a 20-year contract to develop 25 next-generation offshore patrol cutters for the U.S. Coast Guard. Eastern was given $22 million to design its prototype. The other firms are located in Maine and Louisiana.
> DeTect Inc. has unveiled its new mobile RAPTOR® XBS-BL Radar Wind Profiler, which represents a revolutionary advanced technology for real-time measurement of upper atmosphere winds. The XBS offers a high performance, modern, digital system in a compact, portable design that is simple and quick to set up and was developed to be rapidly deployable for severe weather event monitoring.
> Bracken Engineering has relocated its Northwest Florida office from Tallahassee to Panama City to better serve its clients throughout the Florida Panhandle and lower Alabama.
> With traditional jobs becoming harder to secure, many local citizens are discovering their love for arts and crafts, baking and gardening and are transforming their passions into jobs. In February, Gulf Coast State College opened the doors to its Advanced Technology Center to aspiring hobbyists of all ages for the nation's first Farmers Market University.
Local Honors
> The Panama City Beach Chamber of Commerce in February honored six local residents for their dedication and accomplishments in the community and with the Chamber. The honorees included: Carol Roberts, president of the Bay County Chamber of Commerce, Pioneer of the Year; Derrick Bennett, 2013 chairman of the Chamber board, the Past Chairman's Award; Dana Sudheimer, HYPE (Helping Young Professionals Evolve) Member of the Year; Terri Hoehn, Ambassador of the Year; Dr. Jon Ward, 2013 Small Business Person of the Year Award; and Dave Johnson, Humanitarian of the Year.
Appointed by Gov. Scott
> To the Gulf Coast State College District Board of Trustees: Don Crisp, 71, of Panama City Beach, vice president of First American Title Insurance; Elizabeth Kirvin, 42, of Apalachicola, assistant principal of Apalachicola Bay Charter School; Steve Millaway, 57, of Panama City Beach, a self employed electrical engineer; and David Warriner, 48, of Port St. Joe, owner and president of Tapper & Co.
---
Forgotten Coast
Local Happenings
> The Port St. Joe Port Authority in February unveiled an economic impact study conducted by the Washington Economic Group that concluded proposed port infrastructure improvements would generate nearly $133 million in net state revenues — a return of nearly $4.66 to state taxpayers for each state dollar invested in the project. The study specifically analyzed the potential economic impacts of: dredging the port channel; port operations; rail expansion; and the development of a wood pellet production facility.
>> The findings also concluded the port modernization plans would generate an average of 803 annual equivalent jobs from 2015 through 2025 (including temporary construction jobs in 2015) and have a more than $941 million total economic impact, adding $490 million to Florida's Gross Domestic Product by 2025.
> The City of Port St. Joe is one of four communities that will participate in the pilot program for the Competitive Florida Partnership, a new rural community development initiative. The Florida Department of Economic Opportunity will work with the city to create a strategic economic development plan tailored to its assets and then help market the plan.
Appointed by Gov. Scott
> Kathie Brown, 62, of Panacea, director of ReNu U Medical Spa, to the Department of Elder Affairs Advisory Council.
---
Regional
Honors
> Among winners of the 2013 Governor's Innovators in Business Awards during Florida Business Innovators Week were:
>> Business Expansion — Navy Federal Credit Union of Escambia County, which recently announced a project that will add more than 1,500 jobs in Florida's Northwest region over the next five years.
>> Newcomer — AMTEC Less-Lethal Systems Inc. of Taylor County, one of three domestic full-service manufacturers of products for law enforcement and corrections agencies in the U.S. and worldwide.
>> Tourism — Pensacola Lighthouse and Museum of Escambia County, which has grown from a volunteer organization to a booming business in a few short years.
Appointed by Gov. Scott
> To the Gulf Consortium: Pam Anderson, 64, of Panama City Beach, operations manager of Capt. Anderson's Marina; Peter Bos, 67, of Destin, president and chief executive officer of Legendary LLC; Lino Maldonado, 41, of Niceville, vice president of Wyndham Vacation Rentals North America; Collier Merrill, 53, of Pensacola, president and co-owner of the Merrill Land Company; Mike Sole, 49, of Tallahassee, vice president of state governmental affairs for Florida Power and Light; Neal Wade, 67, of Panama City, executive director of the Bay Economic Development Alliance.
> To the Apalachee Regional Planning Council, Region Two: Edward E. Brimner, 55, of Crawfordville, a real estate agent with the BlueWater Realty Group; Steven A. Cutshaw, 48, of Bristol, park manager for Torreya State Park; Henry G. Grant, 65, of Quincy, extension director for the University of Florida in Gadsden County; Dawn E. Radford, 65, of Eastpoint, an author and an instructor at Gulf Coast Community College; Donald R. Stephens, 74, of Blountstown, retired president of Lasdomar Inc.