Small Firm, Monster Client
Pensacola architect is grateful for his relationship with the St. Joe Company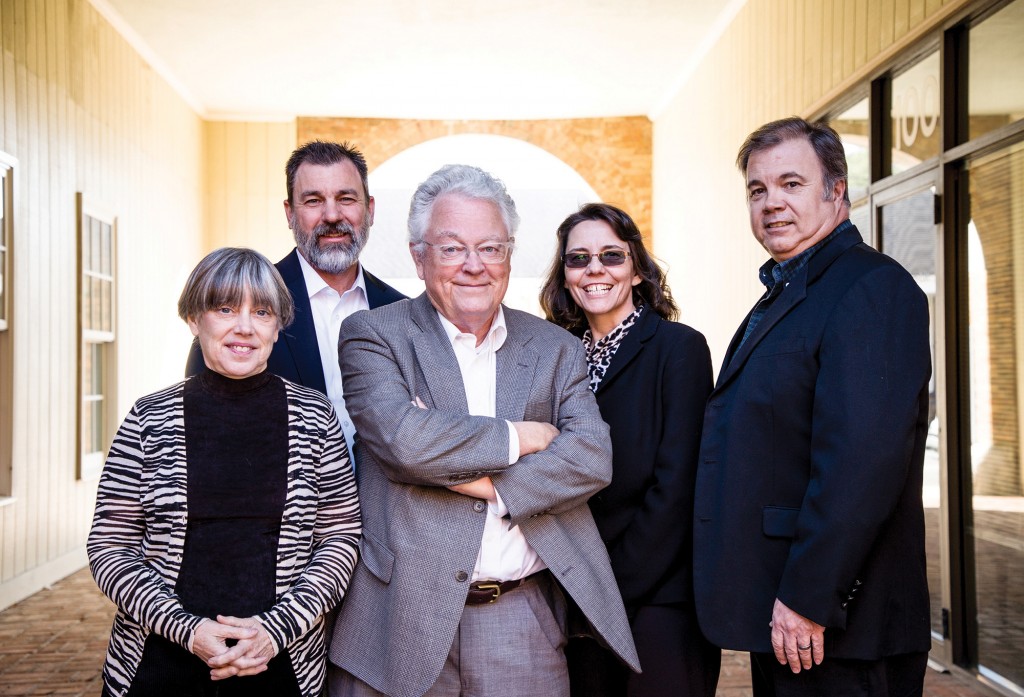 Frank Daughtry has an old college chum to thank for uniting his small Pensacola architectural firm with the colossal place-builder, the St. Joe Company, in projects including a 130,000-square-foot spec building in Bay County.
Daughtry and Kyle Walker have been the best of friends since they attended Auburn University together in the 1970s.
Decades later, Walker was working for White Construction when the St. Joe Company identified the contractor as a candidate to construct what would become the first building in the VentureCrossings commerce park near the Northwest Florida Beaches International Airport.
Walker suggested to his bosses that White team up with Daughtry and collaborate on a design/build proposal. They did, and together the architect and the contractor pitched St. Joe — successfully.
Daughtry, White and St. Joe combined to bring about a 105,000-square-foot facility that was first occupied by Exelis ITT, a defense contractor that produced minesweeping sleds.
Exelis commenced operations at VentureCrossings in 2012 and the triad has been building buildings ever since — notably a spec building at the commerce park and a building in Panama City Beach that will house St. Joe's corporate offices.
St. Joe CEO Jorge Gonzalez maintains a watchful eye over the company's projects, but Daughtry works more closely with Dan Velazquez, the vice president for asset management, and project manager Ben Moorman.
"I cannot say enough good things about St. Joe," Daughtry said.
"You work with developers over the course of your life and you discover that half of these guys will steal from you or lead you along and leave you holding the bag. But St. Joe is a stand-up company. We have had nothing but good experiences with them."
Daughtry grew up outside of Hartford, Alabama, a small farming community located about 20 miles southwest of Dothan.
His father grew peanuts and cotton and bought and sold livestock in a small way. Daughtry drove his cow truck from time to time.
After graduating from Auburn, Daughtry went to work for the Atlanta architectural firm of Toombs, Amisano & Wells before earning a master's degree at the University of Pennsylvania.
Architects weren't hiring when Daughtry exited Penn.
The 1979 oil crisis precipitated by the Iranian Revolution had disrupted economies around the world, and Daughtry caught on instead with an interior design firm in Manhattan.
"I tell people that I have lived in one of the most rural and one of the most urban settings in the world," Daughtry said.
As the '80s started to roar, Daughtry hung out a shingle, establishing Frank Daughtry Architect PL in New York City in 1982.
A claim to fame, he said, was working on five floors in the so-called Lipstick Building, which was designed by Philip Johnson and John Burgee and developed by Gerald Hines, who would become a major client of Daughtry. The building housed the offices of notorious Ponzi schemer Bernie Madoff.
"New York City in the '80s was like the Wild West," Daughtry said. "There were a lot of people personally making more money than some banana republics."
Daughtry exited the fast lane, moving from New York to Pensacola in 1991 and quickly picking up Department of Defense contracts.
Such work has helped sustain his business through economic downturns including the Great Recession of 2008.
Daughtry has designed U.S. Fish and Wildlife Service offices on Big Pine Key and at the Arthur R. Marshall National Wildlife Refuge near Boynton Beach.
At present, he is working on a 252-foot pedestrian bridge that will link a parking garage to a hospital at the James H. Quillen VA Healthcare System in Mountain Home, Tennessee.
Construction of the parking garage was itself a challenge. In pouring foundation pilings for the structure, contractors encountered numerous large voids that had to be filled.
"We were rebuilding the mountain," Daughtry said.
The bridge, he said, is a "tour de force." The project required huge trusses at either end, and a section of the bridge as it approaches the hospital is being cantilevered to avoid the need to tie it into the hospital.
At 66, Daughtry has begun to think about preparing a succession plan for his business. He employs six people, including one other licensed architect.
"I operate like a general contractor," he said. "You have to delegate and rely on other people. My staff is wonderful, and my hat is completely off to them. I am the traffic director herding everyone together."
The herd can include a cast of subcontractor engineers: structural, mechanical, electrical, life safety and civil. Most are from Pensacola.
The Beckrich Office Park on Richard Jackson Boulevard in Panama City Beach includes three office buildings.
The third, under construction at this writing, will be home to St. Joe's corporate offices.
"We took the layout for the previous two buildings and modified it at St. Joe's direction," Daughtry said.
"The exterior looks similar, but once you get inside, everything starts to change."
Finishes are upgraded. Ceilings are recessed and feature indirect lighting.
A glass staircase is "cantilevered out from four massive columns buried in the wall and really appears to float like it is not supported by anything," Daughtry said.
"I hope people won't be afraid to take the stairs."
All of the St. Joe projects that Daughtry has worked on have been built using tilt-up construction.
First, the floor slab is poured and walls are then poured into forms that are placed on the floor.
"They tilt up the walls and, in 48 hours, you'll go from just a slab to a full box," Daughtry said.
"It's not like a concrete block building where each block is individually stacked."
The speed of construction notwithstanding, the St. Joe projects are built to last.
"These are 100-year buildings or better," Daughtry said.
"They aren't going to blow down or wash away. They are substantial, and that's a St. Joe hallmark. They always deliver a quality product, and that's what people come to them for."