Sensatek Heats Up Tallahassee
Born in Tallahassee, sensor producer attracts global clientele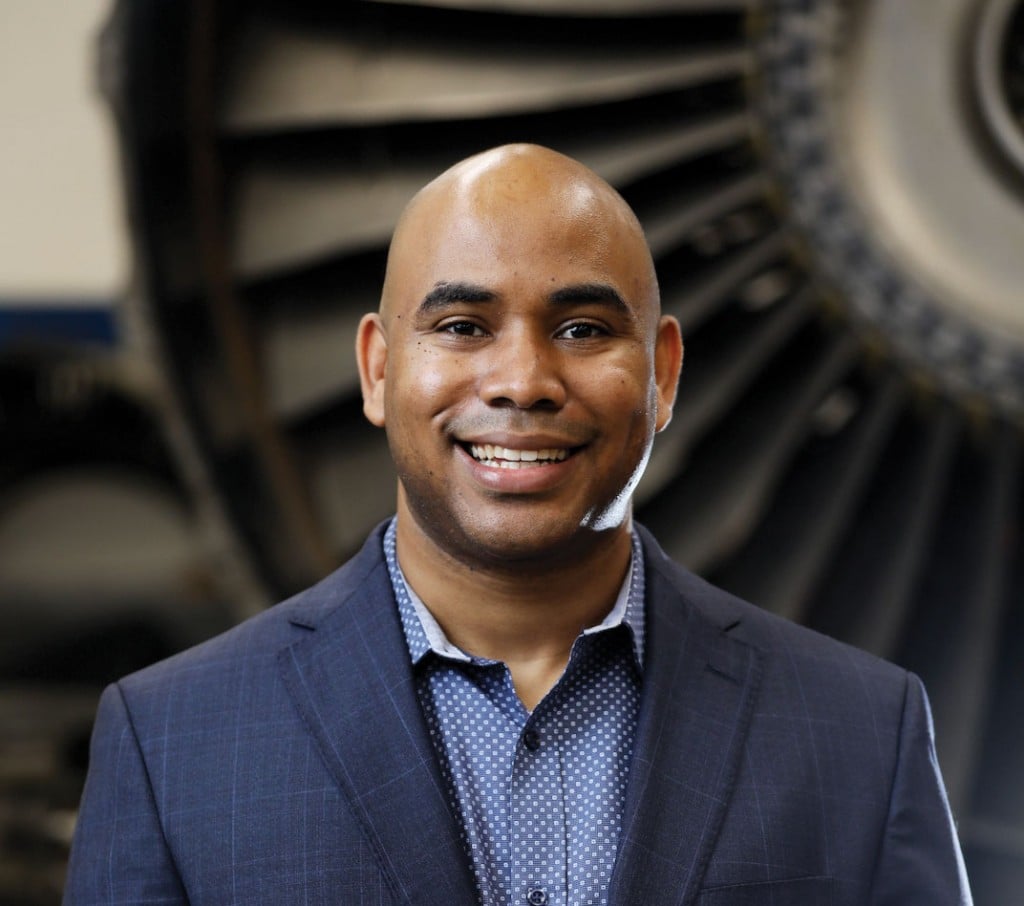 Reamonn Soto is the founder and CEO of Sensatek, a producer of wireless gas turbine sensors, which measure temperatures on stationary and rotating blades. The business today serves clients around the world in scientific fields including energy, aviation and aeronautics, but Soto got his start in Tallahassee.
While pursuing a degree at Florida A&M University, Soto discovered a problem. When engines overheat, they can break down. This becomes a major dilemma in energy and avionics, where system failures can be costly.
Gas-powered turbines account for approximately 38.4 percent of the energy produced in the United States. For example, Shell uses an aircraft engine on liquified natural gas platforms, generating $10 million a day in revenue. Recently, a blade failure led to an engine being offline for more than 30 days, costing Shell more than $300 million.
Soto's technology is designed to prevent these costly failures. And though most of the initial financial support for Sensatek came from outside Tallahassee, he believes the capital city is ripe for aspiring entrepreneurs.
"Tallahassee is a hidden gem for new business," Soto said, noting its various resources for startups.
The Small Business Development Center at FAMU has advisors who help entrepreneurs start a business and who lead workshops that address customer service skills, government contracting and the writing of business plans. Innovation Park and Domi Station provide an affordable work environment with influencers capable of navigating many facets of new business. Soto also found resources at the Leon County Research Development Authority and the Greater Tallahassee Area Chamber of Commerce and received one-on-one advice from leads groups and the Office of Economic Vitality, which does a lot of matchmaking, bringing innovators and investors together.
"Half of gaining knowledge is knowing where to find it, and oftentimes when opportunities come up, these groups can help connect the dots," Soto said.
Tallahassee isn't Silicon Valley, but Soto rates it a "really good place where ideas are incubated. It's a 'small' place but has a lot of giants who live there."
He praised his mentors, including Chris Eldred, founder and CEO of TeligentEMS; Larry Lynch in the Entrepreneurial Excellence Program; Keith Bowers at SBDC; and Ron Miller from the Leon County Research Development Authority.
"Get advice from everywhere," Soto advised. "Go and have coffee with everyone you possibly can."
Asked where to begin after an idea is born, Soto suggested the SBDC because they "are going to help you vet out that idea."
The SBDC is equipped to discuss and facilitate prototyping and the development of business models.
"You are basing your idea on a lot of assumptions," Soto said. "What you have to do, very quickly, is turn those assumptions into facts."
It is important to develop technology with the customer in mind. "I can't really stress that enough," Soto said. He also emphasized the importance of connecting with the right people by focusing tightly on finding investors and customers.
Tallahassee is a fertile center of intellectual confluence, and said Soto, "intellectual capital is its most precious resource."
Sensatek is operating from Daytona Beach, Soto said, "We haven't retreated from Tallahassee, we've just changed positions on the battlefield, momentarily."
Sensatek required lab space and facilities for prototype development and product testing that were not available to him in Tallahassee. Though Tallahassee is becoming increasingly startup-friendly, the city lacks some scientific resources and esoteric facilities found elsewhere.
Via innovation hubs, Soto pitched his product from Los Angeles to Hong Kong, but Embry Riddle Aeronautical University in Daytona Beach committed first, providing Soto with $250,000 and lab space to explore his technology. But the Embry Riddle connection would not have happened without the solid business model that Soto developed with the aid of experienced innovators he met in Tallahassee.
Soto plans to return to Tallahassee when facilities catch up with technology over the next couple of years. Even now, with all his success, he continues to get advice from his mentors in Tallahassee.
"The umbilical cord is still attached," Soto said.
Even through the pandemic, Sensatek has continued to thrive and look to the future. Although working from home and testing products in his garage, Soto has grown his business, which has added employees since COVID-19's arrival.
At this writing, Sensatek is in contract negotiations with the United States Navy.