Emerald Coast Fitness Foundation Raises $84,000
Second annual Sip and Splash: An Aquatic Affair is a big success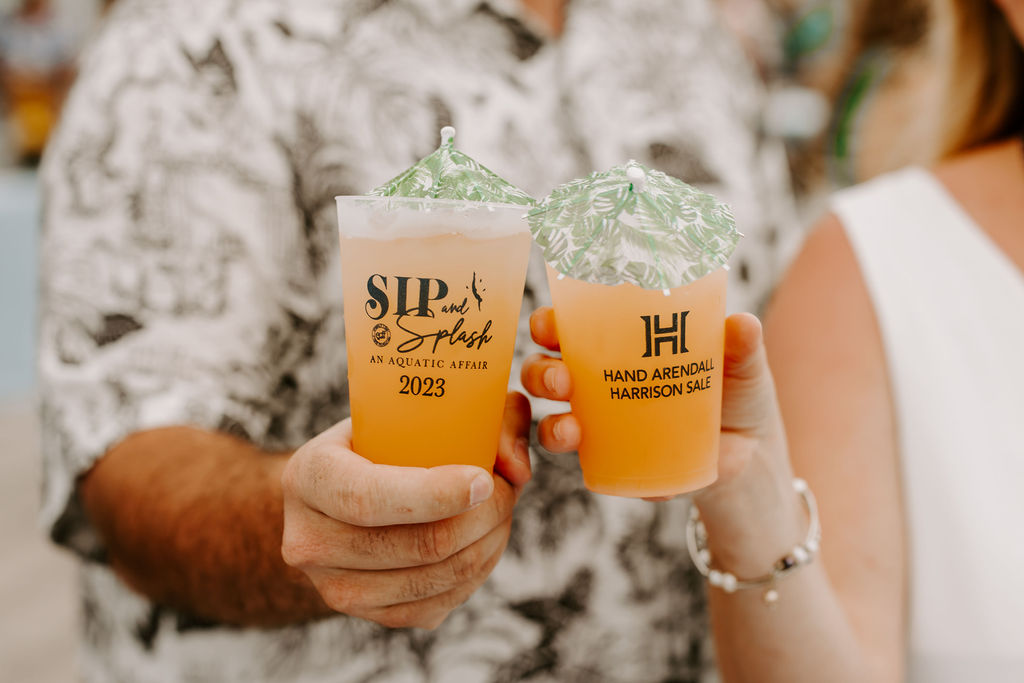 The Emerald Coast Fitness Foundation (ECFF) is pleased to announce their Second Annual Sip and Splash: An Aquatic Affair, presented by Tim Smith Acura, raised $84,000.
The charity event took place on Saturday, May 20 at the Taj Renee Community Aquatic Center, located at 4345 Commons Drive West in Destin, under the stars.
For the second year, the pool facility, which usually hosts swim lessons and swim meets, was transformed into an elegant event space with whimsical balloon décor from Mingle, along with bistro twinkle lights, coastal place settings, and over-the-top florals from Showtime Events and Perfect Day Weddings.
Over 250 guests were greeted upon arrival with complimentary valet, courtesy of 654 Limo, and a glass of prosecco from Gulf Water Wines before entering the event.
The evening kicked off with a cocktail hour featuring hand rolled sushi by Camille's at Crystal Beach's Yoshie Eddings, live music by Al Alvarado, and a live painting by Maxine Orange sponsored by White Wilson Medical Center.
Attendees also had the opportunity to explore the extensive silent auction and make their bids on a plethora of items including vacations in Colorado, Idaho, Alabama, and Okaloosa Island, along with jewelry, gift cards, gift baskets, artwork and much more.
All funds raised through ticket sales, sponsorship, and the silent auction go directly back to the foundation to help fund the operation costs, upgrade equipment, and provide resources for the numerous aquatic programs at the three community pools they manage, including the Taj Renee Community Aquatic Center in Destin, the Bernie R. Lefebvre Aquatic Center in Fort Walton Beach, and the ROC Pool in Crestview.
Following cocktail hour, patrons delighted in an intimate five-course dinner prepared and served by local chefs and restaurants. The lineup of culinary talent this year included:
» Chef Christopher Holbrook of Signature Catering of 30A
» Chef William Sutterfield of Austons on 98
» Chef Mikey Smart of Cabana Café
» Chef Jim Shirah of Dewey Destin's Harborside
» Chef Richard McCord of Marrow Private Chefs
Pazzo Italiano and Chef Alfonso Dibonito were also on site with their mobile pizza oven firing fresh, personal pizzas and serving them to each table throughout the evening.
Each of the chef's unique courses was perfectly paired with craft cocktails served by Better Together Beverage including spirits from Distillery 98, Campesino Rum, Good Clean Wine, Odd Pelican Brewing Company, and Palm Folly.
In between courses, the Emerald Coast Fitness Foundation honored some of their own members by inducting them into the Okaloosa County Swim and Dive Hall of Fame, an organization formed to recognize excellence by local coaches, athletes, and volunteers.
The 2023 inductees included Pam Braseth, Jack and Blondie Lippert, Tonya Rasor Nacimento, Ross Spock, and Len Strom.
"We are thrilled that our second annual event received the same support as the first one. We are looking forward to planning for next year and making it grow even more," said Kathi Heapy, co-founder of ECFF. "It is wonderful that the aquatics community is gaining connections to our overall communities. The future is bright and opportunities for growth and improvement are increasing as leaders see the value of aquatics to our community."
ECFF would also like to thank the additional local community businesses who sponsored the inaugural event, including Title Wave Sponsors: Bitterroot, Boshamps Seafood and Oyster House, Emerald Coast Magazine, Ohana Heating and Air, Splash RV Resort and Waterpark, as well as All Sports Association, Alpha Lit Emerald Coast, Berkshire Hathaway HomeServices PenFed Realty, Cardinal Financial, Coast Aquatics, Costa Enterprises McDonald's, Destin Life, Dr. Bawa & Associates, Eglin Federal Credit Union, First Choice Appraisals, The Flooring Authority, Gulf Coast Restaurants, Hand Arendall Harrison Sale, HomeFi Digital Mortgage, James Ward, Mattie Kelly Arts Foundation, MidSouth Bank, Sea Dragon Swim Shop, The Ships Chandler, Showtime Events, Simple HR, United Fidelity Bank, UPS Store, Valparaiso Coca-Cola Bottling Co., VIP Destin Magazine, and Warren Averett Accounting.
---
The Emerald Coast Fitness Foundation
The Emerald Coast Fitness Foundation (ECFF) is a public charity formed to develop physical fitness and water safety among the youth and adults of Okaloosa County.
ECFF provides facilities and programs to Destin, Crestview, and Fort Walton Beach communities that deliver opportunities for instruction, training, and competitive excellence, primarily fitness in aquatic sports. E
CFF manages the Taj Renee Community Aquatic Center, the Bernie R. Lefebvre Aquatic Center in Fort Walton Beach, and the ROC Pool in Crestview.
---