Safe Water for Walton Turns 2
Nonprofit premieres Hurricane Michael video; celebrates members, partners and grant funders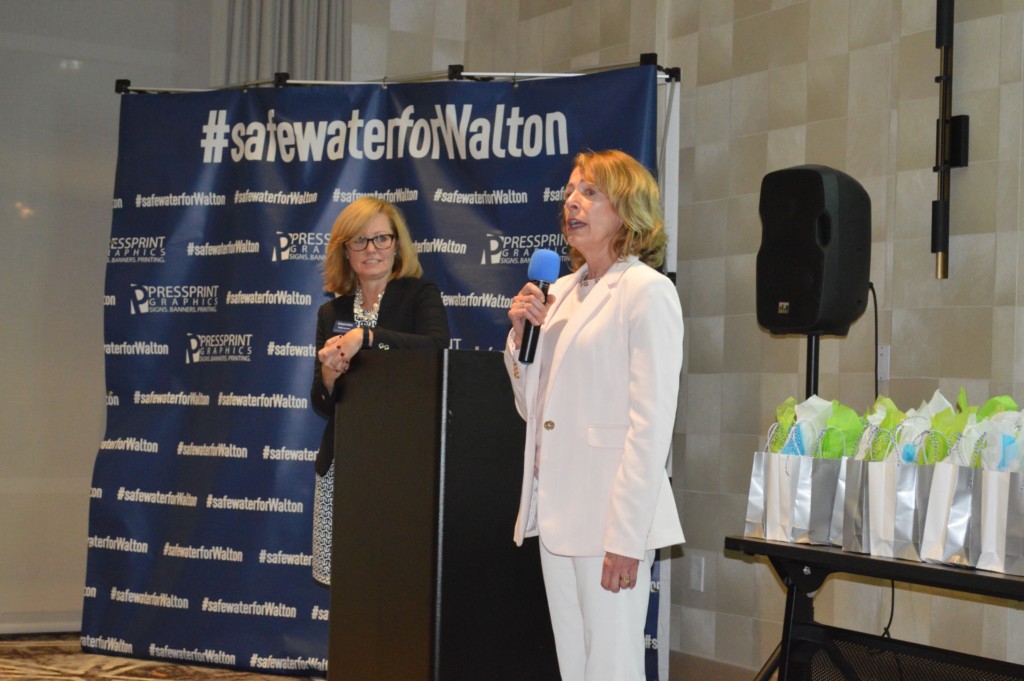 Members, friends and supporters of Safe Water for Walton gathered last week to celebrate successes, good works and the nonprofit organization's second birthday.
Founding board member Kelly Layman emphasized that the occasion was one for focusing on the organic relief and recovery effort that developed overnight in support of "our neighbors in the watershed," who were hurting after Hurricane Michael.
"We postponed our first party last year because it was more important to serve than to celebrate, so we have a lot more thanking to do tonight," she said.
Safe Water for Walton is remarkable in that members only join once, there's no staff, and it includes influential community and business leaders, pulled together in a very short time period.
The group is focused on the availability and safety of the public water supply across the six-county Choctawhatchee River and Bay Watershed.
Myra Williams, at right in photo with Layman, represented The Howard Group, owners of the Hyatt Place at Grand Boulevard/Sandestin, which hosted the event.
"Water is an asset we always have to be mindful of — it's just like the air that we breathe," Williams said. "It's one of the resources we don't think about often enough, and one that can actually make our area stronger."
Layman and fellow board members Steve Hall, Beth Jackson, and Lee Perry thanked advisory council members and read a lengthy roster of businesses and groups that have supported the organization. Capt. Hunter Ray, a fishing guide, is also on the board.
Jeff and Mitzi Archer with YOLO Board were honored along with Gulf Power Co., the Walton County School District and others, for hurricane relief efforts and other initiatives. Cabana by The Seaside Style was recognized for sponsoring the official membership launch party in 2018.
The night featured the unveiling of a video, "Neighbors in the Watershed," a mini-documentary about people selflessly helping people after Hurricane Michael.
The group is still assisting with requests for help (see www.safewaterforwalton.org/hurricane-relief)
"Your organization was the only one other than first responders who helped us," said Adrienne Owen, who was the interim director of Holmes County's Emergency Operations Center when Michael hit. She attended the night as a VIP guest of honor. "Our road crew was working day and night, and they're big ol' country boys, so when Safe Water for Walton delivered those hot fried catfish meals to them, they talked about that for days."
Archer is still involved in multiple hurricane relief efforts, and was pleased that the first month of relief deployed by Safe Water for Walton provided tactical, immediate relief.
"At one point, there was a need just for $10 insurance co-pays to be covered at the Wal-Mart mobile pharmacy truck in Marianna, so we responded the same day with $500 worth of gift cards while the power was still out," Archer said. "People could not get money out of an ATM anywhere, and they had to feed their family or buy a tarp, so that was part of filling a specific need and deploying donations as fast as they came in."
Layman also mentioned tarps and portable "solar water showers" delivered to Tyndall Air Force Base soldiers, through a partnership with the EOD Warrior Foundation.
"Remember," she said, "there are service members who need to report for duty or deploy somewhere else, even when their own home is in shambles."
Other partnering charities included in the tribute video are the Gulf Coast Children's Advocacy Center and the United Cajun Navy.
Meanwhile, for more than a year, members of the nonprofit organization have taken on community events that safeguard the health of the six-county watershed that encompasses a major cluster of underground freshwater natural springs; the Choctawhatchee River and Bay; and a maze of creeks, bayous and wetlands.
That network supplies water for diverse recreational uses, public water utilities, and private water wells at thousands of farms, businesses, and homes.
Guests also heard about the non-profit's work in Tallahassee, especially on the so-called "toilet-to-tap" bill. Safe Water for Walton helped convince then-Gov. Rick Scott to veto legislation that would have allowed treated effluent to be "recycled" into homes and businesses. It was the only substantive policy bill from the 2018 legislative session that Scott vetoed, Layman said.
The "galvanizing issue" that helped established Safe Water for Walton in 2017 is still pending today: a permit application from Waste Management, Inc., to establish an uncapped deep injection well in Jackson County for the disposal of treated leachate, which is the hazardous liquid that collects in the lined bottoms of landfills.
The watershed extends from southern Alabama through Holmes, Jackson, Washington, Okaloosa, Bay and particularly Walton County, where the Choctawhatchee River's terminus is the Choctawhatchee Bay.
"We're at the bottom of that funnel (in Walton)," Layman said.
Individual members in attendance included Point Washington resident Frank Day, a Vietnam War veteran who grew up on a family farm in the southeast Alabama community of Liberty Hill, near Florala. He was a county commissioner once and said he was a volunteer collector of water samples.
"Safe Water for Walton was easy for me to hitch my wagon to," Day said.
"Our members across multiple counties don't want to read locally about the same influx of water problems other areas of Florida are having on a daily basis," Layman said. "We have some time, but only if we have thousands of members to help us get ready."
For more, see www.safewaterforwalton.org