Room at the Inn
Investors identify Tallahassee as a hotel boomtown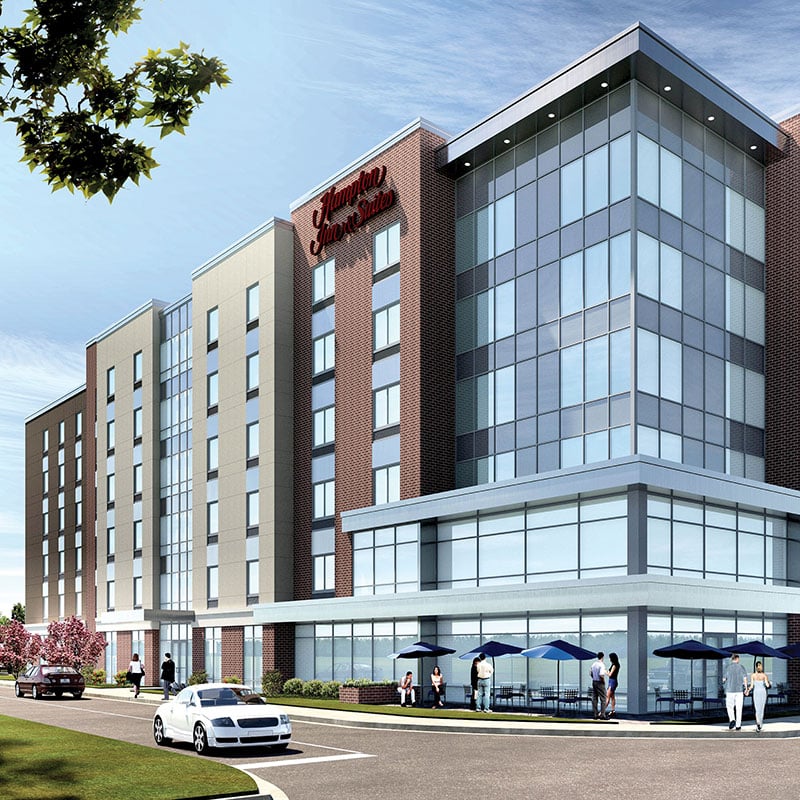 When Bo Schmitz moved from Michigan to manage the Four Points by Sheraton, the cylindrical Tallahassee landmark on Tennessee Street, he was told by locals that in summertime, they "rolled up the sidewalks in Tallahassee." A hotel couldn't expect to do much business outside the legislative session and with universities on summer break.
That's no longer true, Schmitz said, crediting the growth of university enrollment, which brings prospective students to visit FSU and FAMU and new students to attend school orientations. "It used to be that visiting the Capitol, or lobbying, or coming to college were the primary things that brought people to Tallahassee," he said. "Those reasons still exist, but there are many other opportunities to come to Tallahassee from a natural business perspective. Companies want to form their headquarters here, incubators are creating new companies — there's a lot of optimism for business."
Visitors to Tallahassee will soon have more options to rest for the night, or longer. The Office of Economic Vitality has reported that seven new hotel projects are either under construction or proposed for Tallahassee, prospectively adding nearly 1,000 new rooms within city limits.
Schmitz is now preparing to take the helm of one of them: a new hotel on Railroad Avenue, Hampton Inn & Suites. The Hampton Inn & Suites is the farthest along of the new projects, with an anticipated opening of January 2018. Two other projects on Apalachee Parkway are under construction, include a new Hilton flag, Tru, and a Holiday Inn.
The largest proposed project, Washington Square, will embed a 16-story conference hotel, three restaurants, condos and an underground parking area downtown, with a price tag of $90 million. The project's ambitious site plan was approved in July 2016.
"Right now demand for rooms exceeds supply," said Kerri Post, director of Leon County's Division of Tourism Development, also known as Visit Tallahassee. "That's why we're seeing development." Research firms analyzing demand in Leon County have shown year-over-year increases in the number of people booking rooms and in room cost, resulting in higher revenue for hotels.
Last fall the Leon County tax collector reported a 10.4% increase in revenues from the Tourist Development Tax over the previous fiscal year, at nearly $5.8 million total. In fact, last fiscal (2017) year's data caps an unprecedented eight-year run for Leon County in year over year increases in income from the Tourist Development Tax, which has held steady at 5 cents on the dollar since 2009.
A largely rebounded economy has meant that occupancy levels have hit record highs across the country. In Tallahassee and Leon County, the most recent data has shown hotel occupancy up 8.7% year over year.
Visit Tallahassee has estimated 2.4 million visitors and $901 million in economic impact to the county from tourism last year. That's bound to be attractive to investors, Post reasoned, explaining that rather than recruiting hotels to invest here, hotels responded to performance in the market showing that investment here would pay off.
She also affirmed Schmitz's experience at the Sheraton that Tallahassee is a year-round destination. Looking at quarterly data, Post explained that visitation levels are fairly even, rather than seasonal, although there are peak periods, such as football game weekends and graduations — times when bookings are at or over capacity. However, it's the demand and annual occupancy that potential investors evaluate when determining where to build.
"When you look at Cascades Park, South Monroe (SoMo) and Collegetown, developers are very interested to see that kind of energy and growth. As companies look to develop or expand, to build hotels, to open restaurants, they are looking for a healthy, thriving economy. The whole ecosystem is interconnected," Post said.
Developers typically meet with the Office of Economic Vitality and often with the Chamber of Commerce to get a better understanding of an area marketplace, Post said. Then they work on permitting and focus on building the physical property.
"Once they know the project is feasible, and they're ready to be part of the community, then they meet with us. How can our Meetings and Conventions Director help book their meeting space, for instance?" she continued.
Unique locations and hotel brands serve different types of travelers. A boutique hotel near Cascades Park will attract a different kind of customer than the Drury Inn & Suites near I-10. The Hampton Inn & Suites, whose Gaines Street District location is convenient to downtown and the universities, is designed for the business traveler seeking clean and comfortable rooms with a strong loyalty program, Schmitz said.
The Hampton Inn & Suites will begin booking December 1 in preparation for its January 15 opening. As Schmitz has prepared to open the property, he began by hiring a salesperson and creating rate strategies, a reservation system, and opening all booking channels, including online booking sites such as Expedia. In addition to hiring staff, he concentrated on networking in the community to make everyone aware of the new Hampton Inn & Suites location. "That's huge in this town — Tallahassee is definitely a small town with strong relationships. That's where you can really win, " Schmitz said.
"Hotels are a subset of the many development projects going on in Leon County," Post said. "We all want to stimulate and secure more investment in our community, but the fact of the matter is that these hotels wouldn't choose to locate here if the tourism economy wasn't healthy."
Whether the bellhop has already been hired to take the business traveler's bag or the construction company is preparing to break ground, for now, the biggest names in the hotel business are here to stay.
IN THE WORKS
A list of projects, from"nearly completed" to "in the pipeline"
Hampton Inn & Suites,
824 Railroad Ave.
124 rooms
Holiday Inn Apalachee Parkway,
2003 Apalachee Parkway
103 rooms
Tru by Hilton,
2814 Apalachee Parkway
90 rooms
Drury Inn & Suites,
1680 Raymond Diehl Road
180 rooms
Washington Square,
219 S. Calhoun St.
260 rooms
Cascades Mixed-Use Development (includes a boutique hotel),
west of Cascades Park
128 rooms
West Brevard St.,
W. Brevard St. & Richmond St.
70 rooms