Renting the Coast
With few big hotels here, most visitors stay in privately owned houses and condos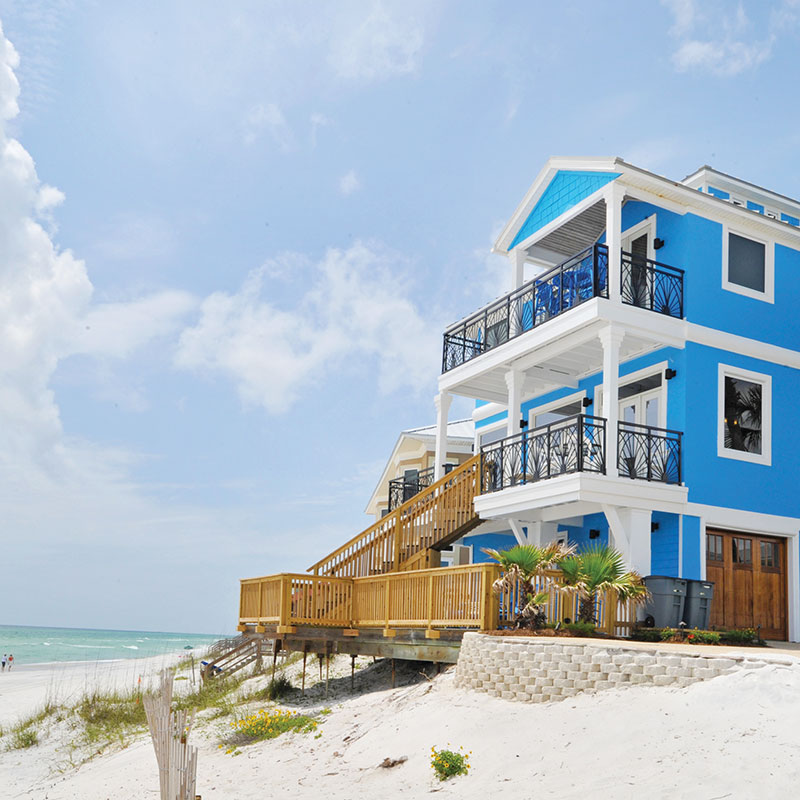 Unlike resort areas in other parts of the United States, there are few large hotels in Walton and Okaloosa counties. The
4.5 million visitors who travel to the Emerald Coast each year tend to stay in houses and condominiums owned by private individuals and typically managed by local firms. These vacation rentals run the gamut from being just a place to stay to providing a nearly all-inclusive resort experience.
"Our story has really resonated with consumers," said Scott Russell, a partner in Russell Vacation Rentals, which specializes in vacation condos and homes near Destin and South Walton. "Being in a vacation rental allows you to fully immerse yourself in the destination. You can unwind, relax and explore the community. When people leave here and go back to their homes, they truly feel like they've been on a vacation."
Selling the Coast
"Right now the demand is high and supply is low," said Dana Fairchild, a Realtor with Beach Properties of Florida. "Gulf-front property is selling really fast. We're on track to do better this year than we did in 2013 and 2014."
Most Emerald Coast vacation-home owners buy here because they want to use the property themselves at least some of the time. Many choose to rent their property out to guests when they aren't using it themselves to help their budgets, which is exactly what Emerald Coast vacation rental pioneer Jeanne Dailey, the founder and CEO of Miramar Beach-based Newman-Dailey Resort Properties, recommends. She's been managing properties in the area since 1983.
"Find a location that you love and would want to stay in as a vacationing guest," Dailey said. "People buy homes in this area because they want the American Dream, they want to own a second home. Being on a rental program gives them a way to generate the income to afford that dream."
With 100 miles of beautiful beaches to choose from, where should someone who wants a vacation home start looking? It all depends on one's budget and interests, Fairchild said. Prices range from about $400,000 to nearly $12 million for a Gulf-front location. But a place that isn't on the water can be found in the $200,000 range.
Many owners have found that owning beach property here almost, if not completely, pays for itself when the owner commits to sharing his or her home with paying guests. The process is fairly simple: A prospective owner, working with a Realtor, finds a property he or she is interested in purchasing and, as often as not, the Realtor recommends a management company. The management company submits a projection of the rental income the potential owner can expect, allowing the buyer to decide if the home is affordable.
Amanda Ferguson, director of the rental management program for Sandestin Golf and Beach Resort, said her team talks at length with potential buyers to find out what they want from their property. Their goals will determine which properties they're shown.
"If someone just wants an investment, we steer them to areas with amenities and conference potential," Ferguson said. "Those generate more year-round business."
Other owners, she said, might plan to spend the entire winter in their unit and then rent it out during the summer, in which case there are other properties they're more likely to find appealing. Ferguson said that she's able to provide owners with a detailed analysis of how much similar properties are earning.
It's important for prospective vacation-home owners to know what they're getting before making such a large investment, said Ashley Hamm, the CEO of 360 Blue, a management company that works primarily with properties along the Scenic Highway 30A corridor.
"A homeowner should look for a 7 to 10 percent gross rental income based on the purchase price, before commission or maintenance," Hamm said. "Higher than 7 to 10 percent is incredible; lower than that and it should be a property that the owner plans to primarily use for themselves."
Hamm said that 360 Blue charges owners 20 percent of the rental price as a commission. She explained that some companies might charge a bit less and some might charge more, depending on the amenities that are included. The amenities, particularly in homes along 30A, can be impressive. In some areas, guests and owners have access to golf, tennis, boating, beach clubs, child care, preferred beach parking and special discounts in stores and restaurants.
"Some places, you book a home, and a home is all you get," said Dru Zeiset, the general manager of vacation rentals for the St. Joe Club & Resorts. "We're trying to create more of a resort experience."
Making the Leap
Once owners have found their vacation home, they have to decide whether to sign with a management company or to manage it themselves. Websites such as VRBO, Homeaway and Airbnb make it easy for owners to advertise, find renters and book their properties.
"A lot of people, when they look at a vacation home, they toss around the idea of managing it themselves," Hamm said. "People don't want to lose access to their home, and they're skeptical of the wear and tear. We can't promise or guarantee anything, but that's why you have a professional management company."
Screening is a major service that management companies offer to owners. Lino Maldonado, vice president of operations for Wyndham Vacation Rentals and ResortQuest, said that his company's call center staff is trained to note details about people who call to make a reservation.
Emerald Coast management companies all say that they screen guests a second time when the guests check in, which can take place either at the management company's office or at the vacation home. However, properties along 30A and Destin aren't as likely to attract the spring break crowd in the first place.
"We're working with very nice properties, so the price point alone helps us keep out the party crowd," Zeiset said.
Two years ago, some Seaside homeowners decided to create a third option: a hybrid of the self-managed and professionally managed models called Homeowners Collection. The nearly 50 owners who have joined to date paid $5,000 upfront, said Amy Wise-Coble, the general manager of Homeowners Collection. The company also charges a 20 percent management fee. Those fees allow the owners to both maintain control of their own home and have the convenience of a professional management company. For guests, Homeowners Collection handles the reservation process, provides concierge services and assigns a cottage host to help guests with any other needs.
"If the company makes a profit over the operating expenses, it will go back to the homeowners," Wise-Coble said. "It's a groundbreaking concept that could be duplicated in other communities. I think we'll see more like this in the future."
Emerald Coast property managers contacted for this story all said they advertise their homes in the markets where most of their guests come from — which are the same markets where most of their owners live: Atlanta, Nashville, Birmingham and Dallas. However, they all also said that most of their renters are repeat guests.
"Because we don't have high-rise hotels here and we do have so many vacation rentals, we've been able to really promote this area as being great for families," Dailey said. "It's a tradition for many families throughout the Southeast to come here year after year."
Maldonado said that ResortQuest, which manages more than 1,500 properties in the area, doesn't use third-party websites to find bookings. However, other management companies say listing on third-party sites is essential for finding guests.
"Guests may not even realize that they're booking with us," Hamm said. "They're looking on VRBO or Homeaway and get directed to one of our properties."
Sealing the Deal
Once the decision to purchase a property has been made and a management plan is established, the process is fairly simple. An owner who plans to self-manage will need to get high-quality photographs of the interior and exterior, list the property on a website such as VRBO or Homeaway, and find housekeepers and possibly a handyman in the area. Gleaves said an owner who manages his or her own rental should expect to spend several hours each week updating the listing with rate information, responding to rental requests, confirming guests, collecting payments and managing housekeepers. An owner who lists with a management company won't have to do any of these things — all of these tasks will be handled by the property manager.
Whether you self-manage or list with a property manager, the experts all say the home should be well decorated and updated.
"Think of the kind of place you'd want to stay in as a vacationing guest and furnish your place accordingly," Dailey said. "Guests tend to take better care of places that are furnished nicer."