Reflecting on EntreCon® 2020 and the Year of Digital Events
Studer Community Institute has served as one of the leaders in change management, and EntreCon® was one example of reacting to change beyond control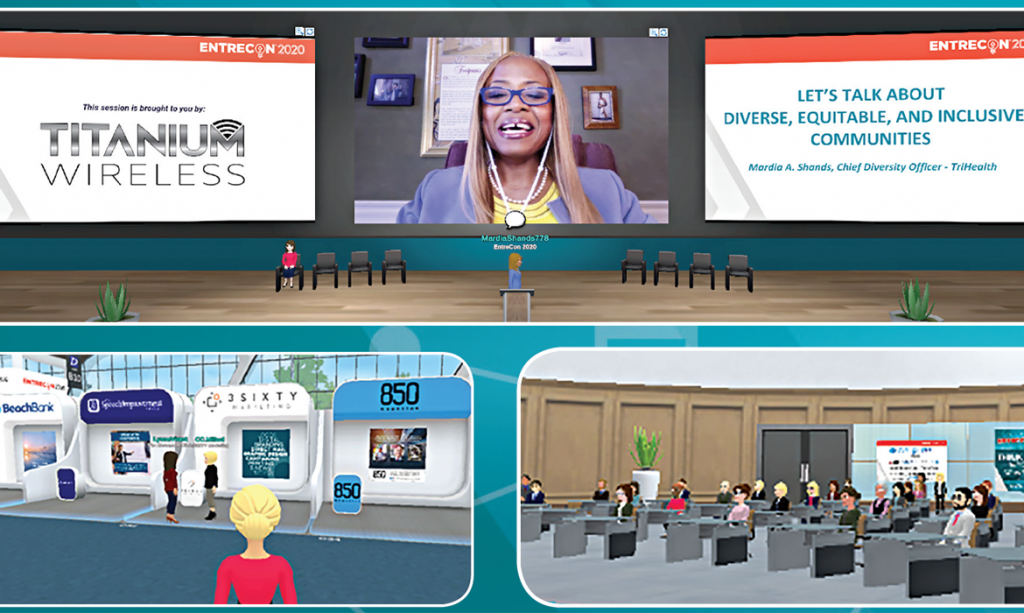 Whew. What a year it's been — especially if you're in the world of live events.
No more shaking hands, no more smiling from the stage and certainly no more packing a house full of people to learn and grow together. This year, it looked a little bit more like business on top/pajamas on the bottom, feverishly learning how to master different online platforms and constantly hearing, "You're on mute!"
And while the year looked different, what we've learned is that different isn't "bad" and different doesn't "suck" — it's just, well, different. Change is inevitable. What matters most is how you react to it.
Studer Community Institute has served as one of the leaders in change management, and EntreCon® was one example of reacting to change beyond control. With all that was weighing on the hearts and minds of leaders across the country, canceling wasn't an option.
Over the years, the community has transformed EntreCon® into a conference not just for entrepreneurs, but also for business owners, leaders and employees alike.
While the conference normally brings together 500-plus attendees to downtown Pensacola, due to the 2020 COVID-19 pandemic, the sixth annual EntreCon® had to pivot and take the experience digital. After a ton of research and multiple platform trials (and errors!), Degy World was selected to host 2020's business and leadership conference. Degy World is a highly interactive digital event space that allows attendees from all across the United States to walk, talk and network in a real-life setting using an avatar in a virtual world.
Just like the in-person EntreCon® experience, the virtual conference provided attendees a front-row seat to both local and national speakers, practical knowledge and tools, and first-class networking opportunities.
This year's conference was a weeklong event, starting with the EntreCon® 2020 Award Ceremony sponsored by Cox Business on Monday, Nov. 16, a kick-off networking event by Clark Partington on Tuesday, Nov. 17, followed by the conference on Nov. 18–19, complete with six keynote sessions and 20 breakout sessions. Finally, three simultaneous "Lunch and Learn" sessions and free professional headshots were offered on Friday, Nov. 19 to round out the week.
"I applaud Studer Community Institute for the bold steps taken to ensure an exceptional virtual learning experience for EntreCon® registrants this year. Yes, some technical glitches — always to be expected, particularly with a novel solution such as Degy World — but you did it. Overall, it was outstanding!" shared attendee Christy Emmanuel, editor for Working a Better Way.
Studer Community Institute's mission is to improve the quality of life in our community. By helping organizations improve the skillsets of their workforce, we are also helping grow jobs and retain top talent.
But none of this would be possible without the support from our sponsors and the heavy lifting from our speakers. EntreCon® is presented by the Pensacola International Airport, and is brought to you thanks to the support of Cox Business, Titanium Wireless, Complete DKI, UWF Center for Entrepreneurship, Co:Lab, and Catalyst HRE among many other gracious sponsors.
The EntreCon® team is excited for what 2021 has in store and is already busy planning for the incredible lineup to come. The Pensacola International Airport was excited to announce they are committed to sponsoring again next year, and super early bird tickets for the event are already on sale now through March 31, 2021. Ticket prices will increase April 1.
"While the year has been an interesting one, we're grateful for the support we've received and for people believing that we could do an online event such as this. Next year, we look forward to hosting a hybrid conference, allowing folks to attend in-person as well as online. We hope the state of the world will be different and allow for real hugs again," said Rachael Gillette, Chief Leadership Development Officer for the Institute.
We can all agree that this year feels like it's been one crisis after another and that we're all mentally, physically and emotionally tired. But despite all of the stir, the year settles with a silver lining: Mindfulness, gratefulness and a newfound appreciation for human connections — whether in person or online.
Thank you to those who believed in us and supported us and our community this year! We wish you a warm and joyous holiday season!