Marina Ownership Stirs Development Talk in Panama City
A Hurdle Cleared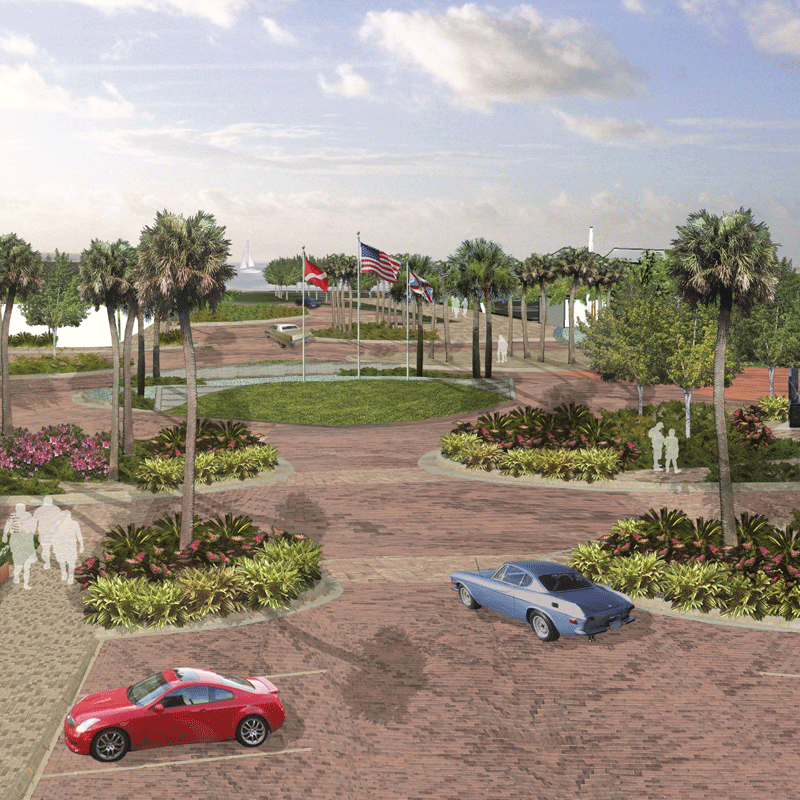 courtesy City of Panama City, Downtown Marina and CRA CRA Downtown District
An artist's rendering of what a revamped Civic Park Plaza could look like — a step in rejuvenating the marina area.
Jason Oakes is a Realtor, a developer and a sometimes agitator. Summed up, he's a dealmaker. Putting people, property and packages together — that's what makes his blood course more quickly.
In all of that, he doesn't often consider government to be his friend. On balance, he finds it to be a retardant, not a facilitator.
"Government doesn't fix anything," he said recently.
But Oakes is high on the City of Panama City right now, owing to two developments he considers to be highly significant and helpful.
First, after paying submerged land lease fees to the state for more than 50 years, the city has acquired ownership of the Panama City Marina and the St. Andrews Marina. Secondly, the city in March pledged to leave unchanged for at least 10 years the development parameters that govern the Buccaneer Beach Motel property owned in part by Oakes.
The Buccaneer is a modest, tiring motel situated along 800-plus feet of bay-front property. The motel lounge features the prow of a ship complete with a figurehead so aged that one might believe it was harvested from an actual pirate vessel.
For now, the Buccaneer, as a function of its quaintness, location and affordability, performs well. But Oakes envisions that the property will be redeveloped soon as a condominium, a condotel, maybe a new motel.
"The city, by authorizing the development agreement, gave anyone who acquires the property certainty about height, density and setback requirements," Oakes enthused. "That's a big deal. It makes the property more saleable and more valuable. By stepping up that way, the city commission advertised that, hey, we are open for business."
The development agreement, for Oakes, brings to mind an ordinance — Number 713 — which stabilized development parameters throughout the City of Panama City Beach. That ordinance, he said, "had more to do with stimulating the development we saw on the beach in the early 2000s than anything else."
Even as relaxed regulation is stimulating renewed private-sector consideration of possibilities, marina ownership has afforded city officials a chance to re-approach Panama City Marina redevelopment.
"We pretty much had a plan mapped out for the first phase of the downtown marina project," said Panama City Mayor Greg Brudnicki. "But that plan assumed continued ownership by the state of our marinas. Now, we need to ask ourselves as city officials if we would have arrived at the same plan if we had known ownership was about to change."
The city had been paying the state $90,000 a year to lease 26 acres of submerged lands. And, because the marinas were owned by the state, related development had to conform to public purpose doctrine. A ship's store, for example, was permitted at the Panama City Marina, but only to the extent that it served the existing public facility. (It couldn't offer shoe shines or yoga classes.)
When the city concluded that bulkhead replacement at the marinas could no longer be postponed, it turned to the landlord to ask, "As the owner of the marina property, what are you willing to contribute to the project?"
The state agreed in response to waive lease fees for 25 years so that city could devote the savings to the project. At that, the city was encouraged. Things were wiggling a little bit.
So, officials researched archives and discovered to their satisfaction that the city was to have been the owners of the marinas all along. They proceeded to build a case for presentation to the governor and Cabinet.
"We found ourselves in front of the right audience with the right argument," Brudnicki said. "And we presented it correctly. The state — and I don't say this just because we got what we wanted — was great to work with. The State Lands people and the Department of Environmental Protection and the governor and the Cabinet officials — everybody involved was professional and they listened and they got what we were saying."
The city received deeds to the marinas in exchange for $18,000 and change, which was determined to have been the value of the 26 acres in 1957 when the marina was first built. It stopped short of pressing for reimbursement for fees paid.
"We didn't want to be greedy," Brudnicki said.
Now, the city has prepared a request for development proposals (RFP). Respondents are called upon to:
Furnish proposals that would bring "substantial economic benefit" to downtown Panama City.

Provide for a balance between public access to water resources and private sector interests.

Demonstrate how a project would provide for complimentary architecture and a "dynamic destination for citizens and tourists."

Ensure that the project would preserve or provide open vistas for marina waters.
The RFP states that a developer will be selected on the basis of qualifications and experience; financial capacity; project feasibility; development concepts; management team; and creativity. Work on the winner's vision is likely to begin this year and to continue over a period of several years.
"It is sure to be carried out in phases," Brudnicki said. "At this point, we don't have a timeline."
Brudnicki, peering out from the waterfront mayor's office at Panama City Hall, freely admits that he enjoys the view of the bay, "but the place where you go to pay your water bill doesn't have to be on the water and the city doesn't need to be in the business of running marinas. What we need is a public-private partnership and marina ownership gives us an opportunity to do that.
"It may be that in terms of facilities a developer will come in and tell me that what we have is about as good as it's gonna get. But I don't anticipate that. I want to look at our waterfront property as an income-producing asset and create as many revenue streams as possible."
The city has needs. Water lines need to be replaced. ("God knows how old they are," Brudnicki said.) Roads need to be fixed. Parks need to be spruced up. But it's hard, the mayor said, to call upon someone to pony up if he's living in a home so humble that it isn't on the tax rolls.
Courtesy City of Panama City, Downtown Marina
With the city gaining ownership of the marina, planners hope to create a live, work, play environment.
"We live in a tourist area, and we can make ourselves more attractive to visitors so that we benefit by more tourist dollars," Brudnicki said. "We should have consumption taxes in place so that the lifelong residents of low-income neighborhoods like Millville or Glenwood finally benefit from living near the water."
Panama City is in the process of adopting a bed tax, something it should have done decades ago in the mayor's view. He points out that even tiny Mexico Beach has one.
Oakes is convinced that private-sector progress will mirror municipal progress. The city missed out, he notes, when BP was handing out millions to Gulf-front communities with tourist development councils and bed taxes.
"We've got developers who have been inactive for years who are ready to do stuff," Oakes said. "We've got businesses that are ready to come off 23rd Street and recommit to downtown. We've got a mayor and commission who are pro-business, the city has money and its community redevelopment districts have money. All the ingredients are in place.
"City development and private development will go forward hand in hand."
Dutch Sanger, executive director of Panama City's Downtown Improvement Board, shares Oakes's enthusiasm.
"A public-private partnership at the marinas will be a huge catalyst for the redevelopment of downtown," Sanger said. "I see retail developments on the ground floors of downtown buildings and residences on upper floors. We want to create a live/work/play environment. Walk to the grocery store. Bicycle to work. We're going to see more transient slips at the marinas, more activity, and everyone will benefit."
The marina hurdle cleared, everything is on the table. Well, almost everything.
Brudnicki loves fish and fishing. Peacock bass in Costa Rica. Halibut the size of the hoods of cars in Alaska. Speckled trout in St. Andrews Bay. He dreamed once that Panama City might become home to a magnificent aquarium. But, he concedes after speaking with officials in five cities with aquarium attractions that it isn't going to happen.
"Thirty or 40 million bucks to build an aquarium worth having," Brudnicki said, shaking his head. "No way. Besides, we've got an aquarium right out there. We'll put some fish-attracting structures in the water or maybe we'll hem up some fish and people can dive in and see them. We gotta be smart about this stuff. We've only got one chance to do it right."