Raise High the Roof Beam
Celebration highlights St. Joe Company's future home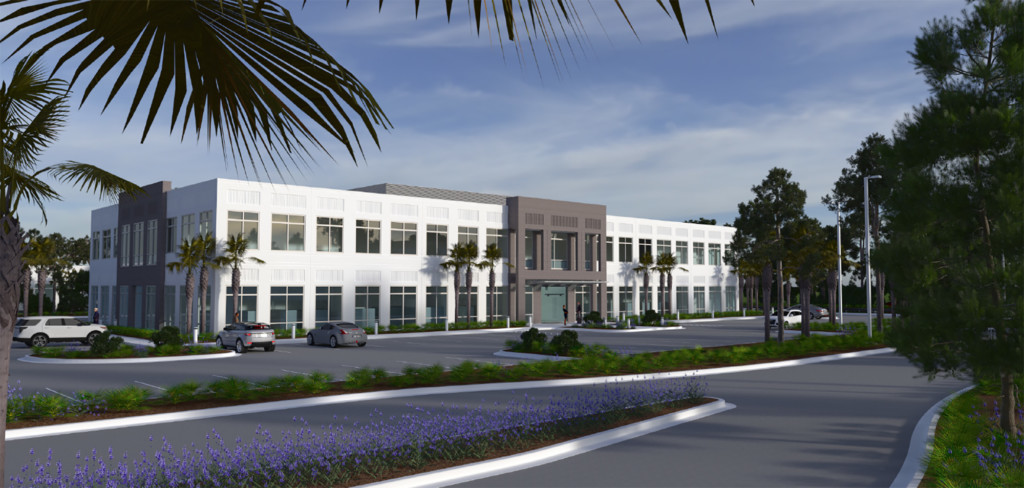 Public officials, well-wishers and St. Joe Company employees looked on Thursday as the final roof beam was placed in a building that will house St. Joe Company's corporate offices upon its completion next year.
"We need to be in Bay County," St. Joe CEO Jorge Gonzalez told a crowd seeking refuge beneath a tent from a broiling late afternoon sun. "When you look ahead three, five, seven years and beyond, Bay County will be the epicenter of our world."
Gonzalez and key St. Joe personnel will occupy the second floor of what will be the third Class A office building in the company's Beckrich Office Park, located at the southwest corner of Panama City Beach Parkway and Richard Jackson Boulevard.
Through recent years, St. Joe has operated from a collection of buildings in Watersound in South Walton County. The company plans to repurpose that campus.
"The move to Panama City Beach creates a great opportunity to put our current offices to use in a way that will benefit the entire area," Gonzalez said. "We look forward to announcing those plans later this year."
Gonzalez introduced the members of St. Joe's commercial real estate team and said the company is seeking tenants for the first floor of the new building. The other office buildings in the park are almost completely leased up, he said.
Building III, similar in design to the other two, will contain approximately 33,250 square feet of office space. Units available for lease range from 1,000 to 15,000 square feet in size.
St. Joe currently has 12 projects under construction or in development in Bay County, including eight in Panama City Beach, and intends to initiate additional projects before the end of the year.
The projects include hotels, new residential communities, the Pier Park Crossings apartments and the Latitude Margaritaville Watersound 55 and Better community.
In March, St. Joe broke ground on a stand-alone Starbucks coffee shop at the Beckrich Office Park. It is scheduled to open early next year.