Racing to the Top
Cross-country venue earns national reputation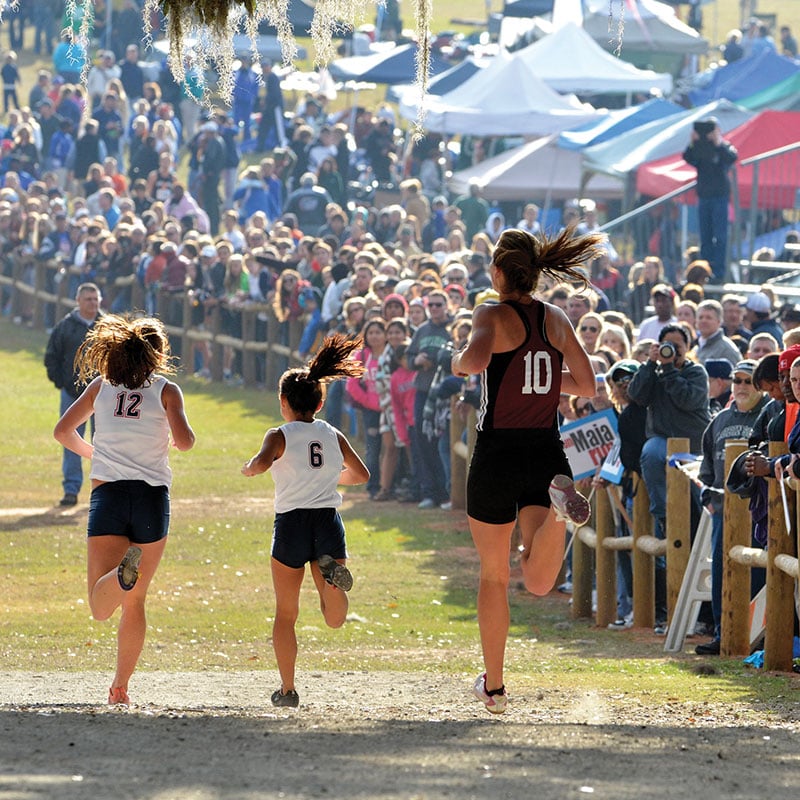 A star performer in Leon County's tourism-development program is its cross-country venue, which is becoming known as one of the nation's best.
The 140-acre, digitally equipped Apalachee Regional Park will soon enhance its reputation by hosting and broadcasting four of the biggest, most prestigious events in the sport. Thousands of amateur and elite athletes running here will include celebrity professional runners and Olympians.
Apalachee Regional Park was chosen to host the 2018 and 2019 USA Track & Field Cross Country Championships, the 2021 Division 1 National Collegiate Athletic Association (NCAA) Cross Country Championships, and the USA Track & Field Junior Olympic Cross Country Championships that were held on Dec. 9.
Landing these events — which was accomplished by the sports marketing team at Visit Tallahassee, a division of Leon County — is unprecedented in Florida and does more than even promoting visitation worth $20 million so far in tourism tax revenue and visitor spending.
It makes Tallahassee-Leon County a celebrity in the national cross-country running world.
"The races we can host there are massive," said Brian Hickey, who directed the sports-marketing team for 12 years and was instrumental in developing Apalachee Regional Park, created in 2009. "There are really very few now in our class."
Leon County investment
The site of the cross-country course was once designated for future landfill usage but Leon County repurposed it in 2009 for trails and passive recreation. Four years later, the county invested $250,000 in strategic improvements — substantially widening the course and installing fiberoptic digital capabilities.
"For that investment, the course has yielded $20 million," Hickey said. "The ROI the county has achieved is phenomenal."
In 2016 alone, 20,000 visitors spent $8.4 million here. An estimated 65,000 visitors are projected to attend the four upcoming national championships, spending $24 million.
In November 2017, Hickey passed the reins of the county's sports-marketing program to Amanda Heidecker, his assistant director for the past five years. As the new director, she will oversee the upcoming national championships, which will be live-streamed and/or nationally televised. And she will oversee further improvements at the park intended to secure its reputation as the best in its class.
"We will be investing over a million dollars in the course between now and the 2021 championship," Heidecker said. The new amenities will include an operations building (replacing a trailer), a new stage for awards ceremonies with backdrops making the park's name prominent in team photos and videos, concessions facilities, drug-testing facilities and more.
The improvements will make Apalachee Regional Park even more of a magnet for events. It already has rare amenities including a Jumbotron that broadcasts races and runner stats in real time, and a private trail inside the circular course that lets coaches run alongside and call out instructions to their athletes. Spectators are kept at a safe distance from the runners and coaches but are encouraged to cheer on the sidelines. Teams and their entourages set up tents with streamers and banners on the park's rolling hills, lending these events the feel of an Olympic festival.
Running enthusiasts at Florida State University and Gulf Winds Track Club were the progenitors of Apalachee Regional Park. They made financial investments, and the credentials of their running programs empowered them as advocates.
"They were the founders of this program. They saw the potential," Hickey said.
"The local running groups drove this, and obviously Florida State plays a role that continues to make a huge, national impact," Heidecker said.
Partnership with FSU
Bob Braman, Florida State head coach for track, field and cross-country running, and Brian Corbin, then on the Gulf Winds board of directors, were the first to scope out the site of the future running course and hacked through its brush and undergrowth with machetes to establish its first trail. They envisioned a dedicated course that would get their runners off of golf courses, road shoulders and public parks not as well suited for training, much less to accommodating large events involving thousands of athletes, spectators and their cars.
Braman said Apalachee Regional Park lends itself to superior coaching and training and is a valuable tool in recruiting new athletes to Florida State.
"This is the best collegiate course in America, and that helps out with recruiting," he said. "When they come here, it lets us show off our city and the trails we have here. This is the home of the Florida State Seminoles. It's a point of pride."
The 2018, the 2019 and particularly the 2021 championships will cement Apalachee Regional Park's reputation as a national leader in cross-country racing, he predicts.
"We'll have 5,000 national championship spectators," he said. Many thousands more will watch the events on livestream feeds, and at least two championships are expected to be televised by ESPN. Installation of fiberoptic tracking technology along the course — a brainchild often attributed to Heidecker, a competitive runner herself — makes livestreaming a simple plug-and-play operation that most courses lack.
"No one else has it that I know of," Braman said. "I've never seen it and I've been all over the country in 35 years as a coach."
The more the running world knows about the course here, the more runners and coaches will want to train and compete here, he said.
All founders and developers of the course at Apalachee Regional Park credit Leon County's Parks and Recreation Department for physically transforming undeveloped acreage into a premiere running facility. In particular, Dean Richards, Richard Fagan and Department Director Leigh Davis ensured that personnel and equipment were supplied to clear the land, create contours, divert groundwater, remove roots and obstacles, spray for mosquitoes, suppress dust with water-sprinkling trucks, and comb the course just before each event to remove all imperfections that could impede footing.
City of runners
Corbin said Gulf Winds Track is proud of its role in the program.
"We're all about running, in as many ways as possible, at all levels. Cross country is one of those branches," Corbin said. "Coach Braman and I were originally out there with machetes, cutting through thickets and putting streamers up. … Over the years, the project has grown more than any of us could have imagined."
Corbin applauds the partnerships and public investments that made Apalachee Regional Park possible.
"When I heard about the national championships coming, I teared up. It's such a big deal and it started from nothing and steamrolled along," he said.
One FSU alum in that league of elites is 2016 steeplechase Olympian and Bowerman Track Club professional runner Colleen Quigley, who won the women's 6K in the 2016 USATF National Club Cross Country Championships at Apalachee Regional Park. As she raced toward the finish line, far in the lead, she did a signature FSU tomahawk chop for cheering spectators and remote viewers.
"She left no doubt where she was from," Coach Braman said proudly.