Pumping (Natural) Gas
Governments and businesses in Northwest Florida are turning to an alternative fuel to save money and the environment.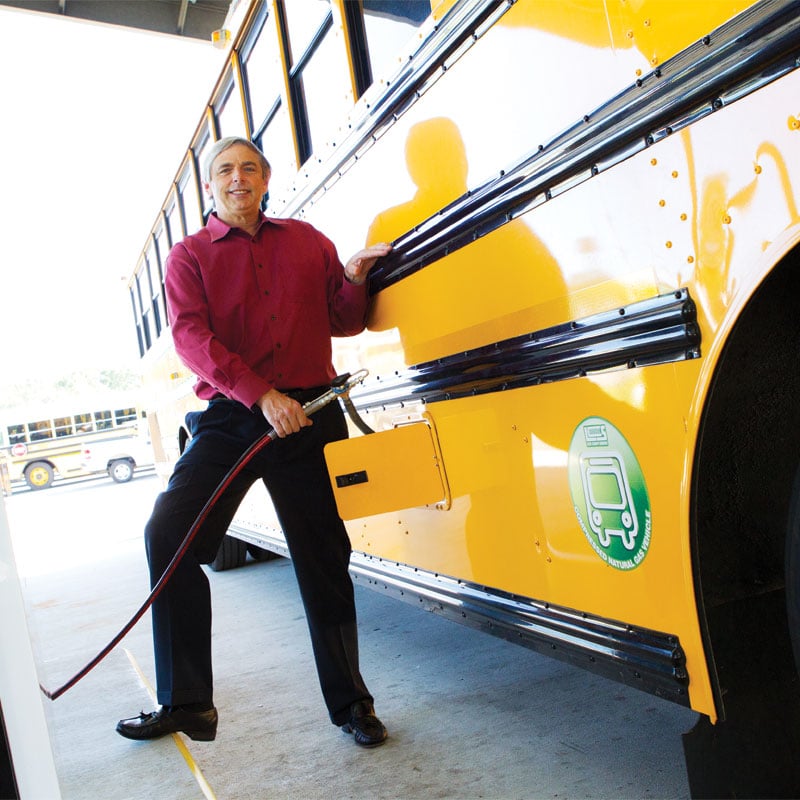 Of the three cars that Harry Mulhearn and his wife Diana own, one is really special. It's a 2002 Honda Civic they bought used. What's so special about a 10-year-old car? The fuel it burns, compressed natural gas (CNG).
Mulhearn, an ex-Marine, is in the vanguard of the growing number of individuals, local government officials and business owners across the 850 who have concluded that natural gas is the best alternative fuel for their vehicles.
Mulhearn's Civic gets the equivalent of about 40 miles per gallon, compared to 29 mpg in his gas/CNG hybrid Chevrolet Cavalier. He pays $2 a gallon, which brings a smile to his face when he passes convenience stores with big signs posting the latest outrageous price for gasoline.
"The Civic is much peppier, I think, because of the transmission," he said. "When you drive that car you feel like you have a car beneath you. We own a Prius, and we hardly ever use it."
Mulhearn is a former electric foreman for the City of New York who retired to Monticello from New Jersey. He said the biggest draw was the lower taxes in North Florida.
Another enthusiastic advocate of CNG as a transportation fuel is Pensacola Mayor Ashton Hayward, who tools around town in a city-owned CNG car. Hayward and Energy Services of Pensacola, the city's natural gas utility, are leaders in developing CNG fueling stations in Northwest Florida.
"I have a little Honda Civic that's fantastic," Hayward said. "You can't tell the difference between gas and CNG.
"For me to be seen in a natural gas vehicle is a no-brainer. I see a lot of people around town that have the feeling they should consider doing it. It just puts the idea in their head that maybe they should convert."
Pensacola officials have negotiated a deal to provide CNG to the Emerald Coast Utility Authority, which collects garbage in unincorporated Escambia County. The ECUA is purchasing 50 new CNG refuse trucks and projecting an annual maintenance cost savings in excess of $350,000 and over $1 million in annual fuel costs.
There are good reasons why the use of CNG as a fuel for cars, trucks, buses and other vehicles usually powered by gasoline or diesel is accelerating: CNG is a lot cheaper than gasoline or diesel, is abundant, domestic, clean, safer and requires less maintenance of vehicles that burn it.
"We're seeing an accelerated interest among business and public sector audiences in the use of CNG as a vehicle fuel," said Rob Wilson, president of Wilson & Associates (W&A) of Tallahassee. Wilson is an association manager and lobbyist representing natural gas interests, including the pipeline companies that bring natural gas into Florida.
"With good reason," he said. "Natural gas is abundant, low cost, domestically produced and clean burning. Plus it creates local economic opportunities and jobs — all while improving America's energy security."
W&A is a Tallahassee-based governmental affairs and association management company specializing in energy and represents CNG, natural gas storage and pipeline transportation clients, including Florida's largest natural gas pipeline, Florida Gas Transmission Company.
Natural gas has long been a fuel of choice for utilities generating electric power to serve the Florida market and for municipal utilities and private companies delivering clean, efficient energy to homes and businesses. Now it is rapidly becoming an alternative to gasoline and diesel all over the country, and Northwest Florida is no exception.
Looking to take advantage of CNG's attributes, government agencies and businesses across the Panhandle are building or planning fueling stations for their own vehicles. Most of the municipal utilities are also recruiting business customers, which include sanitation services, small businesses operating several trucks, shipping companies and a renovated Tallahassee hotel.
Clean Energy Fuels Corp. plans to open a natural gas fueling station early next year at the I-10 exit at Midway a few miles west of Tallahassee. Targeting long-haul trucking companies, the Midway station will be one of 150 liquefied natural gas stations Clean Energy is building coast-to-coast in a $200 million project it calls "America's Natural Gas Highway." The Midway station will be the only Clean Energy stop between Mobile and St. Augustine.
Clean Energy was founded by Texas oilman T. Boone Pickens. Remember Pickens' massive television advertising campaign urging America to get off its dependence on imported oil and develop alternative fuel sources, particularly natural gas?
"When we started this process I was surprised at how many people came forward and said they already own a CNG car," said James N. Harger of Seal Beach, Calif., chief marketing officer for Clean Energy.
The city of Pensacola's gas utility is building three CNG fueling stations and actively recruiting business customers. Nopetro, a new company based in Tallahassee, is building a station on the west side of town for the Leon County School District, which has ambitious plans to replace most of its diesel-powered school buses with natural gas buses over the next 10 years.
The City of Tallahassee, Leon County and Florida State University operate CNG vehicles that are fueled at the city's natural gas utility's site.
The City of Milton has operated a CNG station open to the public for several years and the City of Gulf Breeze is building a station on Highway 98.
Okaloosa Gas district, based in Valparaiso, wants to build a fueling station in the future and is working with other public utilities in the region to develop a CNG fueling industry in smaller counties in western Florida.
CNG has many appealing advantages, but there is a downside. The availability of fueling stations is improving, but they are still few and far between in most areas. The market for CNG vehicles has been limited, but is growing rapidly. All of the major semi truck manufacturers are producing CNG models. Honda, Ford and Chevrolet are producing cars fueled by CNG.
Hayward said the CNG Civic he drives cost about $24,000.
Another problem, especially in cars, is the size of the tanks that hold the gas. Vicki O'Neil, City of Tallahassee gas system support administrator, pointed out that the tank takes up about half the space in the trunk of a Civic owned by her agency. So would she get one for her personal use?
"I'm actually contemplating it," she said. "If you sit down and start working out the numbers on this then I imagine you'll see a big payback in a short time."
O'Neil said it's much greener and cheaper to drive a CNG car than an electric car. "It takes three times as much natural gas to generate that amount of electricity than it does if you use it in a car," she said.
The fuel tank in Mulhearn's car holds the equivalent of about five gallons of gasoline. He said he gets about 230 miles on a tank of CNG, meaning he has to drive to Tallahassee once a week to fuel his Civic. Mulhearn lives in Jefferson County, which is a "dry county" when it comes to natural gas. Most Panhandle counties, however, have natural gas utilities and businesses to facilitate development of CNG fueling stations.
Mulhearn worked out a deal with the Leon County School District to fuel his car at the school yard near Lincoln High School on the east side of Tallahassee.
"They decided to charge me $2 a gallon to make it economical, so I'm paying $2 a gallon," Mulhearn said. The Leon School District calculates the cost of fuel for its 14 existing CNG buses at $1.35 a gallon, less than half of what it pays to fuel its diesel buses.
The district operates about 160 buses on school days. Manny Joanos said the district plans to expand its fleet of CNG buses to 30 by the time students return for the new school year in August and will then add 15 new CNG buses a year.
"Over the next 10 years we'll probably be at 90 percent natural gas," he said.
Leon School Superintendent Jackie Pons said the main reason he spearheaded the drive to switch the district's school buses to CNG was cost.
"I think the advantages (include) saving us about $7,000 a year per bus," Pons said. "It's cleaner. It's safer. It's American made. We're protecting the environment. We're teaching our children about protecting the environment, and we're savings taxpayers money at the same time."
The Leon School District has engaged Nopetro of Tallahassee to build a new fueling station on the west side of Tallahassee. The facility will serve school buses and other heavy vehicles, said Nopetro CEO Jorge Herrera. A former Miami lawyer, Herrera plans to develop a network of CNG fueling stations around Florida. The Tallahassee station is the first one.
Herrera said he's lining up other clients interested in fueling their vehicles at the Tallahassee station. One is the Four Points at Sheraton Hotel, an older hotel near downtown Tallahassee and Florida State University that the Starwood hotel chain has renovated to exacting environmental standards.
Four Points Manager Bo Schmidt said the goal is to develop Tallahassee's first LEED-certified hotel. LEED certification by the U.S. Green Building Council, which stands for Leadership in Energy and Environmental Design, is the gold standard for high-quality green construction.
"Our company has as one of our core values to do things that make sense for the environment, for the hotel, for the community and for the world," Schmidt said. "We use that philosophy in every decision we make.
"We obviously need an airport shuttle at the hotel, and they're opening a natural gas fueling station by the airport, so it will be very convenient for us to fuel our shuttle there," he said.
Pons has become a CNG proselytizer, urging his colleagues in Northwest Florida, especially Escambia and Okaloosa counties, to convert their school bus fleets to natural gas. He said they are interested but have held back because of budget constraints.
The Leon superintendent said he is inviting school, city and county officials from all over the Southeast to a CNG summit in Tallahassee this summer.