Podcasts Aren't New, But Still Booming
Podcasts often lead to serious prospects and rich content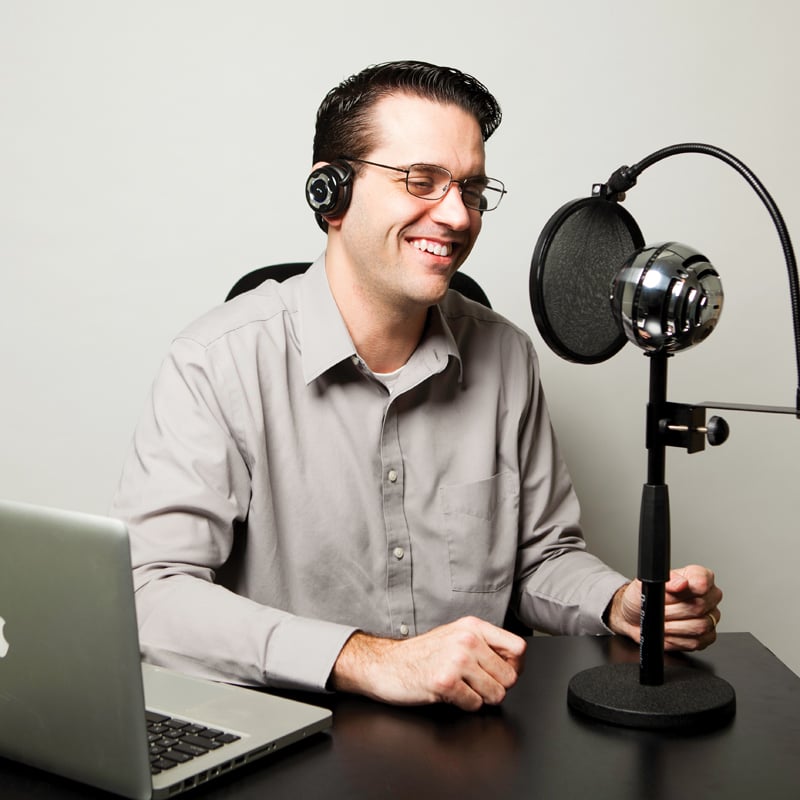 No, the podcast is not new. It is not sexy or cutting-edge. Truth be told, the podcast —typically long-form audio and video programs available for download or streaming via the Internet — is a wonky, in-the-weeds cousin to the pop-culture rich content available via Netflix, HBOGo and other online spots where you can catch the latest episode of your favorite TV show. But podcasting's status as resident media know-it-all is exactly why it is growing in relevance and popularity among consumers accustomed to on-demand content and advertisers seeking serious prospects.
Numbers Demonstrate Podcast Value
---
1 billion: the number of podcast subscriptions logged on the iTunes store in 2013
75 million: Monthly podcast listeners
115,000: the number of English-language podcasts today
3,038,221,400: the number of actual Internet users worldwide on 12/31/14
54%: the percentage of podcast listeners who tune in via smartphone, tablet or portable audio player
12–55+: the range of age brackets over which podcast listeners are fairly evenly distributed
33%: percentage of podcast listeners that are Hispanic; 26% are white and 24% are African-American.
$75K: four in 10 podcast listeners earn at least this much annually; 23 percent of this group listen to podcasts daily while driving.
What podcasting lacks that other on-demand content producers have is an online marketplace dedicated to its promotion. That's why you may be aware of podcasts, but unsure of exactly what they do. If you have ever watched a movie or TV show on hulu.com or listened to music on-demand via spotify.com, you already get the concept of podcasting. But a podcast is different because it applies to more program-oriented audio or video content, such as a hosted program or talk show or a video review of a product or service.
If you are an advertiser, you are more likely to connect with serious customers among America's 39 million reported podcast listeners, a group that has increased to 15 percent of Americans in 2014 from 12 percent in 2013. Podcasts also reduce the need to rely solely on advertising. In its 2012 report on podcast consumers, Edison Research cites the medium as "an effective way to reach affluent consumers who exhibit ad avoidance behaviors."
If you consider yourself an expert on a particular topic, a podcast is where you are likely to find both an audience and in-depth or scholarly content upon which you can expand your knowledge. If you are looking to mobilize people who understand your cause, podcasting provides a means to a smaller, but more targeted following capable of weighing facts and options and responding to a call to action.
Aside from the time it takes to develop and produce the podcast, there is no cost to get started. Free online podcast software options include audacity.com, audioboo.com as well as stitcher.com, used by several local churches to create podcast sermons.
---
Finding the Right Podcast
Whether you want to listen to mainstream news or take a deep dive into a particular subject, there is a podcast for you. Though the moniker itself is germane to the iPod, and Apple houses the Web's largest podcast catalog, not all worthwhile podcasts are on iTunes. Below is a selection of popular national podcasts as well as business-specific ones.
National*
RadioLab: This show combines science and stories against a musical and sound-infused backdrop. It describes itself as "a show about curiosity." radiolab.org
Freakonomics: A longtime favorite, this weekly podcast "explores the hidden side of everything." Prepare to be shocked. freakonomics.com
Wait Wait: This weekly quiz tests your current events knowledge. The twist: You have to decide which news is real and which is made-up. npr.org/programs/wait-wait-dont-tell-me/
Welcome to Night Vale: This dark comedy audio podcast snuck up on "This American Life" and swiped the No. 1 spot in late summer 2013. Available via iTunes.
This American Life: This show follows a by-episode theme, with related stories podcast to more than 1 million subscribers. The weekly radio show is broadcast to about 2.1 million listeners. thisamericanlife.org/about
Business
Entrepreneur on Fire: Hear daily tips from some of the world's most inspiring entrepreneurs. Entrepreneuronfire.com
Manager Tools: Learn how to become an effective manager and form effective relationships in your office. Manager-tools.com
Career Tools: Connect to more than 6,000 online career sources, locate training opportunities and potential employers. Manager-tools.com/podcast/career-tools
Marketing Smarts: Weekly 30-minute interviews with smart marketers deliver real advice to help you market smarter. Marketingprofs.com/podcasts
HBR IdeaCast: This weekly podcast features the leading thinkers in business and management from Harvard Business Review. Hbr.org/podcasts/
Eventual Millionaire: Learn from the millionaires themselves by listening to their experiences in life and business and get tips on how to grow your business. Eventualmillionaire.com
By Hobby/Interest
Arts and Crafts: craftsanity.com
Business ownership: entrepreneur.com/podcast
Fitness: thefitcast.com
Hunting: wildgamehuntingpodcast.com
Literature: newyorker.com/online/blogs/books/podcast/
Technology: techguylabs.com
All national podcasts are available via iTunes.*