Pinnacle Awards Program Honors Community-Leading Ladies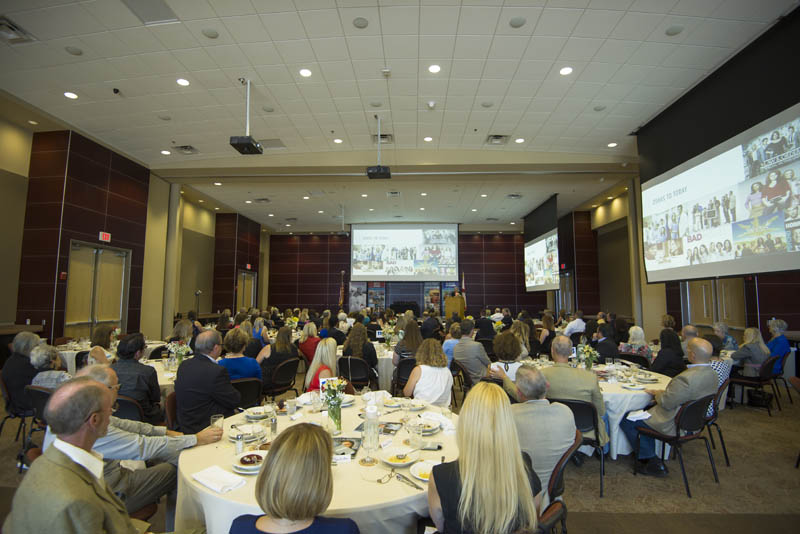 PANAMA CITY — Karen Moore awakened early in her great lake house, left her husband and his parents behind and, after completing a milk run of a flight itinerary, touched down in Panama City, Florida, 19 hours after departing Traverse City, Michigan.
It would all be worth it to the president and founder of Moore Communications Group for the morrow would bring an event that Karen considered highly important.
"There was no way I was going to miss this," she said, shortly before Rowland Publishing's fourth annual Pinnacle Awards presentation was about to begin in the St. Joe Foundation Ballroom of the Holley Academic Center on the Panama City campus of Florida State University. "Mercy, I am so honored to be a part of this group."
The Pinnacle Award is reserved for women who have distinguished themselves both professionally and as community servants. Moore readily qualifies, given her record of service to numerous non-profit and public entities including Tallahassee Community College, and as someone who has built a business once confined to a cottage on Lake Ella in Tallahassee into one of the largest independently owned communications firms in the United States.
Steve Bornhoft, the director of editorial services for Rowland Publishing and the editor of publications including 850: The Business Magazine of Northwest Florida, introduced the 2017 Pinnacle winners to an audience of about 150 persons. For the first time, a woman was honored with a Pinnacle Award posthumously. Alisa Kinsaul, who worked in Panama City as a communications professional for FSU and Applied Research Associates Inc., and volunteered time and talent to organizations including the United Way of Northwest Florida and the Bay County Chamber of Commerce, was killed at her home on Jan. 17 of this year.
Bornhoft remember her for "her elegance, her eloquence, her competence and for the many ways in which she made life better for her co-workers, friends, family and the community at large. She embodied the spirit of the Pinnacle Awards and our event today as well as anyone ever has."
Another nine women were honored with awards: Jennifer Conoley, Panama City, an economic development representative; Jeanne Dailey, Destin, a real estate broker and property manager; Susan Davis, Pensacola, a hospital CEO and president; Virginia Glass, Tallahassee, a Realtor; Patricia B. McCray, Tallahassee, a motivational speaker; Karen Moore of Tallahassee; Kristine Rushing, Pensacola, a chief operating officer for a holding company; Sue Straughn, Pensacola, a broadcast journalist; and Myra Williams, Destin, a vice president of marketing.
As part of his remarks, Brian Rowland, president and publisher at Rowland Publishing, joined on stage by McKenzie Lohbeck, Rowland Publishing's vice president/corporate development, thanked newly retired journalist Linda Kleindienst for her years of service to Rowland Publishing, her efforts in birthing 850 Magazine and her contributions to creating the Pinnacle Award.
The Pinnacle presentation was sponsored by host FSU-PC and by Gulf Power; ResortQuest by Wyndham Vacation Rentals; Sacred Heart Health System; Demont Insurance Agency & Financial Services; and Matthews & Jones, attorneys at law.
A salon, project: STYLE, provided hair and make-up services to the honorees. Madcap modeling coach and agency owner Marsha Doll helped them take great pictures. And the meal was catered by Cabin Creek Catering.
Karen Moore, in her book, Behind the Red Door: Unlock Your Advocacy, Influence and Success, quotes anthropologist Margaret Mead, who once said, "Never doubt that a small group of thoughtful, committed citizens can change the world. Indeed, it's the only thing that ever has."
Never doubt that the 2017 Pinnacle honorees, in particular, could accomplish incredible things, working as a group. The pinnacle would be a mere step to the sky.
---
Profiles of the Pinnacle Award recipients will appear in the October/November issue of 850 Magazine.