Pensacola Naval Air Station Reaps Benefits
Naval Air Station Pensacola and the local community have supported one another — and reaped the rewards together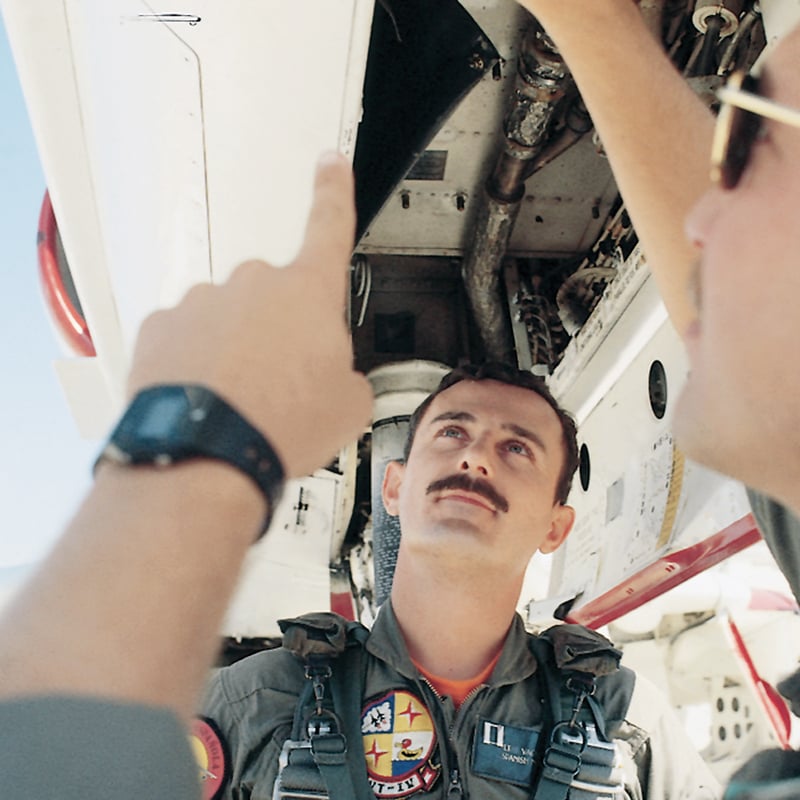 Pensacola's Naval Air Station is practically its own city — 23,000 military and civilian personnel make up the base, which has everything from a seaport, to an airfield, to its own version of a college campus with the Naval Air Technical Training Center. The base contributes $1.3 billion annually to the local economy in military salaries alone; including indirect contributions, the Pensacola Chamber Foundation estimates that along with NAS Pensacola, the Department of Defense contributes around $6.7 billion per year to the greater Pensacola region. But the relationship between the base and Pensacola at large comes down to much more than just numbers — it's a relationship of give and take and most importantly of mutual support.
"It's a superb relationship between Pensacola and the military," said Rick Harper, an economist at the University of West Florida. "Pensacola is one of the most military-friendly towns in the nation because there's such a long history of naval aviation in the community."
Personnel moving in from other parts of the country tend to fall in love with Pensacola and form lasting relationships with not only the community but special people within it. Pensacola's nickname as the "Cradle of Naval Aviation" is often amended, Harper said, to the mother-in-law of naval aviation, "because so many fliers come through Pensacola and meet their spouses."
Most people who work on the base are military personnel — they make up about 17,000 of the 23,000, according to Patrick Nichols, public affairs officer for NAS Pensacola. Most military personnel are on the base for aviation preflight and flight training, being trained as naval flight officers. But the base also trains Air Force combat systems officers, allied forces and more. Aviation reigns, Nichols said, adding that they also train in aviation maintenance — everything from air traffic control to aircraft handling and maintenance. The base also teaches recruiters and survival training, along with a "large contingency" of doctors and nurses going through operational medicine training.
The other roughly 6,000 people on the base are civilians. Most (about 2,700) are civil servants, paid by the Department of Defense to work in areas like public affairs, public works and security. Contract personnel make up the next biggest portion of civilians at 1,900 — people working in fields that range from culinary services and cleaning to aircraft maintenance. The rest, about 1,300, are non-appropriated positions working in the galley and recreation facilities like the gymnasium, movie theater and bowling alley.
Although the base is big enough to be its own city, it's anything but isolated from the community.
"For 100 years the City of Pensacola, and the county and surrounding communities have been supporting NAS Pensacola," said Nichols. "It's hard to meet someone who doesn't know someone or isn't related to someone that is somehow affiliated with NAS and the Navy."
Many officers who come to Pensacola end up staying once they retire. It's a combination of access to the base, exchange and military hospitals, and the local friendliness. Nichols himself is one of those charmed transplants.
"I'm from Colorado originally," he said. "I came here, fell in love with the beaches. The people here support the base, they support the Navy, the military in general, and it's just a great community. So it does bring a lot of people back."
Although one might guess this phenomenon is common to any place near a base — and to an extent, it is — there's something even more special about Pensacola. Per capita, Florida has the most military retirees. According to the Office of the Actuary, there are over 32,800 retired military people in the 325 zip code. Per capita, this is more than any other zip code — 782, the area of San Antonio, Texas, has the most total military retirees, at over 36,000, but its population is also much, much larger.
After growing up in Pensacola, and graduating from Pine Forest High School in 1978, Michael Dollen joined the Navy in 1983 and spent over 30 years serving across the country, from New York to California to Hawaii — and eventually Florida. He even spent a year in Baghdad, Iraq, as part of Operation Iraqi Freedom and earned a Bronze Star Medal. After about 27 years living outside the state, Dollen returned to Florida, serving as Command Master Chief at NAS Pensacola for his last 12 years before he retired from the Navy.
"I'd been all over and actually I couldn't think of a better place to retire than Pensacola," Dollen said. The weather was certainly a factor — like most of us, Dollen isn't a huge fan of cold weather or snow — but access to military infrastructure and the warmth of the community were big deciding factors.
Dollen is now a member of the USO Advisory Council, along with Leadership Pensacola, and vice president of the Pensacola Council of the U.S. Navy League. He also works as a realtor with Coldwell Banker, helping military retirees and families find their homes in Pensacola. It's familiar territory for Dollen, as he pointed out it ties in with his previous duties as a Command Master Chief, to assist and support his sailors and their families. "This is just another way of taking care of people," he said. And the newcomers tend to fall in love with the area. Most plan on sticking around; even if they're only stationed for a few years, Dollen said a lot of them want to come back.
"The community is very vibrant," Dollen said. "You've got a great downtown area, and all the festivals … It's just a good place. There's always something new to do in the Pensacola area." In addition to the usual local events, community outreach from the military translates into a strong, friendly presence in the community — from Blue Angels shows (in November 187,000 people showed up for their three-day homecoming event) to thousands of hours in volunteer work in the community. It's hard for a military retiree not to feel at home in this stretch of the Sunshine State.
And, as Dollen pointed out, "the beaches, of course, are beautiful."